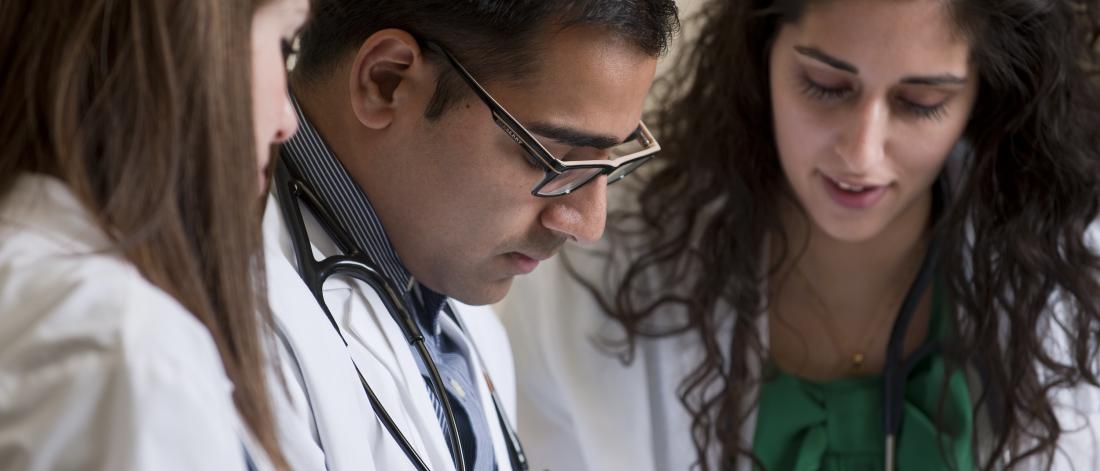 In the Max Rady College of Medicine's Doctor of Medicine program, you'll experience excellence in clinical care, health system innovation and leadership and learn from faculty who are internationally recognized for their research and expertise.
Excellent learning environment
Diverse research institutes and teaching hospitals meet your unique interests and learning needs.
Diverse demography
You'll be actively involved in urban, rural and remote cross-cultural environments in Manitoba and beyond. 
Firm foundation
The four-year MD program serves as a foundation for your formal postgraduate education, which will vary in duration from two to six years depending on your career path
A wide range of career opportunities
On completion of your undergraduate and postgraduate education, you can choose to practice as a Family Physician with the College of Family Physicians of Canada, or in one of the many areas of medical specialist practice with the Royal College of Physicians and Surgeons of Canada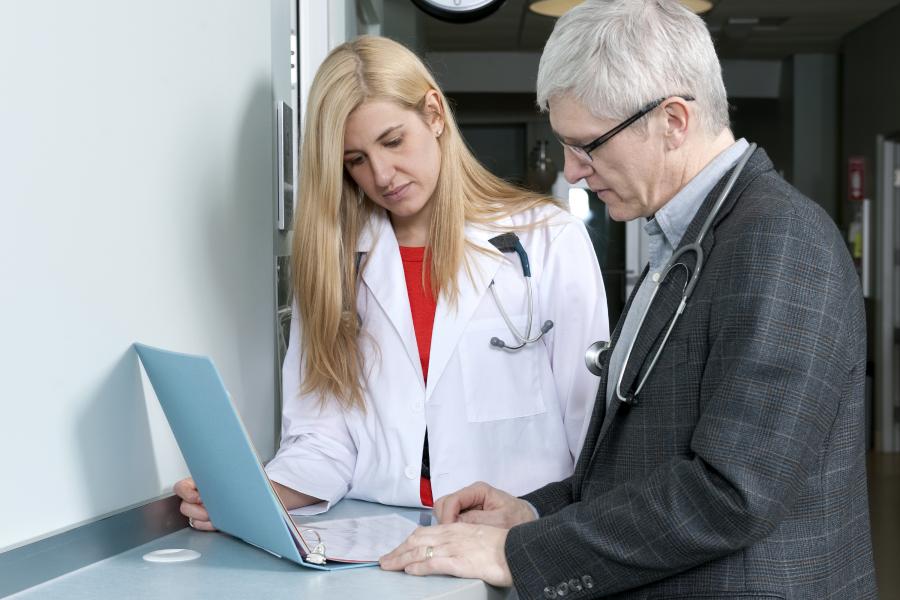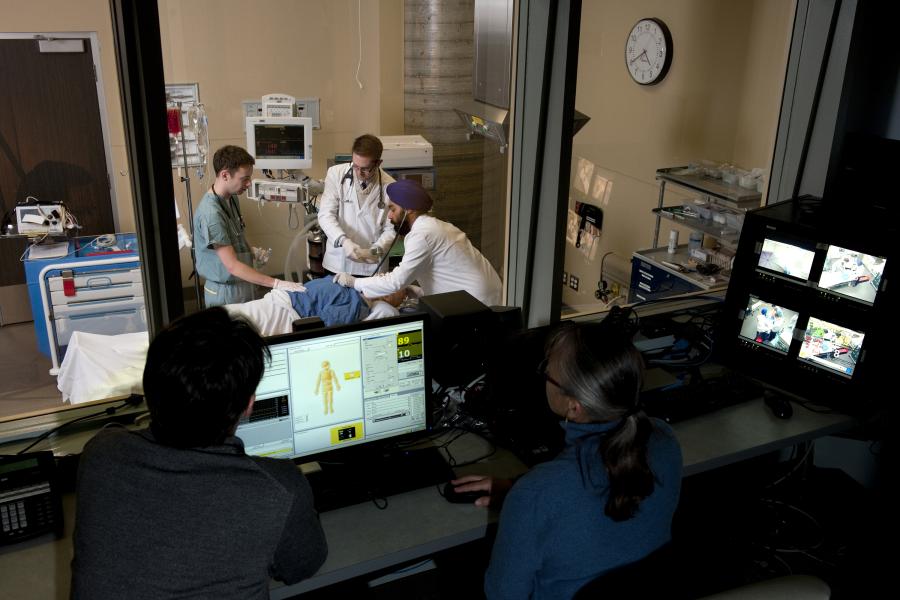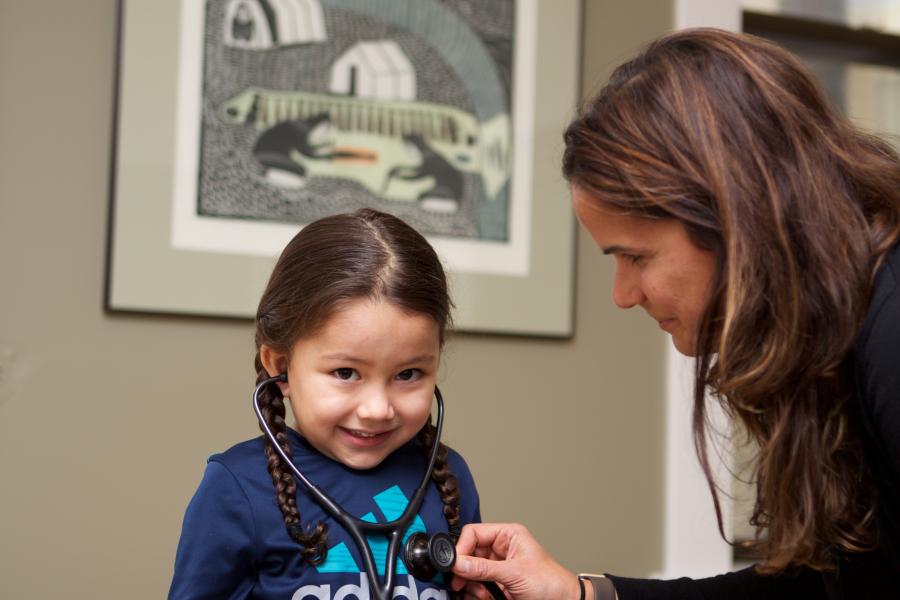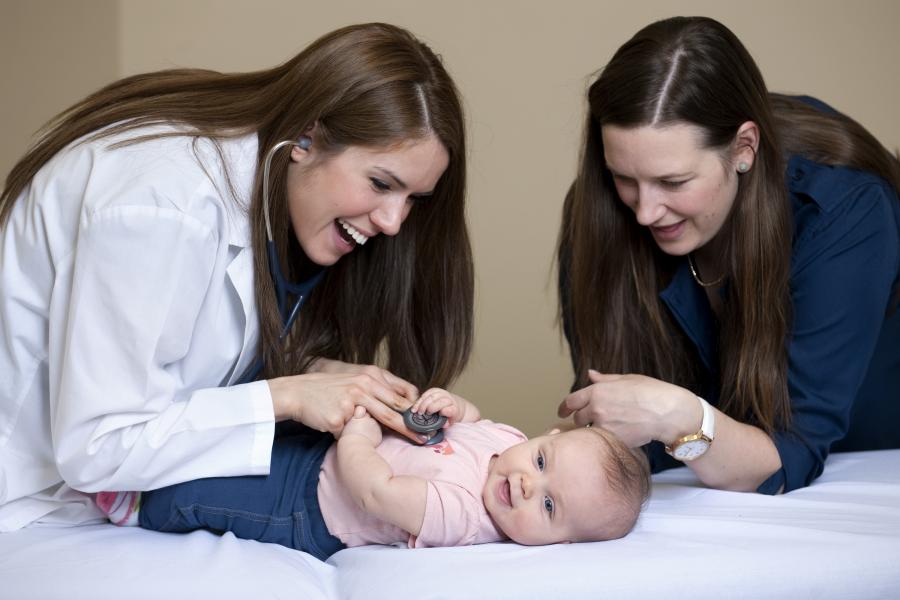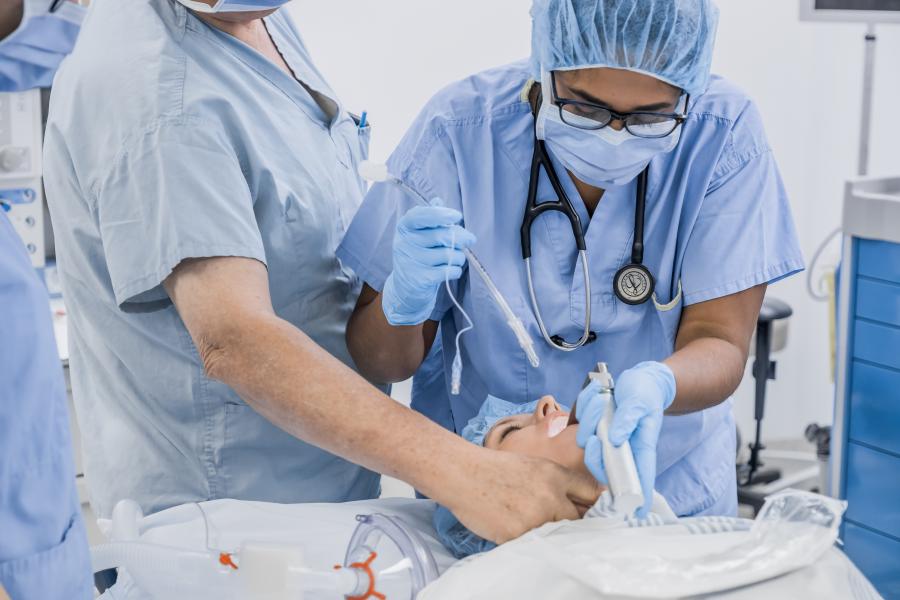 Program details
The Max Rady College of Medicine offers a four-year Doctor of Medicine (MD) degree program. The program is a continuum over the four years organized into Pre-Clerkship (Years 1 and 2) and Clerkship (Years 3 and 4), each divided into four modules.
Module 0: Foundation of medicine
The first module provides basic science foundation relevant to the study and practice of medicine. The course is intended to provide foundational knowledge in cell biology, cell adaptation/response to insult, importance of genetics in disease, exogenous factors that impact health (pathogens, toxins), and a brief introduction to how these cellular mechanisms relate to regulating and/or maintaining whole body function; presented mostly with WGS (Whole Group Sessions) with relevant illustrative clinical scenarios if applicable.
Module 1: Human biology and health
The M1 courses will cover normal processes specific to the individual system including normal development and embryology, gross anatomy & Imaging, histology, physiology, biochemistry & molecular biology and general pharmacology where relevant. Included for each system is an overview of burden of illness and diseases, and impact of life cycle and aging related to the system. Anatomy sessions will integrate normal radiology and cross sectional imaging. Content is predominantly basic sciences with clinical cases (normal or abnormal) to contrast or help illustrate normal. The M1 courses will provide the foundation to begin to build a clinical approach to assessment and management of diseases within that system covered in M2. Format will be combination of WGS (Whole Group Sessions), AS (directed assigned studies) and Small Group Sessions (SGS) tailored to the system.
Module 2: Health and disease
The M2 courses will each build upon the basic processes established in their respective M1 course to develop clinical approaches to the relevant disease states. Abnormal processes and pathophysiology for disease related to the specific system are covered. This will include the scientific basis and anatomy review (i.e. M1) then for each entity epidemiology, prevention and screening, natural history & prognosis, diagnosis , therapeutics and disease management, and impact of cultural, social, ethical issues and health care system where relevant. Format will be predominantly clinical cases with review of basic science presented as combination of WGS (Whole Group Sessions), AS (directed assigned studies)and Small Group Sessions (SGS) tailored to the system.
Module 3: Consolidation
As the final Pre-Clerkship module, Consolidation ensures that all the content from the previous modules, and the CP4s (one hundred thirty (137) Composite Clinical Presentations) are fully integrated and applied to patient care in a complex health care environment at a defined level of competence. Sessions will include approaches to single symptom conditions with broad differential diagnosis (e.g. management of a patient presenting with shortness of breath), multisystem diseases such as complicated diabetes within a complex patient context, and systemic diseases such as HIV or SLE. Consolidation will also include topics that cross system boundaries, such as pain management, and dermatology, and address diseases and conditions across the life cycle specifically pediatrics and geriatrics. Format will be mostly AS (directed assigned studies) and Small Group Sessions (SGS) tailored to the system.
Module 4: Transition to clerkship
The goals of TTC are to help the students expand their focus from learning during the Pre Clerkship years to the actual provision of care in various health care settings. This includes supervised responsibilities that accompany the provision of health and the management of disease. The format includes the use of simulation, patient assessments, small group sessions and shadowing experiences to teach students to translate the knowledge gained in pre-clerkship to the clinical setting and the actual provision of care. This will enable students to further facilitate achievement of UGME global objectives transitioning from the predominantly medical expert, scholar and communicator domains to include collaborator, manager, health advocate and professionalism domains. The students spend the last week of TTC shadowing their first core rotation.
Module 5: Core Clinical Rotations and UGME Academic Half Days
M5 consists of the 8 core clinical rotations and a centrally organized weekly UGME academic half day separated into four, 12 week blocks. Students move through each block in a cascading pattern of eight tracks to complete all 8 core clinical rotations. Block 1: Surgery and Anesthesia provides clinical teaching in; general surgery (3 wks) musculoskeletal medicine (2 wks), urology (1 wk), plastic surgery (1 wk), neurosurgery (1 wk), anesthesia (2 wks), and perioperative care (2 wks). Block 2: Pediatrics and Obstetrics & Gynecology provides clinical teaching in; pediatrics inpatient care (3 wks), pediatric outpatient care (3 wks), obstetrics (2 wks), gynecology (2 wks) and obstetrics & gynecology outpatient clinics (2 wks). Block 3: Internal Medicine and Emergency Medicine provides clinical teaching in; internal medicine inpatient care (6 wks), internal medicine selective (2 wks), and emergency medicine (4 wks). During emergency medicine students will also spend one morning a week attending an internal medicine outpatient clinic. Block 4: Psychiatry and Family Medicine/Public Health provides clinical teaching in; psychiatry inpatient, outpatient and consultations (6 wks), family medicine clinics – majority in a rural community with public health teaching interlaced within the community placement (6 wks). The UGME academic time occurs the first half of Thursday afternoons and incorporates the Longitudinal courses of Clinical Skills, Professionalism, Indigenous Health and Population Health. The sessions also incorporates many of the Themes specifically Clinical Health Psychology, Information Sciences, Health care systems and safety, and Social accountability amongst others. Each of the core rotations have scheduled academic time with the majority in the second half of Thursday afternoons but additional time may also be scheduled during the week. Surgery & Anesthesia, as well as, Internal Medicine & Emergency Medicine organize their Thursday afternoon sessions conjointly.
Module 6: Electives and CaRMS
M6: 14 weeks of electives followed by the CaRMS national interview period of 3 weeks. The module is completed with the Comprehensive Clinical Examination (CCE) a formal skills based exam that takes place in the Clinical Learning and Simulation Facility over a 3 day period.
Module 7: Transition to residency
M7 is the last 11 weeks of the UGME program and commences after the completion of the CaRMS interviews. The goal of TTR is to provide opportunities to enhance ambulatory and community care exposures for students, provide a platform to transition skills, experience and knowledge acquired during UGME to the entry point of the PGME program. TTR consists of the following: Selectives – two, 3 week blocks of selectives intended to be non-traditional emphasizing community and outpatient activities. Sandwiched between the two selective blocks is Match week.
Match Week – With the CaRMS match released on a Wednesday, the students have that day free to celebrate and spend with family & friends. The two preceding days consist of a team building & leadership program; with the two days following devoted to presentations from PGME, PARIM and Financial management. Evidence Based Medicine Capstone Course & Project (EBM) – the course has 6 weeks of formal teaching sessions each Friday afternoon throughout the selective blocks. The course concludes with a written paper and presentation in the seventh week. CCR/CP4R – The comprehensive course review and advanced cardiac life support (ACLS) course occurs during the last four weeks of year four to provide a review of the items from CP4s and aid the students in preparing for the Medical Council of Canada Qualifying Examination Part I (MCCQE Pt I).
Pre-clerkship courses
Throughout the first two years of the program, you'll take courses in areas such as: Blood and Immunology; Cardiovascular; Respiratory; Neuroscience; Musculoskeletal;  Women's Reproductive Health; Gastroenterology, Hepatology, and Nutrition; Urinary Tract; Infectious Diseases and Therapeutics and Introduction to Oncology. Longitudinal courses also cover topics such as: Clinical Reasoning, Clinical Skills, Professionalism, Population Health and Indigenous Health.
Electives
Elective courses provide the opportunity for you to pursue a specific area of interest while gaining experience and knowledge that equips you to become a well-rounded physician in your chosen career field.
Choose from subspecialty courses in areas such as Indigenous health, family medicine, endocrinology, infectious diseases and international travel electives at affiliated clinical sites, including Kenya, the Philippines, Haiti, Japan and China. 
Admission requirements
The following are minimum requirements to be considered for entry into the MD program. Meeting these requirements does not guarantee acceptance into the program. Admission is highly competitive, with 110 seats available each year.
The Doctor of Medicine is an advanced entry program. Before you can be considered for admission, you must complete a bachelor's degree from a recognized university with an adjusted grade point average of 3.30 or higher. You must also complete the Medical College Admission Test (MCAT) and a situational judgement test (Casper). For complete admission requirements, please consult the advanced entry applicant information bulletin.
The application for fall 2024 entry (2024-2025 application cycle) into the MD program will open on Tuesday, August 15, 2023.
The updated applicant information bulletin for the 2024-20(c25 application cycle will also be updated on Tuesday, August 15, 2023.
If you do not meet the requirements for advanced entry into the Doctor of Medicine program, you can apply for admission to University 1, the Bachelor of Science program, or another program with direct entry.
How to apply
Domestic student application fee: $100
Applications to the University of Manitoba are completed online. To begin your application, select the Start or continue your application button. The online application includes several parts, and you may be required to submit transcripts, proof of English Language proficiency, and other documents.
Canadian Indigenous Panel Interview
This year's Panel interviews will take place in early 2024. The finalized schedule and further details will be communicated to applicants in January 2024.
Preparation for the Indigenous Panel Interview - TBA
Additional supports - TBA
Casper test
All applicants to the Max Rady College of Medicine at the University of Manitoba are required to complete an online assessment, Casper, to be eligible for admission.
Casper is an online test that assesses for the personal and professional characteristics we believe are important for successful students and graduates of our program. It is a complement to the other tools that we use for applicant screening. In implementing Casper, we are trying to further enhance fairness and objectivity in our selection process.
Casper test results are valid for one admissions cycle. Applicants who have already taken the test in previous years will therefore be expected to re-take it.
Format
The Casper is comprised of 15 sections of video and written scenarios. Following each scenario, you must answer a set of probing questions under a time contract. The test typically takes between 100-120 minutes to complete.
Each response is graded by a different rater, giving a very robust and reliable view of personal and professional characteristics important to our program.
Preparation
No studying is required for Casper, although you may want to familiarize yourself with the test structure at AcuityInsights.app. We strongly urge you to take advantage of the practice test, which will not only immerse you in the test environment but will also ensure you meet the technical requirements to access and complete the test.
Accommodations
If you require testing accommodations for Altus Suite you will need to submit the Accommodations Request Form signed by you and your qualified professional three weeks in advance of your desired test date. More information regarding accommodations can be found here.
Requirements
Casper can be taken practically anywhere as long as you have a quiet environment and meet the following technical requirements:
Laptop or desktop computer
Working webcam
Working microphone
Reliable high-speed internet connection
You must also have:
A valid email address (the same one you will use to submit your application)
Government-issued photo ID
Sign up for the test
Sign up for Acuity Insights Assessments for Canadian Professional Health Sciences (CSP-10201 – Canadian Professional Health Sciences), under your specific country, and register using your student number and a piece of government-issued photo ID.
Select a test date. You will be offered a limited number of testing dates and times. Please note that these are the only testing dates available for your Casper test and there will be no additional tests scheduled. Please use an email address that you check regularly and that you have used for your application in case there are updates to the test schedule. Important: register for your test at least three (3) days before your preferred test date and time to account for identity verification and payment processing timeline. Last-minute bookings are not recommended.
Select Max Rady College of Medicine for distribution before the posted distribution deadline. It is unlikely that additional tests scheduled, but updated information may be found by browsing the test dates and times.
Snapshot is NOT required for the Max Rady College of Medicine application. However, it may be required for other programs in which you are applying, so refer to the requirements for all relevant programs.
For more information
For a more detailed look at Casper, please see this video.
For questions about Altus Suite, email support@altus.as or use the chat bubble in the bottom right hand corner of your screen on the AcuityInsights.app website.
Multiple Mini Interviews (MMI)
The University of Manitoba uses the Multiple Mini Interview (MMI) format for all applicants.
MMI format for 2024
Invitations to interview will be sent out in January, 2024 via your application portal.
The 2024 MMI will take place online in early 2024. Further details about the interview format and schedule will be sent out with the invitations.
MMI scoring and pass/fail criteria
To be considered eligible for admission, all applicants must achieve a minimum passing score on the MMI. The Admissions Committee reviews the MMI criteria annually.  This information will be provided to applicants within their invitation to interview.
Candidates who do not achieve the standard required on the MMI will not be considered for admission regardless of MCAT or AGPA scores. 
How to prepare for the MMI
Follow the steps below:
Sign up for a 'Mock MMI' with the MMSA (an email invite will be sent to those who receive an invitation to interview).
Attend the MMI Prep Session with Career Services.
MMI stations may reflect CanMEDS roles (competencies). These competencies are reflective of the Indigenous health values and principles that were interpreted through the CanMEDS framework.
Reflect on your life experiences and write down examples that correspond with the competencies identified above.  
Get informed about the Canadian health system. 
Ask a family member or friend to surprise you with a topic to discuss on the spot.
Ask a family member or friend to debate a difficult issue with you.
Work on time management and organization.
Join an online speaking group or debate club (if available).
Take an online interview skills workshop (if available).
It is also recommended that you read the following articles and documents (further reading suggestions will be provided prior to the MMI).
Medical College Admission Test (MCAT) 
The Medical College Admission Test (MCAT) is a mandatory standardized test that measures the ability to understand basic concepts and to solve problems in natural, behavioral, and social sciences.
The MCAT 2015 is an updated version of the Medical College Admission Test that will assess test takers' knowledge and problem-solving skills in the natural, behavioral, and social sciences.
Two of the four sections test academic competencies: Chemical and Physical Foundations of Biological Systems and Biological and Biochemical Foundations of Living Systems. Topics to study include biology, general and organic chemistry, physics, and biochemistry.
One of the four sections will test reasoning and analysis skills in Critical Analysis and Reasoning Skills.  Topics to study may include population health, cultural studies, ethics and philosophy and other humanities and social sciences disciplines.
The last of the four sections will test the ways that psychological, sociocultural, and biological factors influence people's perceptions of the world, behaviour and behaviour change, individuals' opinions of themselves and others, cultural and social differences that influence overall health and the relationships between social stratification, access to resources and well-being.  This section is called Psychological, Social and Biological Foundations of Behaviour.
For testing information and registration, visit the AAMC website. 
MMI scoring and pass/fail criteria
Scoring and passing a question
The questions within the MMI will be scored using a 5-point Likert scale.
A rater's score of 1 out of 5 is a fail, with 2 and above a passing score.
Each rater will submit a score out of 5 to each of your responses.
As there will be 3 raters scoring each question, the scores from all 3 raters will be added and averaged to create your question score.
Receiving a score of "1" from one of the 3 raters will not necessarily result in a failure. The scores of all raters (question score) will determine whether you pass or fail a question.
The averaged score for the question must be equal to 2 or greater than 2 (=>2) to be a passing score for the question. An averaged score less than 2 (<2) will be a failing score for the question.

Example 1: Rater 1 score: 1 out of 5; Rater 2 score: 3 out of 5; Rater 3 score: 2 out of 5
Total score for the question is 6, which provides an average score of 2. This is a passing score for the question.
Example 2: Rater 1 score: 1 out of 5; Rater 2 score: 2 out of 5; Rater 3 score: 2 out of 5
Total score for the question is 5, which provides an average score less than 2. This is a failing score for the question.
Passing an MMI station
There are 3 questions at each station.
Each question will be scored by the 3 raters assigned to the station.
As described above, each rater submits a score which is used to calculate your question score.
A question score must be equal to 2 or great than 2 to be considered a pass. A score less than 2 would be considered a fail.
To pass an MMI station, you must pass at least 2 out of 3 questions.
If you receive a failing score for 2 or 3 questions at one station, this will be considered a failed MMI station.
Pass criteria for the MMI
An applicant will pass the MMI if they meet all of the following criteria (approved by the Admissions Committee on February 4, 2021):

Receive a passing score on 15 out of 18 individual questions (a passing score for the question); and
Receive a passing score on 5 out of 6 MMI stations; and
Receive a total MMI score greater than two standard deviations below the mean.
Reference letter requirements
Applicants who are invited to an interview will need to identify three referees and provide their name, phone number and email address.
Applicants should select referees who can speak about their ability as a student as well as their work background and community experiences.
Choose referees who know you well, and can comment on your strengths and weaknesses and who have had an evaluative role. We recommend that you choose referees who have known you for a minimum of two years.
Choosing high profile referees who do not know you well and have a casual passing relationship with you will have little or no benefit.
We will not consider references from immediate family members including in-laws, spouses, siblings, nieces, nephews, etc. according to the Nepotism Policy at the University of Manitoba. This policy can be found here.
The Admissions Committee may elect to contact these individuals to verify their reference.
Referee letters are held in the strictest confidence and are not released to the applicant.
Once your application is submitted to the Admissions Office, changes can not be made. This includes changes of referees. Please ensure your referee is aware of this and that they are committed to submitting the required forms and letter of support in January.
You do not need to include the reference letters with your application. The Max Rady College of Medicine will request references only for those applicants who are invited to an interview. Applicants who have received an interview invite, will submit their three recommenders via the online application centre. They will need to provide the first name, last name and email for each of their recommenders. Please ensure that the email addresses entered are correct. If a letter is received from your reference prior to the opening of this process, the letter will not be used unless prior arrangements have been made.
All referees are required to fill out a questionnaire. Once you have submitted your three referees, they will receive a "request for recommendation email" which will include a link to their recommendation questionnaire.
Reference letters for Indigenous applicants are due in early January. Reference letters for all other applicants invited to interview are due in early February.
We do not accept reference letters from the Health Professions Advisory Committee.
Contact us
Admission and application inquiries
Mailing address
Undergraduate Admissions
424 UMSU University Centre
University of Manitoba
66 Chancellors Circle
Winnipeg, MB R3T 2N2 Canada
Office location
Room 424 UMSU University Centre
65 Chancellors Circle
University of Manitoba (Fort Garry campus)
Submit a question
Phone: 204-474-8808
Toll-free: 1-800-224-7713 ext 8808
Program inquiries
Max Rady College of Medicine Admissions
260 Brodie Centre
727 McDermot Avenue
University of Manitoba (Bannatyne campus)
Winnipeg, MB R3E 3P5
ugme.admissions@umanitoba.ca
Phone: 204-789-3499