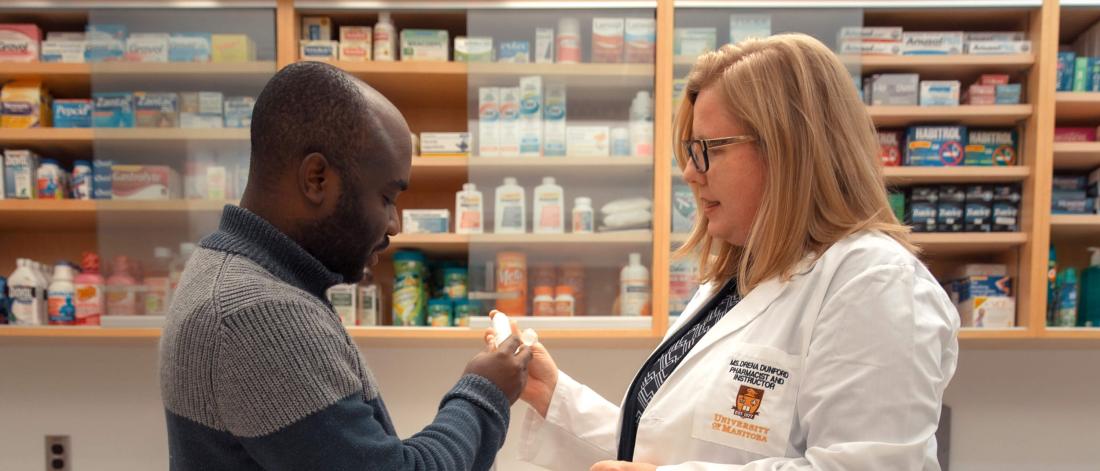 Study with us
The Doctor of Pharmacy (PharmD) program provides extensive education in pharmaceutical sciences, clinical practice and experiential learning. This allows graduates to acquire the knowledge and skills needed to enter one of the most respected health care professions.
Our College is housed in a state-of-the art facility, with access to technology, patient care and simulation labs, enabling students to prepare for an exciting career in health care.
Discover our financial supports
Numerous scholarship and bursary opportunities are available to students in the College of Pharmacy and throughout UM to help support your studies.
Flexible future
Pharmacists are in demand both in the retail sector as well as in research, government and health care. Chart your own path and create a work-life balance that's right for you.
Mentorship
The College of Pharmacy is a tight-knit community of students, faculty and researchers. Working with experienced faculty prepares students for careers of their own, delivering the same high level of care and rigorous research practises they learned from their mentors.
Advancing medicine through research
From building molecules to form new drugs to researching public health issues affecting patients around the globe, College of Pharmacy faculty are helping advance medicine on countless fronts. Help shape the future of pharmacy with world-class researchers at the Apotex Centre, our state-of-the-art facility.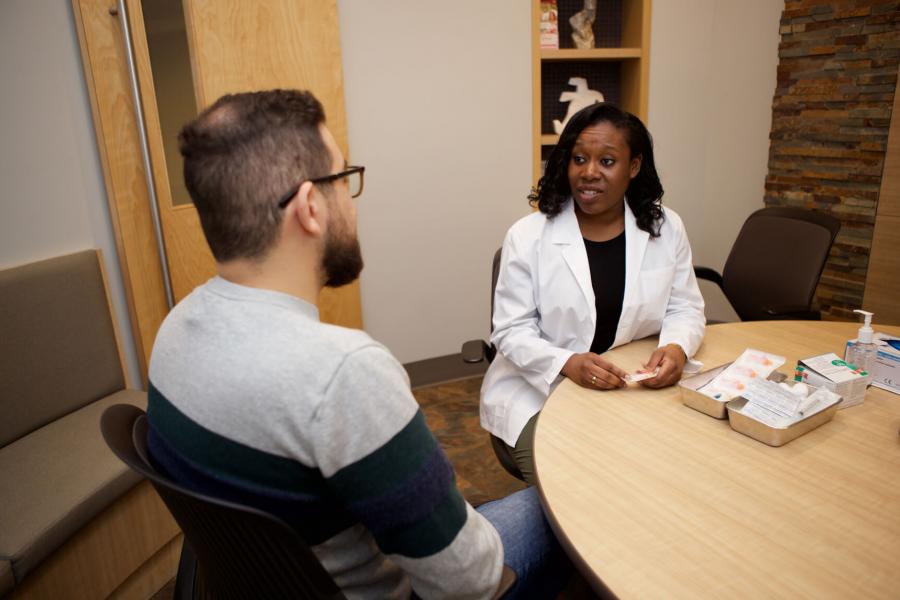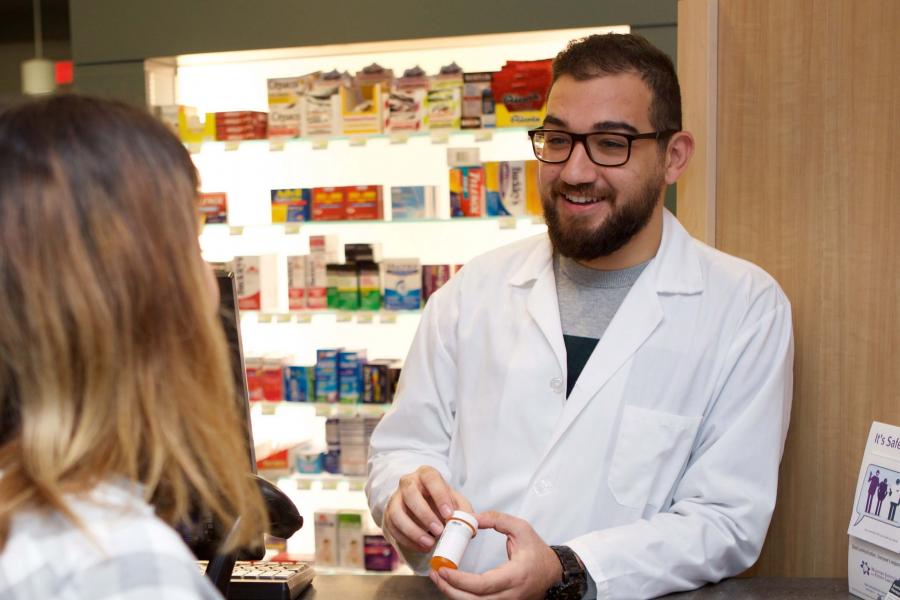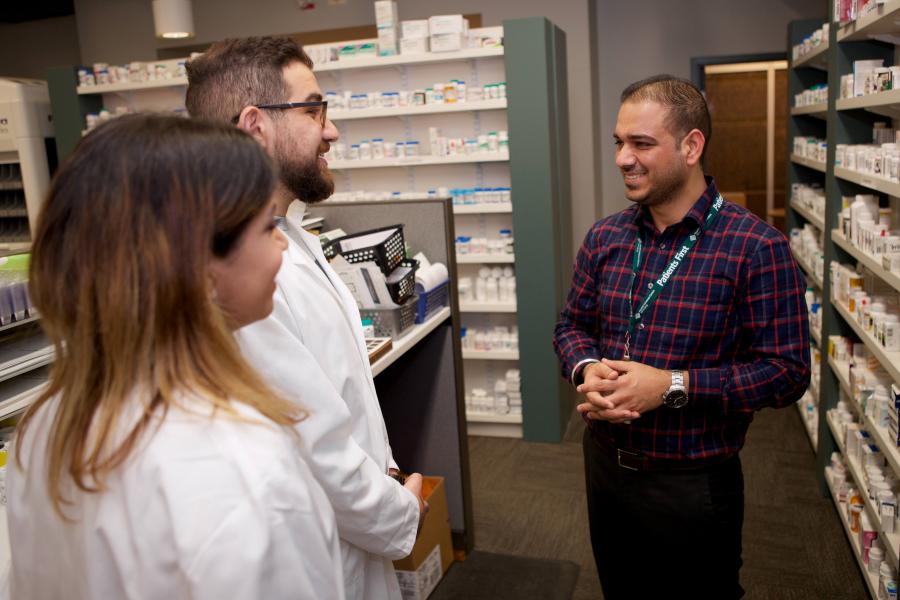 Program details
The Doctor of Pharmacy (PharmD) is an undergraduate doctoral program that requires four years, in addition to two years of previous university studies. Your studies will focus on clinical practice, experiential learning and pharmaceutical sciences, preparing you for a successful career in pharmacy.
Expected duration: 4 years (plus 2 years of qualifying study)
The undergraduate Doctor of Pharmacy program is meant to prepare students for entry-level practice in the profession of pharmacy by providing them with a solid foundation in the basic, pharmaceutical and clinical sciences which is applied to the provision of patient care.
In addition, the program is designed to provide students with a broad experience in patient care through experiential placements in health orientated settings, hospital and community pharmacies. The experience is further enhanced with an elective rotation in the final year of studies.
Areas of focus
medication use and safety
applied pharmacy practice
simulation labs
interprofessional education
experiential learning
Indigenous health
Sample course offerings
PHMD 1000: Introduction to Professional Practice
PHMD 1010: Applied Pathophysiology
PHMD 1008: Medicinal Chemistry
PHMD 2000: Drug Delivery
PHMD 2008: Pharmacy Law
PHMD 2010: Principles of Biotechnology
PHMD 3008: Concepts of Integrative Medicine
PHMD 3016: Toxicology of Medications and Drugs of Abuse
For full course descriptions, please visit the Academic Calendar.
Experiential education
Being a successful pharmacist means being as skilled at patient relationships as you are at understanding medications. The Doctor of Pharmacy curriculum is patient care-focused, which means you will leave the program ready for practice to your full scope immediately upon graduation.
The Experiential Education Program is a series of rotations that help students transfer knowledge and skills from the classroom into real life pharmacy practice.
Working closely with experienced preceptors in settings like patient care clinics, hospitals, community pharmacies and primary care centres, students develop confidence and build the strong patient-care skills they'll need for careers of their own. There are Introductory Pharmacy Practice rotation opportunities early in the program along with Advanced Pharmacy Practice rotations in the 4th year of the program.
Admission requirements
The following are minimum requirements for entry into the PharmD program. Meeting these requirements does not guarantee acceptance into the program.
The Doctor of Pharmacy is an advanced entry program. You must complete two years of university-level study, including several required and recommended courses, with a minimum adjusted grade point average of 3.50, before you can be considered for admission. You must also complete a critical skills essay and the Pharmacy College Admission Test (PCAT®). Minimum scores will fluctuate from year to year based on the applicant pool.
If you do not meet the requirements for entry into the Doctor of Pharmacy program, ou may be eligible for admission to the Faculty of Science or another program. If you have not attended university before, you can apply for a program with direct entry, such as University 1.
How to apply
Domestic student application fee: $100
International student application fee: $120
Applications to the University of Manitoba are completed online. To begin your application, select the Start or continue your application button. The online application includes several parts, and you may be required to submit transcripts, proof of English Language proficiency, and other documents.
Contact us
Admission and application inquiries
Mailing address
Attn: Undergraduate Admissions
University of Manitoba
66 Chancellors Circle
Winnipeg, MB R3T 2N2 Canada

Office location
Room 424 UMSU University Centre
65 Chancellors Circle
University of Manitoba (Fort Garry campus)
admissions@umanitoba.ca
Phone: 204-474-8808
Toll-free: 1-800-224-7713 ext. 8808
Fax: 204-474-7554
Monday, Tuesday, Thursday, Friday: 8:30 a.m. to 4:30 p.m.
Wednesday: 9:30 a.m. to 4:30 p.m.
Program inquiries
College of Pharmacy, Rady Faculty of Health Sciences
143 Apotex Centre
750 McDermot Avenue
University of Manitoba (Bannatyne campus)
Winnipeg, MB  [R3E 0T5]
pharmacy@umanitoba.ca
Phone: 204-474-9306
Fax: 204-789-3744