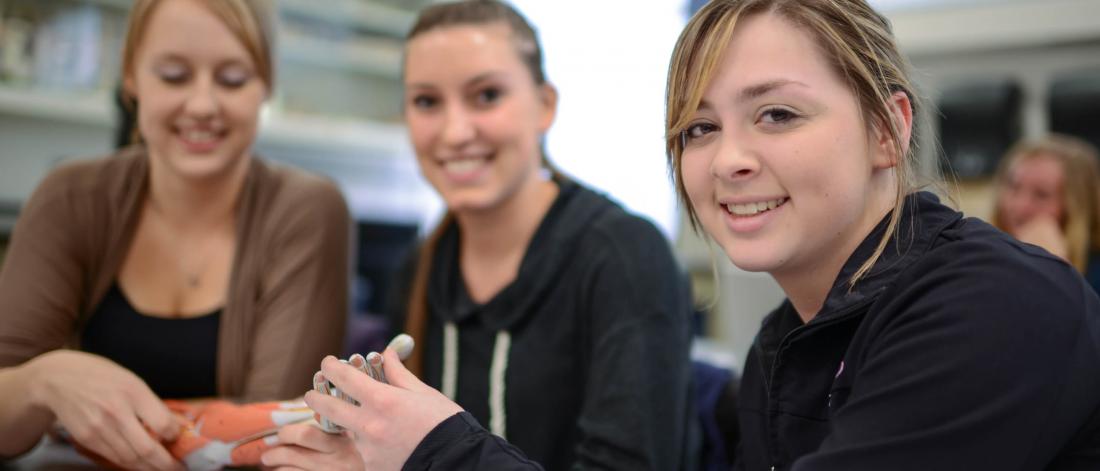 Study what moves you
What our students say
"For the first two years of university I was pursuing a degree in nursing. When I made the switch I realized that the Faculty of Kinesiology and Recreation Management was the perfect degree that married my love for health activity and science. I viewed this field as preventative health care – helping to keep people moving and out of the hospitals and living longer, healthier and happier lives."
–  Giulia De Leo, B.Kin, Class of 2008
Career opportunities
This four-year degree program prepares students to work in important areas of health and well-being, including sport and fitness, chronic disease prevention, physical activity and health promotion, rehabilitation, sport science, aging and corporate or community wellness.
Hands-on learning
In addition to classroom lectures, the program offers hands-on learning through fully-equipped human performance laboratories.
Flexible programming
Students can take fitness-related or coaching certification courses, or choose a complimentary minor from a wide range of departments
Accredited
The Bachelor of Kinesiology is accredited by The Canadian Council of University Physical Education and Kinesiology Administrators.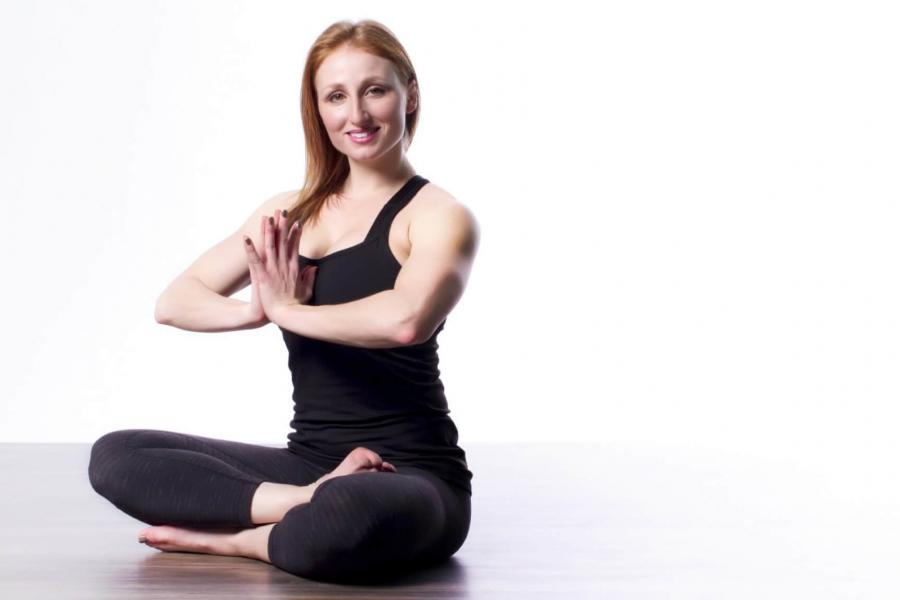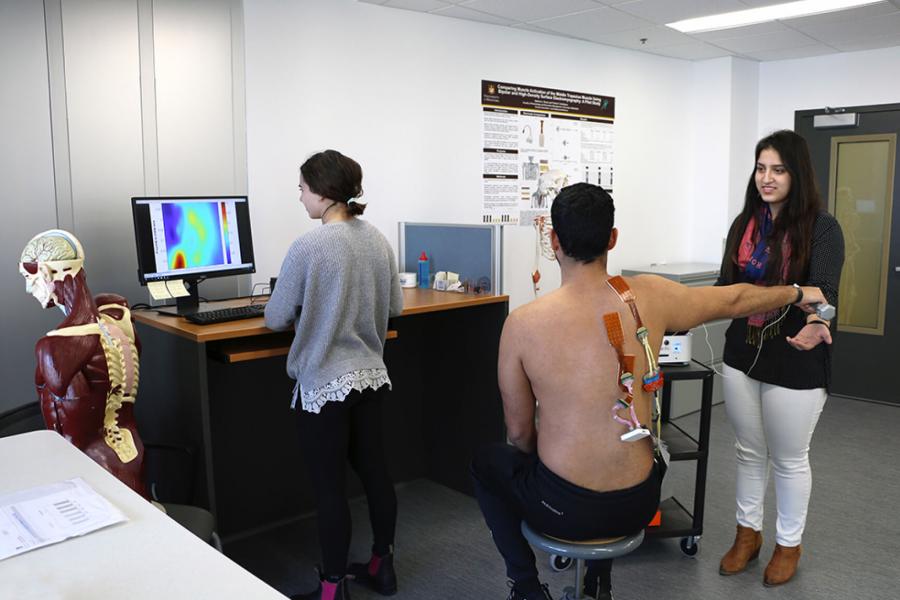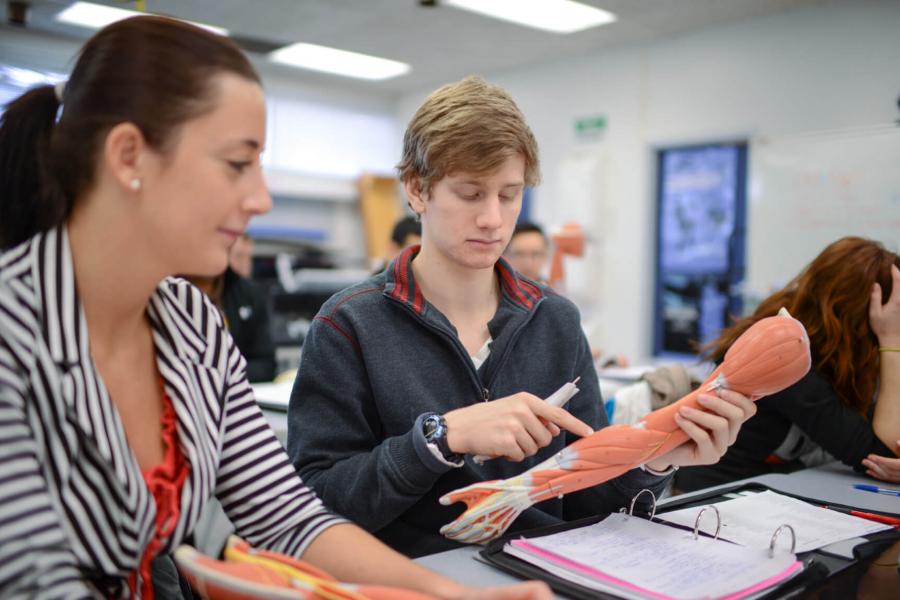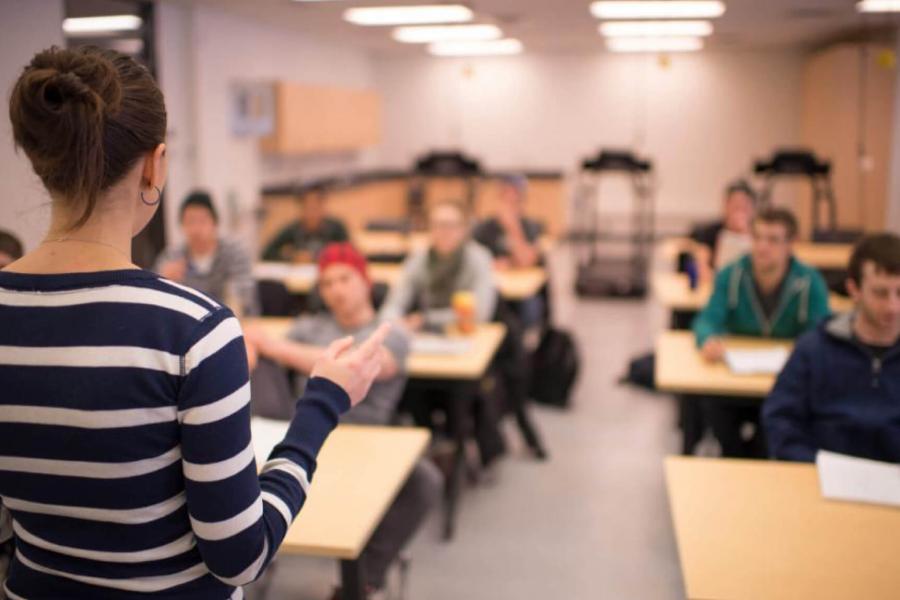 495

undergraduate students

94

graduate students

28

faculty academics

5,400

alumni

22

faculty-sponsored scholarships
Program details
The Faculty of Kinesiology and Recreation Management offers four degree programs that have a base of shared core courses to ensure students experience the interconnections across the faculty and its related fields of practice.
Expected duration: 4 years
To graduate with a four-year Bachelor of Kinesiology degree, a student must have passed the 120 credit hours of the program and must have achieved a Degree Grade Point Average (DGPA) of 2.00 with a minimum grade of C in all faculty-required courses.
Sample course offerings
BIOL 1410: Anatomy of the Human Body (3 credit hours)

KPER 1200: Physical Activity, Health and Wellness (3 credit hours)

PSYC 1200: Introduction to Psychology (6 credit hours)

KPER 2540: Psychology of Sport and Physical Activity (3 credit hours)

KPER 2700: Motor Control and Learning (3 credit hours)

KPER 3100: Inclusive Physical Activity and Leisure (3 credit hours)

KPER 3470: Exercise Physiology (3 credit hours)

KIN 3510: Physical Activity and Aging (3 credit hours)

KPER 3512: Principles of Fitness Training (3 credit hours)

KPER 4020: Philosophy of Physical Activity and Leisure (3 credit hours)
For full course descriptions, please visit the Academic Calendar.
Fieldwork opportunities
In the Bachelor of Kinesiology fieldwork placement, students learn to apply in-class knowledge and learn new concepts of professional practice in kinesiology.
CSEP-CPT and CSEP-CEP Course Pathways
The Faculty of Kinesiology and Recreation Management, along with the broader exercise physiology community, recognizes The Canadian Society for Exercise Physiology (CSEP) as the gold standard in exercise science and prescription.
Admission requirements
The following are minimum requirements for entry into the Bachelor of Kinesiology program. Meeting these requirements does not guarantee acceptance into the program.
If you do not meet the requirements for direct or advanced entry into the Bachelor of Kinesiology program, you can apply for admission to University 1, the Faculty of Science, or another program.
Direct entry applicants are those who have not attended a post-secondary institution or have completed fewer than 24 credit hours at a recognized university or college. Direct entry applicants require the following:
Manitoba high school graduation including 5 full credits at the Grade 12 level in courses designated S,G, or U
A minimum 85% average over the following, with no less than 60% in each course:

English 40S
Applied Mathematics 40S or Pre-Calculus Mathematics 40S
One of Biology, Chemistry, Physics or Computer Science 40S
Advanced entry is for applicants who have completed one year (24 credit hours) or more of studies in another faculty at the University of Manitoba or another recognized post-secondary institution.
How to apply
Domestic student application fee: $100
International student application fee: $120
Applications to the University of Manitoba are completed online. To begin your application, select the Start or continue your application button. The online application includes several parts, and you may be required to submit transcripts, proof of English Language proficiency, and other documents.
Contact us
Admission and application inquiries
Mailing address
Undergraduate Admissions
424 UMSU University Centre
University of Manitoba
66 Chancellors Circle
Winnipeg, MB R3T 2N2 Canada
Office location
Room 424 UMSU University Centre
65 Chancellors Circle
University of Manitoba (Fort Garry campus)
Submit a question
Phone: 204-474-8808
Toll-free: 1-800-224-7713 ext 8808
Program inquiries
Faculty of Kinesiology and Recreation Management
Room 102 Frank Kennedy Centre
420 University Crescent
University of Manitoba (Fort Garry campus)
Winnipeg, MB R3T 2N2 Canada
kinrec@umanitoba.ca
Phone: 204-474-9747