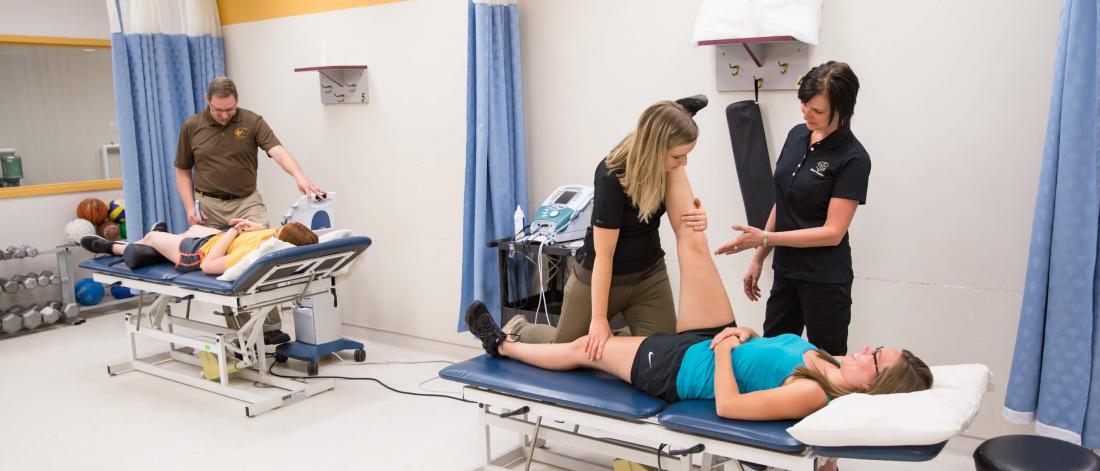 What our students say
"A highlight so far has been all the amazing people I've met and the places I've traveled, while getting to study something I love. This is my second year working with the UM men's basketball team. Being with this team I recently traveled to Victoria, B.C. with them and earlier this year I traveled to Abbotsford, B.C. I feel so fortunate to be able to work with these athletes and to have met some of my best friends in this program!"
–  Caitlin Williams, Class of 2019
Career options
Professional fields for Athletic Therapy graduates include:
athletic therapist
aging
fitness
community development and wellness
culture and diversity
coaching
Fully accredited
The University of Manitoba's Faculty of Kinesiology and Recreation Management has one of only seven accredited BKin - Athletic Therapy programs in Canada.
UM Athletic Therapy graduates achieve high success rates on their Canadian Athletic Therapists Association (CATA) certification exams each year.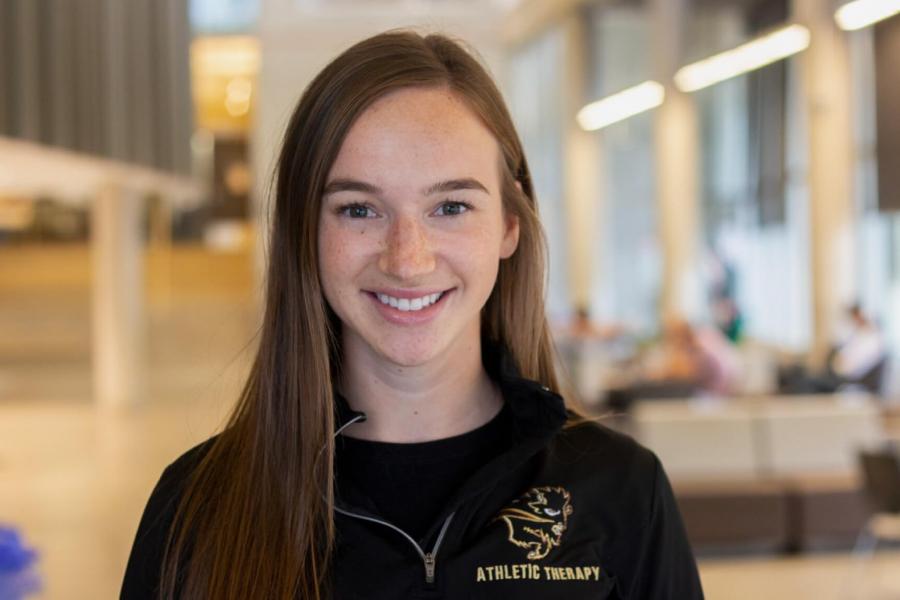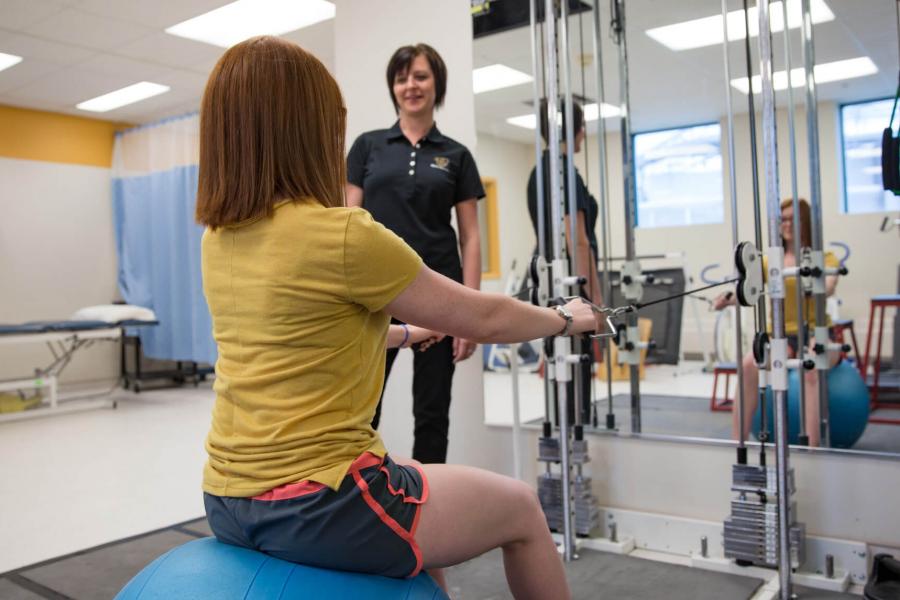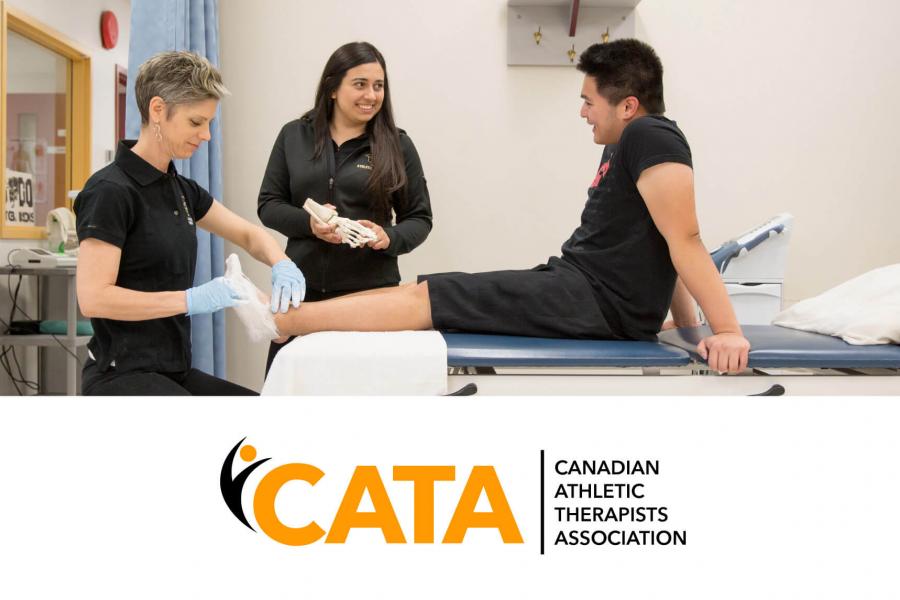 495

undergraduate students

94

graduate students

28

faculty academics

5,400

alumni

22

faculty-sponsored scholarships
Program details
The Faculty of Kinesiology and Recreation Management offers four degree programs that have a base of shared core courses to ensure students experience the interconnections across the faculty and its related fields of practice.
Expected duration: 3 years (plus qualifying year)
To graduate with a four-year Bachelor of Kinesiology – Athletic Therapy degree, a student must have passed 120 credit hours of the program and must have achieved a Degree Grade Point Average (DGPA) of 2.00 with a minimum grade of "C" in all Faculty-required courses.
We recommend that courses be completed in sequence, otherwise an additional year may be required.
Valid CPR (Basic Life Support Provider) and Standard First Aid (Red Cross, St. John's Ambulance) certification is required prior to the start of classes in Year 2 through graduation.
Each year while in the program, Athletic Therapy students must also register as members with both the Manitoba Athletic Therapists Association (MATA) and Canadian Athletic Therapists Association (CATA).
Sample course offerings
BIOL 1410: Anatomy of the Human Body (3 credit hours)
HNSC 1210: Nutrition for Health and Changing Lifestyles (3 credit hours)
KIN 2200: Basic Trauma and Life Support (3 credit hours)
KIN 2750: Athletic Therapy Skills (3 credit hours)
KPER 2170: History of Physical Activity and Leisure (3 credit hours)
KPER 2540: Psychology of Sport and Physical Activity (3 credit hours)
KPER 2700: Motor Control and Learning (3 credit hours)
KPER 3100: Inclusive Physical Activity and Leisure (3 credit hours)
KPER 3512: Principles of Fitness Training (3 credit hours)
KIN 3510: Physical Activity and Aging (3 credit hours)
KIN 4160: Advanced Pathology and Sport Medicine (3 credit hours)
KPER 4020: Philosophy of Physical Activity and Leisure (3 credit hours)
For full course descriptions, please visit the Academic Calendar.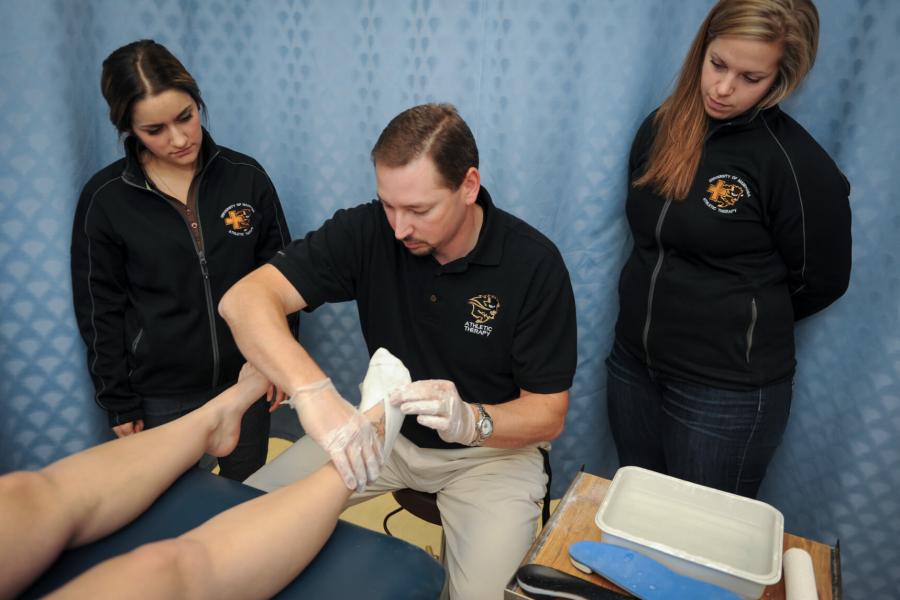 Athletic Therapy field experience
Students in the Athletic Therapy Program will be required to complete several hours of clinical and field (sports team) experiences on campus and in the community during their degree. These experiences provide opportunities to apply classroom learning in a practical setting, which prepares students for the Canadian Athletic Therapy Association (CATA) examinations.
Admission requirements
The following are minimum requirements for entry into the BKin – Athletic Therapy program. Meeting these requirements does not guarantee acceptance into the program.
The Bachelor of Kinesiology – Athletic Therapy is an advanced entry program, which means that you must complete at least 24 credit hours of university-level study with a minimum adjusted grade point average of 2.0 before you can be considered for admission. 
If you do not meet the requirements for advanced entry into Athletic Therapy, you may be eligible for admission to the Faculty of Science or another program. If you have not attended university before, you can apply for a program with direct entry, such as University 1.
How to apply
Domestic student application fee: $100
International student application fee: $120
Applications to the University of Manitoba are completed online. To begin your application, select the Start or continue your application button. The online application includes several parts, and you may be required to submit transcripts, proof of English Language proficiency, and other documents.
Contact us
Admission and application inquiries
Mailing address
Attn: Undergraduate Admissions
University of Manitoba
66 Chancellors Circle
Winnipeg, MB R3T 2N2 Canada

Office location
Room 424 UMSU University Centre
65 Chancellors Circle
University of Manitoba (Fort Garry campus)
admissions@umanitoba.ca
Phone: 204-474-8808
Toll-free: 1-800-224-7713 ext. 8808
Fax: 204-474-7554
Monday, Tuesday, Thursday, Friday: 8:30 a.m. to 4:30 p.m.
Wednesday: 9:30 a.m. to 4:30 p.m.
Program inquiries
Faculty of Kinesiology and Recreation Management
Room 102 Frank Kennedy Centre
420 University Crescent
University of Manitoba (Fort Garry campus)
Winnipeg, MB R3T 2N2 Canada
kinrec@umanitoba.ca
Phone: 204-474-9747