Student experience
The Faculty of Arts invites you to take advantage of the wide-ranging supports and opportunities available to you throughout your degree program. Achieve success with the help of academic advisors and student awards and funding. Broaden your learning experience through co-op programs, exchange opportunities and participation in student clubs and student research.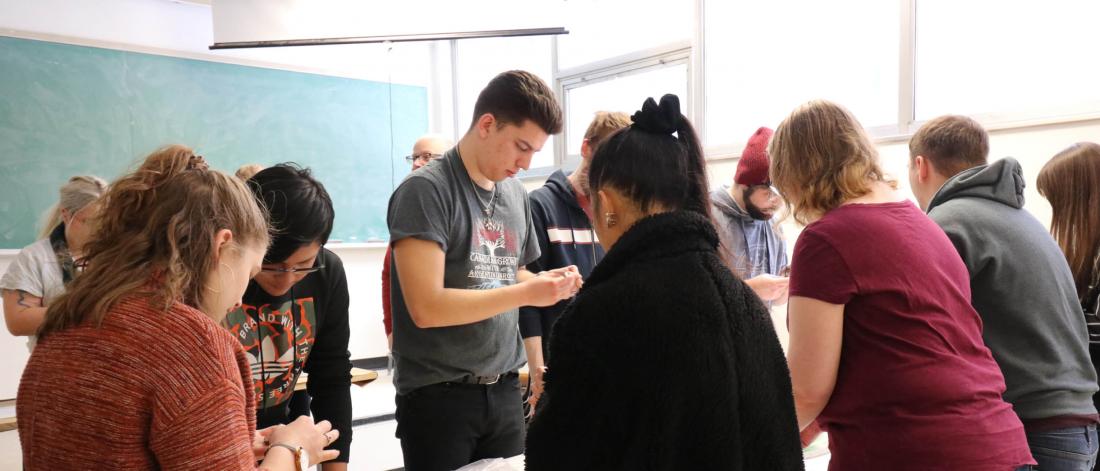 Student supports
We can help you at every step of your journey. Here are resources to navigate the academic, financial and personal aspects of life in the Faculty of Arts.
2020-2021 Compassionate grading accommodations
The compassionate grading policy provides students with the option to make choices about Fall 2020 and Winter 2021 grades. The option to exclude a grade will be open in UM Learn from May 3rd at 9:00 am (CDT/CST) to May 11th at 11:59 pm (CDT/CST) for graduating students and May 31st at 11:59 pm (CDT/CST) for returning students.
Find an FAQ on compassionate grading to help guide your decision-making.
Faculty of Arts GPA calculator
This GPA calculator can estimate the impact of either keeping or excluding a grade from your GPA. 
This tool is not intended to calculate an official GPA for admission or graduation. It is only intended to assist in understanding and visualizing the impact that excluding a course may have on a GPA calculation. Knowing this information will help you make decisions about the compassionate grading options. Faculty of Arts Academic Advisors are the official source to verify your B.A. Degree Grade Point Average (DGPA).
Please use the GPA calculator in conjunction with your UM Achieve audit and/or the Academic Calendar to verify the courses that you input are applicable to your program.
Academic advising
Our Arts Academic Advisors are your primary resource for degree planning. Both Canadian and international students can contact us for:
degree planning
declarations and program changes
confirming graduation requirements
a program status check using UMAchieve, our degree audit software
information about a wide variety of helpful campus resources
Many of your requests may require a form to be completed for action to be taken. Please refer to Student forms for forms you can submit by email.
Contact an Arts academic advisor
During COVID-19, please contact us with your academic advising questions by phone or email:
Phone: 204-474-9100 Email: arts_inquiry@umanitoba.ca
Be sure to include your first name and last name, UM student number and current phone number. Ensure your phone number matches your Aurora contact information. If it does not, please update Aurora before contacting us.
For more advising options, refer to UM-wide Academic advising.
Career options
Tap into the faculty's resources to help you plan your career and connect with employers through career fairs and job postings.
Explore your career options with Career Compass
Map out your career pathway from the start of your academic journey. If you are undecided about a career or would like to start planning for your chosen occupation, you can contact the Career Services Centre for help.
Get involved
Explore ways to connect with Arts and the student community while completing your degree. Enrich your University experience by getting involved with a student group, student leadership, volunteer work, student council, advocacy and governance or research.
Faculty of Arts student groups
Gain a sense of community by joining an Arts student group or club in your department or program. Practice your language skills, learn about different cultures, gain professional insights and graduate school tips, form study groups and increase your social network with other students.
Labour Studies Students Association

Linguistics Graduate Students' Association
Philosophy and Ethics Centre Student Associations
Graduate Association of Students of Psychology
Student forms
You can submit the following forms by email to arts_inquiry@umanitoba.ca.
To complete a fillable form, you must open it in Adobe Acrobat Reader. In web browsers with a built-in PDF reader, right or secondary click the form and download it to open it in Adobe. After completing the form, save it to your computer. To submit it, email the form as an attachment.
Download Adobe Acrobat.
You may also want
Contact us
Faculty of Arts
3rd Floor Fletcher Argue Building
15 Chancellors Circle
University of Manitoba (Fort Garry campus)
Winnipeg, MB R3T 2N2 Canada
204-474-9100
Toll Free: 1-800-432-1960 ext. 9100