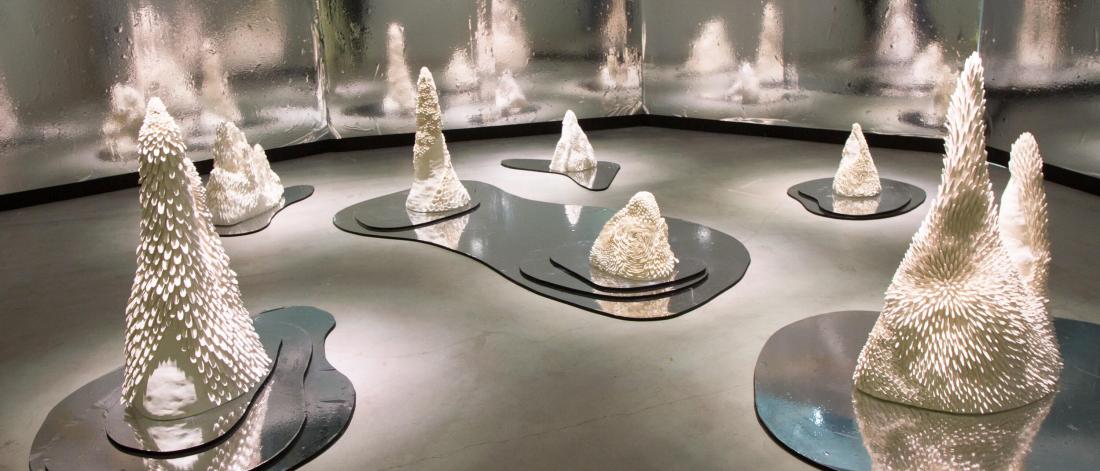 Study at the School of Art
Our focus is on preparing students for a successful career in the arts, at a time when creativity, critical thinking, and complex problem solving are in greatest demand.
Alumni of our programs have gone on to thriving careers as visual artists, curators, designers, art historians, gallerists, educators, arts administrators, cultural workers, and many other professions in media and technology.
Faculty and staff
Staff and Faculty members at the School of Art are among Manitoba's most highly respected artists and art researchers.
Learn new concepts and techniques from SOA scholars, instructors and technicians, and integrate their feedback into your own artistic practice.
School of Art facilities
Our wide-ranging facilities include a large-format digital print shop, large new darkroom and wet lab spaces, extensive sculpture fabrication facilities, comprehensive ceramics area with newly built wood-fired kiln, MAC lab and private editing suites, a sound stage and print media studio equipped for a broad range of print and papermaking processes, all available to support student creativity.
The Architecture/Fine Arts Library contains one of Canada's richest collections of materials on art, architecture and urban planning, while the University's network of libraries offers extensive digital resources. 
Winnipeg's arts community
The School of Art at UM holds a central place in Winnipeg's creative community. Be inspired and informed by exploring exhibitions in the city's many galleries, and make connections that you'll maintain long after graduating.
Exhibitions and events
With its own extensive collection and a more than 50-year archive of past shows, the School of Art Gallery is a hub of artistic expression on the Fort Garry campus.
The Student Gallery provides a space to exhibit your own work, and consider the work of your friends and colleagues at the school. 
Getting involved
There are plenty of ways to get involved as a School of Art student. Student groups and out-of-town field trips are great ways to get to know your cohort.
Guest lectures and demonstrations from visiting scholars and artists bring outside perspectives and insights.
Studio and research assistantships can provide some extra income while doing the work you love.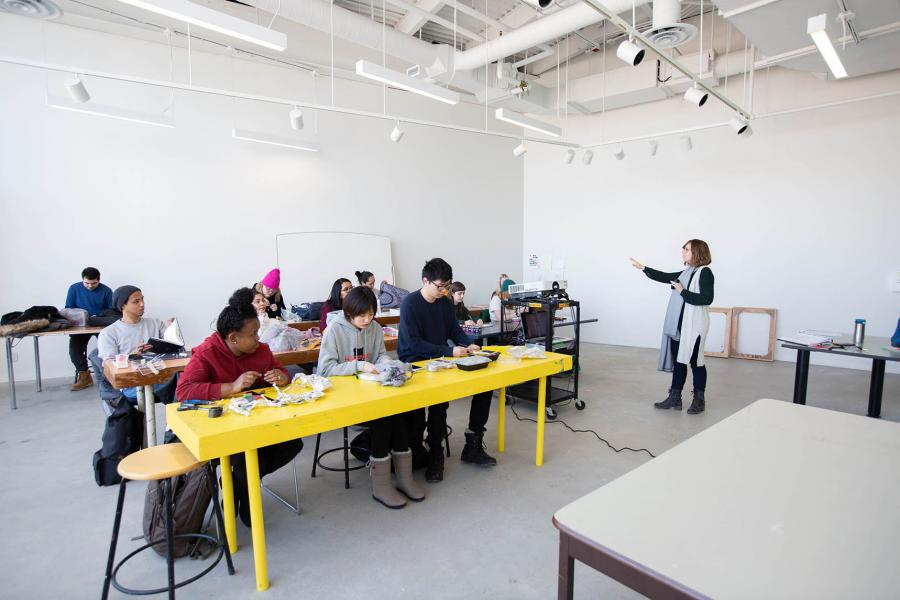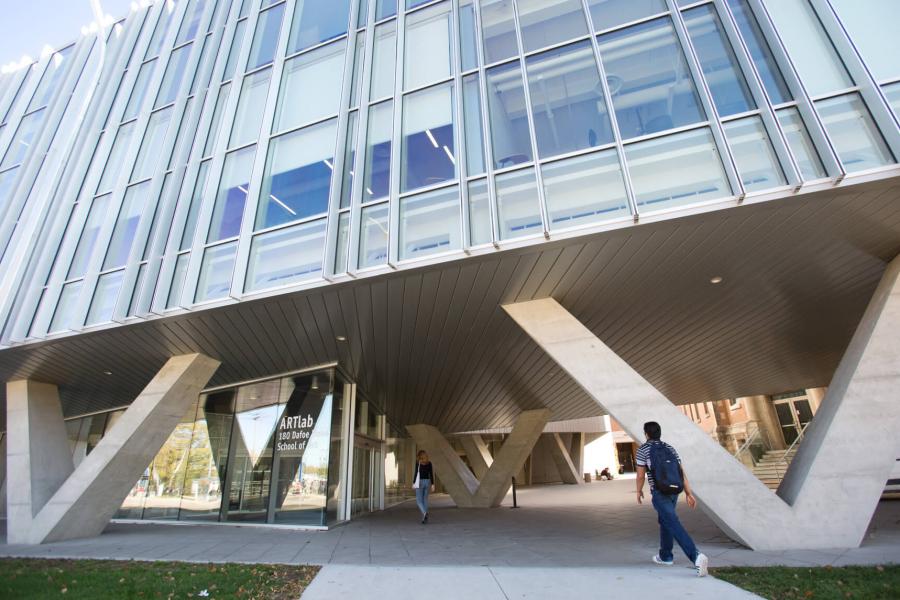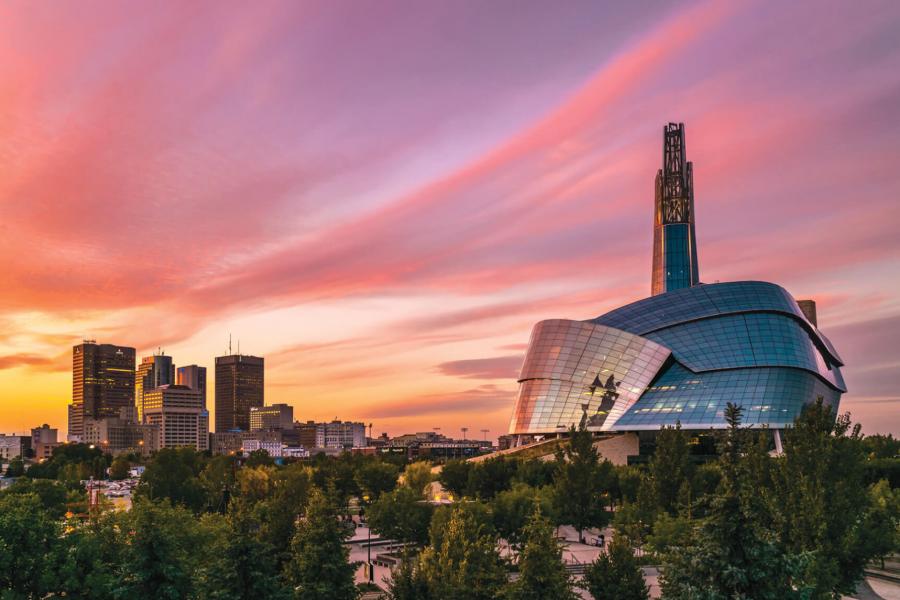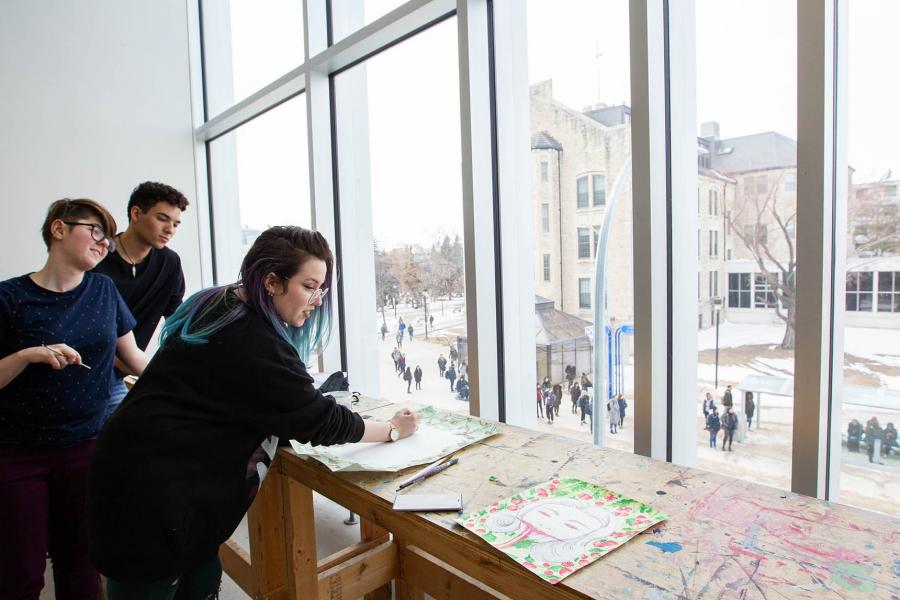 1913

Year the School of Art was established

70,000

Size of the ARTlab building, in square feet

9

Medium options you can focus on, including ceramics, graphic design and video

24/7

Hours many studios are open for student use
Program details
The School of Art offers three and four year Bachelor of Fine Art studio options, as well as a four year diploma in Fine Art.
Bachelor of Fine Arts
Expected duration: 3 years
The Bachelor of Fine Arts General is designed to provide a balanced learning of theory and practice. Studio courses focus on the production of art and design, though studio practice, related theory, and the technical education necessary to become an educator, or a professional creative artist in fine art or applied fields.
All undergraduate students take first and second-year studios in experimental and foundation studies, followed by more intensive study in specific fine art and design disciplines beginning third year. Students graduate with a Bachelor of Fine Arts degree and deep disciplinary knowledge along with strong critical thinking skills and the agility to problem solve and connect the dots across a wide range of fields.
Bachelor of Fine Arts Honours
Expected duration: 4 years
The BFA Honours degree allows you to complete an additional year of study including electives, as well as self-directed studio work and research.
Diploma in Art
Expected duration: 2 years
The Diploma in Art is essentially technical in nature. The interdisciplinary studio-based learning experience gives students a hands-on training in an art studio setting and introduces them to possible careers and education pathways in the arts and culture sector. Building a diverse set of technical skills while gaining practical experience.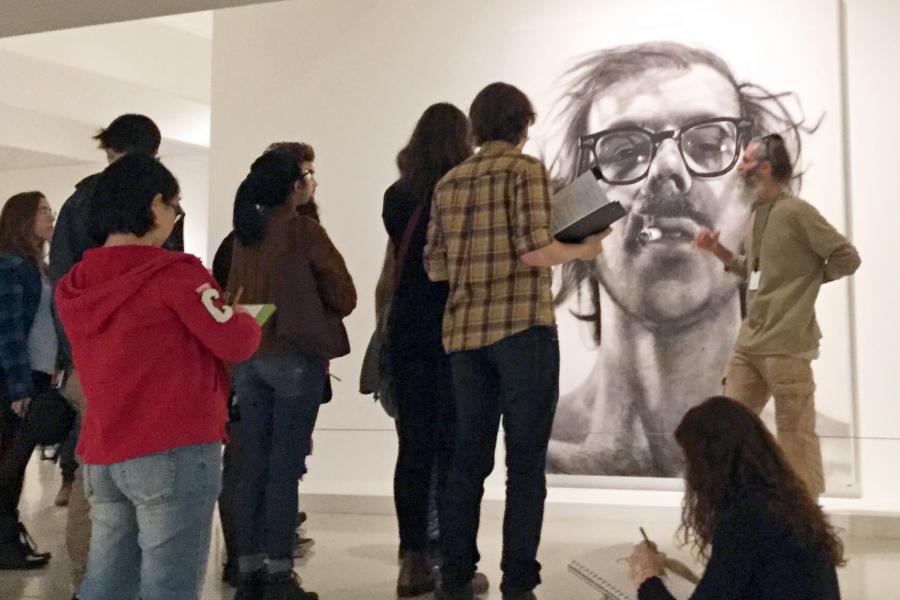 First year field trip
This required course for all School of Art students takes place each October, supervised by faculty members and the advising office. Students travel to Regina and Saskatoon, visiting several art galleries and other points of interest. Previous tours have included the Mackenzie Art Gallery, Remai Modern, Dunlop Art Gallery, PAVED Arts, and Wanuskewin Heritage Park. During the field trip, students complete a short drawing/writing-based assignment reflecting their studied artworks.
Media concentrations
As a School of Art student, you have the option to pursue a multidisciplinary focus, or you can choose to emphasize one or more of these media specializations:
ceramics
drawing
graphic design
painting
performance
photography
print media
sculpture
video
Ceramics
Students at the School of Art receive instruction in functional pottery, ceramic sculpture, and installation, with attention paid to ceramic history and current discourse. Students learn wheel throwing, hand building, mould making and slip casting, clay and glaze chemistry, along with firing in electric, soda, and wood kilns.
Drawing
Drawing enhances the ability to see the visual world with heightened insight and awareness. In basic to advanced drawing courses, students integrate observation and perception with concepts and imagination. Students develop an ability to focus, increase visual sensitivity, and use drawing skills to the best expression of their imagination.
Graphic design
In the context of information growth and technology, graphic design functions at the crossroads of creativity, communication and business. Its traditions of typography and visual metaphor date back hundreds of years, while digital technology and the exponential growth of the internet open new possibilities in communication networks and interface design. Topics incorporated into the study of graphic design may include semiotics, digital technology, Web design, marketing, typography, and illustration.
Painting
In spacious studios, students explore both traditional and contemporary approaches to painting. Projects may incorporate oil, acrylic, wax or water-based paint as well as other media or installation concepts. Formal language, degrees of abstraction, aesthetic and colour theory, and professional practice are among the specialized knowledge and skills taught.
Performance
Introductory and advanced performance art studios offer students the opportunity to explore the formal language of the body as a mode of critical art expression. Live action, performance-based installation, as well as interactive and relational modes are contextualized through historical and contemporary references. Performance art's relation and intersection with other mediums and artistic practices further expand students' artistic vocabulary.
Photography
Students gain a thorough understanding of the technical and formal aspects of photography and have access to photographic equipment, black and white and colour darkrooms, digital editing labs, and professional digital printing facilities. In advanced studios, students have the opportunity to further develop their personal imagery while gaining critical insight into historical and contemporary photographic practices.
Print media
In print media students explore both traditional and experimental processes involving intaglio, lithography, relief, and silkscreen. Contemporary print media involves a wide variety of mediums and approaches, from traditional drawing-based methods used for intaglio such as line etching, aquatint, softgrounds, and collographs, to newer techniques such as photocopy transfers and computer-generated images used in lithography. Hand-made papers and other materials extend the expressive possibilities.
Sculpture
Three-dimensional exploration is approached through various materials such as wood, plaster, clay, metal, resin, and fiberglass. Additive, reductive and other methods include modelling, carving, casting, welding, joining and assemblage, as well as process and time-based media. Individual explorations and collaborative experimentations include environmental scale works with site implications, interactive or performance pieces with props and structures, and outdoor events involving dramatic processes.
Video
Students in School of Art video courses develop individual and collaborative video or audio works that stand alone or become integrated in multi-media explorations, installations, interactive, or Web based productions. Topics range from scripting and story boarding to directing and producing. Conventional and non-conventional methods and materials are used. With access to a sound stage, production studio and digital video cameras, students learn lighting, audio recording (field and studio), and editing techniques.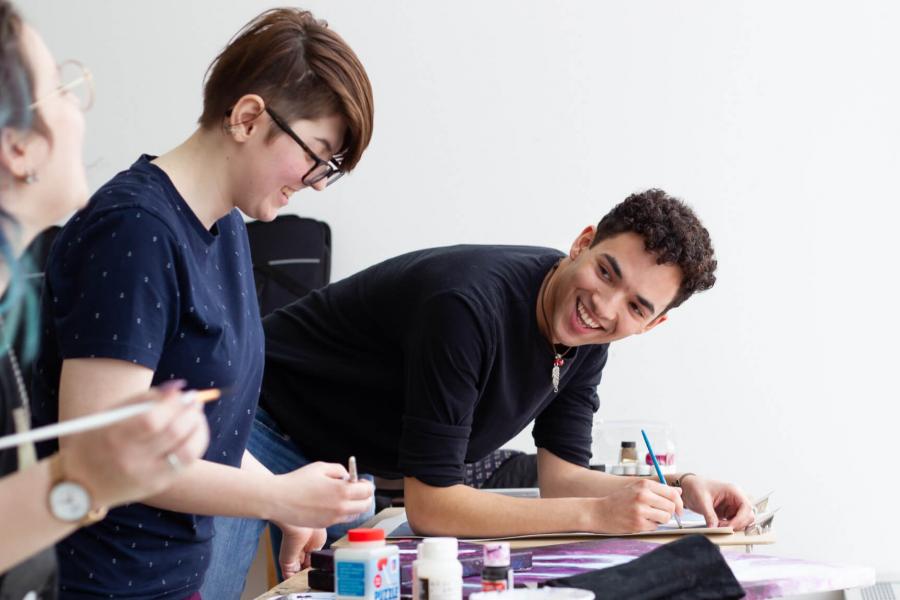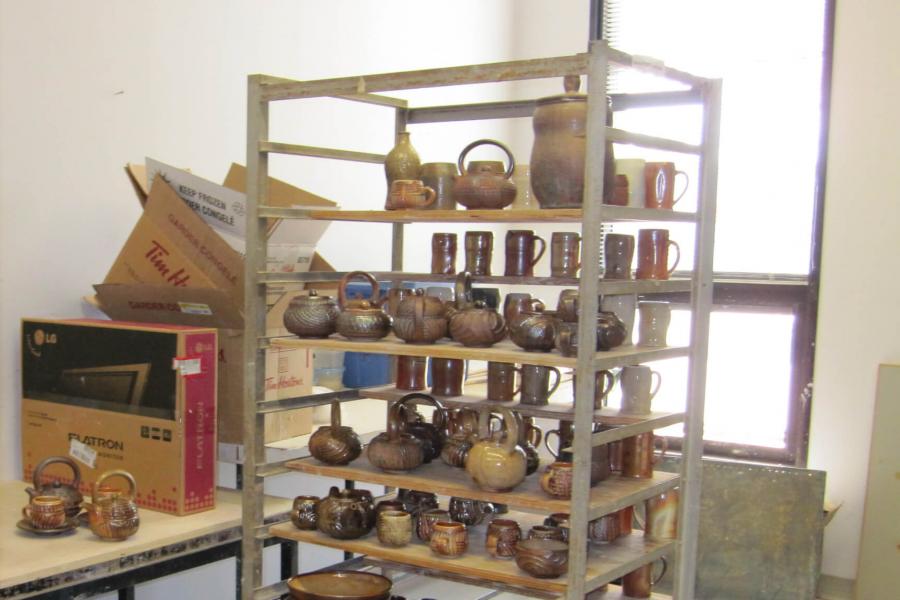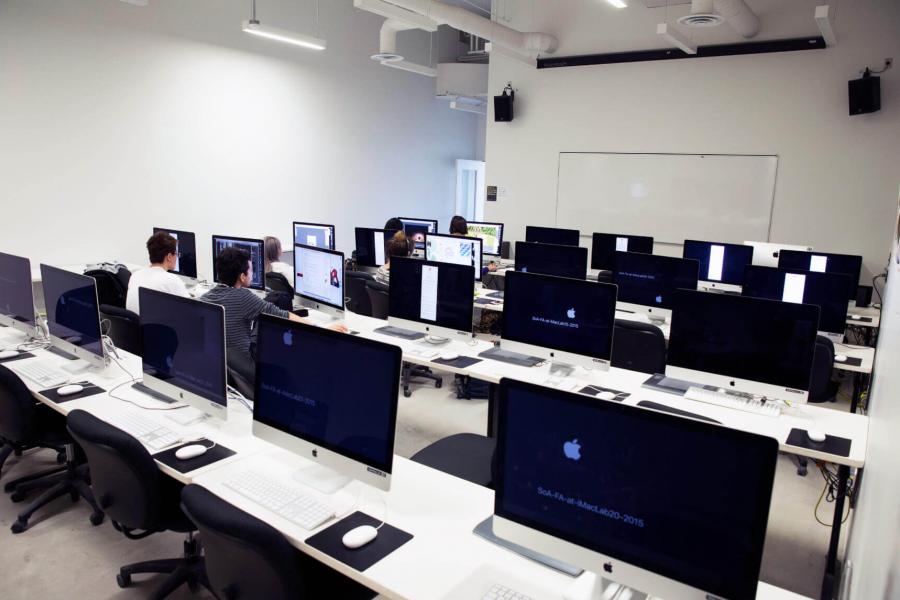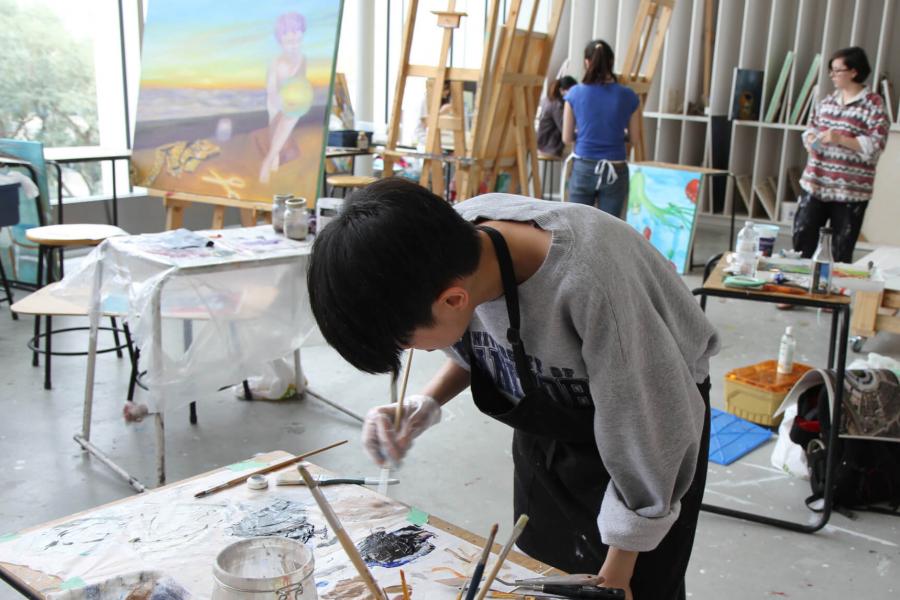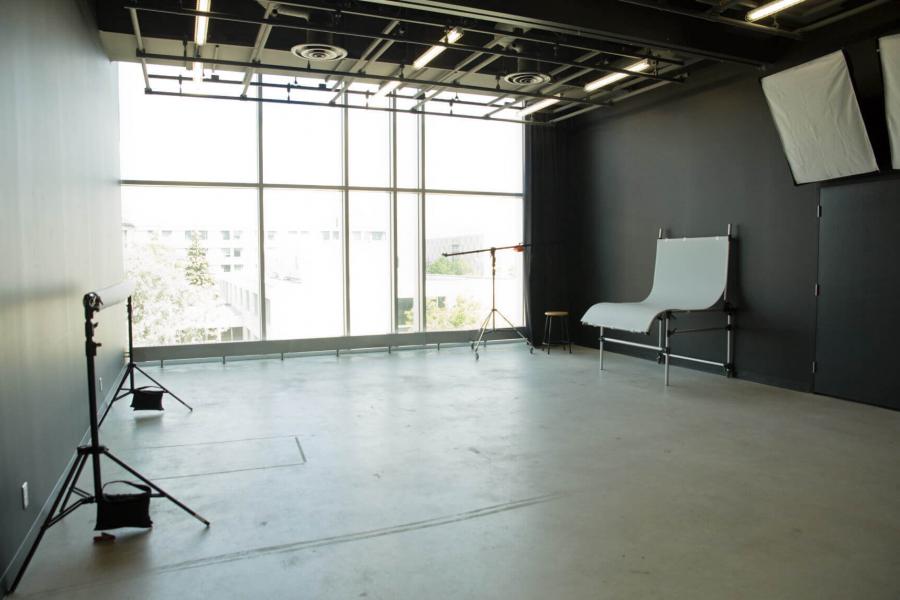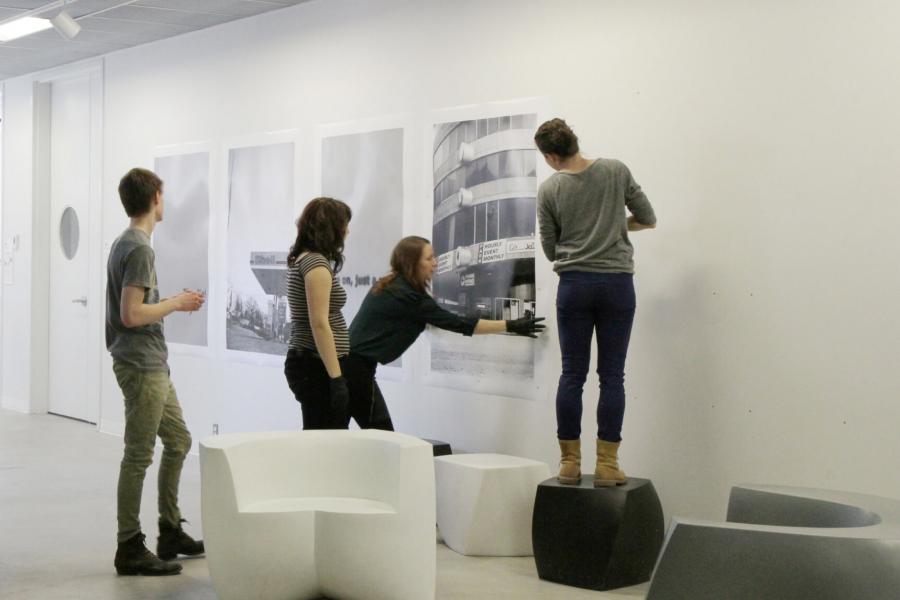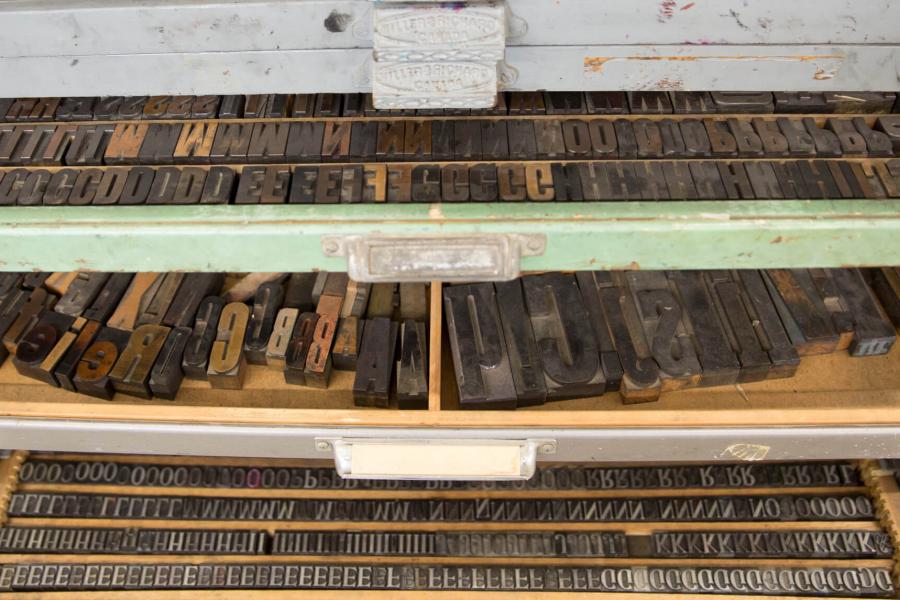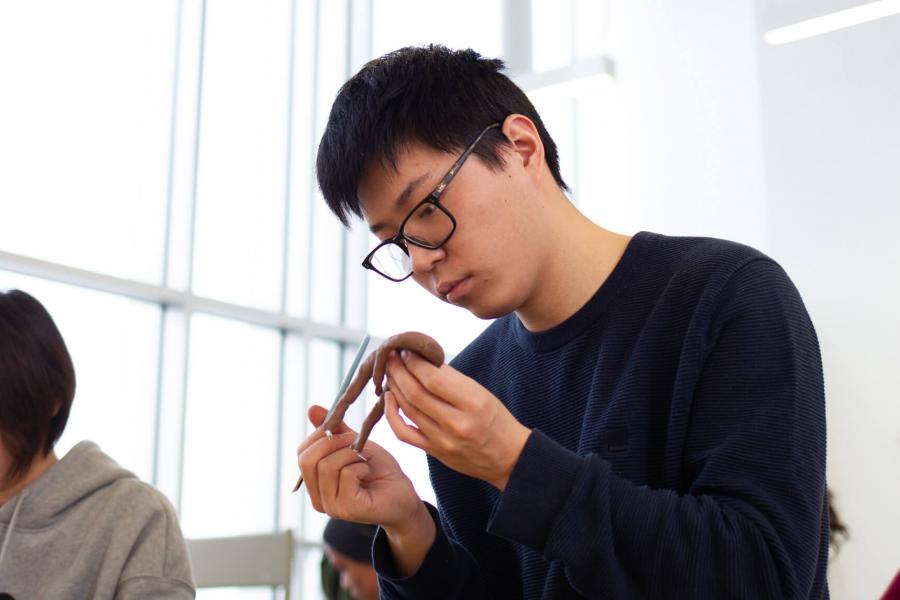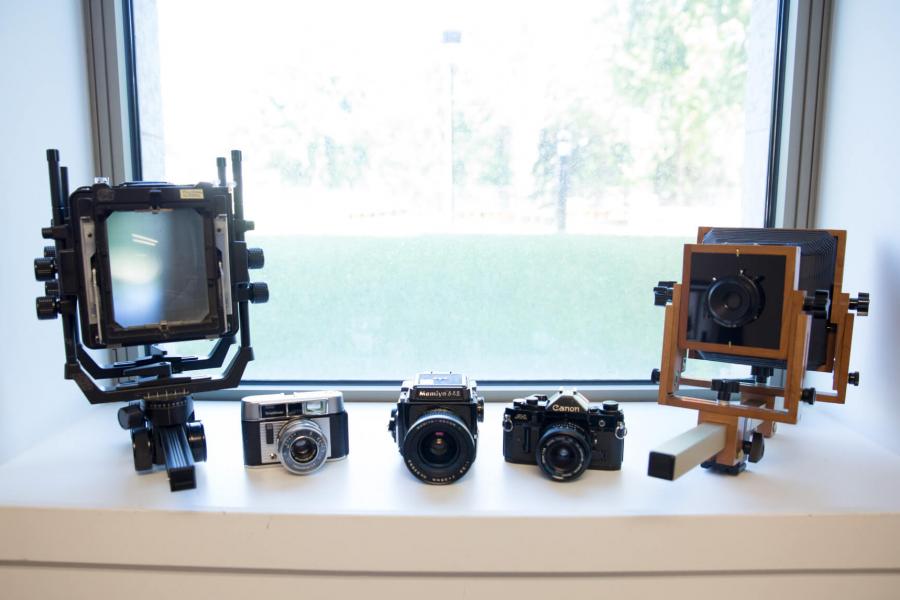 Admission requirements
The following are minimum requirements for entry into the BFA and Art Diploma programs. Meeting these requirements does not guarantee acceptance into the programs.
Degree program admission requirements
If you do not meet the requirements for direct or advanced entry into the Bachelor of Fine Arts program, you can apply for admission to University 1, the Faculty of Arts, or another program.
Direct Entry applicants are those who have not attended a post-secondary institution or have completed fewer than 24 credit hours at a recognized university or college. Direct entry applicants require the following:
Manitoba high school graduation including 5 full credits at the Grade 12 level in courses designated S,G, U, or C
A minimum average of 70% over three Grade 12 40S credits
One credit of Grade 12 40S English with a minimum grade of 60%
A digital portfolio with a supporting written statement
Advanced entry is for applicants who have completed one year (24 credit hours) or more of studies in another faculty at the University of Manitoba or another recognized post-secondary institution. A digital portfolio with a supporting written statement is required.
Diploma program admission requirements
The Fine Arts diploma program does not have a prior education requirement. High school graduation, including completion of Grade 12 Art, is recommended. A digital portfolio with a supporting written statement is required.
How to apply
Domestic student application fee: $100
International student application fee: $120
Applications to the University of Manitoba are completed online. To begin your application, select the Start or continue your application button. The online application includes several parts, and you may be required to submit transcripts, proof of English Language proficiency, and other documents.
All applicants must upload a portfolio of work as part of the online application.
Portfolio requirements
Written statement
Please limit your answers to 50 words for each question.
Why do you want to study at the School of Art?
Tell us about an experience that inspired you to pursue studies in art.
What will you be able to contribute to the School of Art?
What will you gain through studying at the School of Art?
Which piece in your portfolio is your favourite? Why so?
List your education, volunteer service, and work experiences.
Digital portfolio
A portfolio typically includes a selection of work completed within the past two years (10-15 artworks, maximum 15) that has examples selected from the following:
journals, sketchbooks or notebooks
drawing, painting, printmaking (2D)
collage or mixed media (2D or 3D)
sculpture, installation or assemblage (3D)
photographic work
ceramics, glass, metal work, textiles
time-based work: animation, video, audio art, web sites, performance art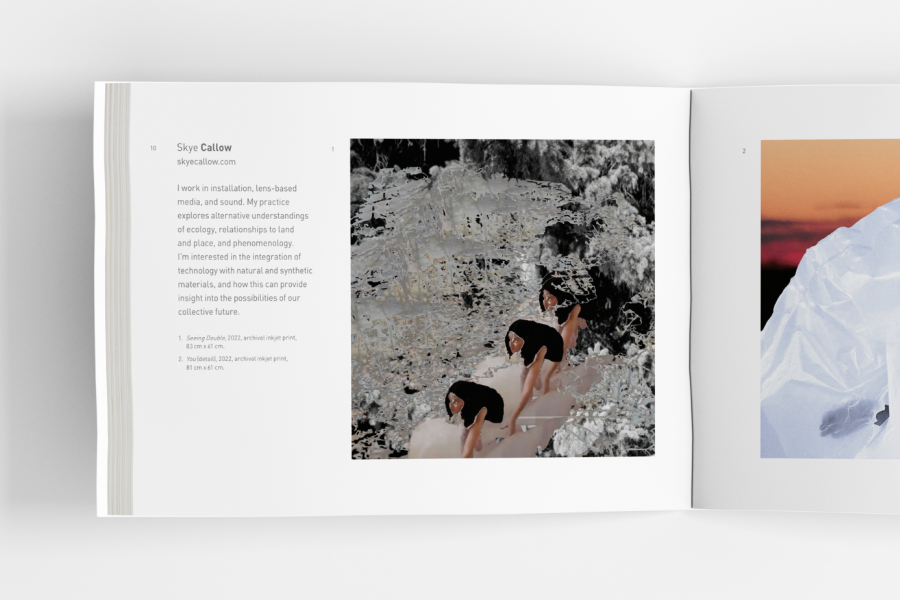 Bachelor of Fine Arts Graduating Exhibition Catalogue
Each year students who have successfully completed the requirements for receiving a Bachelor of Fine Arts Honours degree from the University of Manitoba are featured in the year end graduating catalogue. This publication is a celebration of the rite of passage that is the transition from undergraduate student to university graduate, and perhaps an additional transition to a career or further studies within the visual arts.
Contact us
Admission and application inquiries
Mailing address
Undergraduate Admissions
424 UMSU University Centre
University of Manitoba
66 Chancellors Circle
Winnipeg, MB R3T 2N2 Canada
Office location
Room 424 UMSU University Centre
65 Chancellors Circle
University of Manitoba (Fort Garry campus)
Submit a question
Phone: 204-474-8808
Toll-free: 1-800-224-7713 ext 8808
Program inquiries
School of Art
Room 313 ARTlab Building
180 Dafoe Road
University of Manitoba (Fort Garry campus)
Winnipeg, MB R3T 2N2 Canada
Undergraduate programs: soadvise@umanitoba.ca
Graduate program: mfainfo@umanitoba.ca