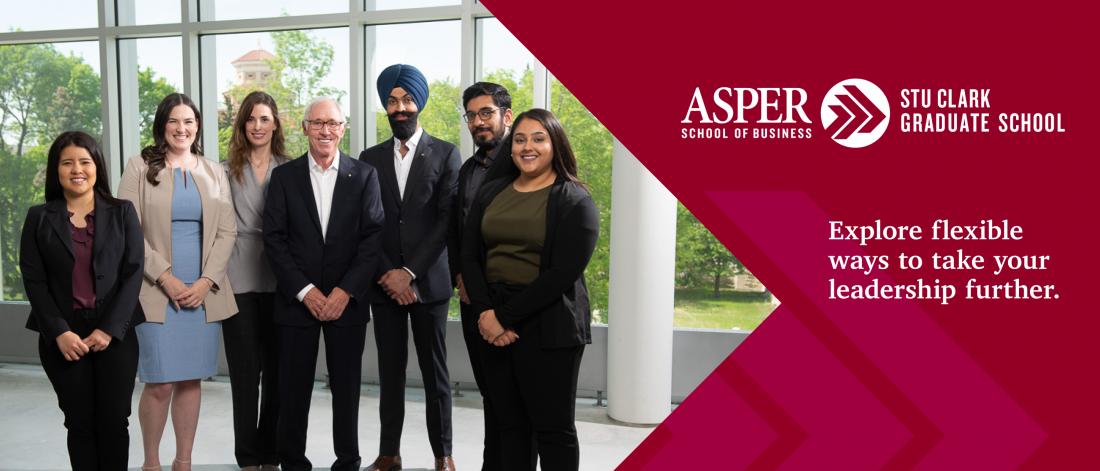 The Asper MBA is more than a degree
Benefit from our experiential approach to learning. Tackle real issues and develop tangible solutions for businesses in Manitoba and across the globe.
Experiential learning opportunities include international study trips, live industry projects, complex global market simulations and international case competitions. 
Learn from leaders in the field
Through one-on-one mentorship, gain insight about the industry you're passionate about. Our Executive Mentor Program pairs Asper MBA students with senior level executives.
Online boot camps and workshops develop the skills necessary to succeed in the Asper MBA program and the business world.
Work to your own schedule
Take your MBA during the weekday, evenings and weekends. Attend part-time or full-time, and switch it up if you need to. 
You may qualify for a number of course exemptions, including for courses completed as an occasional student, Asper Executive Education courses, business management or economics courses completed in another program, and some professional designations. 
Design your course load
Our MBA program is one of the most versatile in Canada. Our innovative curriculum structure ensures you experience most specialty themes and functional areas through our cross-pollinating elective courses. 
Reduced program core and expanded elective options give you flexibility to tailor your degree to achieve your personal and professional career goals. Focus your studies on any combination of theme or functional concentrations.
Get involved
The Asper MBA Student Association (aMBAsa) enhances the MBA student experience by creating opportunities to form lasting relationships with colleagues and the wider Manitoba business community.
Grow your network, get to know your fellow classmates and faculty while gaining valuable leadership experience by taking part in the Association, or by participating in aMBAsa special events and initiatives.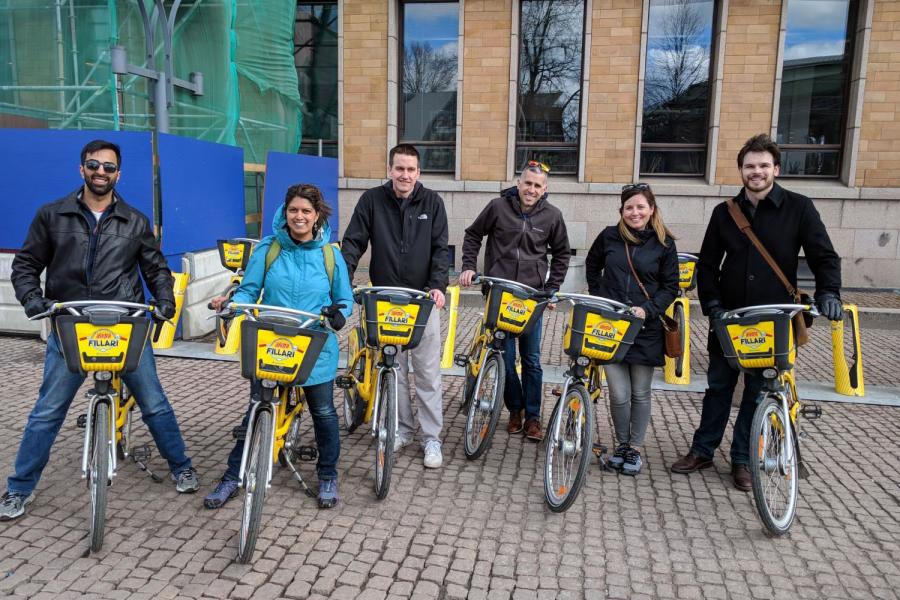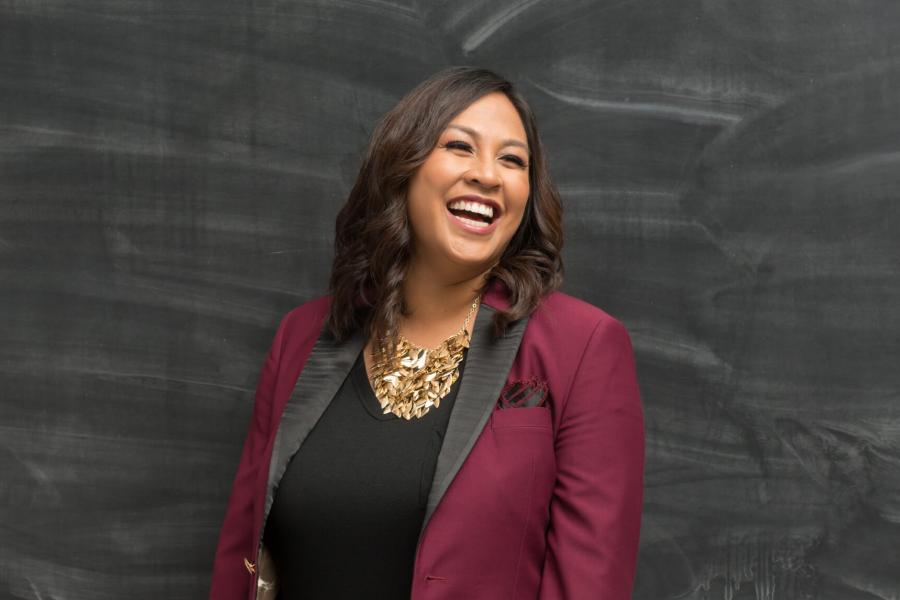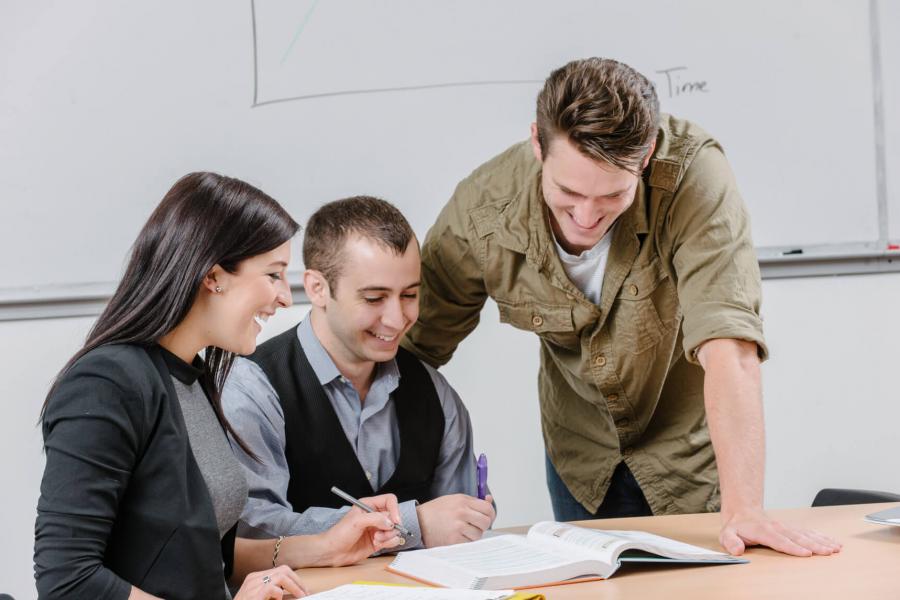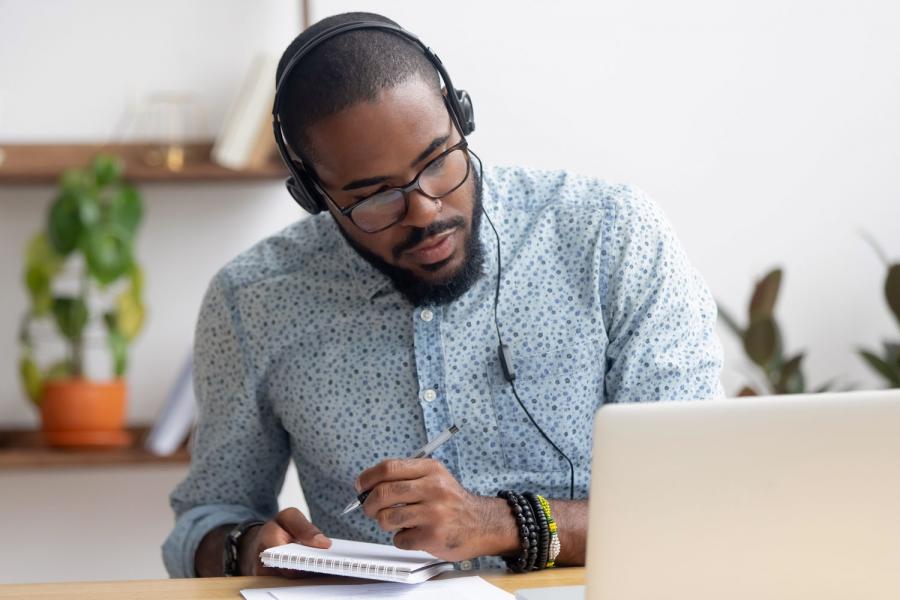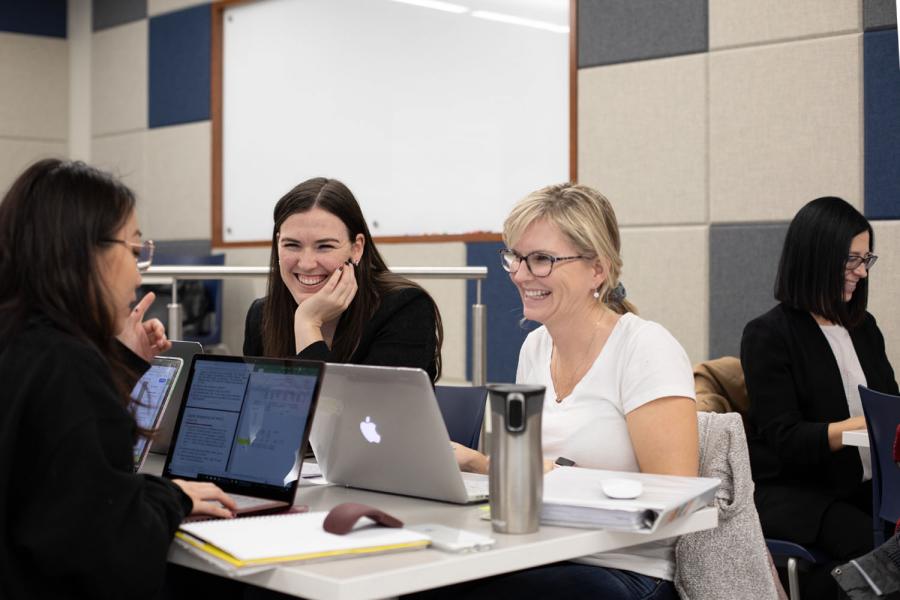 85%

Percent of students employed full-time after graduating

$87,189

Average salary for all MBA graduates

50–65

Number of graduates each year

86%

Percent of graduates who indicated that the Asper MBA met or exceeded their expectations
Program details
The Asper MBA program design will arm you with the skills, knowledge and experience you need to excel in today's business world. We offer online preparatory courses, business fundamentals and strategy, and foundations for leadership development using experiential learning methods and critical and creative thinking.
Expected duration: 1 to 6 years
Estimated tuition and fees:
Domestic - total tuition is $35,300*
International - total tuition and differential fee is $48,300*
* Excludes endowment and student fees.
Please refer to Graduate tuition and fees for more details.
Program core
Our program core consists of 30 credit hours of business fundamentals and strategy, and a foundation in leadership, decision-making methods and contemporary themes that inform decisions in today's business world.
Sample course offerings
Business foundations
Critical and Creative Thinking (1.5 credit hours)
Accounting Fundamentals (3 credit hours)
Managerial Economics (1.5 credit hours)
Corporate Finance (3 credit hours)
Managing People in Organizations (3 credit hours)
Operations and Supply Chain Management (3 credit hours)
Marketing Management (3 credit hours)
Managerial Accounting (1.5 credit hours)
Management Information Systems (1.5 credit hours)
Strategy Capstone Course (3 credit hours)
The Strategy Capstone Course, taken toward the end of the program, provides a holistic perspective on managing an organization or business by integrating all the functional areas and themes explored in the Program Core.
Leadership
Executive Leadership and Responsibility (3 credit hours)
Strategic Leadership and Managing Change (1.5 credit hours)
Business themes
Contemporary Themes in Business (1.5 credit hours)
Contemporary Themes in Business focuses on three themes: International and Emerging Markets, Sustainability, and Entrepreneurship and Innovation. These themes also inform the two Leadership courses and the Strategy Capstone Course. Together, they prepare you for the realities of business – and give you a distinct advantage in today's competitive job market.
For full course descriptions, please visit the Academic Calendar.
Flexible program options
Complete your 60 credit hours of course work:
Full Time: 12 months or up to two years
Part Time: Take up to six years (the average is three)
Flexible course offerings
We offer Asper MBA classes at the following times to fit your schedule:
Monday to Friday: daytimes and evenings
Saturday and Sunday: daytimes
Asper MBA co-op placement option
The Asper MBA degree includes a 4-month graduate co-op placement option in which students gain hands-on experience in a supportive and dynamic leadership environment. The paid full-time (420 hour) work term counts as 3 credit hours as an elective towards your degree. These placements are made possible by the Asper Career Development Centre's network of connections within Manitoba and across Canada.
Concentrations and themes
Tailor your MBA to your passion, your experience and the career you want. Focus your studies on two functional areas, two themes, or a combination of area and theme. To earn a concentration or a theme, you will need to complete 12 credit hours in the chosen area (with the exception of the Financial Analyst concentration). Not all elective courses are offered every year, so it may not always be possible to complete a desired concentration if choosing to complete the program over 12 months
Specialized concentration
Financial analyst
The Asper MBA Financial Analyst specialized concentration prepares you to write all three levels of exams needed to obtain a Chartered Financial Analyst® designation, with a focus on the Level 1 exam.
The Chartered Financial Analyst® Institute sets professional and ethical standards for financial services professionals worldwide. We worked with the CFA Institute to map over 70% of the CFA Program Candidate Body of Knowledge into our concentration.
You will graduate as a highly skilled and sought-after management professional fully versed in, and committed to upholding, the ethical standards and practices of the financial services sector.
All students pursuing this concentration will have to complete 30 credit hours of core MBA courses, as well as 22.5 credit hours of specialized Financial Analyst courses and 7.5-9 credit hours of other electives. At this time, this concentration can only be completed in 20 months or more.
Functional concentrations
Finance
A functional concentration in finance includes courses such as: Financial Intermediaries and Capital Markets, Investment Policy, International Finance, Portfolio Management, Financial Modeling, Behavioural Finance, Fixed-Income Securities, Alternative Markets and Instruments and Readings in Accounting and Finance (Ethics).
Leadership and organizations
A functional concentration in leadership and organizations includes courses such as: Interpersonal Processes, Negotiations, Business Venture Analysis, Business Analysis and Strategic Development, Business Case Competitions, Leadership for a Global Environment, Strategic Leadership and Sustainability and Managing Innovation.
Marketing
A functional concentration in marketing includes courses such as: Cultural Brand Management, Digital Marketing, Marketing Innovation, Consumer Insights and Social Change and Sustainability Marketing.
Supply chain management
A functional concentration in supply chain management includes courses such as: Quantitative Analysis, Project Management, Sustainable Lean Management and Business Process Management Using ERP Systems.
Themed concentrations
International and emerging markets
Gain the skills and mindset you need to operate a business in international and emerging markets at various levels of economic and social development. This MBA theme shows you how to identify the opportunities, risks, growth potential and challenges you may encounter as businesses evolve in the developing and developed regions of the world.
Sustainability
Explore business from a triple bottom line perspective of People, Planet and Profit. Sustainable development recognizes the interconnectedness of economic prosperity, environmental integrity and social equity, and seeks to balance multiple forms of wellbeing (including financial, ecological and social) for stakeholders such as owners, employees, customers, suppliers, partners, government, society, and future generations.
Entrepreneurship and innovation
Whether your goal is to start a company or innovate in an existing organization, this MBA theme will hone your understanding of value creation and re-creation by exploring creative, innovative and entrepreneurial perspectives and behaviours.
Interdisciplinary concentrations
Health administration
An interdisciplinary concentration in health administration includes courses such as: Organization and Financing of the Canadian Health Care System (mandatory), Principles of Epidemiology (mandatory), Current Topics in Community Health, Research and Evaluation, Epidemiology of Health Care, Health Policy and Planning, Economic Evaluation of Health Care and Industry Project.
Management of public enterprises
Asper MBA students interested in the interface between private sector business and community/state governance and administration will be interested in this concentration, which is offered in partnership with the Masters of Public Administration program at the University of Manitoba.
Individual interdisciplinary program
Under the Individual Interdisciplinary Program option, students can create their own course package by selecting four courses that are relevant to them from other graduate programs at the University of Manitoba.
The package of courses must have a cohesive management theme and each course must be relevant from a management perspective. The package must be approved by both the host departments and the MBA Program Committee at Asper prior to taking the first course in the package.
Bootcamps and workshops
Our preparatory bootcamps and workshops help you develop the necessary skills to succeed in the Asper MBA program and in the business world.
Math bootcamp: online number crunching primer.
Information Technology bootcamp: online course that provides you with the basics of common productivity software packages used in the business world, with particular focus on Excel.
Career development workshops: opportunity to develop soft skills such as business etiquette, networking, resume-building and behaviour-based interview skills.
Take Asper MBA courses as an occasional student
Find out if the Asper MBA is right for you by taking an Asper MBA course as an occasional student. Earn up to 12 credit hours of exemptions from MBA core and elective courses when you decide to formally apply to the Asper MBA. That's 12 credit hours toward your MBA degree, before you even commit to the program. 
Learn more about studying in Asper as an occasional student
As an occasional student applicant, you do not need to submit your resume, references, nor a GMAT score – you must only complete your online application to occasional studies and submit past academic transcripts (you must hold a university degree to apply as an occasional student).
You will have one academic year of occasional student status from the time you start. Occasional student status expires August 31 each year and must be reapplied for in each new academic year within which you wish to have occasional status.
The courses that are available to Occasional Students are:
GMGT 7200 Critical and Creative Thinking
GMGT 7220 Managing People in Organizations
IDM 7510 Leadership and Change
MKT 7010 Marketing Management
IDM 7130 Contemporary Themes in Business
OPM 7120 Operations and Supply Chain Management
and a limited few Asper School MBA electives (that either don't have a prerequisite or for which you took the core course first).
To get credit for occasional studies courses in the MBA, you must start the MBA no later than 5 years from when you took the first occasional studies course (to get credit for them all).
Only occasional studies courses with grades of C+ or higher qualify for exemptions. Occasional studies courses taken prior to admission to the MBA program will not count toward the MBA degree GPA. International students interested in taking a course as an OS will be part-time students and will not be in a degree program and must thus be familiar with all IRCC regulations surrounding their status in Canada as an occasional student.
Please also note that if you decide to start as an occasional student and later apply for the MBA program proper, that will be a new and separate application and a new $100 application fee. Also, the tuition fees for occasional student courses are the same per course as for MBA students.
Admission requirements
To qualify for admission to the Master of Business Administration program, you must have a minimum of:
A three-year bachelor's degree with a minimum GPA of 3.0 in the last 60 credit hours of study (GPA of minimum 2.5 may be considered in some circumstances)
Two years of professional work experience
Minimum GMAT (or equivalent GRE) score of 500 (550 is preferred)*
One of the following English language proficiency test scores, if applicable: 

AEPUCE: 85% if entering AEPUCE with an IELTS of 6.0
CanTEST: 4.5 in all sections
IELTS: 7.0, with no band less than 6.0
PTE Academic: 65
TOEFL- iBT: 100, with a score of 20 in each of reading, writing, listening and speaking
The GMAT requirement is not waived under any circumstances. A GMAT score is valid for five years, while the English language test scores are valid for two years.
Meeting these requirements does not guarantee acceptance into the program.
In addition to the admission requirements described here, all applicants must meet the minimum admission and English language proficiency requirements of the Faculty of Graduate Studies.
Each year, the program admits a small number of highly experienced and gifted individuals who do not hold a baccalaureate degree or whose GPA falls below 2.5. These individuals have significant professional background and a strong GMAT score. Preference in filling these limited spaces is given to local applicants.
How to apply
The MBA program accepts, reviews and processes applications on a rolling basis throughout the year, for two entry points – Fall (August) and Winter (January). All applicants, but especially international students, are encouraged to apply months in advance of the deadline date. Applying early will lead to an early admission decision and will allow the time required to apply for and secure student permits and student visas. Applications are submitted online and must include the following before they will be reviewed by the admissions committee:
$100 application fee (non-refundable)
Uploaded copies of transcripts from all post-secondary institutions attended
Names and emails of two individuals whom you have worked for professionally (they will be contacted directly to complete a provided reference questionnaire about you)
Resume
GMAT/GRE score report 
Proof of English language proficiency, if required
Download the Asper MBA application checklist
Please read the Faculty of Graduate Studies online application instructions before beginning your application.
GMAT and GRE resources
The Graduate Management Admission Test (GMAT) and Graduate Record Examinations (GRE) are standardized tests used to demonstrate academic qualification for graduate programs. Applicants to the Asper MBA must provide one of these test scores as part of the admissions process.
Contact us
Admission and application inquiries
Faculty of Graduate Studies
Room 500 UMSU University Centre
65 Chancellors Circle
University of Manitoba (Fort Garry campus)
Winnipeg, MB R3T 2N2 Canada
graduate.admissions@umanitoba.ca
Phone: 204-474-9377
Fax: 204-474-7553
Monday to Friday
8:30 a.m. to 4:30 p.m.
Program inquiries
Stu Clark Graduate School
Asper School of Business
Room 501, Drake Centre
181 Freedman Crescent
University of Manitoba (Fort Garry campus)
Winnipeg, MB R3T 5V4

Phone: 204-474-8448

Send us a question