Student experience
The College offers a unique, small-community experience within the larger University of Manitoba and is a hub for your academic, social and spiritual needs. Membership benefits include access to scholarships and bursaries, student retreats, events, free lockers and study carrel rooms.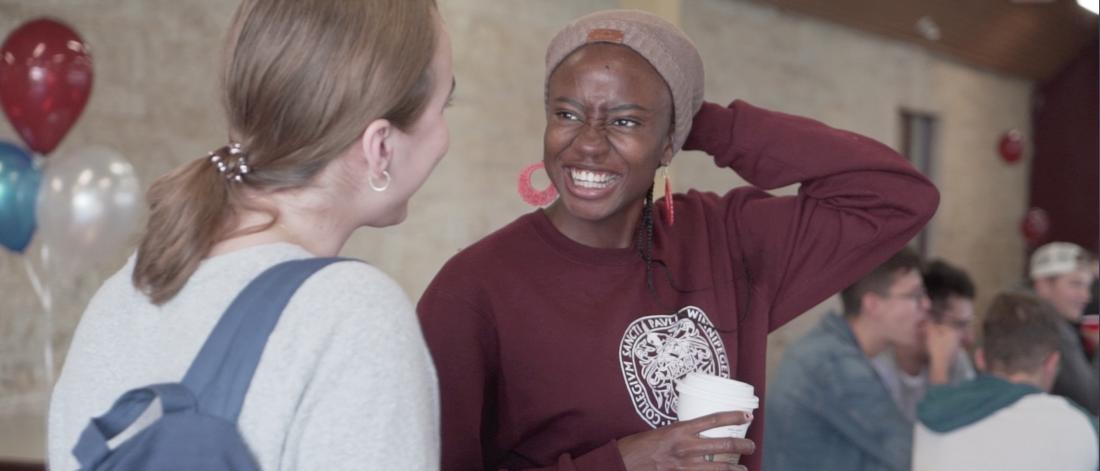 Membership
Benefits of membership
For a minimal membership fee ($19 per term), members of St. Paul's College are offered a variety of services organized by the College, Students' Association, and Campus Ministry team. Benefits range from services and activities, such as support for spiritual life, student retreats, social events, film and speaker series, complimentary lockers, BBQs and pancake breakfasts. But the main benefit is becoming part of a small community.
Scholarships and bursaries
St. Paul's College offers over $200,000 in scholarships, bursaries and prizes to both undergraduate and graduate student members.
Facilities
College facilities include the Belltower Café, computer lab, library, chapel, classrooms and study carrels and lockers.
How to become a St. Paul's College member
Login to Aurora secure area
Select "Enrollment and Academic Records"
Select "Declarations"
Select "Declare College Membership"
Select "Add" to add new membership
Select "St. Paul's College" as your college of choice and click "Submit"
Study carrels and lockers
Lockers
St. Paul's College Students' Association (SPCSA) offers its members a locker at no extra cost! Locker sign up takes place in the cafeteria at a table on Thursday, September 7, 2023, from 8:30 a.m. to 1 p.m.

Non-members can also get a locker at the college for $25, which is lower than most   locker fees on campus.
For inquiries about lockers, please contact the SPCSA.
Study carrels
St. Paul's College (SPC) provides its students with private study carrels located in a locked room. The carrel room is located on the first floor of SPC. Each student who is awarded a carrel is given a key code to the carrel room and is charged a $30 fee per term to help to cover maintenance costs.
We are currently renting out study carrels for the Fall Term.
Allocation of carrels will take place on Friday, September 8, 2023, at 8:30 a.m. in the SPC General Office, room 209. Carrels are awarded on a first-come, first-serve basis. Any applications received after that date will be added to a waiting list.
Payment and access to carrels will begin in September. Personal ID must be presented at time of rental.
Fee for September to December is $30.
Fee for January to April is $30.
Note: Students renting carrels from September to December will have priority availability on renting carrels from January to April.
Programs of study
There are a number of University of Manitoba programs that are provided in conjunction with St. Paul's College.
The Paulinian
St. Paul's College also features it's own student newspaper, the Paulinian, which features articles written by students for students.