St. Paul's College Students' Association
The St. Paul's College Students' Association (SPCSA) consists of students pursuing any program of study at UM, who are registered members of the college. SPCSA members are elected annually by students. Its purpose is to organize and promote events and special initiatives, and represent students' academic, spiritual and social interests.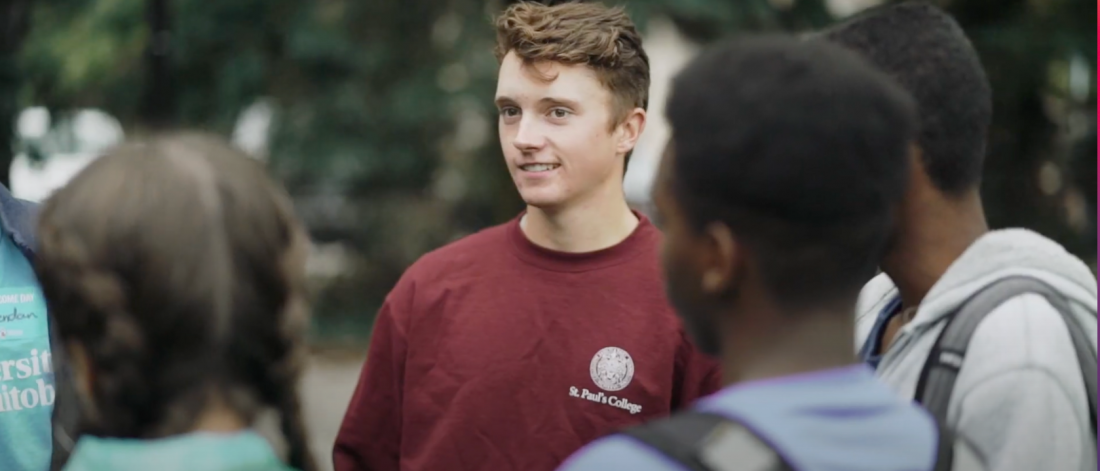 St. Paul's College Students' Association
About us
Events are planned throughout the year such as an Orientation BBQ, Back to School Beverage Gardens, Halloween Beverage Garden, Midterm Social, Valentine's Day Beverage Garden, St. Patrick's Day Beverage Garden and Graduation Celebration. If you have ideas or want to help organize events, please contact any member of the SPCSA listed below or see them in room 159A. All students, faculty and staff at U of M are welcome to attend social events at St. Paul's College.
Like our Facebook page, or contact the SPCSA for more info. Be sure to follow the SPCSA on Instagram (@SPCSA) or on our web page.
St. Paul's College also features it's own student newspaper, Tha Paulinian, which features articles written by students for students.
2022-2023 Executive Council   
Cory Frederickson - Senior Stick
Bridget Scott- Vice Stick
Kiara Calista - Treasurer
Lily Francis  - UMSU Rep
Evan Adair - UMSU Rep
2021-2022 Executive Council   
Jasmine Tavares - Senior Stick
Cory Frederickson - Vice Stick
Kiara Calista - Treasurer
Alyssa Dennis - UMSU Rep
Emily Leskiw - UMSU Rep
Bridget Scott - Dir. Events
Owen Ostermann - Building Manager
Sarah Gilleshammer - Dir. Marketing
Amber Reichardt - Secretary
Council-in-Whole   
Brendan Scott - Past Senior Stick
Luke Alevizos- Senior Advisor
Joe Smith - Paulinian Editor
Colin Salzen - Finance Assistant
Cadence Krahn - Marketing Assistant
Gabriella Niemczyk  - Sports Rep
Duncan Lamont - Volunteer Coordinator
Victoria Dias - Volunteer Coordinator
Kyle Wilfer - Director of Fundraising
Jaun Pablo Garcia - First Year Rep
Caitlyn Wilison - First Year Rep
Andrij Deneka - Events Assistant
Daniel Cantafio - Events Assistant
Rohan Sethi   - Website Manager
Orest Website - Website Manager
Towani Mutale - International Rep
Joseph Olayide - International Rep
Sian Urbano - Campus Ministry
Chris Riedle - Catholic Studies Rep
Extended Council   
Kieran Cucina - Paulinian Assistant
Tori Wannika - Paulinian Assistant
Ayel Batac- Paulinian Assistant