Prizes, Fellowships, Scholarships, Bursaries and Awards
St. Paul's College offers over $200,000 in scholarships, bursaries and awards to both undergraduate and graduate student members.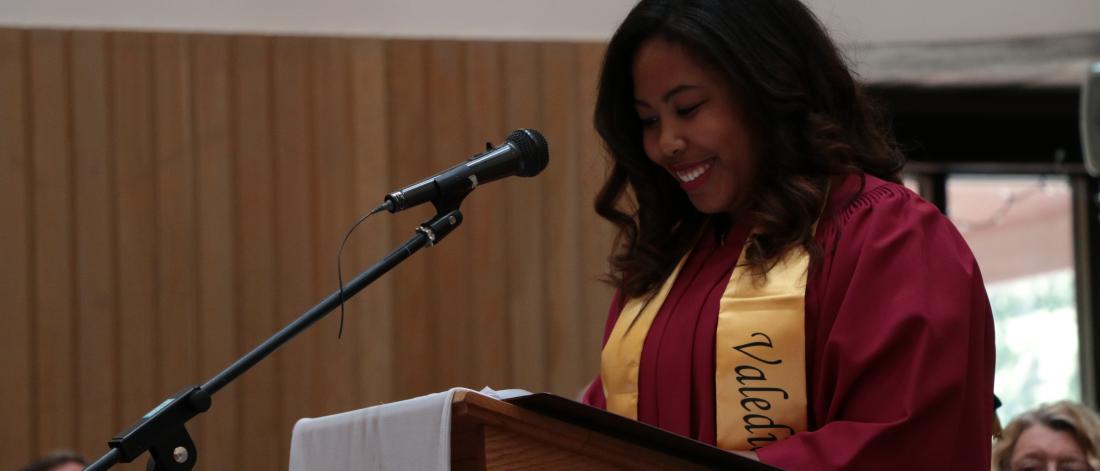 Scholarships and Bursaries
Scholarships
Each year, St. Paul's College rewards academic achievements with entrance scholarships for recent high school graduates and academic awards for current students who excel within their faculties/schools. St. Paul's College student members are automatically considered for most merit scholarships and prizes. For a select few awards, an application is required.
When considering courses for the upcoming year, students are encouraged to see which areas awards are given. Scholarships are presented at the Opening Academic Exercises in September and the Academic Award Ceremony in January. See the academic awards brochure (PDF) for more details.
Applications are available below. Please download, complete, and submit the application(s). Due to the Covid-19 pandemic and our staff working off-site, please send your completed application form along with all required documents electronically to stpaulscollege@umanitoba.ca
Bursaries
Over $90,000 annually is available for bursaries from our Foundation's endowments, annual gifts, and the province's Manitoba Scholarship and Bursary Initiative (MSBI) program.
St. Paul's College awards bursaries during the fall and winter sessions to student members who are in financial need and active in College life.
To apply for a bursary, students should complete the application form and submit it on or before the session deadline.
For the fall session, the bursary submission is deadline is the last Friday in September. The successful candidate will receive notice of their award (paid by cheque) by mail in December.
For the winter session, the bursary submission deadline is the first Friday in March. The successful candidate will receive a notice and the award (paid by cheque) by mail at the end of March.
Please do not apply for more than three bursaries. Select the ones in which you best suit the criteria.
Financial need: Bursaries are granted on the basis of financial need to full-time students registered as a St. Paul's College member for the current session. Full-time students are those registered for at least 60 per cent of a full course load or 18 credit hours in a program or year. Need represents 50 per cent of the criteria in choosing bursary recipients. Other factors are considered such as special circumstances and involvement in social, spiritual and student events at the College or their community. In the case of newly admitted students, these are also factors in determining who receives a bursary. The University of Manitoba Student Financial Assistance Office assesses the level of need.

GPA: Although bursaries are awarded on the basis of need, a GPA of 2.50 in the previous fall/winter session or a C+ average is required for eligibility.

Applications: Complete a St. Paul's College bursary and a Manitoba student financial assistance application available online: www.studentaid.gov.mb.ca. In order to be eligible, a student does not need to accept a student loan. If a student is not a Canadian citizen, he/she needs to provide a detailed budget (available online) for the academic year, including all expenses and income. If a student is from another province, a copy of his/her loan assessment from his/her province is required.

Acceptance: Within 15 days of notification, the recipient must provide a letter of acceptance to the Dean of Studies, otherwise the award will be conferred on another candidate.

Deferral and ineligibility: Bursaries may not be deferred, unless approved by the Dean of Studies in writing. Students may be declared ineligible, if their academic circumstances change and they are no longer eligible for the bursary.
Applications are available below. Please download, complete, print, and submit the application(s) by mail or drop off to the General Office (Room 209).
Emergency Bursaries: Emergency Bursaries are available anytime in the year. Please contact the General Office for more information.
Awards
These awards are presented during the Baccalaureate Exercises in June.
Campus Ministry Community Service Award
Campus Ministry Community Service Award
Contact us
Dr. Dilantha Fernando
Dean of Studies
Room 211, St. Paul's College