Health and Wellness
Students often juggle multiple demands and we recognize that it can be difficult to find balance. For any changes you want to make to your health and wellness, the Health and Wellness Office at the University of Manitoba would like to support you in your journey.  
We are here to help you take control of your own health and make your own decisions. We are a judgment-free space and we avoid labels whenever possible.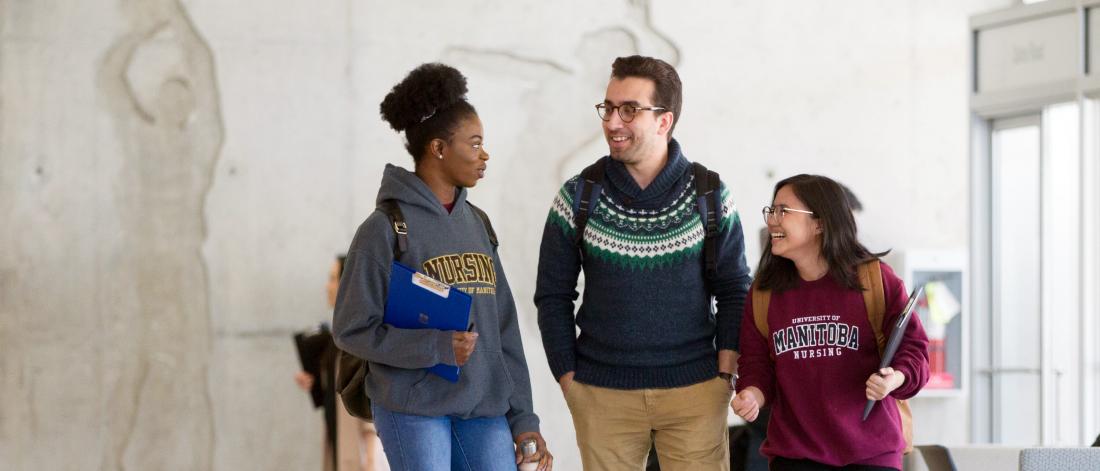 Office information
If you have any questions about COVID-19 vaccine mandates, please visit the UM COVID-19 vaccine information page or contact safereturn@umanitoba.ca
The Health and Wellness Educator will continue to be available via telephone and email during regular working hours of 8:30 am to 4:30 pm, Monday to Friday.
Also, check the SCC website for a listing of off campus supports including Empower Me – a brief counselling support service purchased by the University of Manitoba Student Union which is available 24 hours/7 days week (1-844-741-6389).
The University has a take-home naloxone program. Please contact Bryanna Barker to learn about how to obtain a free naloxone kit.
Health and wellness educator
Bryanna Barker is a Registered Psychiatric Nurse and the health and wellness educator at the University of Manitoba. Bryanna is available to provide health and wellness information and guidance to students individually or to interested groups on campus. For any questions, concerns or health and wellness needs please contact:
Email healthandwellness@umanitoba.ca or phone 204-295-9032
Health and wellness program assistant  
Andrea is the Health and wellness program assistant. She assists in the day-to-day function of the Health and Wellness office, as well as running the Healthy U program. Contact Andrea if you have questions or would like information on any Health and Wellness programs offered, or would like to access resources. 
Email hwprogram.assistant@umanitoba.ca or phone 204-474-6740
University of Manitoba Student Survey Reports
The University of Manitoba participates in national surveys of student health and wellbeing on a periodic basis. These surveys are coordinated by the Health and Wellness office and provide valuable information about the needs of our students and how we may develop the most effective programming to support student success. Results from these surveys are available below. Please contact the Health and Wellness Educator if you wish to review further data.
Canadian Postsecondary Education Alcohol and Drug Use Survey
The Canadian Postsecondary Education Alcohol and Drug Use Survey (CPADS) is organized and administered nationally by Health Canada. The CPADS provides data from about 40 Canadian institutions that describes trends in substance use among postsecondary students in Canada.
The following summary describes key results obtained from the University of Manitoba's participation in the first pan-Canadian cycle of the CPADS conducted during the 2019/2020 school year.
Canadian Campus Wellbeing Survey
The Canadian Campus Wellbeing Survey (CCWS) is organized and administered by the University of British Columbia on behalf of nearly 60 Canadian postsecondary institutions.  The CCWS assesses the mental health and wellbeing of postsecondary students and helps to identify priorities for intervention at an institutional level.
The following infographics provide summary data on the Spring 2022 CCWS administration at the University of Manitoba
Past CCWS University of Manitoba Survey Data
National College Health Assessment
The National College Health Assessment (NCHA) is offered on a three-year cycle to approximately 50 Canadian postsecondary institutions. The NCHA provides summary data on a range of student physical, mental, and behavioral health indicators.
Please click on the links below for results from past NCHA administrations at the University of Manitoba.
Healthy U
Healthy U will be offering in-person and virtual events this year. Check out our website for updates. 
Reduce your risk of contact and transmission:
wash you hands frequently
cough or sneeze into your elbow
If you experience cold or flu symptoms, stay home
Practice social distancing
Watch your U of M email for updates.
Healthy U is made up of a team of friendly volunteers who are certified student health educators. We are passionate and knowledgeable about relevant health topics and are available to answer questions, provide information, and connect fellow students to resources.
Become a Healthy U volunteer
Applications to volunteer with Healthy U during the 2022-2023 academic year are now closed.
Do you have a passion for Health and Wellness? Do you want experience and training in health promotion and prevention? Are you interested in an opportunity to be involved in the health and well-being of your peers? Then Healthy U at the University of Manitoba is looking for you! 
Bringing in the Bystander
Bringing in the Bystander™ is an effective in-person, interactive prevention workshop that is based on the concept that all community members have a role to play in preventing sexual violence. Student participants learn the importance of speaking out against social norms that support sexual violence, to become aware of and identify potential risks in various situations, to develop empathy and support for survivors, and explore how to safety interrupt or intervene in situations that can lead to sexual violence.
To book a Bringing in the Bystander workshop, contact bitb@umanitoba.ca
Apply to be a BITB Facilitator
We are hiring student facilitators for the Bringing in the BystanderTM (BITB) Program. BITB facilitators run BITB sessions with various groups of students on issues of sexual violence prevention and response as well as bystander intervention. Sessions are held both in-person and online. Applications are due May 13, 2022 at 4:00 p.m. CST and should be submitted to bitb@umanitoba.ca.