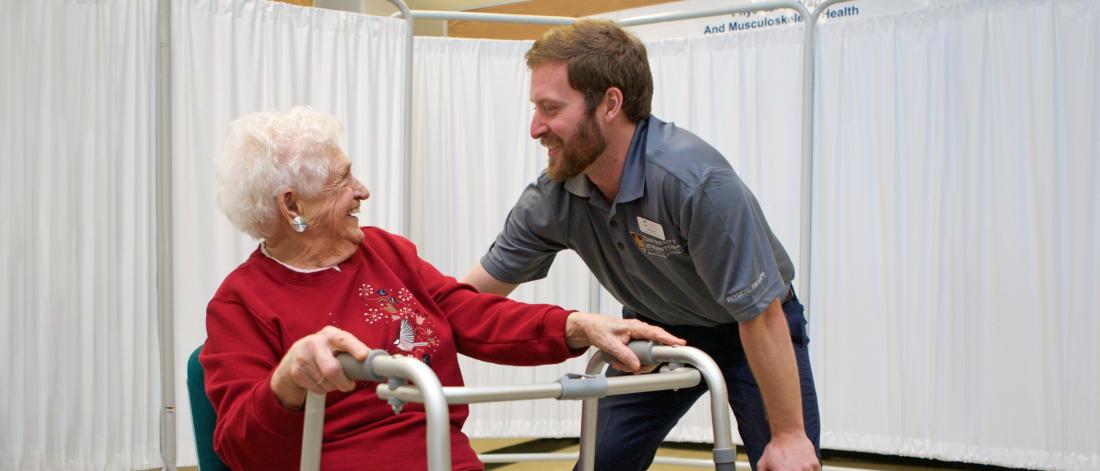 Graduates of the Master of Physical Therapy program demonstrate professional accountability and collaborative practice in diverse environments. They apply an evidence-based approach to physical therapy, seeking out new and relevant research, while evaluating and integrating the information applicable to client-centered practice.
MPT accreditation status
The Master of Physical Therapy program at the University of Manitoba has completed the accreditation review process administered by Physiotherapy Education Accreditation Canada (PEAC). PEAC is an incorporated body under the Canada Not-for-profit Corporations Act and operates as the accrediting agency for physiotherapy education programs in Canada.
The status of Accreditation – Fully Compliant was granted to the program for the period until April 30, 2026. A description of Accreditation – Fully Compliant follows.
More details regarding the definitions of the levels of accreditation are available on the PEAC website or by contacting:
Physiotherapy Education Accreditation Canada
Suite 26, 509 Commissioners Road West
London, Ontario, N6J 1Y5
226-636-0632
Website: English | French.
Accreditation–fully compliant
A program is in compliance with 100% of the accreditation criteria within the Accreditation Standards.
There are no criteria in non-compliance.
There could be identified concerns that the program must improve upon and report back about in Progress Reports.
If progress is not made, the program's accreditation status could be changed to partially compliant or probationary at any time in the six-year accreditation cycle.
Students – important to note
If a program loses its accreditation status, its students may not be considered graduates of an accredited physiotherapy education program.
Students must be considered graduates from an accredited physiotherapy education program in Canada in order to be eligible to write the Physiotherapy Competency Exam and be licensed to practice physiotherapy in Canada.
The program's accreditation status is important to graduating students with regards to becoming licensed to practice physiotherapy in Canada. It is recommended that students contact the Canadian Alliance of Physiotherapy Regulators (alliancept.org) for information regarding the process to become licensed as a physiotherapist in Canada following graduation.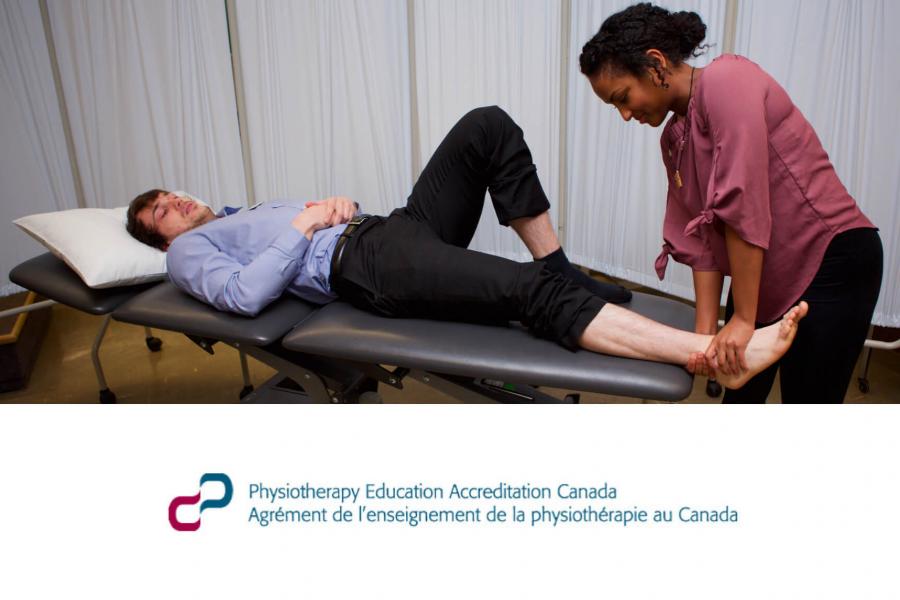 Program details
The MPT program consists of an integrated schedule of academic and clinical components that take place over a two year period.
Expected duration: 2 years
Tuition and fees: Two year's tuition, then continuing fees in subsequent years (refer to Graduate tuition and fees)
The Master of Physical Therapy curriculum includes a combination of seminars, lectures, clinical skills, laboratory sessions, peer teaching, case studies, tutorials, problem solving exercises, independent study, collaborative group work, and development of a professional portfolio.
Clinical education is interspersed throughout the program and progresses from basic to advanced.
The first year of the program takes place over 43 weeks and consists of:
31 weeks of academic study and
12 weeks (6 weeks and 6 weeks) of clinical placements.
The second year of the program takes place over 42 weeks and consists of:
24 weeks of academic study
18 weeks (6 weeks, 6 weeks and 6 weeks) of clinical placements and
a group capstone project interwoven throughout.
Sample course offerings
PT 6100: Foundations of Physical Therapy (5 credit hours)   
PT 6124 Physical Therapy and Hospital Based Care  (4 credit hours)
PT 6140 Neuromusculoskeletal Anatomy for Physical Therapy (3 credit hours)  
PT 6250: Integrated Practice for Neuromusculoskeletal Conditions (3 credit hours)   
PT 6260: Physical Therapy Practice and Professional Issues 1 (3 credit hours)
PT 6291: Neuromusculoskeletal Clinical Education 1 (6 credit hours)
PT 7121: Clinical Skills for Physical Therapy Neurological Conditions (5 credit hours)  
PT 7124: Clinical Skills for Physical Therapy in Cardiorespiratory Conditions (5 credit hours)  
PT 7292: Neurosciences Clinical Education (6 credit hours)
PT 7294: Cardiovascular and Pulmonary Clinical Education (5 credit hours)
PT 7410: Exercise Prescription and Manual Therapy for Physical Therapists (3 credit hours)  
PT 7500: Physical Therapy Evaluation/Research Project (6 credit hours)
For full course descriptions, please visit the Academic Calendar.
Professional portfolio
In addition to successfully completing each of the program courses, physical therapy students are expected to create and maintain a professional portfolio.
Portfolios can include:
degrees and transcripts
health records
CPR/first aid certificates
samples of work selected from assignments and projects
feedback and evaluations from course work and fieldwork
self-evaluation
course objectives and outlines
learning logs
goals related to learning and professional development
summary of participation in activities
projects
volunteer work
Internally educated health professionals
Internally educated health professionals should visit the access hub for details related to obtaining Canadian credentials.
Admission requirements
The following are minimum requirements for entry into the Master of Physical Therapy program. Meeting these requirements does not guarantee acceptance into the program.
The Master of Physical Therapy is a graduate program, which means that you must complete an undergraduate degree, including several required and recommended courses, before you can be considered for admission.
In addition to the admission requirements described here, all applicants must meet the minimum admission and English language proficiency requirements of the Faculty of Graduate Studies.
An acceptable English Language Proficiency test score is required, if applicable. Please note that Physical Therapy requires scores above the FGS minimum requirement, as follows:
CanTEST - A minimum band of 4.5 in Listening, Reading and Oral Expression and a minimum of 4.0 in writing.
IELTS - A minimum overall score of 7.0 and must include all components of the test (i.e., listening, reading, writing and speaking).
TOEFL (iBT) - A minimum total score of 92 is required, with no sub-score lower than 21.
Only the above test types will be accepted.
Prerequisite course equivalencies for other institutions
Prerequisite Courses
University of Manitoba
Université de St. Boniface
University of Winnipeg
Brandon University
Canadian Mennonite University
Athabasca University
Human Anatomy (3 credit hours)

BIOL 1410 or

PHED/KIN 2320 with PHED/KIN 3320 or

BIOL-1112/6

15:132 or

94:132 or

15:171 with 15:172

BIOL 235

Physiology of the Human Body (3 credit hours)

BIOL 1412 or

BIOL 1413 or

BIOL-1112/6 or

KIN-2204/3

Same requirements as Human Anatomy

Same requirements as Human Anatomy

Introductory Biology (3 credit hours with genetics)

BIOL-1115/3 or

BIOL-1102/6 or

15:162 or

15:282 or

94:162

BIOL 1310 or

BIOL1330 or

BIOL 204

Introductory Psychology (6 credit hours)

PSYC 1201 or

PSYC‑1000/6

82:160 with 82:161

PSYC 1000 or

PSYC 289 with PSYC 290

Child Development (3 credit hours)  

PSYC‑2200/3 or

PSYC 3200/3 or

KIN‑2207/3

82:274

PSYC 228 or

PSYC 323

Aging (3 credit hours)

Not available

PSYC‑3220/3 or

KIN‑3208/3

82:356

PSYC 381

Basic Statistical Analysis I (3 credit hours)

STAT 1000 or

PSYC 2250 or

STAT 1001 or

STAT 1301/3 or

STAT‑1302/3 or

STAT‑1201/6 or

STAT‑1501 or

PSYC‑2101/3

62:171 or

82:250 with 82:251

MATH 1000 or

PSYC 2040

MATH 215 or

SOCI 301

English (6 credit hours)

FRAN 1001 or

ENGL‑1001/6 or 

Two of ENGL‑1000/3, ENGL‑1003/3, ENGL‑1004/3  

Two of 30:151, 30:153, 30:161, 30:162

Two of ENGL 211, ENGL 212, ENGL 255, or ENGL 302
How to submit a course for prerequisite review
If you are unable to find your course(s) listed in the guide to prerequisite course from other institutions, you can check to see if the University of Manitoba has previously assessed courses from your home institution. Courses that have been assessed for equivalency are located in the University of Manitoba's Transfer Credit Equivalencies database.
Courses from other Canadian institutions may have been assessed directly by the Master if Physical Therapy program Admissions Committee and are therefore able to be used as prerequisite requirements for the program, but are not included in the database above. If you are unable to find your course(s) listed in the Transfer Credit Equivalency database above, please email the Physical Therapy Admissions Officer at CORS.PTprogram@umanitoba.ca to see if your course has previously been assessed for equivalency by the Department of Physical Therapy.
If your course has not been previously assessed, you will be notified to submit:
Submit the completed Prerequisite Recognition Request form and detailed course syllabus to CORS.PTprogram@umanitoba.ca.
Courses will be reviewed and assessed for equivalency by the MPT Chair of Admissions. Email notification will be provided with the outcome.
In order for prerequisite pre-assessments to take place prior to the November 15th MPT application deadline course requests must be submitted to our office no later than October 1st. 
Applicants with course work not previously reviewed and approved or submitted for pre-assessment (prior to October 1st) are asked to email their course syllabi to our office at CORS.PTprogram@umanitoba.ca at the time of application.
Questions about prerequisites
CASPer test
About the CASPer test
All applicants to the Master of Physical Therapy program at UM are required to complete an online assessment, CASPer, to assist with our selection process.
In order to take CASPer, you will be responsible for securing access to a laptop or desktop computer with webcam and audio capabilities. You will require the following for both account creation and taking the test:
•    Government-issued photo ID
•    Valid email address
•    Working webcam
•    Working microphone
•    Reliable high-speed internet connection
Please go to TakeAltus.com to sign up for the Altus Suite CASPer test for Canadian Professional Health Sciences (CSP-10201 – Canadian Professional Health Sciences), under your specific country, and register using a piece of government-issued photo ID. 
Select a CASPer test date. You will be provided with a limited number of testing dates and times. Please note that these are the only testing dates available for your CASPer test. There will be no additional tests scheduled. Please use an email address that you check regularly and that you have used for your application; there may be updates to the test schedule.
Important: To account for identity verification and payment processing timeline, ensure that you register for your test at least three days before your preferred test date and time. Last-minute bookings are not recommended.
Ensure you have selected Masters in Physical Therapy at the University of Manitoba for distribution before the posted distribution deadline. Likely, there will be no additional tests scheduled, but the most up to date information can be found by browsing the test dates and times on TakeAltus.com.
Please direct any inquiries on Altus Suite to support@altus.as. Alternatively, you may use the chat bubble in the bottom right hand corner of your screen on the TakeAltus.com website.
If you require testing accommodations  you will need to submit the accommodations request form signed by you and your qualified professional three weeks in advance of your desired test date. More information regarding accommodations can be found here.
The CASPer test comprises 12 sections of video and written scenarios. Following each scenario, you will be required to answer a set of probing questions under a time contract. The test typically takes between 75-90 minutes to complete. Each response is graded by a different rater, giving a very robust and reliable view of personal and professional characteristics important to our program. No studying is required for CASPer, although you may want to familiarize yourself with the test structure at TakeAltus.com, and ensure you have a quiet environment to take the test. We strongly urge you to take advantage of the 12-section practice test, which will not only immerse you in the test environment, but will also ensure you meet the technical requirements to access and complete the test.
CASPer test results are valid for one admissions cycle. Applicants who have already taken the test in previous years will therefore be expected to re-take it.
For a more detailed look at the CASPer test, please see this video.
 
Multiple Mini Interview (MMI)
The Multiple Mini Interview process is a series of 10-minute interviews that evaluate potential students' personal characteristics that are important for success in health sciences.
Offers for an interview will be sent via email in mid-February; an immediate response will be required.
Virtual platform MMI: Saturday, March 12 and Sunday, March 13, 2022
About the MMI
Personal characteristics being evaluated include:
ethics
communication
team player
critical reasoning skills
reflective
strong interpersonal skills
accountability
good judgment
flexibility
empathy
maturity
This interview method provides an opportunity for applicants to apply general knowledge and personal experiences to issues relevant to the society in which they live and the health care systems in which they hope to work.
The MMI gives the candidates a new opportunity with every station. The MMI provides flexibility in questions not available in traditional interviews. Research has shown that it is more fair for the candidates.
Note: All applicants attending interviews will be required to sign a Confidentiality Agreement to ensure the security of interview scenarios and a Audiovisual recording and release form for quality management purposes.
Logistics
Six 10-minute stations (two simultaneous tracks)
Two minutes to read question and eight minutes to perform
Virtual candidates will circulate to each interviewer in a breakout room
One global score per candidate per station 
Total duration: 60 minutes
Interviewers
May be physiotherapists, faculty, students or community members
Have been given specific instructions on what they can and cannot ask
Are not aware of your grades or the status of your application
Will give you one global score
If you know the interviewer, continue on
Discussion stations
An scenario will be posted which you are to discuss with the interviewer.  Interviewers have been provided with background information on each station.  They will engage with you in discussion. They may or may not ask questions specific to the issue.
Key points
Read the question carefully. Make short notes for yourself if you wish. Always answer the question. There is no right or wrong answer. Speak clearly and articulate your ideas as best as you can, based on your knowledge and life experiences.
Practice questions
Preferential Admission (Societal Health Issues in Canada)
Due to the shortage of physical therapists in rural communities, it has been suggested that physical therapy programs preferentially admit students who are willing to commit to a two or three year tenure in an underserviced area upon graduation.
Consider the broad implications of this policy for health and health care costs. For example, do you think the approach will be effective? At what expense? Discuss this issue with the interviewer.
Critical thinking
Universities are commonly faced with the complicated task of balancing the educational needs of their students and the cost required to provide learning resources to a large number of individuals.
As a result of this tension, there has been much debate regarding the optimal size of classes. One side argues that smaller classes provide a more educationally effective setting for students, while others argue that it makes no difference, so larger classes should be used to minimize the number of instructors required.
Discuss your opinion on this issue with the examiner.
Contact us
Admission and application inquiries
Faculty of Graduate Studies
Room 500 UMSU University Centre
65 Chancellors Circle
University of Manitoba (Fort Garry campus)
Winnipeg, MB R3T 2N2 Canada
graduate.admissions@umanitoba.ca
Phone: 204-474-9377
Monday to Friday
8:30 a.m. to 4:30 p.m.
Program inquiries
College of Rehabilitation Sciences
R106 - 771 McDermot Avenue
University of Manitoba (Bannatyne campus)
Winnipeg, MB R3E 0T6
CORS.PTprogram@umanitoba.ca
Phone: 204-789-3897
Fax: 204-789-3927