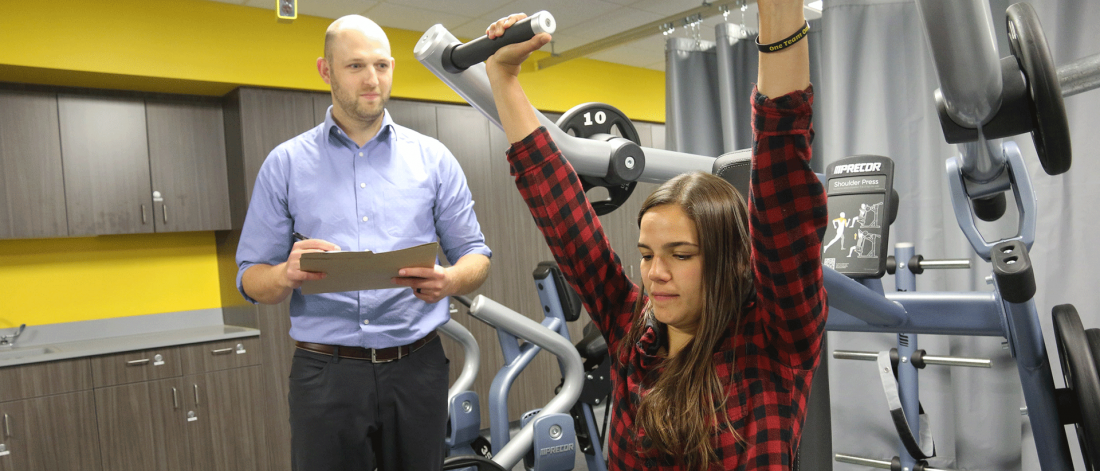 The Applied Health Sciences program is directed to generating new knowledge dedicated to improving health using inter-disciplinary and multi-disciplinary approaches. Students and faculty from diverse disciplines interact to enhance the student's capacity for undertaking innovative research projects in the applied health domain.
Past Applied Health Sciences theses
| Student | Supervisors | Year | Dissertation Title |
| --- | --- | --- | --- |
| Hamideh Bayrampour | Dr. M. Heaman | 2011 | Advanced Maternal Age and Risk Perception |
| Jennifer Protudjer | Dr. G. Sevenhuysen and Dr. A. Becker | 2011 | Weight, Related Lifestyle Behaviours and Asthma in Manitoba Children |
| Jacquie Ripat | Dr. R. Woodgate | 2011 | Self-perceived Participation amongs Adults with Spinal Cord Injuries: The Role of Assistive Technology |
| Charmayne Dube | Dr. B. Temple | 2012 | Supporting Adults with Intellectual Disabilities who Present with Challenging Behaviorurs: A Cross-Case Analysis of Staff Perceptions of Work and Training |
| Lucelia Luna de Melo | Dr. V. Menec and Dr. E. Ready | 2013 | Perceived Neighbourhood Environment and Health-Related Outcomes among Older Adults |
| Patricia Gregory | Dr. M. Heaman | 2013 | Factors Related to Women's Experiences and Satisfaction with Prenatal Care |
| Rob Pryce | Dr. D. Kriellaars | 2013 | Obesity and Loading During Lifting |
| Kelly Andrushko | Dr. R. Woodgate and Dr. S. Prentice | 2014 | Body Image, Eating Attitudes and Behaviours, and Physical Activity: A Multi-Method Study of School Age Children in Child Care |
| Cheryl Cusack | Dr. B. Cohen | 2014 | Development of a Public Health Nurse Professional Practice Model Using Participatory Action Research |
| Kristen Klassen | Dr. E. Ready and Dr. J. Sareen | 2014 | Income and Mental Health in the Canadian General, Military, and Veteran Populations: A Multiple Database Investigation |
| Sheila McRae | Dr. D. Kriellaars | 2014 | Hamstring Tendon Harvest for ACL Reconstruction: Impact on Muscle and Function |
| Joanne Parsons | Dr. M. Porter | 2014 | Assessing and Modifying Neuromuscular Risk Factors for Anterior Cruciate Ligament Injury in Female Atheletes |
| Cynthia Srikesavan | Dr. T. Szturm and Dr. B. Shay | 2014 | Task-Oriented Training with Computer Gaming in People with Rheumatoid Arthritis or Hand Osteoarthritis: A Quasi-Mixed Methods Pilot Study |
| Kellie Thiessen | Dr. M. Heaman | 2014 | A Case Study of the Implementation of Regulated Midwifery in Manitoba |
| Dustin Scott Kehler | Dr. T. Duhamel and Dr. R. Arora | 2017 | The Impact of Sedentary and Physical Activity Behaviour on Frailty in Middle-Aged and Older Adults |
| Tanya Kozera | Dr. D. Kriellaars | 2017 | Physical Literacy in Children and Youth |
| Jacqueline Lemaire | Dr. S. Shooshtari | 2017 | Community Health Assessment Through an Income-Related Health Equity Len: A Retrospective Case Study of Three Regional Health Authorities in Manitoba |
| Lynda Wolf | Dr. P. Hawranik and Dr. M. Edwards | 2017 | Communication Interactions of Health Care Aides |
| Laetitia Guillemette | Dr. J. McGavock and Dr. T. Duhamel | 2018 | Impact of Intrauterine Exposure to Diabetes and Social Determinants of Health on Offspring Cardiovascular Disease Risk in Youth and Early Adulthood |
| Andrew Robson | Dr. C. Glazebrook and Dr. B. Temple | 2018 | Parents of Preschool Children Newly Diagnosed with Autism Spectrum Disorder: The Effectiveness of a Self-Directed On-line Parent Training and Support Program on Parent and Child Outcomes |
| Ashley Stewart-Tufescu | Dr. J. Durrant | 2018 | The Transportability of a Violence-Prevention Parenting Program in three Diverse Country Contexts |
| Tamara Tallieu | Dr. D. Brownridge | 2018 | Screening for Intimate Partner Violence in the Early Postpartum Period: Pregnancy, Maternal and Child Outcomes from the Prenatal Period to Five Years Post-Delivery |
| Saleh Aloraini | Dr. S. Passmore | 2019 | Balance Control: Using Motor Behaviour Concepts as Tools for Assessing and Modifying Postural Adjustements |
| Mahin Delara | Dr. J. Mignone | 2019 | Early Life Exposure to Antibiotics and Mood and Anxiety Disorders |
| Jane Karpa | Dr. W. Chernomas | 2019 | An Odyssey: Families' Exeperiences Living with Acquired Brain Injury |
| Barbara Tallman | Dr. L. Guse | 2019 | The Couple Living with Dementia in the Community: Accomplishing Life Together Through their Efforts toward Mutuality |
| Adam Decker | Dr. D. Kriellaars | 2020 | Longitudinal Assessment of Physical, Physiological and Psychological Characteristics of Elite Circus Student-Artists |
| Daryl Hurrie | Dr. G. Giesbrecht | 2020 | Decrease in Body Temperature: Effects on Motor Nervous System Function, Exercise Performance and Response to Active Heating |
| Laura MacDonald | Dr. E. Ready and Dr. D. Schonwetter | 2020 | A Mixed Methods Salutogenic Exploration of Dental and Dental Hygiene Program Learning Environment and Curriculum as Perceived by Students |
| Navjot Pachu | Dr. S. Webber and Dr. S. Strachan | 2020 | A Social Cognitive Theory-Based Exploration of University Students' Knowledge, Self-Efficacy, and Outcome Expectations related to Reducing Sedentary Behaviour |
Program details
The Faculty of Graduate Studies offers a four-year Doctor of Philosophy in Applied Health Sciences.
Expected duration: 4 years
Tuition and fees: Two years tuition, then continuing fees in subsequent years (refer to Graduate tuition and fees)
The Applied Health Sciences (PhD) program consists of research-based coursework, a candidacy examination and a substantial research-based project. For more information on the program, please see the bona fide academic requirements.
Coursework
Students admitted in the regular program are required to complete 12 credit hours of coursework at the 7000 (graduate) level. Students admitted in the special consideration category must also complete an additional 6 credit hour course (AHS 7010) under the direction of their intended supervisor in the first year of the program.
All students are required to take:
AHS 7000: Research and Practice in Applied Health Sciences (3 credit hours)
AHS Seminar I: A seminar course directed at inter and multidisciplinary approaches.
AHS Seminar II: A seminar course directed at scientific communication.
Students are required to take an additional 9 credit hours of graduate courses based upon the program of study determined by the supervisor, advisory committee and the student.
Applied Health Sciences Seminar
Students in the program are required to take part in monthly seminars in the first two years of the program. Seminars are multidisciplinary and focus on current issues in applied health sciences, with presentations by students, faculty and invited speakers.
For full course descriptions, please visit the Academic Calendar.
Thesis
Students must complete a written thesis proposal and oral defence of the proposal, and upon completion of the research, the student shall submit a written thesis in traditional or manuscript form followed by an oral defence.
Candidacy exam
Students shall complete two manuscripts for the advisory committee, and after successful evaluation of the written component shall proceed to an oral defence of the manuscripts and thesis related knowledge.
Thesis requirements
Students must complete and pass a candidacy exam – consisting of an oral and written component – before the end of the second year of their program.
The thesis research proposal must be approved by the advisory committee before the end of the second year, after admission into the program. The research proposal – in the form of a document outlining the rationale and background of the study, specific objectives and methods and procedures – will be presented by the candidate in an oral format. Following the presentation, the candidate will defend their proposal.
Admission requirements
The following are minimum requirements to be considered for entry into the Applied Health Sciences PhD program. Meeting these requirements does not guarantee acceptance into the program.
In addition to the admission requirements of the Faculty of Graduate Studies, applicants normally need a research-based master's degree in a discipline related to Applied Health Sciences. A research-based master's degree is one in which the institution identifies the program as research based (not professional), where the majority of the coursework is devoted to research, and that a thesis project represents the majority of the program relative to coursework.
Applicants that do not possess a research-based master's, but have some research experience, will be assessed on a case by case basis.
If the master's degree does not meet the research based requirements, then the student will be required to complete a yearlong research course (AHS 7010, 6 credit hours) in the first year of the program, normally taught by the identified supervisor. This is in addition to the 12 credit hours of coursework required in the Applied Health Sciences PhD program.
Finally, all applicants are required to communicate with a potential supervisor from the two participating units prior to application. The supervisor must agree to supervise the student with a letter of support and provide funding information.
In addition to the admission requirements described here, all applicants must meet the minimum admission and English language proficiency requirements of the Faculty of Graduate Studies.
How to apply
The Applied Health Sciences (PhD) program has only one application deadline per year. Applications must be completed online and include several parts:
$100 application fee (non-refundable)
CV/Resumé
This document must clearly outline the research experience of the applicant including the completed graduate level training programs, productivity (conferences, papers, etc) and awards and recognitions. A link to their prior thesis work is requested. The applicant should provide information or links indicating that the master's degree is a research-based degree, as opposed to a professional degree. Please note that the completion of a thesis is not necessarily adequate to fulfill the requirements of a research-based master's degree.
Statement of intent
This document must clearly outline the student's interests in participating in this multi-disciplinary program. The applicant should identify the type of research they wish to engage in and how it fits within the Applied Health Sciences program.
Supervisor support letter
The applicant's identified supervisor will be required to forward a letter of support. This letter should outline that the supervisor is willing to accept the student, that the supervisor has the adequate resources to support the research program of the student, and that the supervisor is capable of providing the necessary teaching to fulfil the course requirements of the program. The Supervisor support letter is requested as a recommendation on the application.
Statement of funding
The applicant will complete along with the identified supervisor, a form which indicates the financial support provided by the supervisor or by any other sources. In many cases, the student may not receive any direct funding resulting in a 'self-funded' program.
Two letters of recommendation
The applicant will be required to identify two individuals to provide letters of recommendation. One of the letters must be from the applicant's master's supervisor.
Please note: Students must have an identified supervisor willing to accept them prior to application. This requires the student and supervisor have adequate communication required to complete the statement of funding and a suitable supervisor support letter.
Application deadlines
Applications open up to 18 months prior to start term.
Canadian, US and International applicants

| Term | Annual application deadlines |
| --- | --- |
| Fall (September) | March 1 |
Applicants must submit their online application with supporting documentation and application fee by the deadline date indicated.
Contact us
Admission and application inquiries
Faculty of Graduate Studies
Room 500 UMSU University Centre
65 Chancellors Circle
University of Manitoba (Fort Garry campus)
Winnipeg, MB R3T 2N2 Canada
graduate.admissions@umanitoba.ca
Phone: 204-474-9377
Monday to Friday
8:30 a.m. to 4:30 p.m.
Program inquiries
Faculty of Graduate Studies, Applied Health Sciences PhD program
202 Active Living Centre
430 University Crescent
University of Manitoba (Fort Garry campus)
Winnipeg, MB R3T 2N2
Phone: 204-474-7806
Fax: 204-474-7634