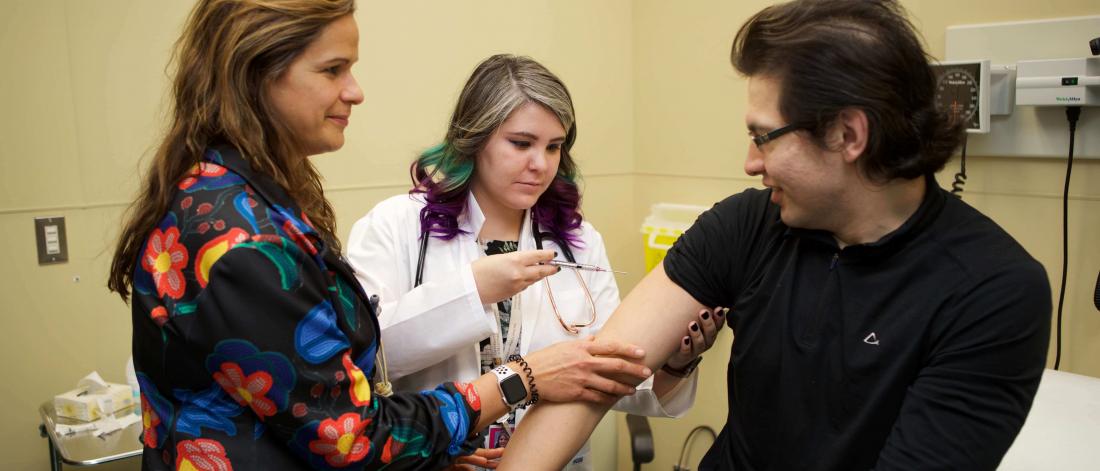 Summer programs
Summer Early Exposure Program
The Summer Early Exposure Program offers students the opportunity to experience a clinical setting during Med I and Med II.
About the Summer Early Exposure program
Exposures can take place in Winnipeg, across Canada or internationally. A variety of policies apply in each case - please consult Entrada for full details. 
Students receive credit on their Medical Student Performance Report for each successfully registered and completed Summer Early Exposure.
Student is responsible for setting up the exposure and for ensuring all student evaluations and preceptor evaluations are completed and submitted to UGME.
All Summer Early Exposure forms are located on Summer Early Exposure's Entrada community page.
You must do an exposure if you wish to do job shadowing over the summer. If you are registered for an exposure you are automatically covered by malpractice/liability insurance and in turn are able to do shadowing. 
Time commitment
The Early Exposure Program takes place annually from May 30 – August 15.

Each Exposure must be a minimum of 80 hours (usually 10 full days of 8 hour shifts). Days do not need to be consecutive and may be spread out throughout the summer.
Visiting pre-clerkship students
Visiting pre-clerkship students must meet the following requirements to be eligible to participate in the Summer Early Exposure Program:
Visiting students must organize their own Summer Early Exposure.
Complete the application form [PDF] for visiting students
Must be registered as a visiting student participating in the Summer Early Exposure Program by UGME Office - Max Rady College of Medicine - this will take place after we receive your application.
Must have University of Manitoba registration fee paid in full prior to participation on the ward/clinic and have met all the application requirements (instructions for payment will be sent to you).
Students must complete the PHIA Confidentiality Training online before the exposure starts (instructions will be sent to you).
How to apply
To apply for an exposure, follow the steps below.
Read the program policy (available on Entrada)
Review your options (.pdf)
Set up the exposure (preceptor's email addresses cannot be listed but we trust you can use your resources to find their contact information)
Complete the application form (.pdf)
Wait for UGME to email you to pay registration fee (only one fee no matter how many exposures you do).
The deadline for all applications is June 30 (annually). To allow for processing, submit your application to UGME two weeks prior to the start date of the exposure.
If your exposure takes place out-of-province or internationally, additional documentation will be required. Please contact electivesugme@umanitoba.ca for details.
Summer Research Program
This program offers medical students (either in their first or second summer) the opportunity to engage in original research, either basic or clinical, under the supervision of a Max Rady College of Medicine supervisor.
About the Summer Research program
The specific aim of the program is to develop student skills within the following areas:
Critical evaluation of data
Effective communication of results
Experimental design
Hypothesis testing
This is a non-degree course but will be recorded on your transcript.
Time commitment
The program runs for approximately 12 weeks during the summer recess between either year one and two OR year two and three of their medical training program (dependent upon program time allowances). Your chosen project must be feasible within this time frame.
This program is considered full-time with a two-week paid vacation. Clinical exposure of 0.5 to 1.0 days per week (setting of the students choosing with supervisors' approval) is suggested but not mandatory.
Compensation
All students receive stipendiary support, presently $7,500 for the summer. The program pays the students directly via direct deposit). Students must submit a direct deposit form directly to payroll immediately upon acceptance into the program.
How to apply
A call for applications will be circulated to medical students annually, including abstracts from potential supervisors.
Once you have located a supervisor who has agreed to work with you on a project, you must begin preparing three documents that will be required for the application process:
Research proposal
Abstract
Student role document
Samples of these documents and additional application information are available here.
Electives
The electives program provides an opportunity for self-education in an area of your own interest. Courses are listed below.
Visiting electives program
Max Rady College of Medicine accepts a limited number of visiting medical students enrolled in medical schools other than the University of Manitoba for short periods of elective study. 
Please visit the AFMC Portal for guidelines and to submit an application.
International selectives
Max Rady College of Medicine offers a variety of selectives abroad, including:
Prior to departure, you must:
complete pre-departure training through UMLearn
complete and submit an emergency contact and liability waiver form, available on Entrada.
We also suggest that you attend the WRHA Travel Medical Clinic [PDF]and ensure you have the proper immunizations.
Advice and support
For advice on electives choices and planning, it is recommended that students discuss their situation with a mentor and or faculty member they trust to seek professional insight. Student Affairs is always available to provide assistance and insight on making informed electives choices.
Eliya Ichihashi
Electives administrator
204-789-3291
electivesUGME@umanitoba.ca
Dr. James Butler
Electives director
james.butler@umanitoba.ca
Incoming students
We offer a wide selection of resources to help support your studies at Max Rady College of Medicine.
Online tools
These program-specific materials can be found on Entrada:
Appeals
Examinations
Forms
The following resources can be found online:
You may also be looking for
Contact us
Undergraduate Medical Education (UGME)
260 Brodie Centre, 727 McDermot Avenue
University of Manitoba, Bannatyne Campus
Winnipeg, MB R3E 3P5 Canada