Accreditation
The Integrated Accreditation Unit (IAU) supports the accreditation process for all five colleges in the Rady Faculty of Health Sciences. Working closely and collaboratively with college senior leadership and faculty members, our team is here to guide you through each step.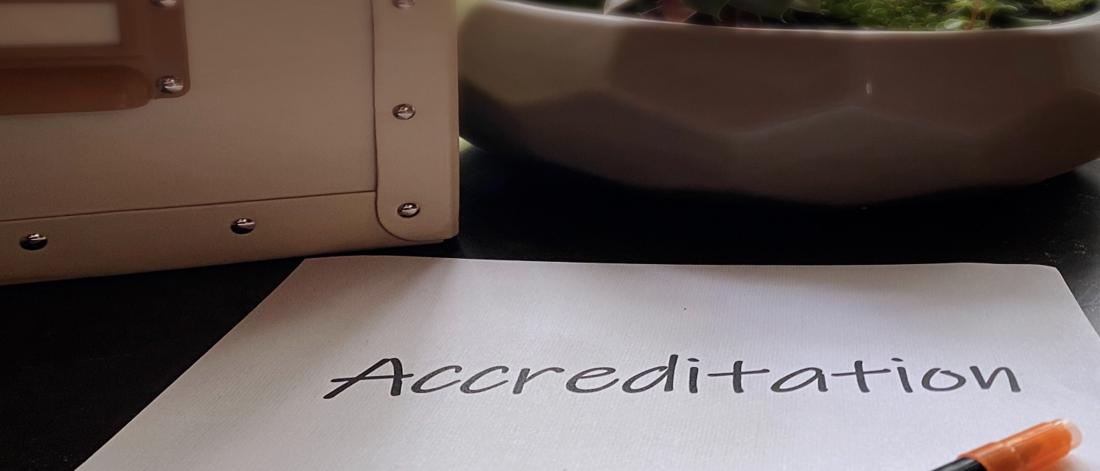 What we offer
Accreditation helps us to measure "what we do" against "what we are supposed to be doing." It is a systematic review that will show how well we are meeting the needs of our students, the university and the general public. Accreditation applies to teaching and academic programs, research and scholarship, staffing, buildings, faculties, equipment, services to the community and the academic environment.
View the tabs below for more information on how we support the accreditation process.
Introduction
Accreditation for health educational programs is an opportunity for continuous quality improvement. Graduating from an accredited educational program demonstrates that graduates have attained a level of entry-to-practice competencies required for health care professionals.
It is a chance for all parties involved in the formation of our future physicians, pharmacists, dentists, nurses, physical, occupational and respiratory therapists to improve function, structure and performance.
During site visits, an accreditation team will conduct interviews with faculty, staff and students. This usually takes two-three days.
Following the visit, accreditors will validate information presented in the self-study reports and will generate a series of findings to improve the quality of education programs.
The survey teams then present a report and the accreditation bodies will then decide the accreditation status of the college.
Planning for your accreditation
Proper planning is a key success for program undergoing an accreditation. Our team members have several years of experience in assisting programs with their accreditation planning and providing admin supports throughout the accreditation process. Accreditation is a continuous quality improvement exercise; therefore, programs are recommended to start planning between 18-24 months prior to the site visit. Book a meeting with our team to start planning for your accreditation.
At our second meeting we will review tools and services to support the accreditation process. These include:
Proposed timeline – this includes key milestones and recommended scheduling. For example, meetings with senior university leadership must be booked as early as possible. Rooms for in-person accreditation site visits must also be booked early.
Project tracker – a tool designed to identify evidence required to meet standards or actions required to do so.
Checklist – a list of activities for accreditation, including who will be accountable for each activity.
Data collection – programs need stakeholder and other evaluation data early in preparing for accreditation. We can create and distribute stakeholder surveys and prepare preliminary results (e.g., student, alumni, employer surveys). We can also offer training on LimeSurvey.
Self-assessment report
The largest part of the accreditation process beside the site visit is the self-assessment report writing. As a content expert, program will be required to write the self-assessment report and the IAU team will provide gap analysis, proofreading, formatting and finalizing the report. The IAU can also assist in submitting the self-assessment report on behalf of the program.
You will be required to write a self-assessment. The IAU can provide the following support to get you started:
A written template based on the previous self-assessment
Document management in SharePoint (we can provide training on how to use SharePoint, if needed)
Collate documents
You will be required to validate the whole draft accreditation document package (self-assessment report and appendices) before providing it to us.
We can then provide:
Gap analysis of the draft self-assessment
Edit and format the final draft of the self-assessment
Critically review the final draft of the self-assessment
We will have regular meetings throughout to monitor the progress of the self-assessment to ensure a successful submission by the deadline. When the package is complete, we can:
Submit the self-assessment along with a signed cover letter by the Dean, RFHS to the accreditation body on your behalf
We can also provide support following the submission of your self-assessment, including updates upon request from the accreditors.
Preparatory workshop/mock accreditation
Following the self-assessment report submission, program should engage with their faculty and staff who will be meeting with the accreditors prior to the site visit.

The main purpose of the preparatory workshop is to create awareness about program's accreditation, build a sense of community and to learn about program's successful initiatives as well as recognition of faculty, students and clinical teachers' achievements.

The preparatory workshop can be done in various ways:
accreditation boot camps: an event in hybrid format: plenary and world café (virtual or face-to-face)
mock Interviews/small group sessions facilitated by the IAU team. Topics are related to program accreditation and are consistent with the self-assessment report
newsletters/fact sheets
short video presentations tailored to different group of stakeholders
We assist programs in preparing for the sessions logistic as well.
Site visit
Preparing a site visit for health educational programs requires significant amount of coordination between the program, its faculty/staff, students, and clinical instructors/preceptors at various experiential/clinical learning sites. Our unit supports programs with their site visit logistic such as preparing agenda, sending calendar invites, catering orders, meeting room bookings, hotel reservation, arranging surveyors' transportation to and from school, creating signage, hosting in-person and virtual site visits, etc.
Post-site visit
After the site visit, our unit will provide guidance and support in responding to recommendations. We assist with drafting of status reports and in the implementation of Accreditation Monitoring Plans.
Status (Progress) Report – IAU provides templates, reviews and finalizes status reports before submission to the accrediting body. We also prepare cover letters signed by the dean of Rady Faculty, or the dean of the college to accompany the status report.
 
Accreditation Monitoring Plan (AMP) – IAU will co-develop a plan to collect and evaluate data to satisfy accreditation requirements for status reports such as accreditation monitoring plan or improvement projects. Having an annual accreditation monitoring plan or improvement projects plan will alleviate the burden of accreditation works for the next cycle.
As part of our mandate, we also foster and keep the institutional memory for accreditation content and processes in the Rady Faculty of Health Sciences. We ask programs to send us the final report and decision letters from the accrediting body as we collect and maintain these documents to preserve institutional memory. With leaderships and staffs' turnovers, it is a good way to maintain the accreditation-related information within the Rady Faculty office.
Resources for non-professional program graduates
If you are a graduate of a Rady Faculty non-professional program and require an accreditation letter post-graduation, please contact rahel.birhan@umanitoba with the Registrar's Office.
Accreditation resources
The resources listed below can be accessed on the Rady Faculty intranet site.
Programs accreditation timeline – two-year timeline
Programs accreditation timeline – six-year timeline
Program accreditation step-by-step infographic
Standards operating procedures (SOP) for program accreditation activities 
Guide to successful accreditation
Annual reports
 
Accreditation portal
The IAU provides a SharePoint portal to provide faculty and staff with key accreditation working documents, forms and information. The site is accessible from any UM computer or offsite computer or mobile device that has internet access. Internet Explorer or Mozilla Firefox are recommended.
How to access the portal
1. Ensure you have an active UMNetID
To access the portal you will need a UMNetID and authorization from your faculty. Most faculty and staff will already have a UMNetID, used for computer or JUMP access. If you do not have a UMNetID, please contact IT or claim your ID here.

2. Request SharePoint access
Contact Ricardo Soriano to request access to the Integrated Accreditation Unit portal or the UGME Accreditation portal.

3. Log on
Once you receive a response, log on through https://share.med.umanitoba.ca/_layouts/15/start.aspx#/ (be sure to bookmark the page) or by clicking the "SharePoint Portal" button to the top right of this page.
Important Log-in Notes:
All Medicine domain (MED) account users should login with their MED account, "med\UMNetID"
Users without a Medicine domain account may use their Administrative domain (AD) account, "ad\UMNetID" to access the site. Please note that AD user accounts are controlled by IST at Fort Gary, so please contact Fort Gary IST for support with password issues.
Accreditation status College of Nursing
| | | | |
| --- | --- | --- | --- |
| Program | Accrediting body | Status |   |
| Bachelor of Nursing (BN) | Canadian Association Schools of Nursing (CASN) | Granted 7 year-term with recommendations and interim report | 2028 |
| Bachelor of Midwifery (BMid) | Canadian Association for Midwifery Education (CAMEd) | New program as of Sept 2020 - accreditation will occur before the graduation of the first cohort | TBD |
| Master of Nursing (Nurse Practitioner) | Canadian Association Schools of Nursing (CASN) | Grant 7 year-term with recommendations and interim report | 2026 |
Accreditation status College of Pharmacy
Accreditation status College of Rehabilitation Sciences
Accreditation Status Dr. Gerald Niznick College of Dentistry
Accreditation Status Max Rady College of Medicine
You may also be looking for
Our office
Integrated Accreditation Unit
S204 Medical Services Building, 750 Bannatyne Avenue
University of Manitoba, Bannatyne campus
Winnipeg, MB Canada R3E 0W2
Monday to Friday, 8:00 am to 4:00 pm