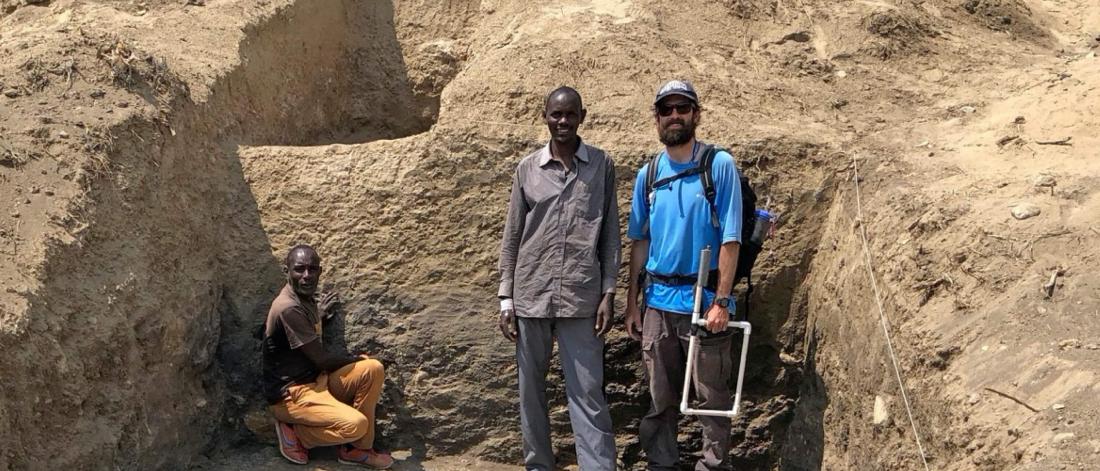 Graduate students in the Department of Earth Sciences enter a vibrant scientific culture and find themselves in a department with a strong sense of identity and community.
Research topics include:
Mineralogy and crystallography
Environmental mineralogy and geochemistry
Sedimentology and quaternary studies
Invertebrate paleontology
Crustal and mantle geophysics
Applied/environmental geophysics; petrology and tectonics
Mineral deposits
Arctic, marine and freshwater systems
Research facilities
Extensive analytical laboratories with state of the art equipment—all conveniently located in one building:
Stable Isotopes for Innovative Research Lab
Secondary Ion Mass Spectrometer (SIMS) Laboratory
ICP Mass Spectrometer Laboratory
Microprobe and SEM Research Facility
Argon Argon Mass Spectrometer Laboratory (under construction)
X-Ray Diffraction and Mössbauer Laboratories
Sedimentology Laboratories
Invertebrate Paleontology Laboratory
Geophysical Laboratories
Nellie Cournoyea Arctic Research Facility 
Program details
Expected duration: four years
Tuition and fees: Two years tuition, then continuing fees in subsequent years (refer to Graduate tuition and fees)
Coursework is normally completed in the first two years, and thesis is normally completed in years four to five. Adjustments may be made with the supervisor's consultation and approval.
Thesis proposal
Students are required to complete a PhD thesis proposal, normally within 12 months of start of program. The proposal must include an introduction with citation of relevant literature, research objectives, proposed methodology including a timetable, anticipated significant of the research and references. A proposed budget must be appended to the proposal.
Students are required to submit a progress report to the department head on or before February 1 annually.
Thesis 
Students must produce a thesis that is appropriate for the PhD degree being sought and must successfully defend their thesis as determined by the assigned examining committee.
Sample course offerings
GEOL 7200: Earth Systems of Central Canada
GEOL 7230: Geophysics of the Earth's Crust and Mantle
GEOL 7350: Remote Sensing in the Earth and Planetary Sciences
GEOL 7470: Advanced Petroleum Geology and Geochemistry
GEOL 7480: Advanced Seismology 1
GEOL 7540: Isotope Geology and Geochronology
GEOL 7550: Hydrothermal Petrochemistry
GEOL 7590: Advanced Paleontology 1
GEOL 7700: Advanced Clastic Sedimentology
GEOL 7720: Geophysical Imaging and Data Processing
GEOL 7740: Workshop in the Geological Sciences 1
GEOL 7780: Advanced Carbonate Sedimentology
GEOL 7790: Advanced Instrumental Techniques in Geology
GEOL 7810: Electromagnetic Methods in Geophysics
GEOL 7820: Environmental Geophysics
For full course descriptions, please visit the Academic Calendar.
Admission requirements
The following are minimum requirements for entry into the earth sciences PhD program. Meeting these requirements does not guarantee acceptance into the program.
The normal entry requirement is the equivalent of an MSc in earth sciences. Students with MSc degrees in related fields may be accepted by the Graduate Admissions Committee providing their planned degree program involves studies in the earth sciences.
Direct entry into the PhD program from an honours bachelor's degree is permitted only for outstanding students (GPA well above 3.0 in the last two full years of undergraduate study). This route is at the discretion of the Graduate Admissions Committee and is intended only for those students that the committee considers adequately prepared for immediate PhD-level studies.
Students applying should have a GPA of 3.0 (B or equivalent) in the last two full years (60 credit hours) of study
In addition to the admission requirements described here, all applicants must meet the minimum admission and English language proficiency requirements of the Faculty of Graduate Studies.
How to apply
Applications are submitted online and must include the following before they will be reviewed by the admissions committee: 
$100 application fee (non-refundable) 
Statement of intent 
Statement of funding 
GRE (optional) 
The name of your preferred supervisor
Three letters of recommendation from academic sources different from advisor
Please read the Faculty of Graduate Studies online application instructions before beginning your application.
Statement of intent
The statement of intent should be between one and two pages and will briefly describe your intended research project, including your previous research or experience, the proposed topic, preferred methods and potential contributions.
Letters written in the format of a research proposal are strongly preferred. Applicants are encouraged to consult the graduate scholarship application instructions of their appropriate Tricouncil Agency (NSERC, SSHRC, CIHR) for guidance.
Statement of funding
A brief statement to indicate that you have a major external grant or scholarship support or that you require departmental financial assistance.
Finding an advisor
We encourage you to contact a potential thesis advisor before submitting an application to ensure that there are openings for new graduate students on specific research projects and funding available for research support. Students who have contacted a prospective supervisor and who have received an encouraging response increase their chances of a successful application.
Contact us
Admission and application inquiries
Faculty of Graduate Studies
Room 500 UMSU University Centre
65 Chancellors Circle
University of Manitoba (Fort Garry campus)
Winnipeg, MB R3T 2N2 Canada
graduate.admissions@umanitoba.ca
Phone: 204-474-9377
Monday to Friday
8:30 a.m. to 4:30 p.m.
Program Inquiries
Celia Mellinger
Graduate Program and Alumni Coordinator
Clayton H. Riddell Faculty of Environment, Earth, and Resources
Room 440 Wallace Building
125 Dysart Rd
Winnipeg, MB R3T 2M6

University of Manitoba (Fort Garry campus)