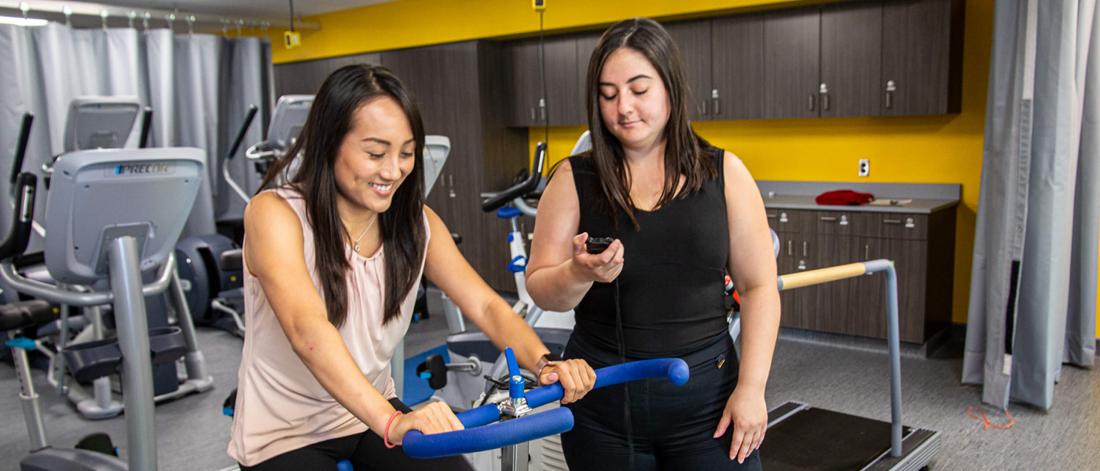 Research
Based on the themes set forth in the University of Manitoba's Strategic Research Plan, FKRM research is categorized in themes of Culture and Creative Works, and Integrative Research in Health and Well-Being.
Researchers in the faculty are funded by all three of the Tri-Council Agencies (Canadian Institute of Health Research, Natural Science and Engineering Research Council, and the Social Sciences and Humanities Research Council) as well as by other funding agencies such as the Canadian Foundation for Innovation, Manitoba Health Research Council, Manitoba Medical Services Foundation, Heart & Stroke Foundation of Canada, and the Public Health Agency of Canada.
Resources and supports
Our graduate degree programs are highly competitive and are considered limited enrolment programs. Every year we admit a small number of high-caliber students to ensure each student receives the best one-on-one supervision possible.
Financial support is typically available to qualified applicants in the form of graduate assistantships to conduct research in the Institute, and to provide service to Bison Sports and Active Living programs.
Facilities
These laboratories provide space and equipment for the faculty and graduate student research activities:
Chronic Disease Prevention and Physical Activity Lab
Laboratory for Exercise and Environmental Medicine
Integrative Musculoskeletal Research Lab
Leisure and Tourism Laboratory
Biomechanics of Balance and Mobility Lab
Perceptual Motor Integration Lab
Extracellular Vesicles and Exercise Lab
Exercise Health and Psychology Lab
Psychology of Sport and Leisure Activity Lab
Cardiorespiratory and Physiology of Exercise Research Lab
Musculoskeltal Exercise Immunology Lab
Opportunities
Graduate students can compete for various local, regional and national funding awards. As well, the HLHP Research Institute and Faculty are committed to providing employment opportunities for graduate students on funded research initiatives, and providing ongoing support for student thesis work, such as awards for travel.
Our master's students win scholarships and awards, work on student research assistantships, speak at workshops and conferences, are published in journals, and work with world-class researchers and advisors. Best of all, they get a valuable and competitive degree from a Faculty with a strong reputation and a long success story.
Program details
The Master of Science (Kinesiology and Recreation) or Master of Arts (Kinesiology and Recreation) provides advanced education and research training within sub-disciplines including kinesiology, physical education, health, human performance, recreation, leisure, and tourism studies.
Expected duration: 2 years
Tuition and fees: Program fees are assessed in the first two terms of study, followed by a continuing fee in the third and any subsequent terms. (refer to Graduate tuition and fees)
The Kinesiology and Recreation Management MA and MSc programs consist of 12 credit hours of course work, a minimum of eight research seminars and a thesis requirement.
Within the 12 credit hours of coursework, students can choose to complete a directed study on a topic of their choosing. 
Students in the FKRM graduate program are required to complete a thesis as part of their degree requirement. Depending on the type of research and/or the area of study, the written format of your thesis may vary (e.g., several published articles). The selected format must be approved by your advisor and meet the Thesis Guidelines of the Faculty of Graduate Studies
The MA and MSc programs share the same requirements, however the degree designation will be determined by the admissions committee, in consultation with the advisor, based on the coursework and research to be undertaken.
Sample course offerings
KPER 7402: Community Development: Qualitative Methods (3 credit hours)
KPER 7100: Molecular Mechanisms of Exercise Physiology 1 (1.5 credit hours)
KPER 7200: Sensorimotor Integration: Fundamental Theories in Motor Control and Learning (3 credit hours)
KPER 7202: Instrumentation and Signal Processing in Human Movement Science (3 credit hours)
KPER 7400: Humanities and Social Sciences in Exercise, Leisure, Physical Education and Sport (3 credit hours)
KPER 7404: Indigenous Land-Based Skills (3 credit hours)
KPER 7410: Leisure, Recreation, Parks and Tourism: Concepts and Theories (3 credit hours)
KPER 7440: Cultural Studies in Leisure, Recreation and Sport (3 credit hours)
For full course descriptions, please visit the Academic Calendar.
Admission requirements
Master of Science and Master of Arts admission requirements
To qualify for admission to the Master of Science or Master of Arts program, you must have a minimum of: 
A four-year Kinesiology (BKIN)/Physical Education (BPE) or Recreation Management and Community Development (BRMCD) degree, or equivalent, or
A four-year undergraduate degree other than a BKIN/BPE or BRMCD, or equivalent, with a suitable academic background in the area of study, including a minimum of six credit hours in research methods and/or statistics, or
Completion of a pre-master's program at the University of Manitoba, or equivalent.
In addition to the admission requirements described here, all applicants must meet the minimum admission and English language proficiency requirements of the Faculty of Graduate Studies.
Pre-master's admission requirements
Students with undergraduate course deficiencies may be admitted to the pre-master's program to complete the background requirements. To be considered for the pre-master's program, you must have a minimum of a bachelor's degree. 
Successful completion of the pre-master's program does not guarantee admittance to the graduate program. Students who wish to continue on to the graduate program must apply for admission.
How to apply
Applications for the Kinesiology and Recreation Management program are accepted for Fall and Winter entry. Applications must be completed online and include several parts:
$100 application fee (non-refundable)
Unofficial copies of transcripts
Two letters of recommendation (must be requested from within the application)
Writing sample/publication (2 to 4 pages maximum)
Statement of intent
The name of a faculty member who has agreed to be your supervisor
Proof of English language proficiency, if required
Please read the Faculty of Graduate Studies online application instructions before beginning your application.
Contact us
Admission and application inquiries
Faculty of Graduate Studies
Room 500 UMSU University Centre
65 Chancellors Circle
University of Manitoba (Fort Garry campus)
Winnipeg, MB R3T 2N2 Canada
graduate.admissions@umanitoba.ca
Phone: 204-474-9377
Monday to Friday
8:30 a.m. to 4:30 p.m.
Program inquiries
Faculty of Kinesiology and Recreation Management
Room 202 Active Living Centre
430 University Crescent
University of Manitoba (Fort Garry campus)
Winnipeg, MB R3T 2N2
kinrecgrad@umanitoba.ca
Phone: 204-474-7087
Fax: 204-474-7634