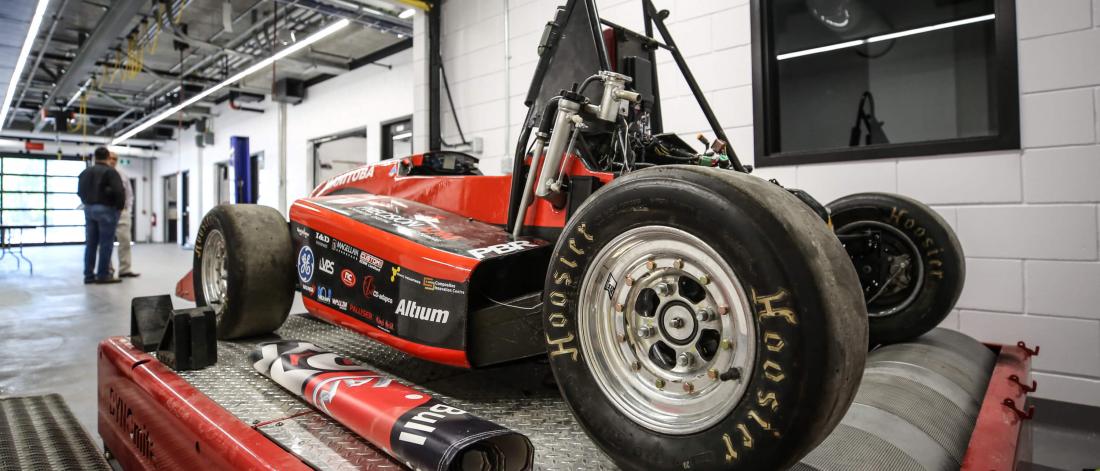 Facilities
The mechanical engineering department is home to several exceptionally equipped research laboratories including: applied mechanics and design laboratories, materials science and engineering laboratories, manufacturing and production laboratories, robotics laboratories, thermo-fluids and energy laboratories.
Our graduate students have access to various state-of-the-art research facilities with strong connections to the industry and the research programs are led by well-established professors and adjunct professors.
Opportunities
Graduate studies and research are full of excitement, challenges and rewards. The experience of being the first to observe, create or understand something is wonderful.
Aside from excellent research experience, we offer a program that engages our graduate students as members of national and international professional societies including the Canadian Society of Mechanical Engineering (CSME) and the American Society of Mechanical Engineering (ASME). We are proud of our long history of graduate programs and the fact that our past graduate students are in high demand by industry, research laboratories and universities.
Awards
As a graduate student, you will have opportunities to apply for a variety of financial supports, including the University of Manitoba Graduate Fellowship (UMGF), Natural Sciences and Engineering Research Council (NSERC) Postgraduate Fellowships, various Faculty of Graduate Studies Scholarships and research assistantships. There are also teaching assistant positions budgeted and available in the department to accommodate those students wishing to assist academics in teaching. Partial travel awards are available from various sources for graduate students to attend conferences.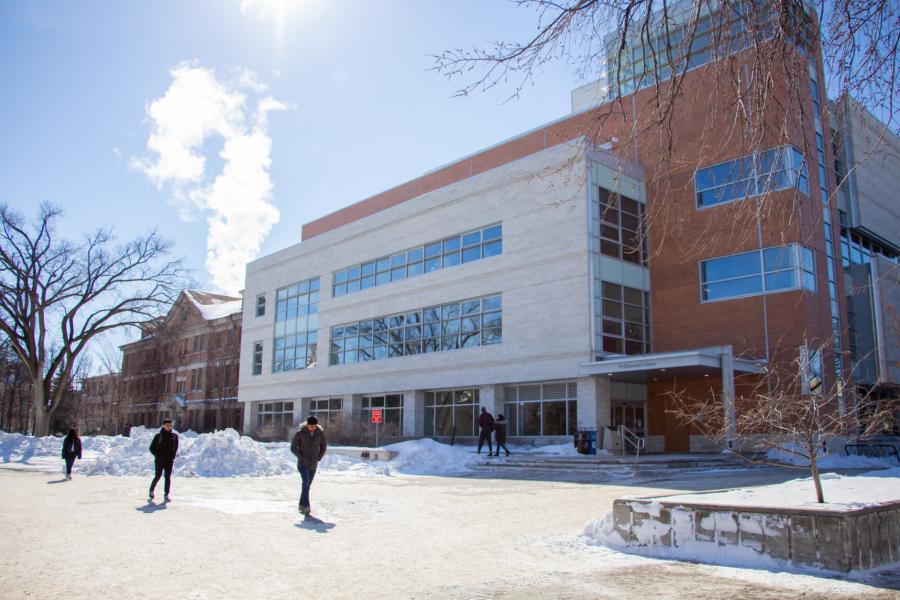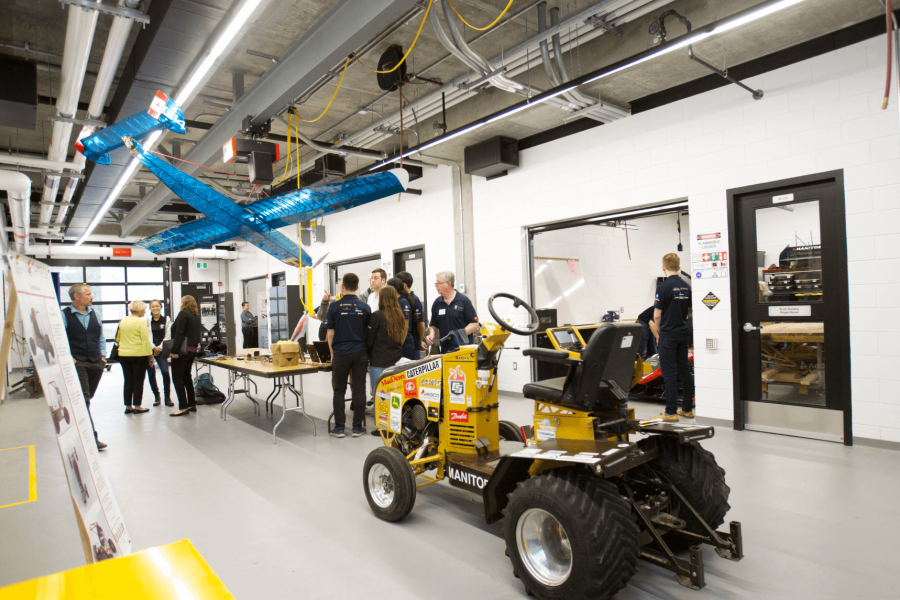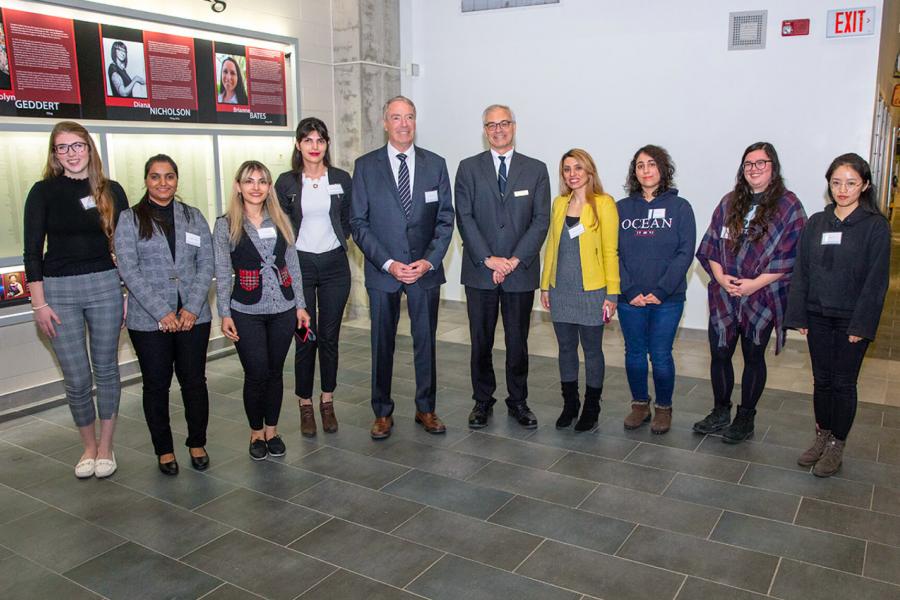 Program details
The department of mechanical engineering offers programs of coursework and research leading to Master of Science and Master of Engineering degrees.
Expected duration: 2 years
Tuition and fees: Program fees are assessed in the first two terms of study, followed by a continuing fee in the third and any subsequent terms. (refer to Graduate tuition and fees)
While both programs offer graduate-level training in the field, the MEng program is industrially-oriented and aimed at practicing engineers who wish to continue their studies on a broad basis, while the MSc degree is attained through coursework and thesis.
Master of Science
MSc students must complete a minimum of 12 credit hours of coursework, complete a thesis, make an oral presentation on the completed thesis to the examining committee and pass an oral examination.
Master of Engineering
The MEng program mainly provides working engineers and internationally trained engineers an opportunity to continue their studies and specialize in an area of interest. The minimum requirement for the award of the MEng degree is 24 credit hours of coursework with at least nine credit hours at the 700/7000 level. Of the 24 credit hours, six credit hours will be assigned to an approved project and report.
Research areas
Fluid Mechanics
Active research in this area is performed in turbulence, computational fluid dynamics, multiphase flow with droplets and engineering calculations of fluid flow. Droplets vaporization and burning under turbulent atmospheric as well as high-pressure and temperature flow conditions, premixed and non-premixed swirling and non-swirling turbulent flames, liquid jet break-up and automizaton turbulent measurement and modelling, underwater kinetic turbines.
Thermal Sciences
Concerned with the application of heat and work to engineering problems. Active research is performed in two phase flow, pool boiling simulation, enhanced heat transfer, solid-liquid phase change, entropy analysis/optimization, combined heat transfer and heat transfer in porous media, acoustic wave propagation and supercritical flow stability, ocean hydrothermal energy and minerals research, super-critical properties of ocean hydrothermal fluids, runout table cooling in the steel processing industries.
 
Material Science and Engineering
Concerned with the behaviour of engineering materials. Active research is focused on deformation studies, joining of aerospace materials, acoustic emission, solidification and diffusion in microgravity, phase transformation in solids, wear and wear protection, processing of polymer composites, durability and interfaces in polymer composites.
Applied Mechanics and Design
Concerned with the analysis and conception of machine and structural components. Active research is performed in biomechanics, solid mechanics, fracture mechanics, fatigue analysis, experimental stress analysis, vibrations and acoustics, kinematics and dynamics of linkage and mechanisms and computer aided design.
Manufacturing and Production
Concerned with analysis, design and operation of automated and feedback control systems. Active research is conducted in robotics, sensor technology, system integration, automatic controls, information systems, human-machine control systems, fluid power systems, teleoperation, virtual design and manufacturing, web-based manufacturing systems. Planning, design and operation of production using queuing theory, networks, scheduling, facilities planning and inventory planning models are also other areas of research.
Admission requirements
To qualify for the Master of Engineering or Master of Science in Mechanical Engineering program, you must have a minimum of:
a four-year bachelor's degree in Mechanical Engineering.
In exceptional cases, based on the candidate's professional experience, this requirement may be waived by the department.
Meeting these requirements does not guarantee admission to the program.
In addition to the admission requirements described here, all applicants must meet the minimum admission and English language proficiency requirements of the Faculty of Graduate Studies.
How to apply
The mechanical engineering master's programs accept applications for Fall, Winter and Summer admission. Applications are submitted online and must include the following before they will be reviewed by the admissions committee:
$100 application fee (non-refundable)
Uploaded copies of transcripts from all post-secondary institutions attended
Two letters of recommendation
Proof of English language proficiency, if required
The name of your confirmed advisor (required for both M.Sc. and M.Eng.)
To find an advisor, explore the department of mechanical engineering's faculty and staff page and contact a faculty member whose research interests align with your own. Please note that your proposed advisor must hold a PhD or equivalent and be a member of the Faculty of Graduate Studies (typically includes academic staff holding a rank of assistant professor or above). Both the M.Eng. and M.Sc. program require an advisor.
Please read the Faculty of Graduate Studies online application instructions before beginning your application.
Contact us
Admission and application inquiries
Faculty of Graduate Studies
Room 500 UMSU University Centre
65 Chancellors Circle
University of Manitoba (Fort Garry campus)
Winnipeg, MB R3T 2N2 Canada
graduate.admissions@umanitoba.ca
Phone: 204-474-9377
Monday to Friday
8:30 a.m. to 4:30 p.m.
Program inquiries
Department of Mechanical Engineering
Room E2-327 Engineering & Information Technology Complex
75 Chancellor Circle
University of Manitoba (Fort Garry campus)
Winnipeg, MB R3T 5V6
mecheng@umanitoba.ca
Phone: 204-474-7358
Fax: 204-275-7507