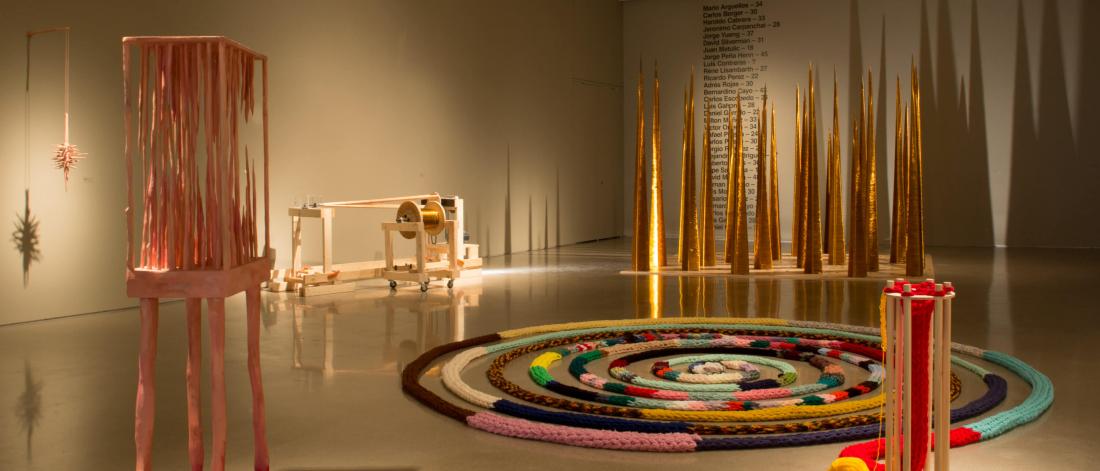 Study at the School of Art
Our focus is on preparing students for a successful career in the arts, at a time when creativity, critical thinking, and complex problem solving are in greatest demand.
Alumni of our programs have gone on to thriving careers as visual artists, curators, designers, art historians, gallerists, educators, arts administrators, cultural workers, and many other professions in media and technology.
Faculty and staff
Staff and Faculty members at the School of Art are among Manitoba's most highly respected artists and art researchers.
Learn new concepts and techniques from SOA scholars, instructors and technicians, and integrate their feedback into your own artistic practice.
School of Art facilities
Our wide-ranging facilities include a large-format digital print shop, large new darkroom and wet lab spaces, extensive sculpture fabrication facilities, comprehensive ceramics area with newly built wood-fired kiln, MAC lab and private editing suites, a sound stage and print media studio equipped for a broad range of print and papermaking processes, all available to support student creativity.
The Architecture/Fine Arts Library contains one of Canada's richest collections of materials on art, architecture and urban planning, while the University's network of libraries offers extensive digital resources. 
Winnipeg's arts community
The School of Art at UM holds a central place in Winnipeg's creative community. Be inspired and informed by exploring exhibitions in the city's many galleries, and make connections that you'll maintain long after graduating.
Exhibitions and events
With its own extensive collection and a more than 50-year archive of past shows, the School of Art Gallery is a hub of artistic expression on the Fort Garry campus.
The Student Gallery provides a space to exhibit your own work, and consider the work of your friends and colleagues at the school. 
Getting involved
There are plenty of ways to get involved as a School of Art student. Student groups and out-of-town field trips are great ways to get to know your cohort.
Guest lectures and demonstrations from visiting scholars and artists bring outside perspectives and insights.
Studio and research assistantships can provide some extra income while doing the work you love.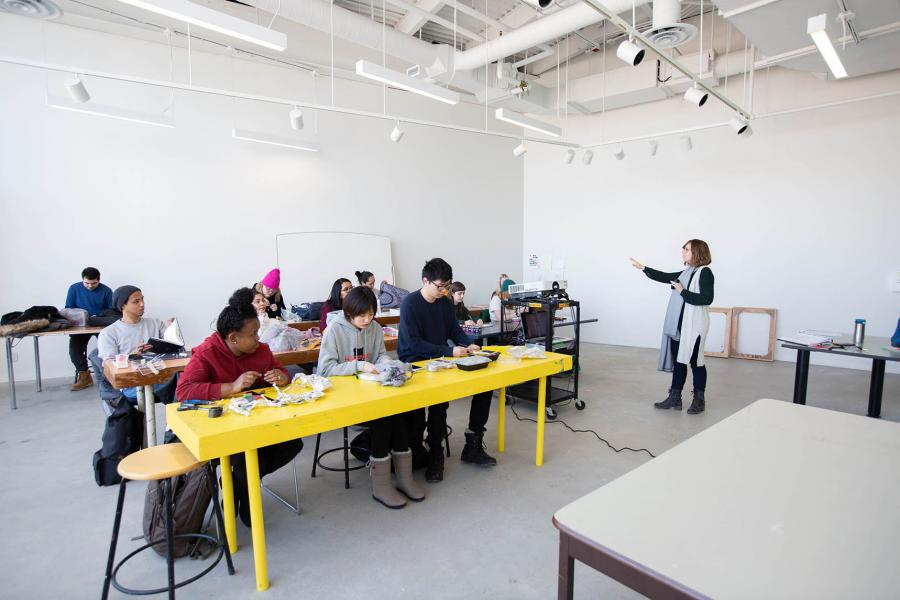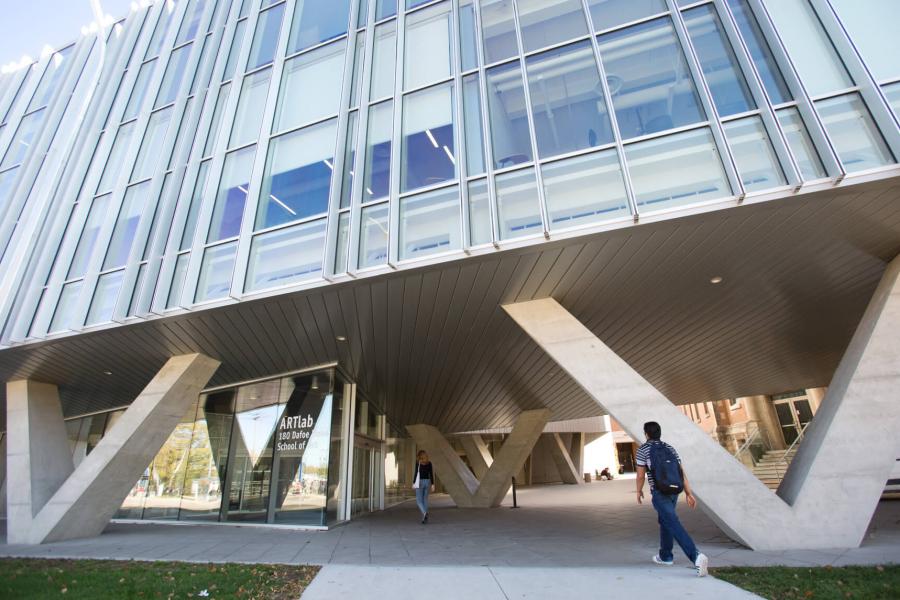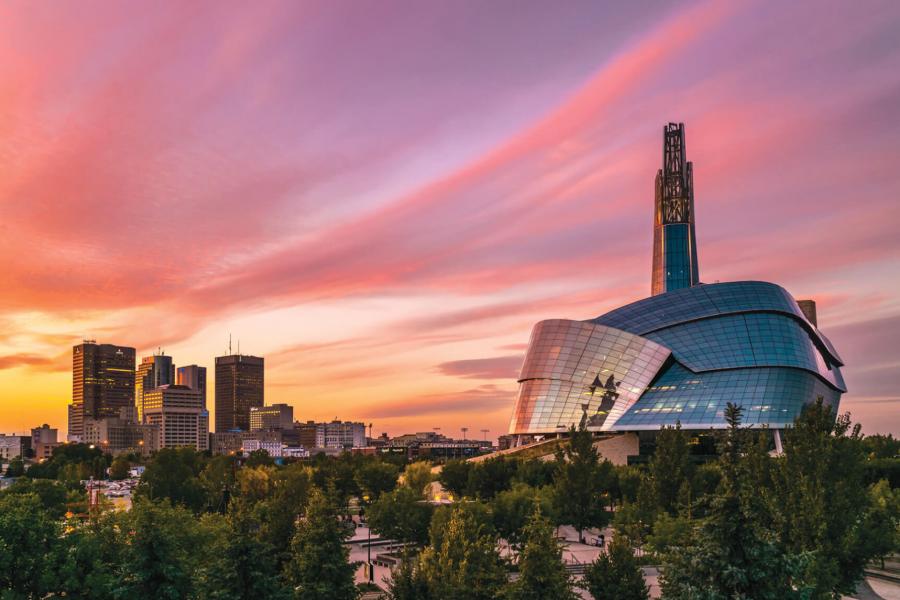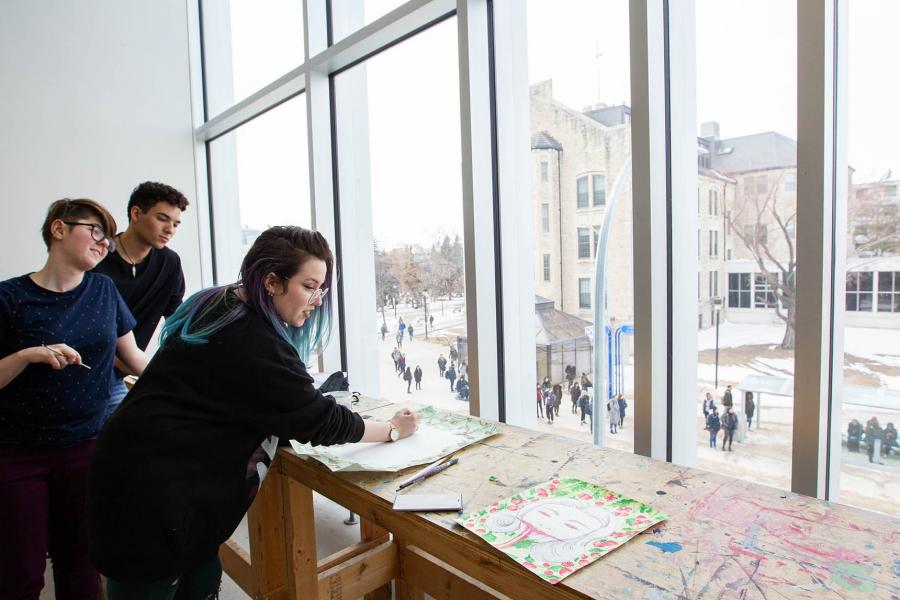 1913

Year the School of Art was established

70,000

Size of the ARTlab building, in square feet

9

medium options you can focus on, including ceramics, graphic design and video

24/7

hours many studios are open for student use
Program details
The School of Art offers a two-year Master of Fine Art program with an emphasis on studio work and original research. MFA students are not required to specialize in a specific medium, but can choose to have a multidisciplinary focus.
Expected duration: 2 years
Tuition and fees: Two years tuition, then continuing fees in subsequent years (refer to Graduate tuition and fees)
Graduate students are required to complete 21 credit hours of required coursework and 6 credit hours of electives, as well as the Master of Fine Art Thesis/Studio Exhibition. Students are expected to continue their research through the spring and summer.
Sample course offerings
First year courses
GRAD 7300: Research Integrity Tutorial (0 credit hours)
GRAD 7500: Academic Integrity Tutorial (0 credit hours)
STDO 7010: Studio Concentration 1 (3 credit hours)
STDO 7020: Studio Concentration 2 (3 credit hours)
STDO 7110: Graduate Seminar 1 (3 credit hours)
STDO 7120: Graduate Seminar 2 (3 credit hours)
Second year courses 
STDO 7030: Studio Concentration 3 (3 credit hours)
STDO 7040: Studio Concentration 4 (3 credit hours)
STDO 7130: Graduate Seminar 3 (3 credit hours)
GRAD 7200: MFA Thesis/Studio Exhibition (0 credit hours)
Elective courses
STDO 7210: Themes in Contemporary Art Studio (3 credit hours)
STDO 7230: Contemporary Art Theory (3 credit hours)
STDO 7300: Special Topics in Fine Art (3 credit hours)
For full course descriptions, please visit the Academic Calendar.
Financial support
Our competitive funding package starts with a substantial yearly stipend from the School of Art, as well as the possibility of a $14,000/year University of Manitoba Graduate Fellowship. Our second-year MFA students are also eligible for our internal School of Arts awards and scholarships. Paid teaching assistantships are offered for each Fall and Winter semester of the program.
 
Admission requirements
To qualify for admission to the Master of Fine Art program, you must have a minimum of: 
Hold either a four-year degree in fine arts or a four-year degree in another discipline and evidence of artistic experience,
with a minimum GPA of 3.0 in the last 60 credit hours of study.
Meeting these requirements does not guarantee acceptance into the program. Admission decisions are based on the qualifications of the applicant as well as the ability of the School of Art and the University of Manitoba to serve the applicant's intended program of study and area of specialization.
In addition to the admission requirements described here, all applicants must meet the minimum admission and English language proficiency requirements of the Faculty of Graduate Studies.
How to apply
The MFA program has only one application deadline per year, and applications are normally accepted for September entry only. Applications must be completed online and include several parts:
$100 application fee (non-refundable)
Unofficial copies of transcripts
Three letters of recommendation (must be requested from within the application)
Digital portfolio - See Digital Portfolio requirements below
Current CV including publications, exhibitions, and relevant professional activities
Statement of personal goals for the program including the direction your work and research will take if you are accepted into the program.
Proof of English language proficiency, if required
If deemed necessary, applicants may be asked to participate in an interview.
Please read the Faculty of Graduate Studies online application instructions before beginning your application.
Digital Portfolio requirements
For applicants to the Ceramics, Drawing, Graphic Design, Painting, Photography, Printmaking, and Sculpture disciplines:
Examples of work produced within three years of applying to the program. A portfolio of 20 examples, including images of details, if appropriate, (images can be compiled into one PDF or submitted as individual images)
Each work should be labeled in the PDF document, or listed in a numbered "Inventory List of Works" page which includes: artist's name, title, date, medium/media, and dimensions.
For applicants submitting time-based work:
Examples of work produced within five years of applying to the program. A portfolio of 10 examples (maximum) of original video, performance, digital or audio time-based works (segments to be five minutes maximum)
The works can be submitted as individual links or clickable links in your PDF portfolio. The works can be hosted on Vimeo, YouTube, SoundCloud, Google Docs, etc...Please provide passwords for the links if they are private, and test the links and passwords to ensure they function.
Each work is to be labeled (text can be embedded below your videos on Vimeo or included in your PDF). Please include: artist's name, title, date, medium/media, duration, collaborators if applicable, and other relevant information.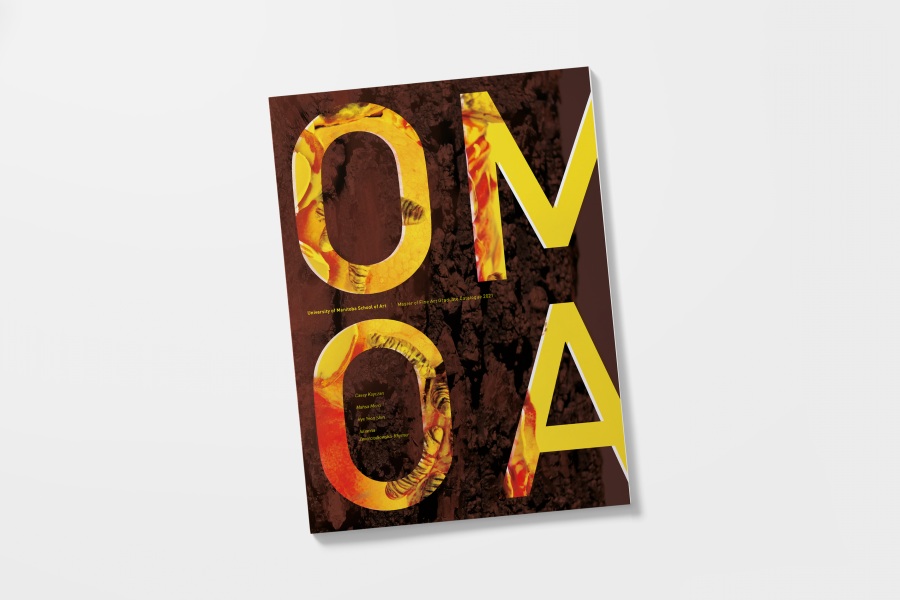 Master of Fine Art Graduate Catalogue
Each year students who have successfully completed the requirements for receiving a Master of Fine Art degree from the University of Manitoba are featured in the Master of Fine Art Graduate Catalogue. This catalogue offers an indication of the work that they produced during their programs.
The 2021 Catalogue features artists Casey Koyczan, Mahsa Merci, Hye Yeon Shin, and Julianna Zwierciadlowska-Rhymer.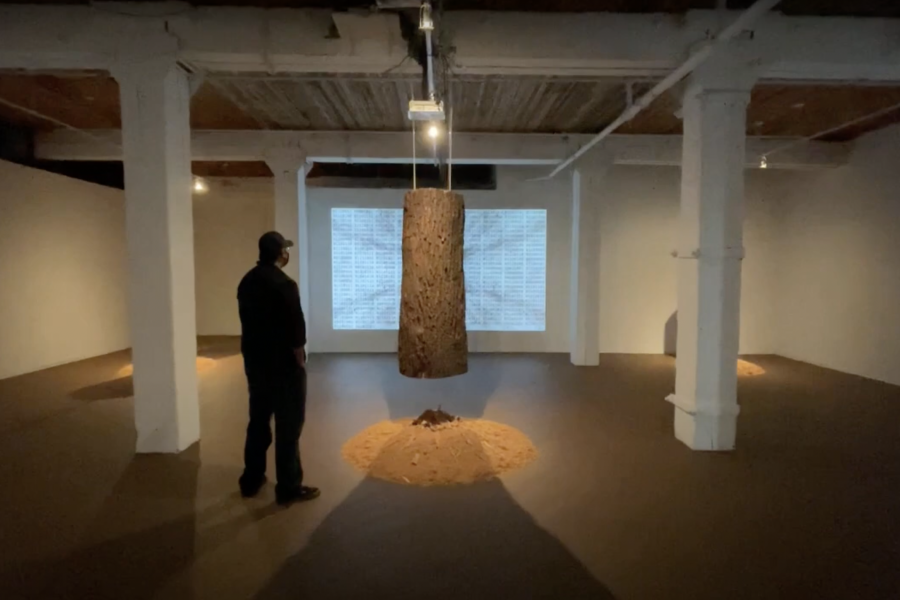 Master of Fine Art Alumni Feature
Casey Koyczan
Ełexiìtǫ ; Ehts'ǫǫ̀ / Connected ; Apart From Each Other
University of Manitoba MFA Exhibit, Urban Shaman Gallery, Winnipeg.
Contact us
Admission and application inquiries
Faculty of Graduate Studies
Room 500 UMSU University Centre
65 Chancellors Circle
University of Manitoba (Fort Garry campus)
Winnipeg, MB R3T 2N2 Canada
graduate.admissions@umanitoba.ca
Phone: 204-474-9377
Monday to Friday
8:30 a.m. to 4:30 p.m.
Program inquiries
School of Art
Room 313 ARTlab Building
180 Dafoe Road
University of Manitoba (Fort Garry campus)
Winnipeg, MB R3T 2N2 Canada
Undergraduate programs: soadvise@umanitoba.ca
Graduate program: mfainfo@umanitoba.ca