Study with us
Meet our researchers
The Faculty of Education is an advanced educational research institute, providing you the chance to study and work with faculty members actively engaged in research.
Our research community brings together diverse perspectives and spans a variety of areas. Together, our researchers and educators aim to enhance understanding and improve professional practice within the field of education.
Our spaces
Education students benefit from interactions with students, faculty and staff in a number of shared spaces.
Our wide-ranging facilities include an Indigenous student community space, the Anna and Inga Storgaard Learning Commons, drama and music classrooms, a computer lab and science lab.
Discover our financial supports
Numerous faculty-specific and university-wide funding opportunities are available to Faculty of Education graduate students to support academic and research goals.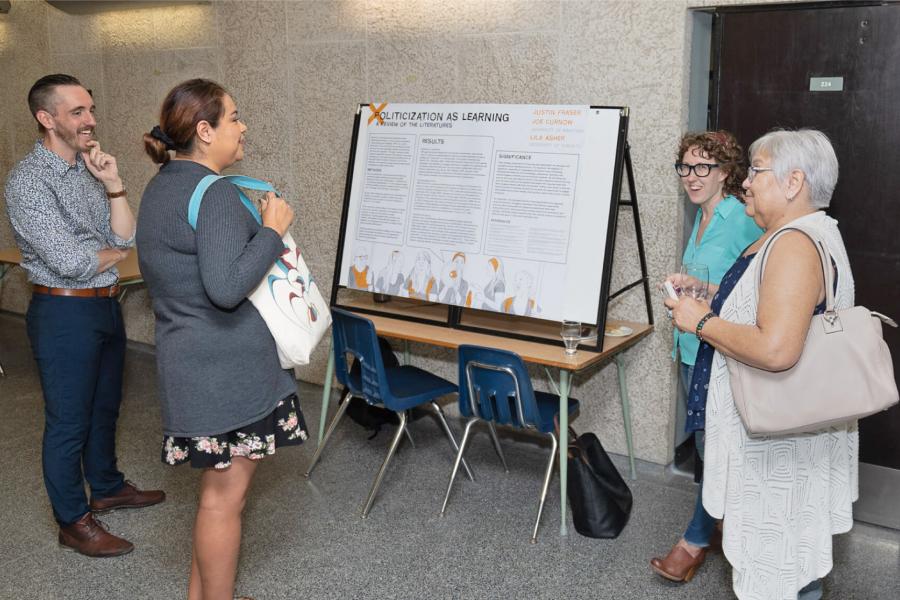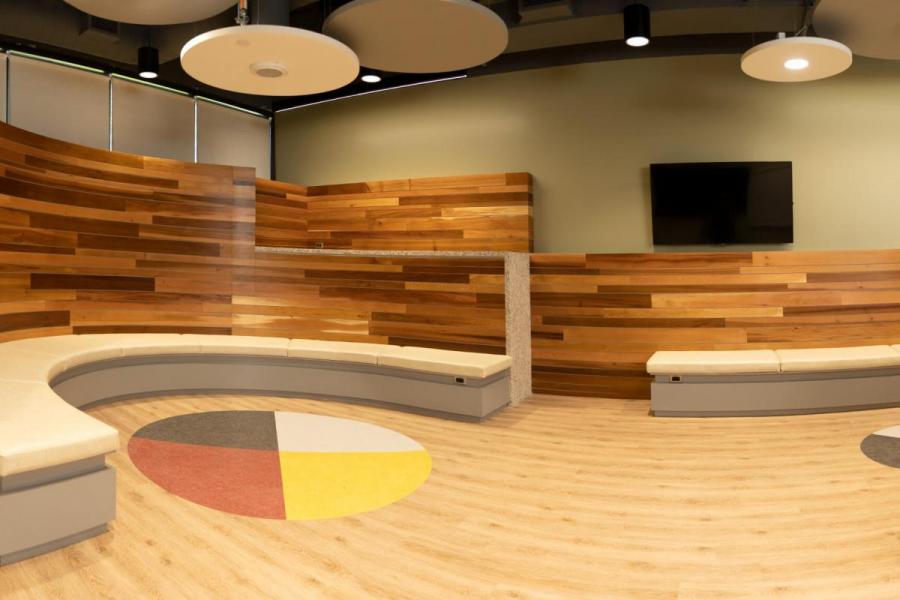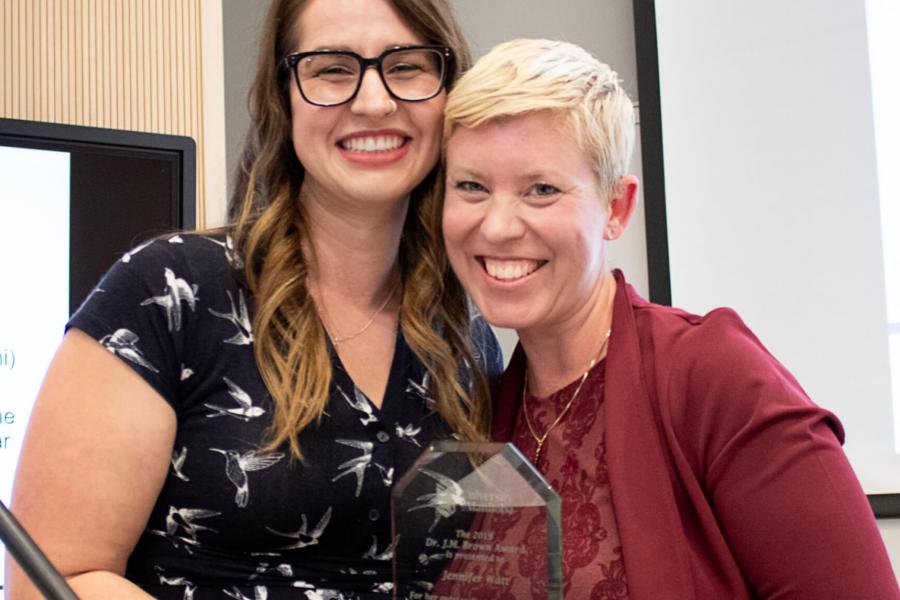 Program details
To earn your PhD, you must demonstrate independent research capability. The program consists of coursework and a substantial research component.
Each year, the Faculty of Education offers a cohort in a specified area of study (the area varies yearly).
Expected duration: 3+ years
Tuition and fees: Two years tuition, then continuing fees in subsequent years (refer to Graduate tuition and fees)
Course work
Students must complete 24 credit hours of coursework including a minimum of 12 credit hours in the program area; a minimum of six credit hours in a cognate area; and a minimum of six credit hours of research methods/analysis.
Upcoming graduate courses
Not all PhD courses listed in the Academic Calendar are offered every year. Please consult the information below for current and planned future courses.
Sample course offerings
EDUC 7030: Doctoral Tutorial in Education (3 credit hours)
EDUC 7040: Current Issues in Mathematics Education (6 credit hours)
EDUC 7050: Doctoral Study in Education (3 credit hours)
EDUC 7060: Advanced Seminar in Educational Administration 1 (3 credit hours)
EDUC 7090: Language Arts Curriculum (3 credit hours)
EDUC 7100: Reading Education (3 credit hours)
EDUC 7110: Doctoral Seminar in Science Education (3 credit hours)
EDUC 7130: Language and Identity in Second Language Contexts (3 credit hours)
For full course descriptions, please visit the Academic Calendar.
Admission requirements
To qualify for admission to the PhD in Education program, you must have a minimum of:
A master's degree from a recognized institution (The MEd course-based route at the University of Manitoba is typically a terminal degree. It is insufficient as evidence of research capacity for admission into the PhD in Education program).
A minimum GPA of 3.0 in your last 60 credit hours of university study.
A suitable academic background for the program area admission is being sought.
Appropriate research capability and occupational experience.
Meeting these requirements does not guarantee acceptance into the program.
In addition to the admission requirements described here, all applicants must meet the minimum admission and English language proficiency requirements of the Faculty of Graduate Studies.
How to apply
The PhD in Education program has one application deadline per year and applications are accepted for September entry only. Applications must be completed online and include several parts:
$100 application fee (non-refundable)
Unofficial copies of transcripts
Current CV that shows you have suitable occupational experience such as: educational or administrative work or service in a school, post-secondary or similar setting; practice in school counseling, psychology, or related profession; or equivalent work, service or practice. Include any relevant awards, scholarships, abilities or authorships
Two letters of recommendation, preferably one from the supervisor of the work submitted as evidence of appropriate research capability (must be requested from within the application)
Evidence of research capability
Thesis/research proposal
Supervisor Support: It is highly recommended that you contact those who you would like to list as potential supervisors and to confirm their interest and availability in taking on the role as your advisor. It is important that the proposed advisor can ensure that their area of expertise is a fit with your intended program and proposed research. Provide a statement indicating your preference (rank-ordered) of two faculty members under whose supervision you would like to study. For each, provide a rationale describing the match between your research interests and the supervisor's research interests and experience. Indicate if they have confirmed their willingness to act as your advisor.
Indicate if you have secured funding or will be applying for funding from the Faculty of Education and/or Faculty of Graduate Studies funding opportunities
Proof of English language proficiency, if required
Evidence of research capability requirements
Evidence of research capability
Submit evidence of appropriate research capability by uploading one of the following to the system (please use the 'Publication/Writing Sample' upload button in the application):
Thesis from a recognized institution,
Major research paper equivalent to a thesis from a recognized institution plus a successfully completed three credit-hour 7000-level (or equivalent) research methods course,
Independently completed research article published in a peer-reviewed journal plus a successfully completed three credit-hour 7000-level (or equivalent) research methods course or
A research product and coursework equivalent to one of the above.
Thesis/Research proposal
1000 words maximum; double-spaced.
The proposal is an opportunity to reflect on your interest in the field of education and to give the Admissions Committee a better idea of who you are.
The proposal is an important component of your application, and we ask that you pay attention to both form and content.
Your proposal should outline your research focus.
Contact us
Admission and application inquiries
Faculty of Graduate Studies
Room 500 UMSU University Centre
65 Chancellors Circle
University of Manitoba (Fort Garry campus)
Winnipeg, MB R3T 2N2 Canada
graduate.admissions@umanitoba.ca
Phone: 204-474-9377
Monday to Friday
8:30 a.m. to 4:30 p.m.