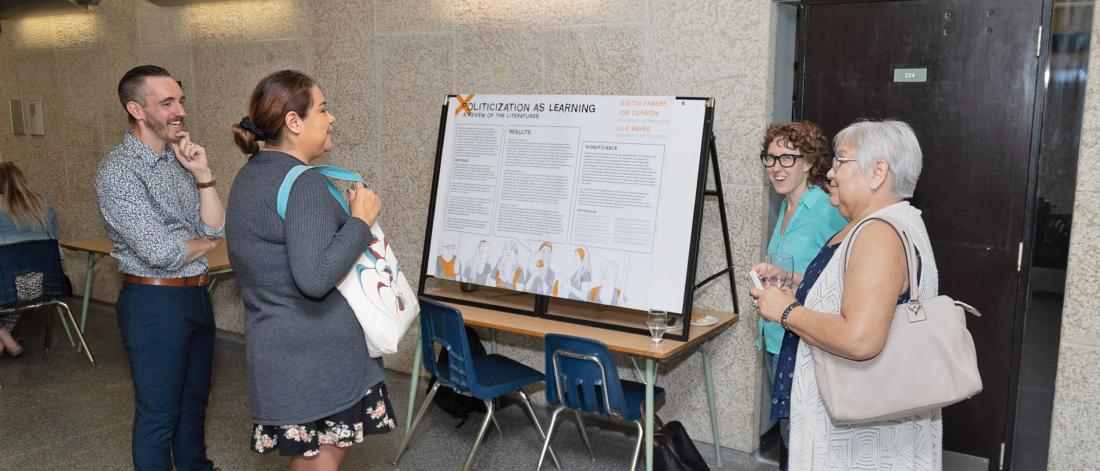 Featured researcher Dr. Amy Farrell
Dr. Amy Farrell is Ojibwe and grew up in Thunder Bay, Ont. Her mother is from Whitewater Lake First Nation, and she is a member of Eabametoong First Nation. Her father is of Irish, English and Scottish descent. She joined the Department of Curriculum, Teaching and Learning in the Faculty of Education in January 2019. She teaches Indigenous education courses within the department.
Her dissertation "Memengwaawid, To Be A Butterfly: An Indigenous Exploration of Northwestern Ontario Anishinawbe and Muskego or Ininiw Sacred Stories and Teachings in a Contemporary Novel" is both a creative and critical work that explores various cultural and sacred story teachings within a creative work, and which employs both Indigenous methodology and methodological approaches.
Farrell-Morneau's research interests include: the exploration and application of Indigenous knowledge, culture, and sacred story into various concepts within Science, Technology, Engineering, Arts, and Mathematics (STEAM) education; the exploration of Indigenous sacred story teachings and storytelling methods into creative narrative works; and, the practical application of Indigenous knowledge, spirituality, and culture into mainstream curricula and teaching practices.
Previous to working at the University of Manitoba, she worked as an Indigenous Curriculum Specialist at Lakehead University, where she supported faculty across the university to include Indigenous knowledge within their own curricula and general knowledge. She was a sessional instructor for 10 years at Lakehead University within the Department of Indigenous Learning and also in the Faculty of Education. She was a secondary teacher and an Indigenous support staff in both the semi-private and public-school systems. She has also spent many years coordinating and participating in various community committees typically held for Indigenous youth and community.
Research projects Indigenous languages
Frank Deer is currently working on a SSHRC-funded study focused on the issue of language revitalization in the educational and community contexts of First Nations in Canada.
The study, titled, First Nations Languages: A Comparative Study in Culturally Relevant Sustainability, aims to understand what factors have facilitated the survival of two First Nations languages: Kanien'kehá:ka (Mohawk) and Cree. By better understanding how languages fit into the context of First Nations education, this study hopes to support the continuing development of interventions that will support language revitalization amongst First Nations communities.
Preliminary results show tensions between frequently used classroom language resources (such as language dictionaries) as well as those for supplementary learning through technology (such as smartphone apps). These may have undesired consequences for language syntax and development due to the lexicographic imperatives for translation.
Research projects Post-secondary education knowledge synthesis
Frank Deer recently completed a project titled Canadian Post-Secondary Education and Aboriginal Peoples of Canada: Preparation, Access, and Relevance of Post-Secondary Experiences.
This SSHRC-funded project explored post-secondary experiences of Aboriginal peoples by synthesizing existing literature related to the post-secondary learning experiences of Aboriginal peoples in Canada.
The goal of the study was to examine the many factors that may affect Canadian Aboriginal peoples' preparation for successful participation in post-secondary education. The resulting synthesis provides a basis for future dialogues that can inform both educational programming and policy development in key areas related to Aboriginal peoples' preparation for the Canadian labour market.
Education research snapshops videos
You may also want
Contact Us
Faculty of Education Dean's office
Room 225 Education Building, 71 Curry Place
University of Manitoba (Fort Garry campus)
Winnipeg, MB R3T 2N2 Canada