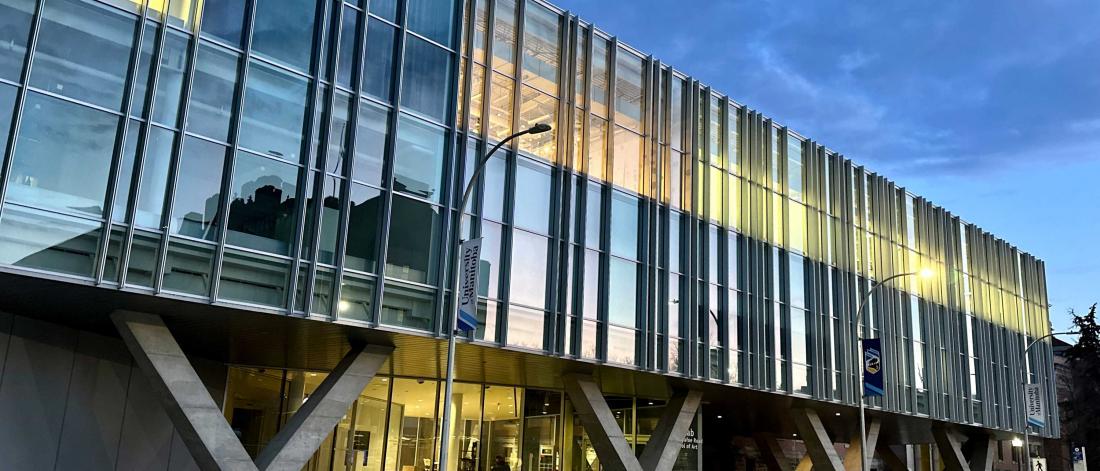 Our focus is on preparing students for a successful career in the arts, at a time when critical thinking, scholarly publication, and complex problem-solving are in greatest demand.
Graduates of the program will go on to have the opportunity for thriving careers as curators, art historians, gallerists, educators, arts administrators, cultural workers, and many other professions in art and media..
Image: Shauna Matthews holding a presentation on Mary Riter Hamilton in the Manitoba Modernism Seminar, 2017.
Faculty and staff
Faculty members at the School of Art include art historians who are highly respected in Canada and internationally.
Image: Professor Dr. Oliver Botar lecturing to students in his "Sensing the Future" Exhibition as part of the László Moholy-Nagy seminar, Plug In ICA, April 2014.
School of Art resources and facilities
The School of Art offers a wide range of facilities designed to ignite your scholarly journey, including the Art History Resource Room, the Pat Bovey Print Archive, the School of Art Gallery, the Lionel LeMoine FitzGerald Study Centre, the UM Collections, and the UM Archives and Special Collections.
The Architecture/Fine Arts Library contains one of Canada's richest collections of materials on art, architecture and urban planning, while the University's network of libraries offers extensive digital resources. 
Image: Artworks set up for a seminar, pulled from the School of Art Gallery collection.
Winnipeg's arts community
The School of Art is central to Winnipeg's rich art scene. Be inspired and informed by exploring exhibitions in the city's many galleries, including the Winnipeg Art Gallery (WAG–Qaumajuq), the WAG-run Pavilion Gallery in Assiniboine Park, Plug In Institute of Contemporary Art, and The Manitoba Museum. Make connections here that you'll maintain long after graduating.
Image: Winnipeg Art Gallery (WAG–Qaumajuq)
Program focuses
Given our current faculty resources and student body, our program has two main focuses: Western/Settler art and architecture and Indigenous art and architecture.
Image: Lecture by early University of Manitoba Art History graduate, celebrated artist, scholar, curator, and educator Robert Houle (Saulteaux) at the School of Art Centenary Celebration, 2012.
Architecture
Given Winnipeg's exceptionally rich architectural heritage and the professorial contingent at the University of Manitoba Faculty of Architecture, the Program has a particular focus on architectural history.
Image: Executive Director Susan Algie (centre) of the Winnipeg Architectural Foundation and Marieke Gruwel (right), curator of the show, during a visit by seminar students to an exhibition about women architects of Manitoba.
Exhibitions and events
With its extensive collection and a more than 50-year archive of past shows, the School of Art Gallery is a hub of artistic expression on the Fort Garry campus.
The Student Gallery provides a space to engage, curate, and consider the work of your friends and colleagues at the school. 
Image: Opening of Andrea Robbins and Professor Dr. Shepard Steiner's (centre) exhibition at the School of Art Gallery, November 2014
Getting involved
There are plenty of ways to get involved as a School of Art student. Student groups are great ways to get to know your cohort. Guest lectures and demonstrations from visiting scholars and artists bring outside perspectives and insights. Research assistantships can provide some extra income while doing the work you love.  
Image: Visting scholar Dr. Libby Otto (SUNY Buffalo) lecturing for Dr. Oliver Botar's seminar on the Bauhaus, March 2020.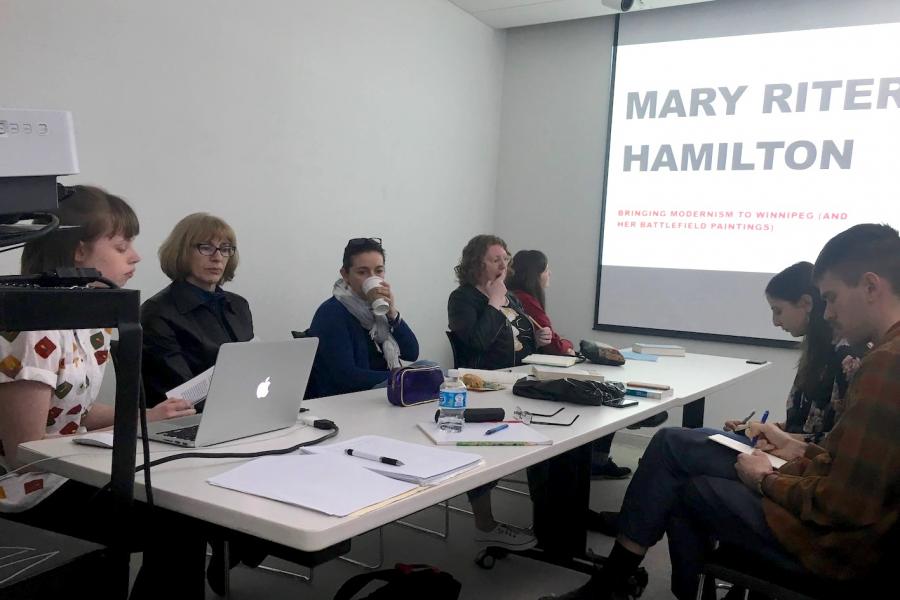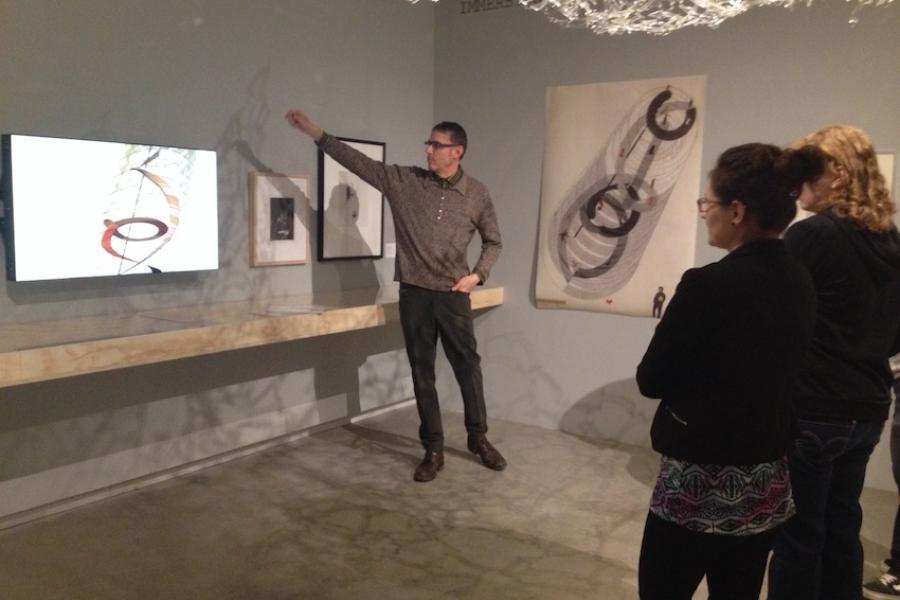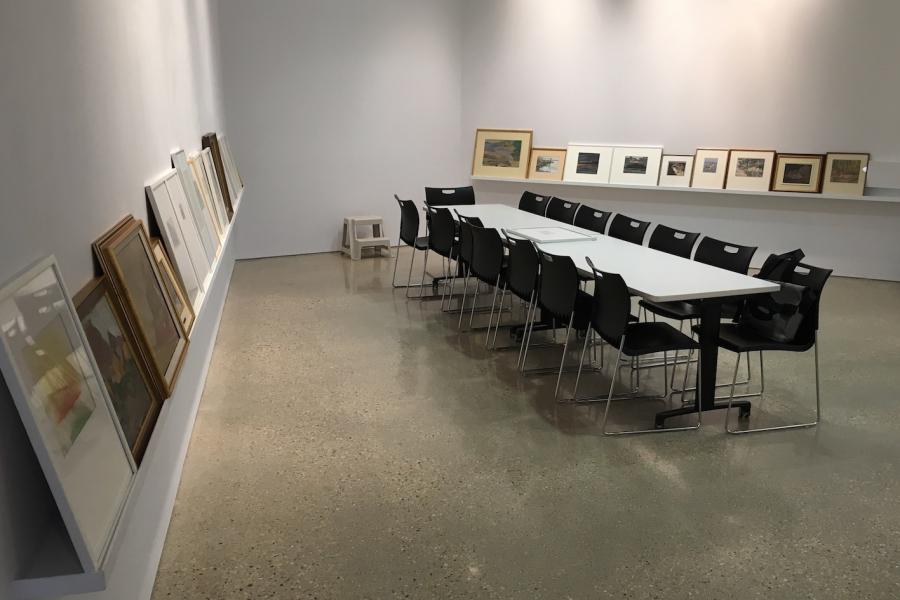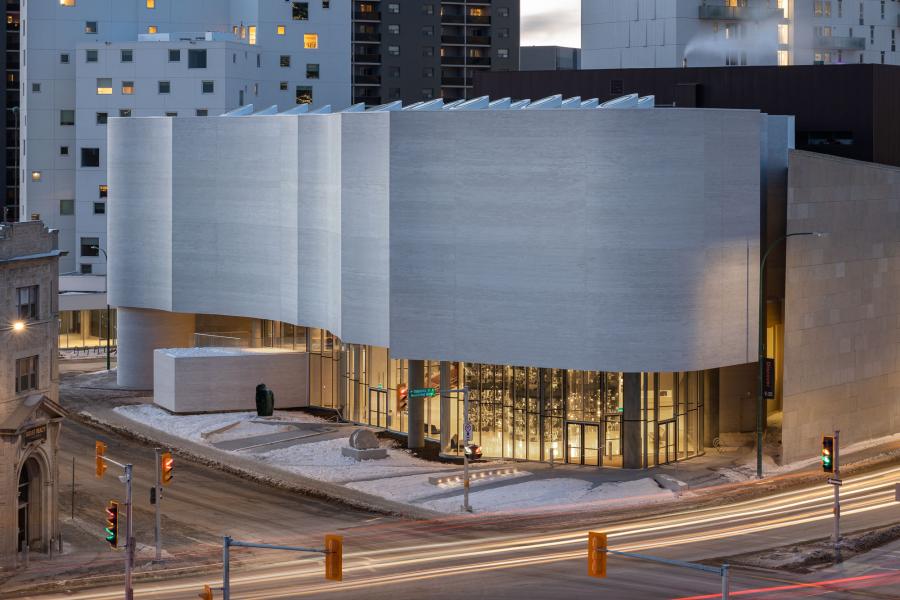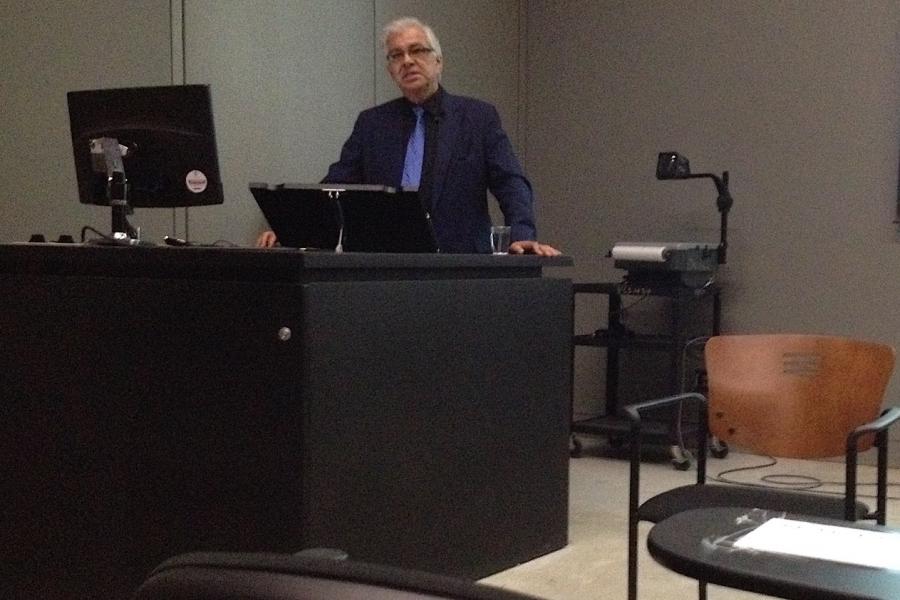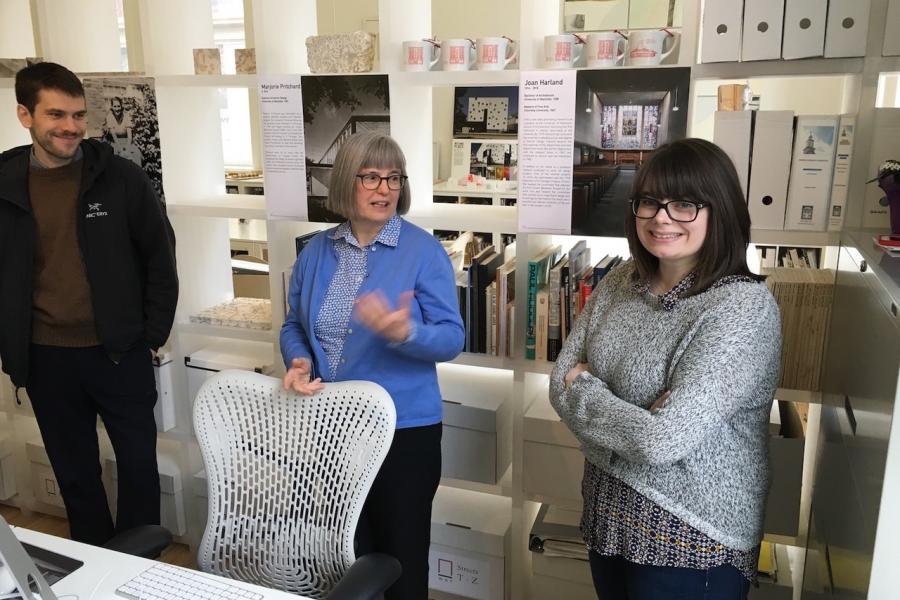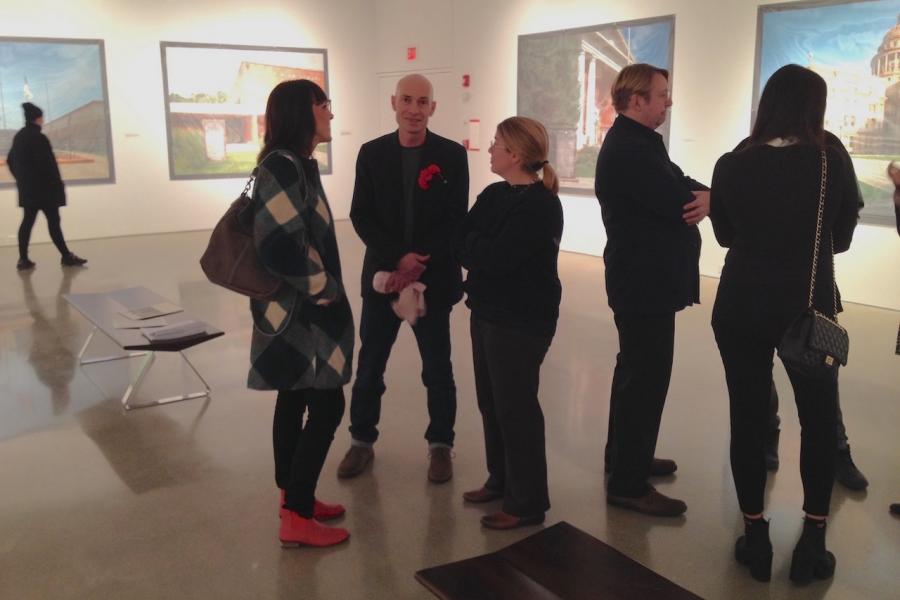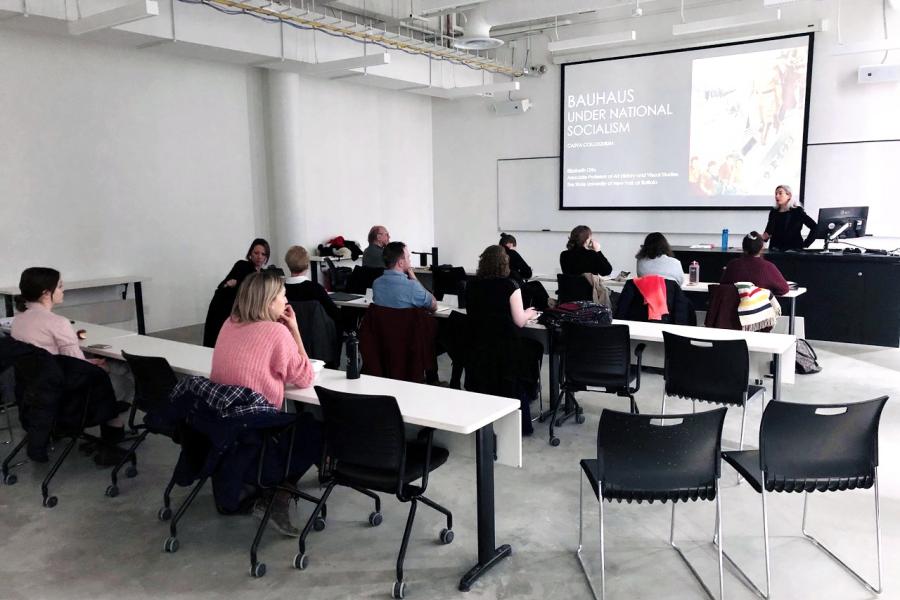 Program details
The Faculty of Graduate Studies and the School of Art offer a program of study leading to a Master of Arts in Art and Architectural history.
Expected duration:2 years
Tuition and fees: Program fees are assessed in the first two terms of study, followed by a continuing fee in the third and any subsequent terms. (refer to Graduate tuition and fees)
In addition to the minimum course requirements of the Faculty of Graduate Studies, found in the Graduate Studies Regulations Section, students must complete:
18 credit hours of coursework at the 7000 level
A written thesis
Nine of these credit hours are required graduate seminars in the School of Art; nine are to be chosen from a list of recommended electives from both inside and outside the School of Art, or at the University of Winnipeg, under the terms of the Western Deans' Agreement.
Students are required to have a reading knowledge of at least one language other than English. A grade of C+ or better in 6 credit hours of introductory-level post-secondary language course(s) satisfies the requirement.
Sample course offerings 
FAAH 7100: History and Methodology of Art/Architectural History (3)
FAAH 7010: Topics in Art/Architectural History (3)
FAAH 7020: Topics in Indigenous, Metis and Inuit Art/Architectural History (3)
FAAH 7200: Directed Study in Art/Architectural History
For full course descriptions, please visit the Academic Calendar.
Admission requirements
The following are minimum requirements to be considered for entry into the Art and Architectural History (MA) program. Meeting these requirements does not guarantee acceptance into the program.
To be considered for admission to the Art and Architectural History (MA) program, you must have:
a minimum of a BA or BFA Honours degree (or equivalent).
While a four-year (Honours, or equivalent) degree in Art and/or Architectural History is the preferred prerequisite degree, outstanding applicants with a four-year undergraduate degree in one of the Humanities will also be given serious consideration. Applicants without a background in Art and/or Architectural History may be required to take up to a maximum of 6 credit hours of undergraduate Art and/or Architectural history courses in addition to their regular program.
In addition to the admission requirements described here, all applicants must meet the minimum admission and English language proficiency requirements of the Faculty of Graduate Studies.
How to apply
The Art and Architectural History (MA) program accepts applications for Fall only. Applications must be competed online and include several parts:
$100 application fee (non-refundable)
Unofficial copies of transcripts and degree certificates
Current CV including degrees, publications, relevant professional activities and relevant volunteer activities
Academic writing sample - a publication, or an academic paper from a 3000- or 4000-level undergraduate course. Other samples will be considered. All samples should reflect the applicant's academic writing ability.
Two letters of recommendation (must be requested from within the application)
Proof of English language proficiency, if required
Please read the Faculty of Graduate Studies online application instructions before beginning your application.
Contact us
Admission and application inquiries
Faculty of Graduate Studies
Room 500 UMSU University Centre
65 Chancellors Circle
University of Manitoba (Fort Garry campus)
Winnipeg, MB R3T 2N2 Canada
graduate.admissions@umanitoba.ca
Phone: 204-474-9377
Monday to Friday
8:30 a.m. to 4:30 p.m.
Program inquiries
School of Art
Room 313 ARTlab Building
180 Dafoe Road
University of Manitoba (Fort Garry campus)
Winnipeg, MB R3T 2N2 Canada
Undergraduate programs: soadvise@umanitoba.ca
Graduate program: mfainfo@umanitoba.ca