Department of Mechanical Engineering
Mechanical engineering is a broad and diversified engineering discipline. It is concerned with the application of the fundamental principles and laws of nature to the conception, design, manufacturing and operation of all kinds of mechanical devices and systems.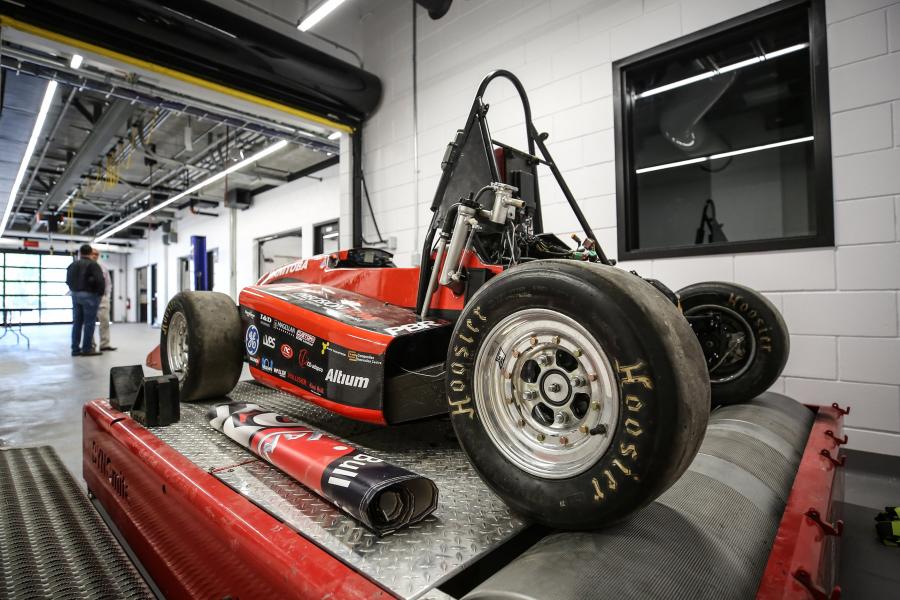 Study with us
Mechanical engineers are required to understand the laws of mechanics and energy, the effects of forces on solids and liquids, the flow of heat through substances, the properties of engineering materials, the manufacturing processes and the design approaches.
The work of mechanical engineers can be seen in everything that makes human life more comfortable. This includes designing and building transportation vehicle such as aircrafts and cars, air conditioning and ventilation for human comfort, and saving lives by contributing significantly to improving the medical technology. In reality, it would be almost impossible to find an object, device or a system in everyday life that is in some way has not involved a mechanical engineer.
Programs of study
The Department of Mechanical Engineering offers programs tailored to aspiring engineers, mid-career professionals and cutting-edge researchers alike.
Undergraduate student resources
As a Mechanical undergraduate student, you can take advantage of opportunities and supports from academic focus areas to student groups.
Mechanical engineering options and streams
Students in the Mechanical Engineering program have the opportunity to choose 5 technical elective courses, based on their interests. Each technical elective course focuses on a specific application or field of mechanical engineering. Students can choose to take a variety of electives from different fields or can focus their electives on a particular field to complete an Option or Stream within the Mechanical Engineering program. Further information on each Option (consisting of 5 elective courses) and Stream (consisting of 3 elective courses) is included below.
Aerospace option and stream
Both an Aerospace Option and an Aerospace Stream are available within the Mechanical Engineering Program. The aerospace option and stream provide students with a background in aerospace engineering, including topics such as aerodynamics, aerospace structures, aerospace materials, and Gas Turbine Propulsion Systems. The Aerospace Option and Stream prepare students for future careers in aerospace engineering.
Materials stream
The Materials Stream prepares students to understand, analyze and implement a wide range of materials in their designs, such as composite materials, aerospace materials, biomaterials, nanomaterials and more. Students also analyze the materials manufacturing processes, corrosion, as well as the fracture and failure of materials.
Solid mechanics stream
The Solid Mechanics Stream includes courses focused on advanced structural design, finite element analysis, vibration, dynamics and more. This stream will prepare students to apply advanced solid mechanics analysis skills to a broad range of applications.
Thermofluids stream
The Thermofluids Stream includes courses focused on heating ventilation and air conditioning, internal combustion engines, renewable energy, numerical heat transfer simulation, the design of thermal systems and more. This stream prepares students to analyze thermofluid problems for a diverse range of applications.
Manufacturing stream
The manufacturing stream provides students with exposure to automation, robotics, computer numeric control, computer integrated manufacturing, manufacturing planning, quality control and more. The manufacturing stream prepares students for a career in manufacturing and production engineering.
Graduate student resources
Our graduate students have access to various state-of-the-art research facilities with strong connections to the industry and the research programs are led by well-established professors and adjunct professors.
Finding a graduate studies advisor
Before submitting an application for admission to the Faculty of Graduate Studies, you must first find a faculty advisor who will accept you into their research group. The advisor will initially review your academic background, research intent, previous experience and CV and may grant tentative acceptance into the program.
To find an advisor prior to application, you must contact a faculty member whose research area aligns with your own interests. Department of Mechanical Engineering faculty members, and links to their research areas, can be found on the faculty and staff page. Please contact faculty members by email, and include the following: 
A current CV including publications, posters and conference participation; honours, awards and acknowledgements; and jobs pertaining to the field
Copies of all post-secondary transcripts
A one-page statement of research intent summarizing your proposed research project. If you have several research interests, please customize your statement for each faculty member you are interested in working with.
If you do not hear back in about eight weeks, that professor may not be interested in your application at this time.
Please note that tentative acceptance from an advisor does not guarantee admission into the program.
Research
The Department of Mechanical Engineering is the home to several state-of-art laboratories and facilities, with strong connections to industry. We have a Tier I Canadian Research Chair (CRC) in Aerospace Materials, a Tier II CRC in Applied Mechanical Design and a NSERC/Manitoba Hydro Industrial Associate Chair in Alternative Energy.
Applied Mechanics and Design
The faculty in the Applied Mechanics and Design Group are concerned with the analysis and conception of machine and structural components. Active research is performed in Biomechanics, Nano-mechanics, Experimental Stress Analysis, Vibrations and Acoustics, Kinematics and Dynamics of linkage and Mechanisms, Finite Element Method and Computer Aided Design. 
Phillip Ferguson
Applied dynamics, navigation and control for satellite systems
Innovative sensing and actuation systems for space
Testbeds for space environment simulation and technology validation 
Xihui (Larry) Liang
Mechanical System Dynamics
Condition Monitoring; Fault Diagnostics and Prognostics
Engineering Reliability, Optimization and Maintenance 
Yunhua Luo
Finite Element Method, Adaptive algorithms in FEM; Structural Analysis with FEM
Meshless Methods, General Finite Difference Method
Quantitative Nondestructive Evaluation with Computational Inverse Methods 
Igor Telichev
Orbital Debris
Impact Mechanics
Fracture Mechanics 
Christine Q. Wu
Nonlinear Dynamics
Legged Locomotion Robotics
Biomechanics 
Nan Wu
Structural Health Monitoring
Structural Repair and Enhancement 
Energy Harvesting
Nano-technology 
Manufacturing and Production
The faculty in the Manufacturing and Production Group is concerned with: the design and operation of automated systems and control systems; and planning, design and operation of production, services and socio-technical systems. Active research is performed in Teleoperation and Robotics, Computer Integrated Manufacturing, Virtual Design and Manufacturing, Manufacturing Systems Modeling and Simulation, Process Development and Modeling, and Robotics. The faculty members with their research interests are listed below.
S. (Bala) Balakrishnan
Computer Assisted Industrial Engineering
Computer Integrated Manufacturing
Robotics
Matt Khoshdarregi
Advanced Manufacturing, Machining Systems
Industrial Robotics and Automation
Precision Control Systems
Qingjin Peng
Integrated CAD/CAPP/CAM systems
Virtual Manufacturing, Reverse Engineering
System Modeling and Simulation
Norman L. Richards
Manufacturing Process, Process Development and Modelling
Forming and Joining of Metals
Mechanical Properties and Repair of Gas Turbine Alloys
Nariman Sepehri
Teleoperation and Robotics
Control Systems, Systems Modelling and Identification
Actuators and Fluid Power
Material Science and Engineering
The faculty in the Material Science Group is concerned with the behavior of engineering materials. Active research is focused on Deformation Studies, Joining of Aerospace Materials, Acoustic Emission, Phase Transformation in Solids, Wear and Wear Protection, Processing of Polymer Composites, Durability, Interfaces in Polymer Composites, and Thermomechanical Processing and Microstructural Characterization of Metallic Alloys. 
Chuang Deng
Materials modeling and simulation
Nanocrystalline and amorphous metallic alloys
Grain boundary engineering
Yielding and plasticity in low-dimensional nanostructures 
M. Nabil Bassim
Fracture mechanisms and mechanics, fatigue
Acoustic emission, polymers
Dislocation theory 
J. (Jack) R. Cahoon
Solidification
Diffusion in metals and alloys
Corrosion 
Mahesh C. Chaturvedi
Microstructure-mechanical properties of materials
Joining and forming of aerospace materials 
Raghavan Jayarman
Polymer and composite processing/intelligent processing of polymer composite structures
Durability of composites/damage in composites
Interfaces in polymers and composites/composite joining and bonding
Novel composite materials/natural fiber – bioresin based biocomposites/smart materials
Structure – processing – property – service relationship studies in materials 
Olanrewaju A. Ojo
Thermomechanical processing and microstructural characterization of metallic alloys
Processing-microstructure-property relationship studies in nanostructured materials and process development
Optimization and physical metallurgy of joining of aerospace alloys 
Malcolm Xing
Tissue engineering
Nanomedicine
Biocomposites for implantation
Biointerface
Gene/stem cell therapy 
 Guozhen Zhu
Nanomaterials and nanostructures
Electron microscopy
Microstructure-mechanical properties of nanostructured materials 
Thermofluids and Energy Systems
The faculty in the Thermofluids and Energy Systems is concerned with application of heat and work to engineering problems, the behaviour of fluids when subjected to pressure gradients and energy systems. Active research is performed in Alternate Energy, Multiphase flow with droplets, Combustion, Supercritical Flow Stability, Aerodynamic Optimization, Particle Motion and Accretion in Complex Flows, Steam Condenser Modelling, Transport Phenomena in Porous Media, Two-phase flow, Experimental Fluid dynamics, and computational fluid dynamics.
Eric Bibeau
Alternative energy and modeling of biomass energy conversion systems
High velocity kinetic turbines, icing of wind turbines
Anaerobic digesters 
Madjid Birouk
Droplet and spray vaporization and combustion
Jets in cross and turbulent flow
Optical diagnostics
Vijay Chatoorgoon
Aerospace engineering
Acoustic wave propagation
Supercritical flow stability 
Robert Derksen
Computational fluid dynamics
Fluid machinery
Aerodynamic optimization 
David Kuhn
Particle motion and accretion in complex flows
Industrial multiphase flows
Ice accretion measurement 
Scott Ormiston
Steam condenser modelling
Computational fluid dynamics
Film condensation in the presence of a non-condensing gas 
Hassan Soliman
Two-phase flow in condensers
Tee junctions and manifolds
Heat transfer augmentation 
Mark Tachie
Experimental fluid dynamics
Turbulent flows over rough surfaces
Laser doppler velocimetry, particle image velocimetry 
Bing-Chen Wang
Computational fluid dynamics, turbulence modeling
Large-eddy simulation, direct numerical simulation
Environmental fluid mechanics, transport phenomena 
Contact us
Department of Mechanical Engineering
Room E2-327 Engineering and Information Technology Complex
75 Chancellors Circle
University of Manitoba (Fort Garry campus)
Winnipeg, MB, R3T 5V6, Canada