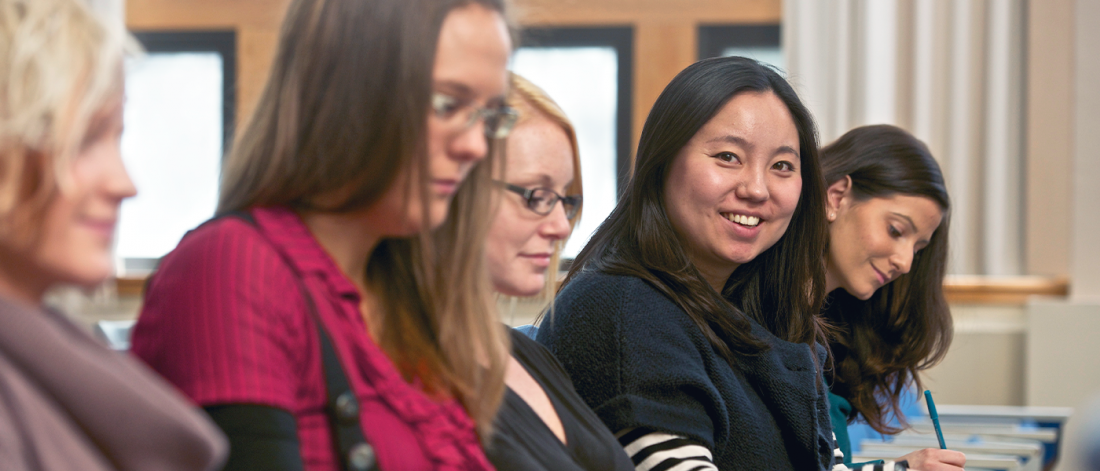 Program details
The Department of Psychology offers programs of study leading to a Master of Arts degree in School Psychology.
Expected duration: 2+ years
We offer two streams of training for the MA in School Psychology: a two-year non-thesis comprehensive exam stream and a three-year thesis stream.
Tuition and fees: Two years tuition, then continuing fees in subsequent years (refer to Graduate tuition and fees)
In addition to the minimum course requirements of the Faculty of Graduate Studies, found in the Graduate Studies Regulations Section, students must complete a minimum number of 57 or 60 credit hours of required and elective coursework and either a comprehensive exam or thesis component.
Sample course offerings
PSYC 7012: Ethics, History and Profession of School Psychology (3 credit hours)
EDUA 5012: Legal and Administrative Aspects of Schools for Clinicians (3 credit hours)
PSYC 7022: Psycho-Educational Assessment and Measurement 1 (3 credit hours)
PSYC 7024: Psycho-Educational Assessment and Measurement 2 (3 credit hours)
PSYC 7030: Learning and Cognitive Impairment (3 credit hours)
PSYC 7040: Teaching Strategies, Learning Styles, and Academic Remediation (3 credit hours)
PSYC 7050: Junior Practicum in School Psychology (3 credit hours)
PSYC 7080: Child/Youth Psychopathology (3 credit hours)
EDUA 7712: Working with Family, School and Community Systems
For full course descriptions, please visit the Academic Calendar.
Admission requirements
The following are minimum requirements to be considered for entry into the program. Meeting these requirements does not guarantee acceptance into the program.
Admission decisions are based on the qualifications of the applicant as well as the ability of the Department of Psychology and the University of Manitoba to serve the applicant's intended program of study and area of specialization.
In addition to the admission requirements described here, all applicants must meet the minimum admission and English language proficiency requirements of the Faculty of Graduate Studies.
To qualify for admission to the MA in School Psychology program, you must typically have a minimum of a Honours Bachelor of Arts or Bachelor of Science or its equivalent. (Students holding only a 4-year advance major may be recommended for admission to the pre-MA)
How to apply
The Master's in School Psychology program has one application deadline per year, and applications are accepted for September entry only. Applications must be completed online and include several parts:
$100 application fee (non-refundable)
Unofficial copies of transcripts
Current CV
Statement of intent
Two letters of recommendation, (must be requested from within the application)
Proof of English language proficiency, if required
Please read the Faculty of Graduate Studies online application instructions before beginning your application.
Statement of intent requirements
The statement of intent is an opportunity to reflect on your interest in the field of psychology and to give the Admissions Committee a better idea of who you are.
It should include a description of your academic and professional goals and your personal background, a statement which should include your research interests (if applicable to your program) and a preference ordering of academic staff members with whom you might wish to work (i.e., to have supervise your research), 2-3 pages maximum (Statement of Intent).
Required
Tell us why you want to be an academic or professional psychologist, including your research interests (if applicable to your program) and how your background (educational and otherwise) has prepared you for this undertaking.
Optional
If you wish, you are invited to share as much or as little of your personal background as you feel appropriate within the given page limit. Your application will not be penalized if you choose not to disclose personal information, or for the content. Our program, consistent with the aims of our university and scientific and professional bodies, strives to include students of all backgrounds who reflect the diversity we see in society at large, and whose interest in psychology is informed by a wide range of experiences within and beyond formal academic training. If you choose to include personal information about your culture, race or ethnicity, religion, heritage, nationality, language, sexual orientation, physical and psychological functioning, gender, age, first-generation student and/or socio-economic status, it will be considered as additional context you have supplied for our understanding of your academic and professional achievements and goals.
Application deadlines
Applications are reviewed on a committee basis. Application decisions are typically made early to mid-February.
Application opens September 1.
Canadian, US and International applicants

| Term | Annual application deadlines |
| --- | --- |
| Fall (September) | December 15 |
Applicants must submit their online application with supporting documentation and application fee by the deadline date indicated.
Contact us
Admission and application inquiries
Faculty of Graduate Studies
Room 500 UMSU University Centre
65 Chancellors Circle
University of Manitoba (Fort Garry campus)
Winnipeg, MB R3T 2N2 Canada
graduate.admissions@umanitoba.ca
Phone: 204-474-9377
Monday to Friday
8:30 a.m. to 4:30 p.m.
Program inquiries
Department of Psychology, Faculty of Arts
Graduate Program Office
Room P514 Duff Roblin Building
190 Dysart Road
University of Manitoba (Fort Garry campus)
Winnipeg, MB R3T 2N2 Canada