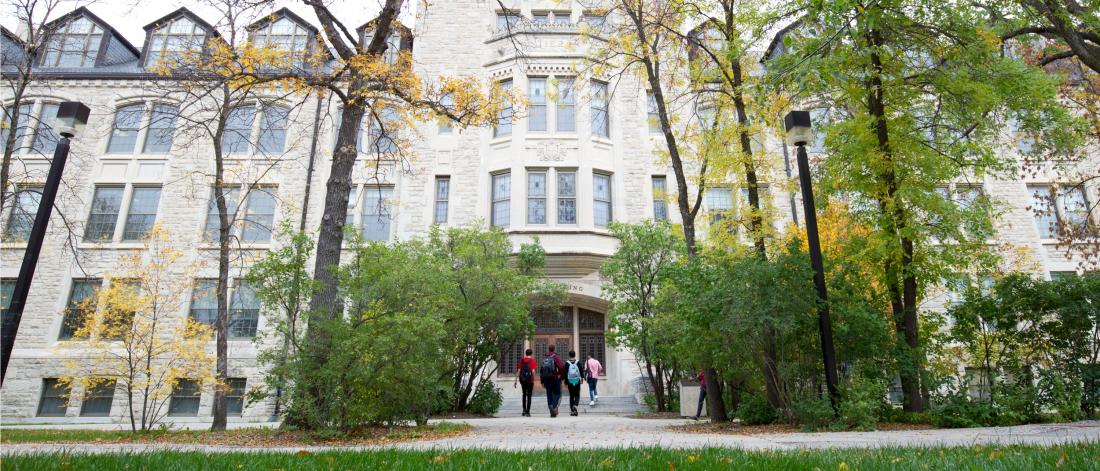 Program details
The PhD in Psychology offers a higher degree of specialization and more intensive training in research and application.
Expected duration: 4+ years
The PhD program consists of coursework and a thesis component. 
Tuition and fees: Two year's tuition, then continuing fees in subsequent years (refer to Graduate tuition and fees)
Students must meet the minimum course requirements of the Faculty of Graduate Studies found in the Graduate Studies Supplementary Regulations.
Students must also meet the Departmental requirements. For Applied Behavior Analysis, Brain and Cognitive Sciences, Developmental, and Social and Personality psychology, these include a minimum of 12 credit hours of coursework, including:
6 credit hours (two half courses) from the defined major
3 credit hours (one ancillary half course) from the Psychology graduate curriculum or 4000 level or above from another department
3 credit hours (one half course) in research design or analytic methods
PSYC 7790: Dissertation proposal development (0 credit hours)
For Clinical, see Graduate Study in Psychology Appendix 2.
For Quantitative, students will complete a minimum of 12 credit hours including:
PSYC 7790 (0 credit hours)
6 credit hours (two half courses) in methods/design and/or quantitative methods
3 credit hours (one half course) ancillary that does not have a focus in quantitative methods
3 credit hours (one half course) taken within the Psychology Department at the 7000 level or higher, and will provide the student with additional breadth in psychology and depth in their research area of interest. These courses may or may not have a specific quantitative or methodology focus.
Additional requirements may be specified by a student's Advisory Committee or by some programs (e.g. the Clinical Psychology Training Program). 
Thesis requirements
Completion of the candidacy examination
Completion of the PSYC 7790: Thesis Proposal Development course
Preparation and defense of the thesis proposal
Preparation and defense of the thesis dissertation
Areas of specialization
Six areas of specialization are offered:
Applied behaviour analysis
Applied behaviour analysis (ABA) involves the systematic application of learning principles and techniques to assess and improve individuals' covert and overt behaviours in order to help them function more fully in society. Training in the basic research on behaviour is also provided. 
Students will receive supervised training in practicing ABA with varied clientele, and especially with persons with developmental disabilities and/or autism. Our program offers a verified course sequence that has been approved by the Association for Behavior Analysis International. 
Brain and cognitive sciences
Study in this area includes research training in both neuroscience and cognitive psychology. The Department boasts a number of faculty members who investigate human psychology from a biological perspective, providing students with opportunities to investigate the physiological processes underlying learning, memory, neurological impairments, visual perception, and visuomotor control.
The Department's neuroscientists offer training in neuropsychology, developmental neuroscience, neurotoxicology and fMRI.
The Department's cognitive scientists provide expertise in the domains of language processes, visual and auditory perception and selective attention, and memory.
Students in the program will develop their ability to think critically and work
independently, while still being able to successfully collaborate and work as part of a team. The course requirements in this area are structured around a flexible core curriculum that permits specialization and concentration of research during graduate training. Students may also collaborate with faculty from other areas in Psychology, and in related social, behavioural and biomedical sciences.
Clinical psychology
Our Clinical Psychology Training program follows the doctoral level, scientist-practitioner model. This model effectively trains clinical psychologists to prepare to meet the ever-changing needs of clinical service, research, education and administration.
Students are given a solid grounding in both the science of psychology and clinical practice. There is an early and continuous integration of science with service, theory with practice, and research training with clinical training.
Graduates become competent to apply psychological theories in conceptualizing individual and interpersonal problems and to develop effective interventions. Our graduates possess the talents, values, and commitment to play significant roles in the amelioration of contemporary social problems.
Developmental psychology
Developmental psychology is a cross-disciplinary research area with the goal of understanding how we as humans grow and change over time. It bridges across diverse fields of inquiry, such as cognition, linguistics, social psychology, neuroscience, and health psychology. Faculty in our area study an extensive scope of topics across both special populations and typically developing individuals, like the development of language and communication, environmental and situational factors influencing development, and cross-cultural differences in children's experiences.
We also employ diverse methodologies, including in-lab measurements of infants' perceptual responses, children's behaviour in play-based tasks, electrophysiological brain and cardiovascular responses in children and their caregivers, biomarkers of hormonal and immune function, surveys, and analysis of audio recordings of young children's everyday experiences. Graduates from our program are prepared for a wide range of careers in government, schools, business, and universities. Interested prospective graduate students should email individual developmental area faculty members regarding their plans for accepting new graduate students for the next admissions cycle. 
Quantitative
Members of the Quantitative Psychology group have expertise in a broad range of topics in measurement, research design and statistical analysis. Topics such as classical and robust estimation and testing, structural equation modeling, multilevel and hierarchical methodology, meta-analysis methodology, parametric and nonparametric regression analyses and diagnostic procedures, analyses of repeated or longitudinal data and simultaneous statistical inference are of particular research interest. Training in this area includes practical applications as well as theoretical analysis.
Social and personality psychology
Social and personality psychology seeks to understand how people think about, influence, and relate to one another, and how they strive to satisfy personal needs and goals in the wider world. 
Training in social and personality psychology at the advanced undergraduate, M.A., and Ph.D. levels emphasizes critical thinking and the scientific process from idea generation to disseminating knowledge. Such training occurs through a wide range of seminars, supervised research projects and thesis work, and regular research meetings of the social and personality faculty and graduate students, resulting in academic and applied careers. Students are encouraged to build their research portfolio by presenting at conferences, writing manuscripts for potential publication, and working on multiple lines of research.
Studying in the social and personality psychology area offers an opportunity to work with research experts on:
Close relationships (e.g., romantic, friendship, relationship initiation)
Health-related self-perceptions and behavior
Motivation and emotion in achievement and health domains
Individual differences (e.g., personal control, self-esteem, self-compassion, gender)
Intergroup relations and social justice (e.g., reconciliation, prejudice, discrimination, social change, intergroup interaction)
Scale construction
Social perception (e.g., attributions, biases, empathy, perspective taking, concerns with social evaluation)
Sample course offerings
PSYC 7082: Intervening with Children and Social Systems (3 credit hours)
PSYC 7150: Readings in Autism Spectrum Disorders (3 credit hours)
PSYC 7190: Social Psychology and Health (3 credit hours)
PSYC 7310: Current Topics (3 credit hours)
PSYC 7420: Multivariate Methods in Psychology (3 credit hours)
PSYC 8050: Human Brain Functions (3 credit hours)
PSYC 8230: Clinical Neuropsychology (3 credit hours)
PSYC 8260: Human Organism Research Design (3 credit hours)
For full course descriptions, please visit the Academic Calendar.
Admission requirements
The following are minimum requirements to be considered for entry into the program. Meeting these requirements does not guarantee acceptance into the program.
Admission decisions are based on the qualifications of the applicant as well as the ability of the Department of Psychology and the University of Manitoba to serve the applicant's intended program of study and area of specialization.
To qualify for admission to the PhD in Psychology program, you must have a minimum of a MA degree in Psychology (or its equivalent).
In addition to the admission requirements described here, all applicants must meet the minimum admission and English language proficiency requirements of the Faculty of Graduate Studies.
How to apply
The PhD in Psychology has one application deadline per year, and applications are accepted for September entry only*. Applications must be completed online and include several parts:
$100 application fee (non-refundable)
Unofficial copies of transcripts
Current CV**
Statement of intent**
Two letters of recommendation** (must be requested from within the application)
Proof of English language proficiency, if required
*Current U of M Graduate Psychology students have two application deadlines per year, and applications are accepted for Fall and Winter entry. 
**Document requirements are waived if you have completed or will complete the Master's program in Psychology at the University of Manitoba before starting your PhD.
Please read the Faculty of Graduate Studies online application instructions before beginning your application.
Statement of intent requirements
The statement of intent is an opportunity to reflect on your interest in the field of psychology and to give the Admissions Committee a better idea of who you are.
It should include a description of your academic and professional goals and your personal background, a statement which should include your research interests (if applicable to your program) and a preference ordering of academic staff members with whom you might wish to work (i.e., to have supervise your research), 2-3 pages maximum (Statement of Intent).
Required
Tell us why you want to be an academic or professional psychologist, including your research interests (if applicable to your program) and how your background (educational and otherwise) has prepared you for this undertaking.
Optional
If you wish, you are invited to share as much or as little of your personal background as you feel appropriate within the given page limit. Your application will not be penalized if you choose not to disclose personal information, or for the content. Our program, consistent with the aims of our university and scientific and professional bodies, strives to include students of all backgrounds who reflect the diversity we see in society at large, and whose interest in psychology is informed by a wide range of experiences within and beyond formal academic training. If you choose to include personal information about your culture, race or ethnicity, religion, heritage, nationality, language, sexual orientation, physical and psychological functioning, gender, age, first-generation student and/or socio-economic status, it will be considered as additional context you have supplied for our understanding of your academic and professional achievements and goals.
Application deadlines
Applications are reviewed on a committee basis. Application decisions are typically made in early to mid-February.
Application opens September 1.
Canadian, US and International applicants

| Term | Annual application deadline |
| --- | --- |
| Fall (September) | December 15 |
Current UM Graduate Psychology Students 

| Term | Annual application deadlines |
| --- | --- |
| Fall (September) | May 1 |
| Winter (January) | October 1 |
Applicants must submit their online application with supporting documentation and application fee by the deadline date indicated.
Contact us
Admission and application inquiries
Faculty of Graduate Studies
Room 500 UMSU University Centre
65 Chancellors Circle
University of Manitoba (Fort Garry campus)
Winnipeg, MB R3T 2N2 Canada
graduate.admissions@umanitoba.ca
Phone: 204-474-9377
Monday to Friday
8:30 a.m. to 4:30 p.m.
Program inquiries
Department of Psychology, Faculty of Arts
Graduate Program Office
Room P514 Duff Roblin Building
190 Dysart Road
University of Manitoba (Fort Garry campus)
Winnipeg, MB R3T 2N2 Canada
Psychology.GraduateOffice@umanitoba.ca
Phone: 204-474-6377