The Faculty of Architecture is committed to pursuing research excellence while fostering a supportive and collaborative, interdisciplinary research environment. We look forward to involving the next generation of researchers in the shared pursuit of knowledge creation and design excellence.
Research in the Design and Planning program is supported by an array of facilities, including the Architecture/Fine Arts Library, the Dafoe Library Archives and Special Collections, the Centre for Architectural Structures and Technology (C.A.S.T.) other workshops and labs, as well as many regional archives, museums, and cultural institutions.
The Faculty is continually striving to provide additional funding for students to support them through their programs. In past years, the Faculty has awarded approximately $800,000 annually to students through bursaries, scholarships and fellowships.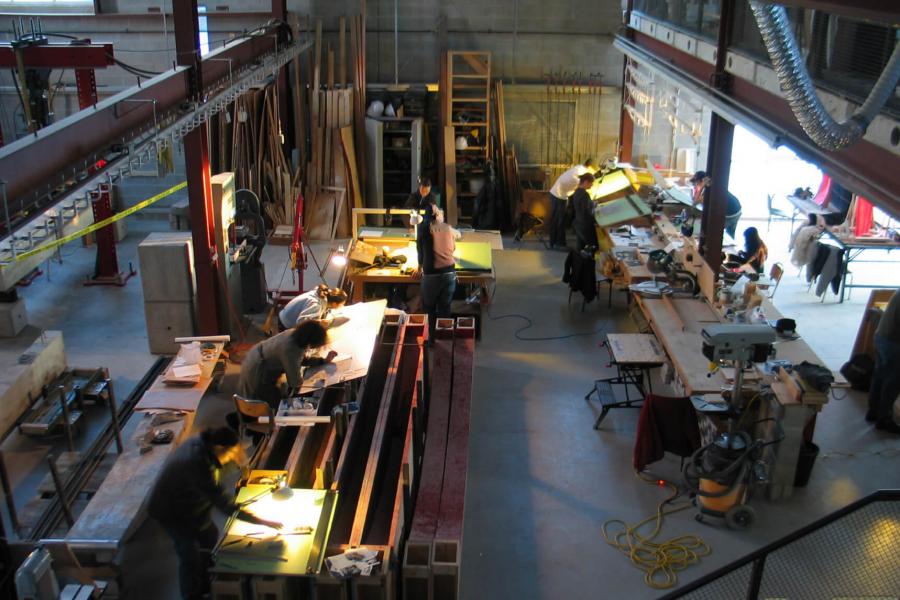 Program details
The PhD in Design and Planning program requires 12 credits of course work, a candidacy examination, a thesis proposal, and a written thesis, which must be publicly defended in an oral examination. Candidates are expected to demonstrate mastery of their field and to make an original contribution to their discipline.
Expected duration: 4 to 6 years
Tuition and fees: Two years tuition, then continuing fees in subsequent years (refer to Graduate tuition and fees)
Coursework
Each student will be required to take a minimum of 12 credit hours of 7000 level courses.  Appropriate courses will be determined in consultation with the student's advisor, and be approved by the Doctoral Studies Committee Chair.

Candidacy Examination
The candidacy examination includes both written and oral components and is intended to assess the student's preparedness to pursue the thesis research.
Thesis proposal
Upon successful completion of the candidacy examination, the student proceeds to write and defend a thesis proposal outlining the research questions, rationale, objectives, methods, primary sources, and supporting materials.
Doctoral Thesis
The thesis is a formal comprehensive, written document describing original research completed on a chosen subject. An essential feature of the PhD thesis is the candidate's demonstration of competence to complete a research project and present the findings that constitute a distinct contribution to knowledge in the field of study.
The final thesis submission and examination process follow Faculty of Graduate Studies procedures. 
Admission requirements
To qualify for admission to the Design and Planning PhD program, you must have a minimum of:
A Master's degree in Architecture, City Planning, Environmental Design, Interior Design, Landscape Architecture or a related field from a recognized institution

with a cumulative GPA of 3.5 or equivalent in the last two years of full-time university study (60 credit hours);

Evidence of appropriate research capability (a Master's thesis or practicum and/or peer-reviewed publications or presentations)
A record of appropriate experience in professional practice, post-secondary teaching and/or other pertinent accomplishments and activities
A satisfactory English language proficiency test score, if applicable. IETLS and TOEFL are preferred, but other Faculty of Graduate studies accepted tests will be accepted. Test scores must meet the Faculty of Graduate Studies (FGS) minimum requirements except for the following tests, which require higher scores than the FGS minimum:

IELTS: A minimum score of 7.0; Writing score: 6.5
TOEFL (iBT): A minimum score of 94, Writing: 22

Support from a faculty member who has agreed to serve as your advisor
In addition to the admission requirements described here, all applicants must meet the minimum admission and English language proficiency requirements of the Faculty of Graduate Studies.
How to apply
Find an advisor
Review the available Faculty of Architecture PhD advisor profiles, and identify a potential advisor whose research aligns with your intended area of study.
 Email an appropriate advisor an expression of interest. Your initial email must include the following:
CV providing a clear outline of academic credentials, work experience, research publications, presentations, awards and related accomplishments.
Statement of intent describing your research interest in 500 words.
Some advisors may additionally request samples of research. If the potential advisor views the research initiative to align with their area, and if their workload allows, that faculty member will notify the applicant that a formal application is appropriate. If there is no response, applicants must assume that the faculty member is not available to serve as an advisor.
Begin your application
The Design and Planning PhD program has only one application deadline per year, and applications are accepted for September entry only. Applications must be completed online and include several parts:
$100 application fee (non-refundable)
Unofficial copies of transcripts
Three letters of recommendation (must be requested from within the application)
CV outlining academic credentials, work experience, research publications, presentations, awards and related accomplishments
Dossier of scholarly work, including examples of scholarly writing, as well as creative and/or professional work
Research proposal and study rationale (5 to 10 pages)
Statement of funding indicating government sponsorship, fellowships, awards, personal support, and/or other funds provided through a possible advisor;
A letter (email confirmation is acceptable) of an agreement with a proposed advisor who has agreed to serve as your advisor.
Proof of English language proficiency, if required
Please read the Faculty of Graduate Studies online application instructions before beginning your application.
Contact us
Admission and application inquiries
Faculty of Graduate Studies
Room 500 UMSU University Centre
65 Chancellors Circle
University of Manitoba (Fort Garry campus)
Winnipeg, MB R3T 2N2 Canada
graduate.admissions@umanitoba.ca
Phone: 204-474-9377
Monday to Friday
8:30 a.m. to 4:30 p.m.