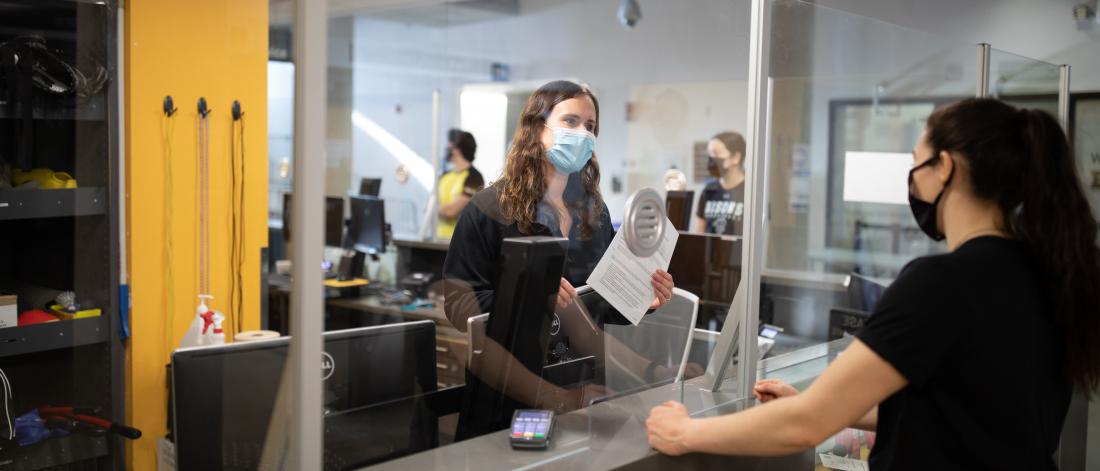 Using the gym
Gym etiquette

Make our facilities welcoming for everyone by watching our YouTube series on gym etiquette. 
Parking and transit information
Fort Garry campus
Parking
With the exception of the University parkade, there is no charge for parking after 4:30 p.m. (and all day on weekends or statutory holidays). Please be aware that this does not include 24-hour reserved parking spots (please read the signs). For your convenience, we recommend one of the following:
the ALC lot
U lot just across from Frank Kennedy Centre
I Lot surrounding the Investors Group Athletic Centre
P lot just across from the Max Bell Centre
For complete Fort Garry parking details including daytime rates and maximums, please visit UM short-term parking.
Transit
Winnipeg Transit buses 60, 62, 75, and 78 stop outside Frank Kennedy Centre and travel to and from the university on a regular basis.
Bannatyne campus
Parking
For complete Bannatyne Campus parking including daily rates and maximums please visit the U of M casual parking page.
Please note that all parking rates are subject to change without prior notice.
Transit
Winnipeg Transit buses, Routes 12 and 33 stop on William Avenue. Route 29 stops on Sherbrook Street by the Health Sciences Centre. Route 36 also travels between the Fort Garry and Bannatyne campuses.
Connect with us
Surveys
Recreation Services Annual Survey
Recreation Services has developed a customer feedback survey for all members and program participants each year to serve our patrons better. The data we collect helps us deliver the best recreation experiences possible. Please note The University of Manitoba approves this survey for distribution.
We will send out our next survey through our monthly update.
Rent our facilities
Unfortunately, Sport and Recreation Facility rentals are not currently available.
Sponsorship and development
Our sponsorship program has been designed to allow Recreation Services to build relationships with local businesses and connect them to the University of Manitoba campus. We are invested in the opportunity to create an experience between our sponsors and our patrons. Our goal is to ensure that you receive maximum value for your marketing dollars above and beyond purchasing traditional advertising space. We will work with you to create a unique and interactive opportunity to reach your target audiences directly and into the surrounding community.
Why partner with Recreation Services at UM?
Recreation Services can provide the ideal marketing platform for reaching the student and campus markets, from acquiring new customers to developing long-term relationships with the University of Manitoba active living community.
Reach a large, enlightened audience (18-24 years of age) who are active in recreation and sport
impact purchasing decisions
enforce and grow brand awareness
demonstrate and sell new products
drive sales on campus
collect market research
demonstrates your company's commitment to the University of Manitoba
By the numbers
By providing outstanding leadership, programming, and facilities, Recreation Services meet the campus and surrounding communities' needs through our diverse programming and service portfolio. Align your messaging to speak to one (or all) of our many different audiences (2016 data):
39,848 total members (23,761 are U of M students)
42,364 program participations
877,534 total member visits across all facilities
804,712 member visits (2,286 per day) to the Active Living Centre (Fort Garry campus)
72,822 member visits (205 per day) to the Joe Doupe Recreation Centre (Bannatyne campus)
Reach your markets
As a Recreation Services partner, you will gain access to a variety of mediums and spaces to ensure your message is heard.  Consider one of our many opportunities to help grow your brand or product:
apparel partner
product sampling/interactive advertising
event partner
program partnership
facility signage advertising
print advertising
To find out how to join Recreation Services as a sponsor or to get a customized quote, please contact:
Lisa Tinley
Associate Director, Bison Sports
Faculty of Kinesiology & Recreation Management
University of Manitoba
Room 313 Max Bell Centre
204-480-1461
lisa.tinley@umanitoba.ca
Annual report
Recreation Services is a vital campus resource that provides students, staff, and the community opportunities to find a healthy mind-body balance.  Through our facilities and programs, we strive to help develop the communities we serve so that they may live better.
The following documents provide an overview of years past, tells our stories and share our many successes.
Employment Opportunities
We hire lots of staff! From students to professionals and instructors, there's plenty of opportunities to work with UM Recreation Services. Visit the FKRM Employment Opportunities page for more information.
UM Recreation Services mobile app
Get up-to-date schedules and Recreation Services information at your fingertips.
Location and hours
Holiday closures

Includes the Active Living Centre, Frank Kennedy Centre, Joyce Fromson Pool, Max Bell Centre, Investors Group Athletic Centre, and Joe Doupe Recreation Centre (Bannatyne Campus) unless otherwise noted.


Friday, January 1, 2021                        
Monday, February 15, 2021
Friday, April 2, 2021
Monday, May 24, 2021
Thursday, July 1, 2021
Friday, July 2, 2021
Monday, August 2, 2021
Monday, September 6, 2021 
Monday, October 11, 2021
Thursday, November 11, 2021
Active Living Centre 
430 University Crescent
University of Manitoba (Fort Garry campus)
Winnipeg, MB R3T 2N2 Canada
Monday to Friday, 6 a.m. to 10 p.m.
Saturday to Sunday, 8 a.m. to 8 p.m.
Joe Doupe Centre
030-727 McDermot Avenue
University of Manitoba (Bannatyne campus)
Winnipeg, MB R3E 3P5 Canada
Monday to Friday, 6 a.m. to 7 p.m.
Saturday to Sunday, 8 a.m. to 6 p.m.