Student peer mentoring programs
Mentoring programs at UM pair students with peers and professionals who can help you navigate the academic, personal and professional challenges of university and post-university life.
New Student Peer Mentoring Program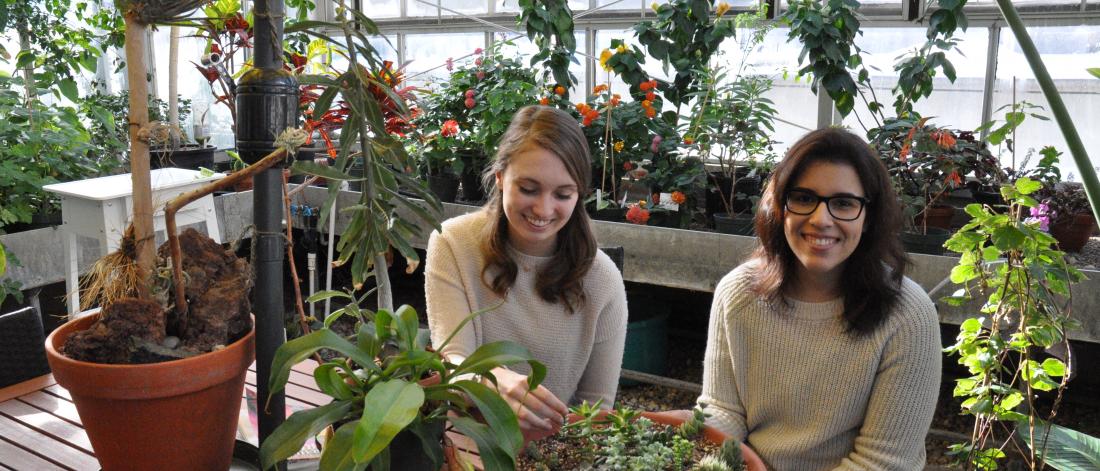 The New Student Peer Mentoring Program (NSPMP) is for any new undergraduate student at the University of Manitoba. New students in the NSPMP will be matched with a trained upper-year student (Peer Mentor) who will help them with their transition into university.
Key elements of the NSPMP:
Make friends during small group meetings held by a pair of Peer Mentors 
Build connection through direct communication and one-to-one meetings with a Peer Mentor
Learn new skills and important campus resources through workshops desgined for first-year students
Develop transferable, life-long skills as a Peer Mentor through extensive training opportunities
Get to know other students during fun social events!
Peer Mentors
Peer Mentors in the New Student Peer Mentoring Program (NSPMP) work with Student Life staff to support new students as they transition into their first year of university. Through this program, Peer Mentors will aid in the successful integration of new students into the University of Manitoba campus community.
Peer Mentors in the New Student Peer Mentoring Program will be partnered with another Peer Mentor for the duration of the program and will...
Be paired as a duo with up to ten first-year students (their peers) who are new to the U of M

Build and contribute to a mentoring relationship with their peers in one-to-one discussions, small group meetings, and at social events 

Practice active listening, share experiences, foster reflection, assist with goal setting, and provide referrals to campus resources as necessary  

Receive feedback and guidance from experienced Mentoring Team Leaders who will provide peer support throughout the year

Participate in ongoing reflection and personal development as part of a community of Peer Mentors and Mentoring Team Leaders 
For other mentoring opportunities, check out Neechiwaken Indigenous Peer Mentor Program and International Centre's Welcome Mentors program. 
Peer Mentor applications for the 2022-23 academic year are now closed. 
Benefits and Skill Development Areas
Some of the benefits of becoming a NSPMP Peer Mentor include:  
Making a difference in the experiences of new students entering university 

Building transferrable skills that will help you in your future  

Making connections on campus and with your peers  

Getting co-curricular (CCR) recognition for your contributions to the program - CCR recognition is provided only to volunteers who fulfil the program requirements
Skill development areas include: 
Group facilitation 

Helping and coaching 

Interpersonal communication (written, verbal, & non-verbal) 

Self-awareness and emotional intelligence 
Position Requirements and Important Dates
Required Commitment
Peer Mentors can expect to volunteer a total of 75-90 hours between August 2022 and April 2023. 
*Please note, the time commitment and requirements are different from previous years so please make sure you read the requirements and important dates listed below! 
Requirements

dates/deadlines

Initial training
Wednesday, August 17 (6:00pm–9:00pm) and Thursday, August 18 (6:00pm–9:00pm)  

Online training modules 
- UM Privacy Training
- Accessibility Training (Customer Service Standard) 
- UM Essentials 2022 

Estimated 5 hours total

Completed on own time before September 6th

Program Kick-Off
Friday, September 16 (5:30-7:30pm) 

One-to-one and small-group mentoring / communication*
(more details below)

Approximately 4-5 hours per month (Sept – April) 

Completed on own time; mutually scheduled by Peer Mentors and first-year student peers 

Professional Development Workshops 
(Choice between Wednesday or Thursday cohort) 

Wednesday Cohort (4-6pm) - in-person 

September 14

October 12 

November 16 

January 18 

February 15 

March 15 

Thursday Cohort (6-8pm) - online 

September 15 

October 13 

November 17 

January 19 

February 16 

March 16 

Peer Mentor Team Meetings

Thursdays (6:00-8:00 pm) - online
September 29, October 27, December 1, January 12, February 2, March 2, March 23 

Supervision and consultation with Mentoring Team Leader
and/or Program Staff 

Approximately 30 mins per month (Sept-Apr) 

Completed on own time; mutually scheduled by Peer Mentors and Mentoring Team Leaders 

Social events

Minimum one per term (approximately 2 hours per term) 

Multiple options available; dates announced at Program Kick-off 

Year-end program evaluation 

Approximately 30 minutes
*One-to-one and small group mentoring includes co-hosting small group meetings with your mentoring partner and up to 10 new students, holding one-to-one meetings to provide support to new students individually, planning, and digital communication (texting, emailing, posting icebreakers, etc). 
Eligibility
Eligibility to be a Peer Mentor:  
Current undergraduate student at the U of M Fort Garry Campus

Minimum one year of study at the U of M

Completion of at least 18 credit hours prior to Summer 2022 

Strong academic background (GPA 3.0; exceptions may be made on a case-by-case basis, please email us)

In good conduct standing based on the University of Manitoba's Behavioural Policies

Returning as a student for both the Fall 2022 and Winter 2023 terms

Available for the program requirements listed above to allow for full participation in the program  
Application Checklist
Review all of the position requirements above and confirm you are available for all the listed dates

Confirm you are eligible to apply 

Complete an application before July 24, 2022 at 11:59 PM

If selected, attend an interview 
If you have questions about the committment or the position description, please contact us at peermentor@umanitoba.ca!
More mentoring opportunities
Contact us
Student Life
225 University Centre
65 Chancellor's Circle
University of Manitoba (Fort Garry campus)
Winnipeg, MB R3T 2N2