Land and Water: Land-based Education
Dates: October–June
Location: Online, Winnipeg and surrounding area
Fee: Free
Number of students: 12–18
Apply by: October 12th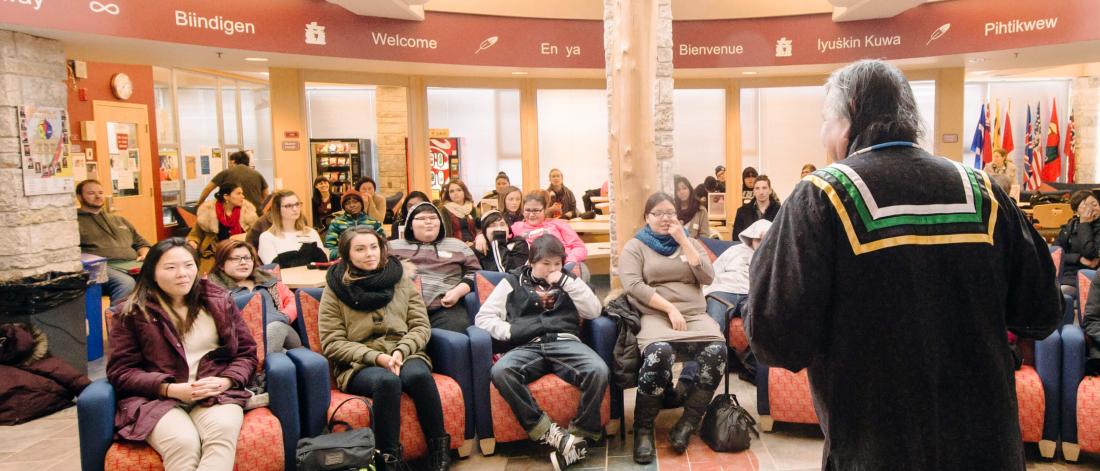 How you'll make a difference
Land and Water Land-based Education runs from October to June. October, November and December will be training-focused and our engagement with the students will happen from January to June. We have plenty of engaging online workshops and activities, plus we are hoping learn outside on the Land in and around Winnipeg as COVID-19 policies allow! 
You will have the opportunity to: 
engage in land-based programming and learn about Indigenous people's enduring relationships to place and land
explore your role in protecting land and water, and meet other young people committed to climate action
connect with like-minded university students, community youth, and high school students
co-facilitate creative programming at monthly lunch and learns, monthly full-day field trips from February to June, and an overnight camping trip in the spring
As part of our post-secondary team, you will have the opportunity to create resources for school aged youth! We will try them out as a team and present them virtually in classrooms.
Schedule
The program begins in October with a half-day orientation. Training continues in November, virtually, with a four half-day training experience we call "This is Indigenous Land" during fall break. The program concludes in June with a celebration and debrief.
October – January: Orientation, lunch and learns, excursions
Gain experience creating land-based programming for school aged youth.
Feel supported by your post-secondary team at our monthly meetings, which provide opportunities for team building, reflection and training.
Time commitment
Three-hour orientation meeting in late October
Fall Break land-based experience ("This is Indigenous Land")
Monthly three-hour social outing and/or training session
Fall Term Break (November): "This is Indigenous Land"
You will take part in "This is Indigenous Land," a four-day land-based training experience consisting of a mix of urban and rural land-based education. This experience will provide opportunities to re-story Winnipeg as Indigenous land, re-root our relationships to land and each other, put Indigenous values like reciprocity into action, and develop a land ethic that includes urban spaces.
This is Indigenous Land is offered in collaboration with Indigenous Elders, knowledge-holders and other teachers for community youth and university students during Fall Term Break. Although most of the training will happen online, we are also hoping to meet outside on the Land. 
February – June: Monthly programming
Work with the team to create resources to share with R.B. Russell high school throughout the school year. Help promote Land-Based education within schools' COVID-19 guidelines.
Time commitment
Monthly three-hour social outing and/or training session
Planning sessions with your resource planning group!
June: Celebration and debrief
The program will end with a celebration and a debrief with the post-secondary team members. By this time, strangers have become like family, and this is a good chance to discuss your growth with people who understand the experience.
Our coordinator
Nicki Ferland has a background in human, Aboriginal and Indigenous rights, Indigenous and anti-racist education, and Indigenous research.
Examples of past programming include:
a visit to the Faculty of Engineering's Alternative Village on the UM Fort Garry campus
a day trip to Shoal Lake 40 First Nation
an Elder-led tour of the Bannock Point petroforms site in Whiteshell Provincial Park
Examples of Online Activities 
Example Activity: 
Online workshop bringing in Indigenous Artists who represent and connect with the Land through their work, teachings and craft. 
Facilitate, participate in, and review at home activities such as sewing a medicine bag.
We offer the Land and Water program in partnership with the Winnipeg School Division.
We offer the Land and Water program in partnership with the Winnipeg School Division. Because we work with high school students who are minors, you must obtain a Police Information Check (PIC) and Child Abuse Registry Check to participate in this program.

The Winnipeg School Division will reimburse you for these costs, and the Community Engaged Learning program can also help cover your upfront fee, if needed.
Application Form
1. In the Land and Water Program, youth and post-secondary team members will participate in programming designed to explore their identities and concepts like intersectionality and privilege.
2. Everyone is welcome to apply, but we would like to especially encourage Indigenous students to apply since nearly 99% of R. B. Russell students are First Nations, Métis or Inuit.
3. Once we start a relationship with youth, we have a responsibility to be reliable, committed and consistent. Therefore, it is very important that post-secondary team members have the availability to volunteer about 10 hours per month (and more in some cases – e.g., land-based experience in the fall and camping trip in the spring).
If you have any questions or concerns, please contact:
Nicki Ferland, Community Service-Learning Coordinator, Indigenous
55 Chancellor's Circle
Tel: 204-474-8660
nicki.ferland@umanitoba.ca
Land and Water Application Form
You may also be interested in