Poverty Awareness & Community Action
Engage in role play to understand what it's like to manage responsibilities and navigate the social welfare system on a low income. Listen to the stories of community members with lived experience with poverty. Reflect on your role in addressing the harms created by poverty and creating strong, healthy and inclusive communities.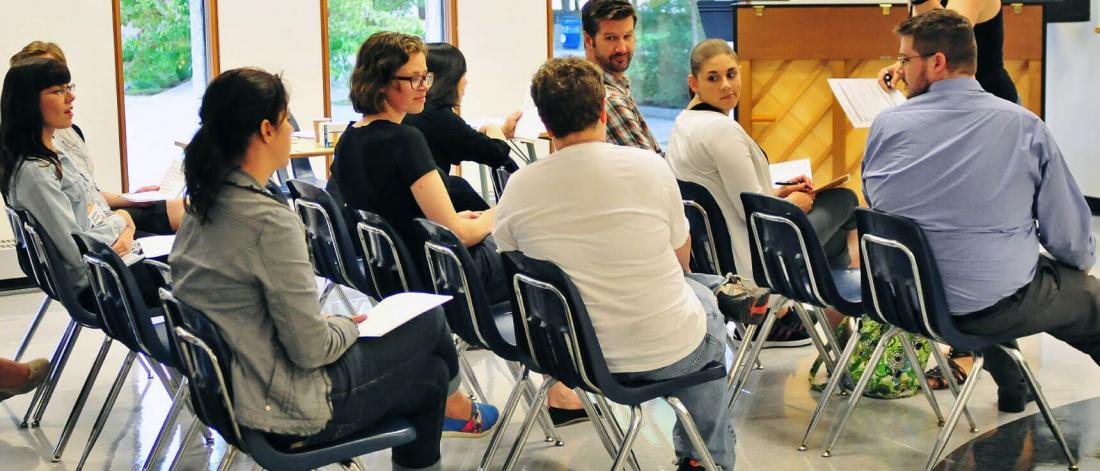 What is the workshop?
The Poverty Awareness & Community Action workshop (PACA) is an experiential learning activity that uses role play and discussion to deepen awareness of the impacts of poverty and social welfare systems. Participants role play as members of different family units living on a lower income to develop empathy for those experiencing poverty. After the role play, participants discuss what they've learned through targeted reflection activities and plan ways to integrate their new learning into their studies, work or volunteering.
The Poverty Awareness & Community Action workshop is offered in partnership with the University of Manitoba Student Union, the Community Unemployed Help Centre, North Point Douglas Women's Centre and West Central Women's Resource Centre.
We are also grateful to the United Way for sharing resources in the development of the U of M Poverty Awareness workshop. Take a look at the United Way of Winnipeg's video of their workshop, Living on the Edge: Taking a Look at Poverty.
Book a workshop
Community Service-Learning facilitates Poverty Awareness workshops for students, staff and faculty at the University of Manitoba. To book a workshop, please review the PACA Workshop Booking Guide and email povertyawareness@umanitoba.ca.
If you are from the wider community, please contact the United Way of Winnipeg to book their workshop, Living on the Edge: Taking a Look at Poverty.
Timing
The workshop is four hours long and is preferably scheduled in the afternoon or evening.
Workshop Schedule:
Participant sign-in and Volunteer Orientation
Student Orientation
One-hour Role Play, representing one month in time
1.5-hour Debrief
Cost
Workshop fees are charged on a partial cost-recovery basis of $1,000.
The workshop fee covers:
Student staff wages
Room booking fees
Day-of supports for student and community volunteers, such as bus tickets
Wrap-around supports, such as monthly social gatherings
Fees can be paid via interdepartmental charge (ID charge) to FOAP 127062 307006 710408 1700.
Each workshop can accommodate 25-60 students. We limit workshops to 60 students to enable a more intimate learning atmosphere and encourage deeper discussion.
Interested participants who may not be able to book their own workshop should inquire about joining another workshop!