Community Leadership Development Program
Dates: Fall and Winter 
Location: Online and various community sites in Winnipeg
Fee: Free
Sign up here by September 20, 2021
What is community leadership?
Social movements and collectives around the world are rapidly transforming oppressive systems and ways of thinking--from colonial structures that conceal Indigenous voices and experiences, patriarchal pacts that enable violence against women or racial beliefs that normalize the use of fatal force by police on black people. 
Largely, these social transformations have been possible because the social movements and collectives at the forefront of these struggles organize themselves through a different understanding of leadership--one that is non-hierarchical, anti-oppressive, strength-based and inspired by the experience of being part of a community.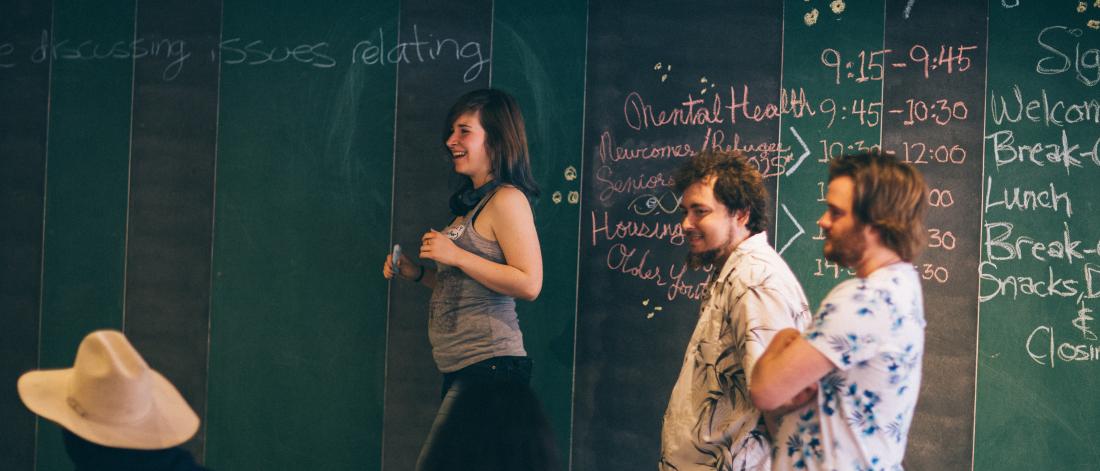 About the program
CLDP students are paired with local community organizations to learn about their work, build meaningful relationships and experience community leadership by collaborating on community-led projects.
Participants can choose to learn from community organizations that work on the following areas:
Climate action and environmental justice. 
Community safety and alternatives to police and prisons. 
Fall 2021  
Students develop skills for community engagement and relationship building while learning about leadership from local community organizers. Each student team creates and submits a funding proposal to our partner organization, #RisingYouth Community Service Grants.
Winter 2022
With the mentorship and support of local community organizations, CLDP teams implement community projects to support their partner organizations and gain hands-on experience on project management, collaboration and community outreach. 
NOTE: Following the University of Manitoba COVID-19 protocols, Fall 2021 will be delivered primarily online as we transition to an in-person modality for Winter 2022.
Schedule
Fall 2021
Sep 20: Last day to apply to CLDP 
Sep 25: Orientation
Sep 28: First weekly meeting (Tuesdays 6:00 to 7:30pm.)
Oct 25: Deadline to submit funding proposals to #RisingYouth 
Nov 2: Project planning with community partners 
Nov 23: Last weekly meeting of Fall 2021
Winter 2022 
Jan 18: First weekly meeting (Tuesdays 6:00 to 7:30pm.)
Feb 7: Deadline to complete community projects
Feb 22: Deadline to submit project reports to #RisingYouth 
March 29th: Last weekly meeting 
Applying to CLDP
Who can apply?
All UM students are welcome to join--international, domestic, full-time, part-time, graduate or undergraduate. 
How can I apply?
Are there any fees and requirements?
CLDP is free of cost to all UM students. 
GPA: to apply, you must have a minimum GPA of 2.5 or share with us a plan to improve your GPA while participating in the program. 
Depending on the community project your team develops, you may need to submit a Police Information Check from Winnipeg Police Services and/or Child Abuse Registry Check. 
What are the program expectations?
1) To receive Co-Curricular Recognition (a satisfactory notation on your CCR transcript), you must attend all mandatory meetings or make prior arrangements with your team, partner organization and program coordinator if you need to miss a session. 
2) Your team and community partner must provide a positive reference on your participation and involvement in projects.
3) Uphold the values and ways of working of the office of Community Engaged Learning, including our zero-tolerance approach to race, gender, class and ability- based forms of violence and discrimination. 
What happens after I submit an application?
A program coordinator will email you with more information.
You may also be interested in