United Nations Sustainable Development Goal 6
The University of Manitoba is a member institution of the United Nations Academic Impact (UNAI) and was named the UNAI Hub for Sustainable Development Goal (SDG) 6, in 2018.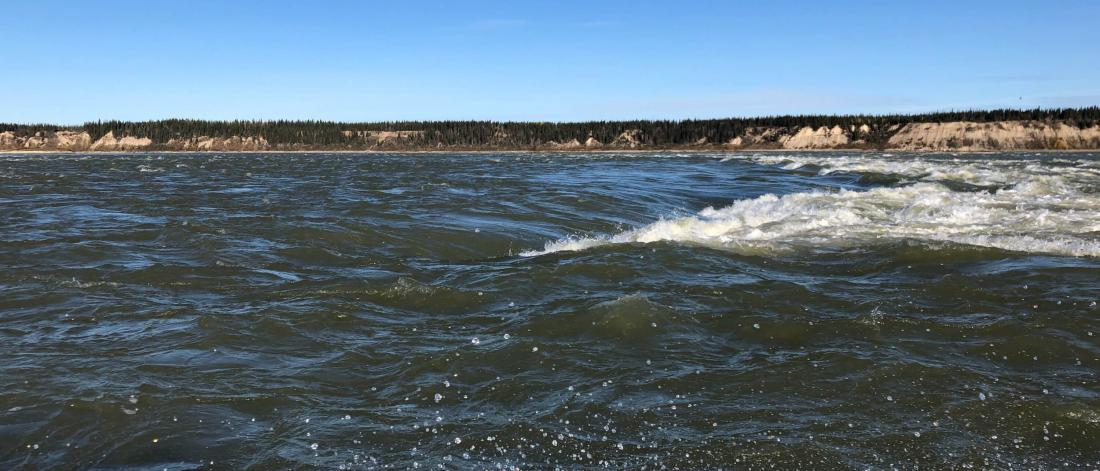 SDG 6: Ensure availability and sustainable management of water and sanitation for all
The SDGs
Adopted by the United Nations in 2015, the Sustainable Development Goals (SDGs) are a universal call to action to end poverty, protect the planet, and ensure that by 2030 all people enjoy peace and prosperity.
In 2018, the University of Manitoba was designated as the Hub for SDG 6: Clean Water and Sanitization. Institutions from around the world are designated as UNAI hubs for three-year renewable terms. UM will continue to advance research, analysis and policy for clean water and sanitation in our classrooms, on our campuses and in our communities.
UM has many research areas and initiatives that fall within SDG 6, some examples of which include:
Interdisciplinary research on water systems to help build sustainable, resilient communities in Manitoba and across Canada, including research with Indigenous communities, management of water quantity and quality issues and the impact of climate change on our water systems

Projects on clean water, and water and sanitation security, that consider the needs of Indigenous communities with the active participation of those communities

Our commitment to water conservation and protection through ongoing monitoring of operational water use
Upcoming Events
The UM United Nations Academic Impact hub for Clean Water and Sanitation presents a speaker series spanning 7 months highlighting the research of its members. If you have an interest in water sustainability issues including drinking water and sanitation, water governance, and international climate issues, this speaker series is for you!
September 26, 2022
Title: Ha Kus Téeyi ("Our Way"): Transforming water governance through Tagish and Tlingit water ways
Presenters: Nicole J. Wilson from the Clayton H. Riddell Faculty of Environment, Earth, and Resources, and Ghoóch Tlâ (Colleen) James from Carcross/Tagish First Nation
 
October 17, 2022
Title: Indigenous use of our waters for agriculture, travel and trade, and the impacts of colonialism
Presenter: Cary Miller
November 28, 2022
Title: Water: friend or foe? Examining the historical aquatic relationship of the Anishinabek at Lake St. Martin
Presenters: Myrle Ballard
January 23, 2023
Title: Microbes in the Aquatic Environment
Presenters: Miguel Uyaguari
Register
February 13, 2023
Title: History in the water: water, colonialism, and human rights in 2023
Presenters: Adele Perry
Register
March 20, 2023
Title: Pesticides in water and wastewater – A Prairie perspective
Presenters: Annemieke Farenhorst
Register
UM UNAI SDG 6 Hub Working Group
The UM Working Group is made up of researchers (faculty and graduate students) undertaking research in the areas of the UN SDG 6 clean water and sanitation goals.
Terms of Reference
Participate in UNAI SDG 6 Hub monthly meetings and provide updates on UM activities in the area of advancing SDG 6
Work to create a comprehensive collection of the activities at UM in all areas of SDG 6 specifically
Connect and collaborate with the other 16 UNAI SDG Hubs to share activities, knowledge and information on UM activities and gain knowledge from the other hub hosts about their specific SDG initiatives (academic/research/other)
Working Group Members
Claire Herbert (co-chair) | Clayton H. Riddell Faculty of Environment, Earth, and Resources
Nicole Wilson (co-chair) | Clayton H. Riddell Faculty of Environment, Earth, and Resources
---
Adele Perry | Centre for Human Rights Research
Annemieke Farenhorst | Associate Vice-President Research
Ayush Kumar | Department of Microbiology
Az Klymiuk | Department of Biological Sciences
Bairaj Hothi | SDG Student Hub Coordinator
Cary Miller | Associate Vice-President (Indigenous) Scholarship, Research and Curriculum
Christie Nairn | Office of Sustainability
Marcos Cunha Cordeiro | Department of Animal Science
Miguel Uyaguari | Department of Microbiology
Mona Maxwell | The Centre for the Advancement of Teaching and Learning
Myrle Ballard | Department of Chemistry
Qiuyan Yuan | Department of Civil Engineering
Ramanathan Sri Ranjan | Department of Biosystems Engineering
Ricardo Mantilla | Department of Civil Engineering
Shirley Thompson | Natural Resources Institute
Stephane McLachlan | Department of Environment and Geography
While substantial progress has been made in increasing access to clean drinking water and sanitation, billions of people—mostly in rural areas—still lack these basic services. Worldwide, one in three people do not have access to safe drinking water, two out of five people do not have a basic hand-washing facility with soap and water, and more than 673 million people still practice open defecation.
United Nations Sustainable Development Goals
Contact us
Office of the Vice-President (Research and International)
Room 110 Administration Building
66 Chancellor's Circle
University of Manitoba (Fort Garry campus)
Winnipeg, MB R3T 2N2 Canada