United Nations Sustainable Development Goal 6
The University of Manitoba is a member institution of the United Nations Academic Impact (UNAI) and was named the UNAI Hub for Sustainable Development Goal (SDG) 6, in 2018.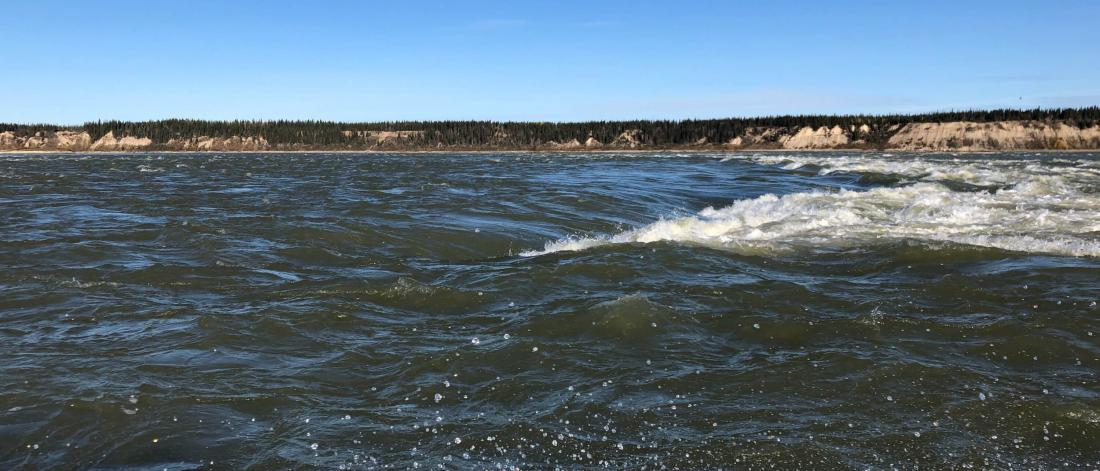 SDG 6: Ensure availability and sustainable management of water and sanitation for all
Institutions from around the world are designated as UNAI hubs for three-year renewable terms. UM will continue to advance research, analysis and policy for clean water and sanitation in our classrooms, on our campuses and in our communities.
UM has many research areas and initiatives that fall within SDG 6, some examples of which include:
Interdisciplinary research on water systems to help build sustainable, resilient communities in Manitoba and across Canada, including research with Indigenous communities, management of water quantity and quality issues and the impact of climate change on our water systems

Projects on clean water, and water and sanitation security, that consider the needs of Indigenous communities with the active participation of those communities

Our commitment to water conservation and protection through ongoing monitoring of operational water use
While substantial progress has been made in increasing access to clean drinking water and sanitation, billions of people—mostly in rural areas—still lack these basic services. Worldwide, one in three people do not have access to safe drinking water, two out of five people do not have a basic hand-washing facility with soap and water, and more than 673 million people still practice open defecation.
United Nations Sustainable Development Goals
UM UNAI SDG 6 Hub Working Group
The UM Working Group is made up of researchers (faculty and graduate students) undertaking research in the areas of the UN SDG 6 clean water and sanitation goals.
Terms of Reference
Participate in UNAI SDG 6 Hub quarterly meetings and provide updates on UM activities in the area of advancing SDG6 (co-chairs)
Work to create a comprehensive compilation of the activities going on at UM in all areas of the SDG 6 specifically
Coordinate promotion of activities at UM in the area of SDG 6 on the UNAI SDG 6 Hub page and with the other 16 UNAI SDG Hubs
Connect and collaborate with the other 16 UNAI SDG Hubs to share activities, knowledge and information on UM activities and gain knowledge from the other hub hosts about their specific SDG initiatives (academic/research/other)
Working Group Members & Research Areas of Expertise
 Working Group Member

Area of Expertise

Dr. Annemieke Farenhorst, Co-Lead, UNAI SDG 6 Working Group Hub; Associate Vice-President (Research), Office of Vice-President (Research and International)

Professor of  Soil Science, Faculty of Agricultural and Food Sciences

Research into the fate of organic chemicals in soil and water, including monitoring for pesticide residues; on-farm biobed for reducing point-source pollution by pesticides; drinking water wuality at the household level on First Nations reserves; and gender and EDI studies in STEM/SETT fields.

Janine Harasymchuk, Co-Lead, UNAI SDG 6 Working Group Hub; Communications Officer, Office of VP (Research and International) and Marketing Communications Office

Research communications professional, supporting promotion of the UNAI SDG6 Hub and related activities.

Dr. Myrle Ballard, Indigenous Scholar, Assistant Professor, Chemistry, Faculty of Science

Dr. Ballard is an Anishinaabe from Lake St. Martin First Nation. She has researched and documented the flooding of her traditional homelands at Lake St. Martin First Nation. She has experience working with UN organizations on biological diversity and Indigenous Peoples. She is currently a member of the COSEWIC Aboriginal Traditional Knowledge Subcommittee. She has served as an advisor with the Ecological Reserves Advisory Committee (Manitoba), and as Commissioner, Clean Environment Commission; and past board member with the Winnipeg Regional Health Authority.

Dr. Marcos Cordeiro, Assistant Professor, Sustainable Food Systems Modelling, Animal Science, Faculty of Agricultural and Food Sciences

Research interests include agro-ecosystems modelling and spatial analysis; environmental footprints of crop and animal production systems; agro-hydrology; influence of climate, land use and management changes on agriculture.

Dr. Beata Gorcyzca (P.Eng.), Profess, Civil Engineering, Price Faculty of Engineering

Research interests include water and wastewater treatment, wastewater engineering, biological wastewater treatment, water quality, drinking water quality, water chemistry and water purification technologies.

Soomin Han, SDG Sustainable Development Solutions Network Youth Coordinator, Office of Sustainability

 

Claire Herbert, Data Manager for CanWIN (data repository) and Field program lead for the Manitoba Great Lakes Program, Centre for Earth Observation Science, Clayton H. Riddell Faculty of Environment, Earth, and Resources

My specific research focus is on water quality on the Manitoba Great Lakes (MBGL) and how they are influenced by regional changes in climate; as well as using satellites to remotely monitor the MBGL for surface water quality. The MBGL program consists of 8 sub-projects that relate to the UN SDG6 (Mainly goals 6.4,  6.5, 6.6 and 6.6b.).

Dr. Stewart Hill, community member of Manitou Sakahigan (God's Lake) First Nation; Senior Research and Policy Analyst, Manitoba Keewatinowi Okimakanak (MKO), the Manitoba Northern Chiefs Organization

Stewart Hill is a recently defended his PhD at UM. His dissertation researched and asserted governance over land and water in the traditional territory of his home community of God's Lake First Nation. 

Dr.Hartmut Holländer (P.Eng.), Associate Professor, Groundwater Engineering, Civil Engineering, Price Faculty of Engineering; DAAD Research Ambassador for Germany

Dr. Holländer's research program focuses on numerical studies on heat transport problems related to geothermal energy, density-driven flow, and groundwater contamination. Additionally, he conducts laboratory experiments on remediation and tests the methods in the field.

Dr. Arnold Hydamaka, Senior Scholar (retired), Faculty of Agricultural and Food Sciences

Areas of research expertise: Food processing; dairy processing; water use and treatment in the food industry

Kale Kostick, Acting Director, Office of Sustainability

The Office of Sustainability is a champion for sustainability efforts on campus. The office works with various campus stakeholders to make improvements, engage the UM community and continue to progress our journey related to sustainability. The Office of Sustainability is the coordinating body for tracking and reporting on progress related to the issues and commitments within the

University of Manitoba Sustainability Strategy 2019-2023

 and AASHE STARS reporting framework.

Camilo Marquez, Graduate student, 

 

Dr. Stephane McLachlan, Professor, Environment and Geography, Clayton H. Riddell Faculty of Environment, Earth, and Resources

Research areas of focus include COVID-19 and Indigenous communities; environmental health; environmental justice; cross-cultural environmental impact assessment; environmental education; land-based education; experiential and community service learning; environmental conservation and restoration; community-based research with Indigenous and rural communities; food justice; Indigenous food systems and sovereignty; alternative agriculture; risk analysis; risk communication; documentary film.

Kamrun Nahar, graduate student, Agribusiness and Agricultural Economics, Faculty of Agricultural and Food Sciences

Research focuses on financial analysis, women empowerment and environmental economics. One main research area is measuring relationship of gender and empowerment with water and sanitation. This research aligns with SDG6 well as it gives information about the people with higher and lower accessibility of water and sanitation and based on that, if policy can be implemented to ensure clean water and sanitation for all.

Distinguished Professor Adele Perry, History, Women's & Gender Studies, Faculty of Arts; Director, Centre for Human Rights Research

Research focuses on the inter-related histories of Indigenous-settler relations and gender. As Director of the Centre for Human Rights Research (CHRR) she hopes to take a new direction on previous work conducted by the CHRR on the human right to drinking water in First Nations. 

Dr. (Ranjan) R. Sri Ranjan (P.Eng), Professor, Biosystems Engineering, Price Faculty of Engineering, Faculty of Agricultural and Food Sciences

Research and teaching is in the area of soil and water engineering which includes irrigation, drainage, on-farm water management, soil and water remediation, nutrient management, computer modelling of water and chemical movement in soils. Agricultural water use has a direct impact on water quality and quantity in rural areas where the water sources are often the same for both agriculture and human consumption.

Dr. Shirley Thompson, Professor, Natural Resources Institute

Dr. Thompson teaches eco-health and environmental justice. She is the principal investigator of the Mino Bimaadiziwin partnership, which builds capacity and houses in northern Manitoba through partnerships for community-led post-secondary education in Garden Hill and Wasagamack First Nations. An Indigenous Food Sovereignty program for Brokenhead First Nation, planned to start in May 2020, was delayed due to COVID-19. 

John Thoroski, Manager, Dairy Plant, Food and Human Nutritional Sciences, Faculty of Agricultural and Food Sciences

Expertise in best practices related to food industry and water management

Dr. Gregg Tomy, Professor, Chemistry, Faculty of Science; Director, Centre for Oil and Gas Development

Dr. Tomy's research involves analyzing complex contaminants in environmental matrices, assessing the effects of petrochemicals on bodies of water and the creatures that call them home.

Dr. Miguel Uyaguari-Diaz, Indigenous Scholar, Assistant Professor, Microbiology, Faculty of Science

Dr. Uyaguari conducts research on water quality including wastewater treatment and the aquatic environment.

Dr. Nicole J. Wilson, Assistant Professor and Canada Research Chair in Arctic Environmental Change and Governance, Environment and Geography, Centre for Earth Observation Science, Clayton H. Riddell Faculty of the Environment, Earth, and Resources 

Dr. Wilson is a scholar of settler origin whose research focuses on Indigenous peoples, environmental governance, and environmental change in the Arctic. In particular, her research examines the many ways that Indigenous peoples are asserting their self-determination and revitalizing their governance systems to respond to various stressors including climate change and resource development. She has examined these topics in a number of contexts including Indigenous-led Community-Based Monitoring, Water Governance and Policy, and Climate Change Adaptation.

Dr. Qiuyan Yuan (P.Eng.), Assistant Professor, Civil Engineering, Price Faculty of Engineering

Dr. Yuan has over 10 years of research and development experience in sustainable nutrient removal and recovery processes applied to wastewater and biosolids. The goal of her research is to develop sustainable technologies for the water and waste treatment processes that will reduce the environmental burden, carbon footprint, and greenhouse gas emissions. She is also interested in community outreach to promote environmental awareness.
Contact us
Office of the Vice-President (Research and International)
Room 202 Administration Building
66 Chancellor's Circle
University of Manitoba (Fort Garry campus)
Winnipeg, MB R3T 2N2 Canada