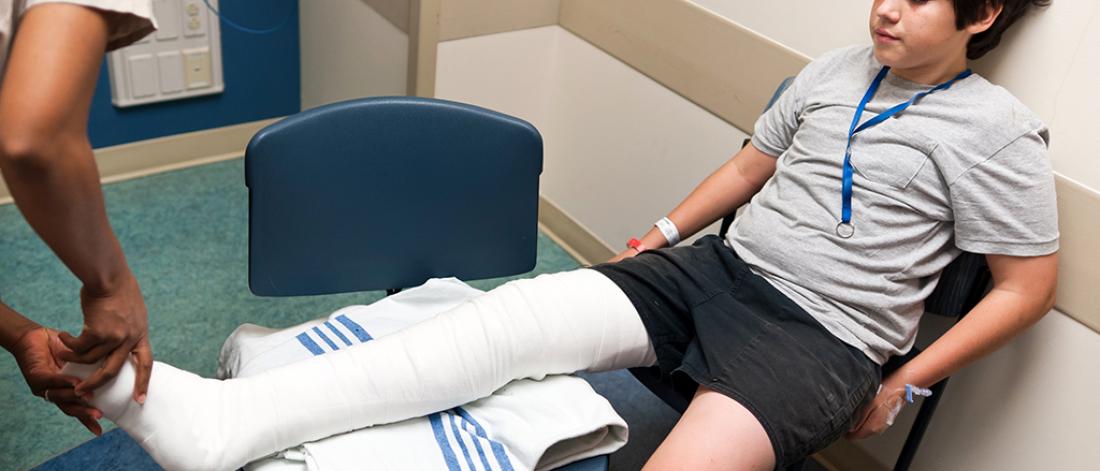 Fellowship details
This one-year fellowship program is led by mentors (staff pediatric orthopedic surgeons) that each have subspecialty expertise in areas such as:
complex congenital upper extremity
neuromuscular disease
pediatric hip disease
lower extremity reconstruction
foot and ankle
Exposure to research
The fellow will be responsible for completing a single research project over the course of the year, mentored by one of the pediatric orthopedic attending surgeons.
Program highlights
All pediatric orthopedic trauma requiring operative treatment is seen through the Children's Hospital of Winnipeg.
Approximately 9,500 outpatients are seen and treated each year at the Health Sciences Center and Specialized Services for Children and Youth (SSCY).
Approximately 850 operations were performed by the pediatric orthopedic group in 2021 (a pandemic year).
All pediatric orthopedic trauma requiring operative treatment is seen through the Children's Hospital of Winnipeg.
Training opportunities
Our Pediatric Orthopedic Surgery Fellowship offers opportunities to advance your training:
The opportunity to gain experience in oncology and spine pathology can be facilitated based on applicant interest.
Pediatric orthopedic trauma will be available throughout the fellowship year, through on-call.
The fellow will participate in bedside and formal resident teaching rounds.
Opportunities to participate in staff-only case discussion rounds will be provided to enhance fellow learning.
Admission and application requirements
Application deadline: August 31
Applicants
Candidates must supply the following documents:
Letter of intent
Curriculum vitae/resumé
Three recent reference letters
Copy of certificate of specialty completion
Copy of medical degree
Copy of passport
Department of Surgery fellowship application form (PDF)
International Medical Graduates (IMGs)
Applicants must:
Be medical doctors who are graduates of medical schools listed in the FAIMER directory 
OR
Provide confirmation of Pass Result of the Medical Council of Canada Qualifying Examination (MCCQE) Part 1 or the United States medical licensure Examination (USMLE) Steps 1 and 2.
IMGs must also submit one (1) of the following documents:
IELTS academic version within the last 24 months at the time of application, and achieved a minimum score of 7.0 in each of the four components in the same sitting.
OR
Occupational English Test – Medicine (OET-Medicine), with a minimum grade of B in each of the four subsets in the same sitting.
OR
Canadian English Language Proficiency Index Program – General (CELPIP-General) Test, with a minimum score of 9 in each of the four skills in the same sitting.
How to apply
Candidates must apply with the complete application package by email to surg.fellowships@umanitoba.ca.
Applicants must ensure that reference letters are received within three weeks of the application submission. The department will not contact the referees for the purpose of requesting the letter.
Note: Visa sponsored applicants must apply with their home sponsoring agency who will direct the applications to the PGME office. Applications from sponsoring agencies should be sent directly to: sponsoredpgme@umanitoba.ca.
Accreditation
The Department of Surgery Fellowship Programs are not accredited by the Accreditation Council for Graduate Medical Education (ACGME). They are recognized and approved by the Max Rady College of Medicine, Rady Faculty of Health Sciences, Postgraduate Medical Education Executive Council.
Explore the University of Manitoba
We attract people from around the world who share our ideals and vision for positive change. We believe in embracing challenges and taking action. Our students, researchers and alumni bring their unique voices to learning and discovery, shaping new ways of doing things and contributing to important conversations in topics that matter most, from human rights to global health to climate change. We are where imagination and action collide.
Contact us
Surgery
Max Rady College of Medicine
AE101-820 Sherbrook Street
University of Manitoba (Bannatyne campus)
Winnipeg, MB R3A 1R9 Canada
204-787-4587
204-787-1485