Directors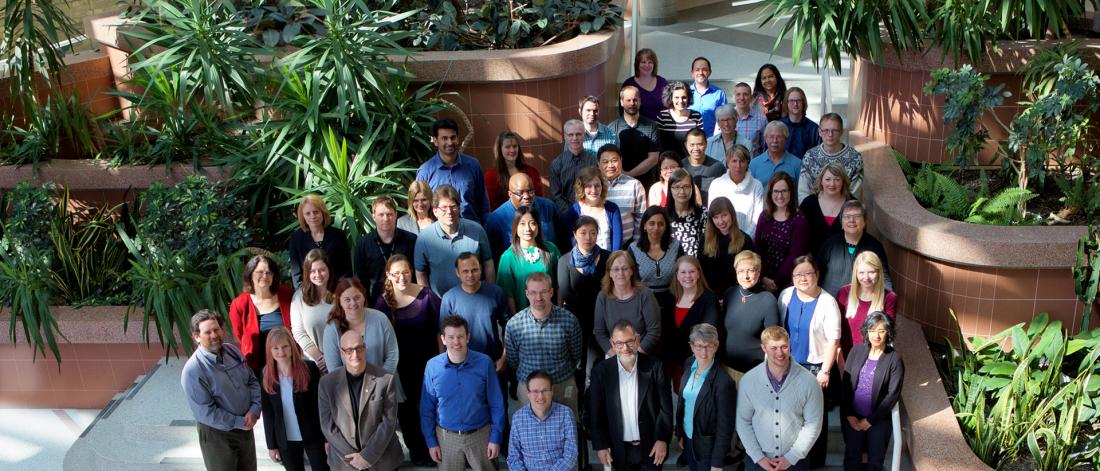 Nathan Nickel
Director, 
Associate professor;
Senior research scientist
Marni Brownell
Associate director, research;
Professor;
Senior research scientist

Charles Burchill
Associate director, repository, data access and use

Selena Randall
Associate director, planning and development
Research associates and postdoctoral fellows
Amy Freier
Research associate

Jill Hnatiuk
Lead research associate

Kate Kenney
Postdoctoral fellow
Data managers and data analysts
Wendy Au
Data analyst

Matt Dahl
Data analyst

Gilles Detillieux
Data analyst

Isuru Dharmasena
Data analyst

Abhishek Dhankar
Natural language specialist

Roxana Dragan
Data analyst

Okechukwu (Oke) Ekuma
Data analyst;
Statistical consultant

Lisa Flaten
Data analyst

Kevin Friesen
Data analyst

Say Hong
Data management analyst

Kun Liu
Data analyst

Scott McCulloch
Data analyst

Heather Prior
Lead data analyst

Sathi Saha
Data management analyst

Joykrishna Sarkar
Data analyst

Monica Sirski
Data analyst

Qier (Angela) Tan
Data analyst

Carole Taylor
Data analyst

Dave Towns
Senior data management analyst

Ken Turner
Repository data analyst

Randy Walld
Data analyst

Marina Yogendran
Data analyst
Research support
Amber Arnold
Repository access assistant

John-Michael Bowes
Research assistant

Laura Bowler
Data equity specialist

Susan Burchill
Research assistant

Lindsey Dahl
Research project coordinator

Theresa Daniuk
Repository access assistant

Audrey Du
Research support

Hudson Du
Research support dog

Kara Dyck
Repository access coordinator;
Executive assistant;
Office manager

Diane Gordon Pappas
Research project coordinator

 

Aaron Goss
Knowledge broker

Ashley Green
Event coordinator

Cara Jonasson
Graphic designer

Emily Jones
Repository access assistant

Ina Koseva
Lead research project coordinator

Chelsey McDougall
Research project manager

Hannah Owczar
Technical writer

Danielle Saj
Research project coordinator

Princess Santarin
Research and repository access support

Ruth-Ann Soodeen
Lead research coordinator
Finance and information technology
Sophie Buternowsky
Senior grants accountant

Jeannie Chen
Grants accountant

Darrin Halabuza
Information technology support

Rod McRae
Information technology manager
Other
Advisory board
Board Chair
Dr. Brian Postl
Former Dean and Vice-Provost, Rady Faculty of Health Sciences
---
Members by position
Dr. Nathan Nickel
Director, Manitoba Centre for Health Policy (MCHP)
Mr. Scott Sinclair
Deputy Minister, Manitoba Health
Dr. Sharon Bruce
Head, Department of Community Health Sciences, Rady Faculty of Health Sciences
Dr. Peter Nickerson
Dean and Vice-Provost, Rady Faculty of Health Sciences
Drs. Noralou Roos and Leslie Roos
Founding Directors
vacant – Member of the Treasury Board
---
Appointed members
Up to seven appointees of Manitoba Health
Ms. Dana Rudy
Deputy Minister, Education and Early Childhood Learning
---
Appointed members
Up to seven appointees of the University of Manitoba
Dr. Terry Klassen
Academic Director, George and Fay Yee Centre for Healthcare Innovation
Dr. Michael Schull
President and CEO, Institute for Clinical Evaluative Sciences
Dr. Mario Pinto
Vice President, Research and International
---
Ex-officio members
Phil Jarman
Executive Director and Chief Data Officer, Information Management & Analytics, Manitoba Health
Dr. Marni Brownell
Associate Director of Research, MCHP
Dr. Selena Randall
Associate Director, Planning and Development, MCHP
Charles Burchill
Associate Director, Repository, MCHP
---
MCHP staff support to advisory committee
Kara Dyck, Executive Assistant
Adjunct scientists
The designation of Adjunct Scientist at the Manitoba Centre for Health Policy was created to recognize the valuable contribution made to its research by external participants.
Adjunct Scientists are involved in collaborative research with an MCHP Researcher, have an ongoing commitment to health services research, have previous research involvement with scholarly publications, and/or have clinical/policy expertise that is of assistance to MCHP scientists in framing research questions, interpreting results of particular analyses and advising on the policy implications of the findings.
Appointments as Adjunct Scientist are by invitation of the director of the Manitoba Centre for Health Policy and are reviewed periodically.
Sylvia Alessi-Severini
Associate Professor, College of Pharmacy, Rady Faculty of Health Sciences, University of Manitoba
James Bolton
Assistant Professor, Department of Psychiatry, Rady Faculty of Health Sciences, Department of Psychology, Faculty of Arts, University of Manitoba
Shawn Bugden
Dean, School of Pharmacy, Memorial University
Allison Dart
Assistant Professor, Department of Pediatrics and Child Health, Max Rady College of Medicine, Rady Faculty of Health Sciences, University of Manitoba
Raisa Deber
Professor, Department of Health Policy, Management and Evaluation, Faculty of Medicine, University of Toronto; Director, CIHR Team in Community Care and Health Human Resources
Murray Enns
Professor and Head, Department of Psychiatry, Max Rady College of Medicine, Rady Faculty of Health Sciences, University of Manitoba; Medical Director, Adult Mental Health Program, Winnipeg Regional Health Authority
Evelyn Forget
Professor, Director, Graduate Program, Department of Community Health Sciences, Max Rady College of Medicine, Rady Faculty of Health Sciences, University of Manitoba
Allan Garland
Associate Professor, Department of Internal Medicine, Department of Community Health Sciences, Co-Head, Section of Critical Care, Max Rady College of Medicine, Rady Faculty of Health Sciences, University of Manitoba
Tim Hilderman
Director, Community Medicine Residency Program; Assistant Professor, Department of Community Health Sciences, Max Rady College of Medicine, Rady Faculty of Health Sciences, University of Manitoba
Doug Jutte
Assistant Adjunct Professor, UC-Berkeley-UCSF Joint Medical Program, Associate Director, Master's Degree in Health and Medical Sciences, School of Public Health, University of California, Berkeley
Laurence Katz
Associate Professor, Department of Psychiatry, Max Rady College of Medicine, Rady Faculty of Health Sciences, University of Manitoba
William Leslie
Section of Nuclear Medicine, St. Boniface General Hospital; Professor, Department of Internal Medicine, Department of Radiology, Max Rady College of Medicine, Rady Faculty of Health Sciences, University of Manitoba
Josée Lavoie
Director, Manitoba First Nations – Centre for Aboriginal Health Research, Associate Professor, Department of Community Health Sciences, Max Rady College of Medicine, Rady Faculty of Health Sciences, University of Manitoba
Sarvesh Logsetty
Director of Manitoba Firefighters Burn Unit, Associate Professor, Department of Surgery and Children's Health, Max Rady College of Medicine, Rady Faculty of Health Sciences, University of Manitoba
Doug Manuel
Senior Scientist, Ottawa Hospital Research Institute; PHAC/CIHR Chair in Applied Public Health Sciences; Senior Medical Advisor, Statistics Canada; Associate Professor, Department of Family Medicine, Department of Epidemiology and Community Medicine, University of Ottawa; Associate Scientist, C.T. Lamont Primary Care Research Centre, Élizabeth Bruyère Research Institute; Adjunct Scientist
Salah Mahmud
Medical Officer of Health, Winnipeg Regional Health Authority, Canada Research Chair in Pharmacoepidemiology and Vaccine Evaluation, Associate Professor of Community Health Sciences and Pharmacy
Ruth Ann Marrie
Associate Professor, Department of Internal Medicine (Neurology), University of Manitoba. Associate Professor, Department of Community Health Sciences, Max Rady College of Medicine, Rady Faculty of Health Sciences, University of Manitoba; Director, Multiple Sclerosis Clinic
Colleen Metge
Associate Professor, Community Health Sciences, Max Rady College of Medicine, Rady Faculty of Health Sciences, University of Manitoba
Hude Quan
Professor, Department of Community Health Sciences, Faculty of Medicine, University of Calgary
Julianne Sanguins
Assistant Professor, University of Manitoba; Knowledge Development Manager, Manitoba Metis Federation, Health and Wellness Department
Deepa Singal
Scientific Director of Autism Alliance of Canada; Assistant Professor, Community Health Sciences, Max Rady College of Medicine, Rady Faculty of Health Sciences, University of Manitoba
Shahin Shooshtari
Director, Interdisciplinary Health Program, Assistant Professor, Department of Family Social Sciences, Faculty of Human Ecology, Department of Community Health Sciences, Max Rady College of Medicine, Rady Faculty of Health Sciences, University of Manitoba; Researcher, St. Amant Research Centre
Harminder Singh
Associate Professor, Section of Gastroenterology, Max Rady College of Medicine, Rady Faculty of Health Sciences, University of Manitoba
Laura Targownik
Associate Professor, Department of Internal Medicine, Max Rady College of Medicine, Rady Faculty of Health Sciences, University of Manitoba
Lorna Turnbull
Professor, Faculty of Law, University of Manitoba
Collaborators
Silvia Alessi Severini, University of Manitoba
Meghan Azad, University of Alberta
Judith Bartlett, University of Manitoba
Charles Bernstein, University of Manitoba
Robert Biscontri, University of Manitoba
James Blanchard, University of Manitoba
Songul Bozat-Emre, University of Manitoba
Shawn Bugden, University of Manitoba
Brenda Comaskey, University of Manitoba
Bethan Davies, Imperial College London
Carrie Daymont, University of Manitoba
Ana Hanlon Dearman, University of Manitoba
Jino Distasio, University of Winnipeg
Sarita Jha, University of Manitoba
Jamie Falk, University of Manitoba
Marcia Finlayson, Queen's University
Justin Gawaziuk, University of Manitoba
Luiz Guidolin, University of Manitoba
Ana Hanlon-Dearman, University of Manitoba
Margaret Haworth-Brockman, University of Manitoba
Brett Hiebert, University of Manitoba
Carol Hitchon, University of Manitoba
Douglas Hobson, University of Manitoba
Depeng Jiang, University of Manitoba
Asad Junaid, University of Manitoba
Leanne Kosowan, University of Manitoba
Allen Kraut, University of Manitoba
Jeff Kwong, University of Toronto
Ariella Lang, Victorian Order of Nurses
Veronica Lau, University of Manitoba
Josee Lavoie, University of Manitoba
Michael Law, University of British Columbia
Christine Leong, University of Manitoba
Michelle (XiaoQing) Liu, University of Manitoba
Lisa Lix, University of Manitoba
Sarvesh Logsetty, University of Manitoba
Salaheddin Mahmud, University of Manitoba
Rizwan Manji, University of Manitoba
Ruth Ann Marrie, University of Manitoba
Punam Mehta, Manitoba Metis Federation
Colleen Metge, University of Manitoba
Javier Mignone, University of Manitoba
Thomas Mutter, University of Manitoba
William Ong, University of Manitoba
Helene Ouellette-Kuntz, Queen's University
Vanessa Percy, University of Manitoba
Virginie Pollet, University of Manitoba
Rasheda Rabbani, University of Manitoba
Malathi Raghavan, University of Manitoba
Clare Ramsey, University of Manitoba
Neda Razaz, University of British Columbia
Kelly Russell, University of Manitoba
Julianne Sanguins, University of Manitoba
Rob Santos, University of Manitoba
Leigh Anne Shafer, University of Manitoba
Garry Shen, University of Manitoba
Harminder Singh, University of Manitoba
Carolyn Snider, University of Manitoba
Genevieve Thompson, University of Manitoba
Mahmoud Torabi, University of Manitoba
Donna Turner, CancerCare Manitoba
James Zacharias, University of Manitoba
Contact us
Manitoba Centre for Health Policy

Community Health Sciences, Max Rady College of Medicine
Rady Faculty of Health Sciences, 
Room 408-727 McDermot Ave.
University of Manitoba
Winnipeg, MB  R3E 3P5 Canada