Office of Leadership Education
The Rady Office of Leadership Education was created to support the health care leadership education imperative. Its main goal is to ensure all health care professional learners, faculty and alumni have access to available opportunities for development; to help promote the additional collaboration, partnerships, and innovation required for co-creation of the leadership capacity our health system needs to thrive.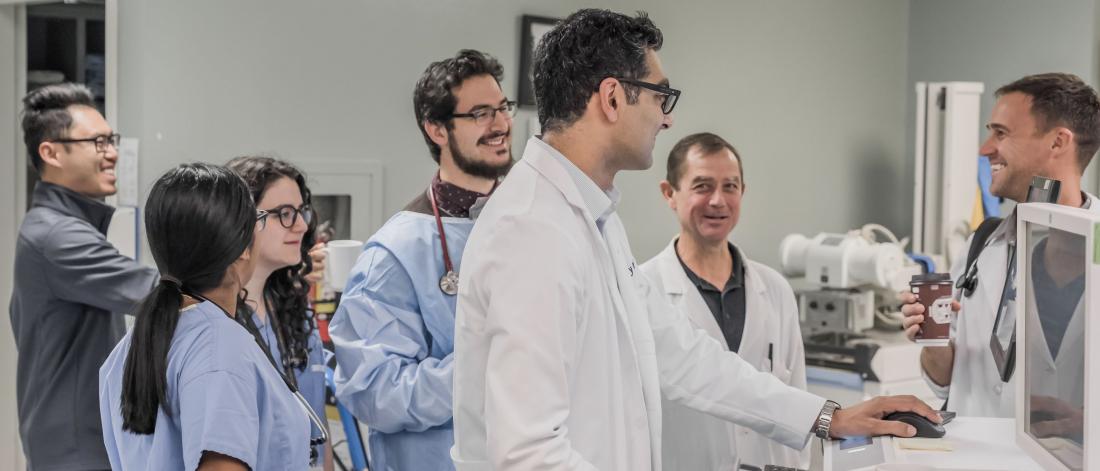 Current opportunities
President's Student Leadership Program

The Burns Leadership Institute is excited to announce that applications for the fifth cohort of the President's Student Leadership Program (PSLP) are now open! This annual co-curricular development program selects 25 students from a variety of faculties, backgrounds, interests, and levels of study. If you're interested in developing your leadership skills, this is the perfect opportunity for you.

Deadline: February 19, 2023

Canadian Aid and Action Fund (CAAF)

New! This grant opportunity was created to support fellow-led projects addressing issues impacting the Canadian medical community. Funded by the Royal College Foundation, CAAF will support projects aimed at improving physician wellness and wellbeing, addressing environmental factors impacting healthcare delivery and quality, and improving access to care for underserved populations. Apply now for the chance to receive up to $15,000 annually for a maximum of three years.

Deadline: March 31, 2023 at 8:00 a.m. EDT
Resources
Explore our library guide for a selection of resources supporting health leadership education.
The Leadership Education Library Guide was created to provide additional resources for everyone interested in developing competencies and capabilities in health leadership. The guide incudes books, articles, videos and training materials.
Curated for the health sciences learner across the learning continuum, we aim to support those exploring leadership development at their own pace or teachers looking to integrate additional resources.  
The guide was developed by members of the Office of Leadership Education, Rady Faculty of Health Sciences (RFHS), in partnership with the UM Library. 
Resources listed here are not exhaustive and may change over time. We welcome your feedback and suggestions.
Creating healthy work culture through trauma-informed leadership
March 2-3, 2023
9:30 a.m. - 3:30 p.m.
Virtual  |  Course fee: $500
PLI Physician Leadership Institute Course
Overview:

The world has experienced a collective trauma through the COVID-19 pandemic. Canadian physicians were demonstrating disproportionally higher rates of burnout, depression and suicidal ideation before the pandemic: they were already a traumatized workforce. Further mental health impacts and workforce shortages are predicted among health care workers after the pandemic. Medical leaders may be unaware of the role trauma plays at the individual, team and system levels. This course develops leadership skills to foster recovery, build wellness and promote post-traumatic growth in the health care workforce. Delivered as an interactive workshop, it will facilitate a shift to a wellness-informed mindset and encourage you to apply key wellness-informed leadership practices at all levels.

Faculty team:

Expect to learn how to:

explore the types of trauma experienced by physicians;
examine the impacts of trauma at the individual, team and system level;
reframe physician burnout through a trauma lens;
discover the principles of trauma-informed (TI) approaches;
analyze how to translate TI principles into leadership practice;
recognize how TI principles apply at the system level to create trauma-informed teams and trauma-informed health care organizations; and
develop an action plan to bring TI principles to your leadership practice with team/organizational metrics to measure culture shift.

Registration deadline: February 1, 2023 (space is limited)
---
Leadership for equity: Expanding inclusive medical culture
A multi-part series launching in March 2023
Overview:
This multi-part series will feature speakers with expertise and lived experience in anti-oppression fundamentals, racism, decolonization and Indigenous health, 2SLGBTQIA+ health and advocacy, and ableism. This series will cultivate knowledge and tools for ongoing integration of anti-oppression in practice.
Representatives from Doctors Manitoba, Office of Leadership Education, Rady Faculty of Health Sciences, Ongomiizwin and an engaged group of medical learners have worked collaboratively to plan the Leadership for Equity series. 
This series is offered with generous support from the Canadian Medical Association. The Doctors Manitoba and Rady Office of Leadership Education Joint Leadership Education Series is a self-approved group learning activity (Section 1) as defined by the Maintenance of Certification Program of the Royal College of Physicians and Surgeons of Canada.
Session 1
Intent, harm and action: Understanding bias, discrimination and racism in healthcare
This session will be presented by Dr. Saroo Sharda MBChB, MMEd, FRCPC.
March 20, 2023
6:30 - 8:00 p.m. CST
Virtual  | No fee
Registration required

Learning objectives:

Define concepts of bias and discrimination including racism. 
Describe how bias and discrimination affect healthcare outcomes and physician wellness.
Describe the concepts of cultural humility and critical allyship as tools to combat discrimination.
You may also be looking for