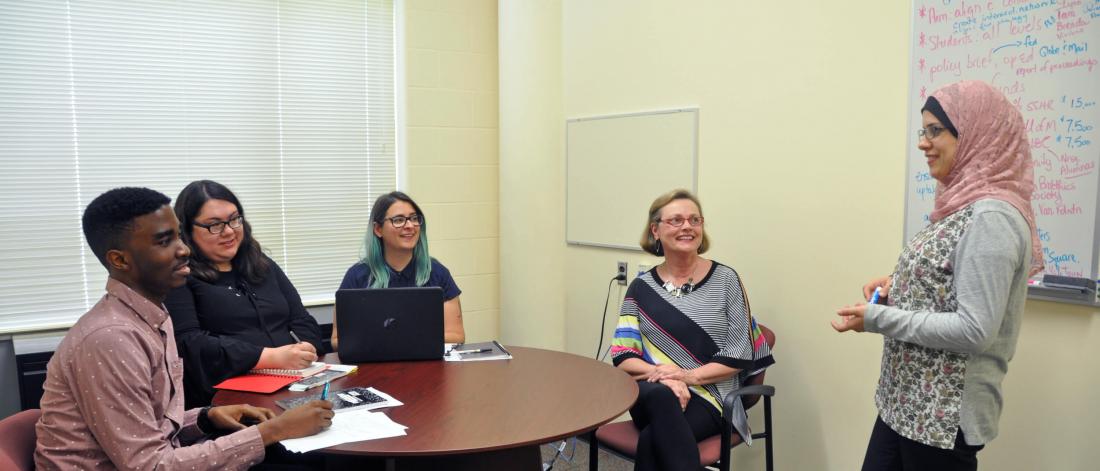 Study with us
Meet our researchers
Our researchers work collaboratively with clinical and community partners, as well as other researchers, providing real-time solutions to the most pressing challenges faced by those receiving care, those providing care, and decision-makers who determine how care is delivered.
Benefit from the Manitoba Centre for Nursing and Health Research
The MCNHR is the only research centre in Manitoba solely dedicated to facilitating and supporting collaborative nursing and health research. Membership is open to all current graduate students in the College of Nursing or other program whose advisor is a member of the College of Nursing. Members benefit from a variety of research support services and funding opportunities.
Discover our financial supports
Numerous scholarship and bursary opportunities are available to Faculty of Nursing graduate students, and to Faculty of Graduate Studies students, to support academic and research goals.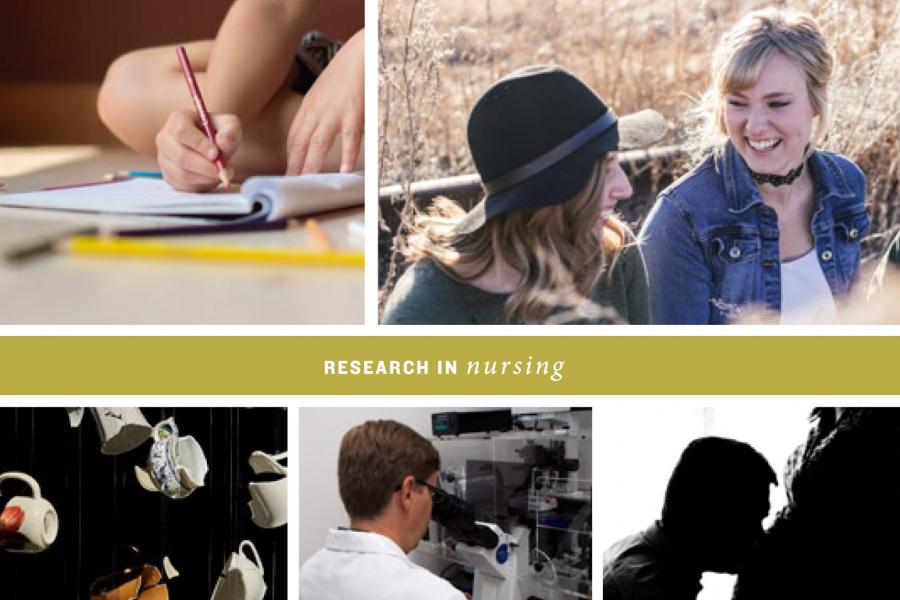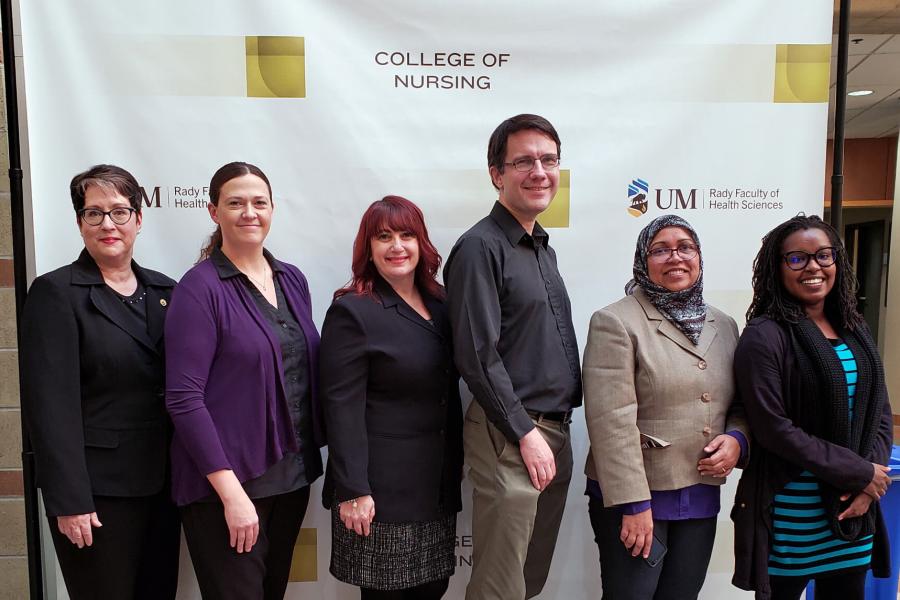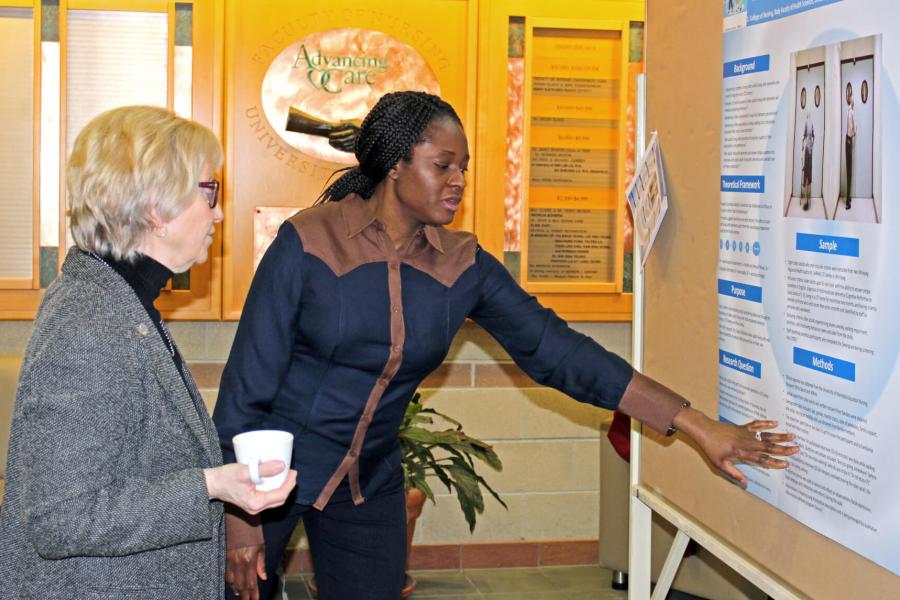 Program details
Expected duration: 4 to 6 years
Tuition and fees: Two years tuition, then continuing fees in subsequent years (refer to Graduate tuition and fees)
Students graduating from the PhD program in Nursing will:
develop knowledge in their identified substantive area within nursing science
generate and apply new knowledge concerning human health conditions and systems for care, with a specific focus on application within nursing, nursing's roles, and influence on individual, family, community and population health outcomes
contribute to nurses' influence within health care, health systems and health services
enhance their skills to critique, communicate, disseminate, and integrate diverse perspectives of knowledge amongst interdisciplinary partners, programs and policies in the provinces and beyond
emerge as nursing leaders related to clinical practice, education, research and evaluation, administration, government and policy development
build on programs of research within the College of Nursing, thereby extending knowledge and translation of evidence within the profession of nursing, addressing the imperative for evidence informed practice, education, leadership and policy.
Sample course offerings
NURS 8002 - Advanced Philosophy of Nursing Science (3 credit hours)
NURS 8010 - Advanced Qualitative Research for Nursing (3 credit hours)
NURS 8020 - Advanced Knowledge Translation and Health Care Policy (3 credit hours)
NURS 8220* - Advanced Quantitative Research Methods (3 credit hours)
NURS 8030 - Doctoral Student Seminars 1 (0 credit hours)
NURS 8040 - Doctoral Student Seminars 2 (0 credit hours)
*NURS 8220 has a pre- or co- requisite course: CHSC 7810 Biostatistics for Health and Human Sciences or equivalent.
For full course descriptions, please visit the Academic Calendar.
Advisors accepting doctoral students
You must have an advisor willing to accept you as a student to pursue a PhD in nursing.
International applicants are not required to secure a faculty advisor prior to submitting their application. After the application is reviewed, international applicants will be contacted with a list of potential faculty advisors.
If you are interested in pursuing a graduate degree under the mentorship of a faculty researcher not listed, you are welcome to contact that faculty member directly to inquire about potential graduate positions.
Please review the researcher's profile prior to contacting them, to ensure your research interest aligns with theirs. When you decide to contact a faculty member regarding a graduate position, please send them the following:
Curriculum vitae or resume
All academic transcripts from previous post-secondary institutions as well as the University of Manitoba (as applicable)
Descriptions of any previous research or teaching-related experience.
If you have contacted potential advisors and after several inquiries have not received a response, please consider this an indication that they will not be pursuing further conversation.
Applicants can also contact the Graduate Program Student Advisor at nursing@umanitoba.ca for more information about advisors.
The student-advisor relationship
In collaboration, the student and faculty advisor will discuss the student's learning needs to determine the fit between advisor and student. The advisor will work with the student to devise a plan for their course of studies. Generally, the advisor will be the student's thesis/committee chair or comprehensive examination chair. Students must meet, at a minimum, annually with their advisor. Any changes to program plan must be approved by the advisor.
The student-advisor relationship is important in assisting the student to navigate the university system. Students are responsible for initiating and maintaining regular communication with their advisor.
Students are also responsible for understanding and knowing the Faculty of Graduate Studies policies and regulations, as well as the Supplemental Regulations, which provide the guidelines for graduate study.
Faculty advisor
Research area
Mandy Archibald
Dr. Archibald supervises students with interest in lived experience, arts-based research, applied qualitative and mixed methods research, realist methods, and knowledge translation (including integrated and collaborative approaches) across chronic illness and development contexts in child health including but not limited to diabetes, asthma, and disability. *Also accepting postdoctoral research fellows.
Lynda Balneaves
Psychosocial Oncology; Treatment Decision Making; Complementary and Integrative Health Care; Knowledge Translation; Medical and Non-Medical Cannabis; Mixed Methods.
Wanda Chernomas
Women living with serious mental illness; Social support; Complex trauma responses and trauma-informed care; Transition of new graduates into the profession.
Elsie Duff
Dr. Duff supervises students interested in substance use, mental health, rural or remote health, nursing practice and education, health governance and policy using qualitative or quantitative methods. *Also accepting postdoctoral research fellows.
Joseph Gordon
Pharmacology, pathophysiology, anatomy, physiology, biochemistry, problem-based learning, web-based resources and open-source software in post-secondary education.
Tom Hack
Psychosocial Oncology; Patient-Health Provider Communication; Psychosocial Oncology; Psychosocial Adjustment to Illness; Research Methods; Statistics.
Nicole Harder
Ethnography, appreciative inquiry, simulation in nursing education, nursing education theory, technology in nursing education, teaching in lab settings, communication for patient safety.
Marnie Kramer
Nursing Education Research, educational development design, remediation/failure, theory-to-practice integration, cardiac health, behavioural change, sociology of the body, sociology of health, and illness. Doctoral research consisted of an examination of the social influences in health behavior change in people living with coronary heart disease (CHD).
Suzanne Lennon
Women's health, pregnancy, gender equity, pregnancy-based risk perception, marginalized populations, psychometrics and instrument development. My research uses quantitative and mixed methods approaches.
Michelle Lobchuk
Family caregivers, adult patients, chronic illness, symptom management, home care, empathic communication, perceptual understanding, video-feedback, theory-based interventions, quantitative methodology. *Also accepting postdoctoral research fellows.
Diana McMillan
Sleep, sleep disturbance (especially in patients with advanced cancer, fibromyalgia, insomnia, and back pain), sleep health promotion interventions, acute and chronic pain, quality of life, coping, stress, heart rate variability.
Daniel Nagel
Dr. Nagel's main research focus is community health and access to healthcare services, particularly for at-risk populations (e.g. LGBTQ2S+, Indigenous peoples, Newcomers, Persons Who Use Drugs). His interests and experience also include interprofessional education/collaboration, harm reduction, community development, technology in clinical practice, and curriculum design (e.g. innovations in experiential education).
Jamie Penner
Family caregiving, health promotion, chronic progressive illness and/or aging, palliative and end-of-life care, community engagement, intervention development, mixed methods research approaches.
Judith Scanlan
Clinical teaching, nursing education, patient education, reflection, international nursing, nursing administration, qualitative research.
Annette Schultz
Tobacco use and dependence treatment within the context of health care services, policy, and education; the primary intent is to enhance availability of tobacco dependence treatment. I have explored the use of Rights-based Discourse within tobacco control program and policy development. Recently, I began to integrate an equity perspective related to tobacco control issues and public health in general. Framing of my research interests tends to be through a socio-ecological lens, which means contextual, systemic, and/or organizational influences are investigated along with individual factors. Studies within my program of research have included a variety of methodological approaches; quantitative, qualitative and mixed methods.
Lynn Scruby
Community health, health promotion, refugee health care, low-income women with children, health promotion in sport, health and social policy, social justice and equity, vulnerable and marginalized populations, women's health in urban and rural settings, role of community health nurses in health policy, organization capacity building with a community health centre and a community ministry, inner-city community relationship building, collaboration, interprofessional collaborative research, qualitative methodology, simulation learning, feminist theory and research.
Genevieve Thompson
Palliative nursing care, long-term care, dementia care, health services research, family caregivers, quantitative and qualitative research.
Sonia A. Udod
Leadership practices, building nurse manager capacity, nurse leader role in transitions of care, work environments, delivery of health services, health care quality, qualitative research methodologies.
Christina West
Information coming soon
Roberta Woodgate
*Also accepting postdoctoral research fellows. Research area information coming soon.
Admission requirements
To qualify for admission to the PhD in Nursing program, you must have a minimum of:
A master's degree, preferably in nursing. Other qualifications will be considered on a case-by-case basis.
Completion of these three courses (9 credit hours) or equivalent:

NURS 7320: Philosophy of Nursing Science
NURS 7210: Qualitative Research Methods
NURS 7220: Quantitative Research Methods
Exceptional Master of Nursing (MN) students from the University of Manitoba who wish to apply to the PhD program before completing the MN program must have completed the above three courses as well as NURS 7340: Evidence Informed Practice (for a total of 12 credit hours).
Students in the PhD in Nursing program will receive approval for admission based on their prior academic and professional performance, research focus, demonstrated leadership and clear readiness to engage in the program. There is an expectation that the students are sufficiently self-directed to pace themselves within the course requirements and time-to-completion policies.
In addition to the admission requirements described here, all applicants must meet the minimum admission and English language proficiency requirements of the Faculty of Graduate Studies.
International applicants are not required to secure a faculty advisor prior to submitting their application. After the application is reviewed, international applicants will be contacted with a list of potential faculty advisors.
The Graduate Studies Committee in the College of Nursing reviews all applications, but final approval rests with the Faculty of Graduate Studies. Program admission is on a competitive basis and submission of the above requirements in no way guarantees program acceptance.
How to apply
Applications for the Nursing PhD program are accepted for September entry only. Applications must be completed online and include several parts:
$100 application fee (non-refundable)
Unofficial copies of transcripts
Current CV
Statement of interest (approximately 500 words) including

a short biographical sketch
reason for pursuing the doctoral program at the University of Manitoba, College of Nursing
area of substantive interest
prior work in area of interest
rationale for selection of the faculty advisor
readiness for doctoral study at this time

Two writing samples (e.g., scholarly work or publication in which you are the principal author, summary of master's work, documents written for professional work, such as briefs, advisories, guidelines, protocols or policy)
Three letters of recommendation, preferably at least one of which is an academic reference (must be requested from within the application)
Proof of English language proficiency, if required.
Written confirmation from the faculty member who has agreed to function as the advisor for the potential doctoral student. Review Find an advisor for guidelines and the list of faculty who are accepting graduate students.
Applicants must be prepared to submit documentation as outlined in the College's Non-Academic Admission Requirements by July 15.
If you are interested in pursuing a graduate degree under the mentorship of a faculty researcher not listed, you are welcome to contact that faculty member directly to inquire about potential graduate positions.
Please read the Faculty of Graduate Studies application instructions before beginning your application.
Contact us
Admission and application inquiries
Faculty of Graduate Studies
Room 500 UMSU University Centre
65 Chancellors Circle
University of Manitoba (Fort Garry campus)
Winnipeg, MB R3T 2N2 Canada
graduate.admissions@umanitoba.ca
Phone: 204-474-9377
Fax: 204-474-7553
Monday to Friday
8:30 a.m. to 4:30 p.m.