Study with us
Meet our researchers
Our researchers work collaboratively with clinical and community partners, as well as other researchers, providing real-time solutions to the most pressing challenges faced by those receiving care, those providing care, and decision-makers who determine how care is delivered.
Benefit from the Manitoba Centre for Nursing and Health Research
The MCNHR is the only research centre in Manitoba solely dedicated to facilitating and supporting collaborative nursing and health research. Membership is open to all current graduate students in the College of Nursing or other program whose advisor is a member of the College of Nursing. Members benefit from a variety of research support services and funding opportunities.
Discover our financial supports
Numerous scholarship and bursary opportunities are available to Faculty of Nursing graduate students, and to Faculty of Graduate Studies students, to support academic and research goals.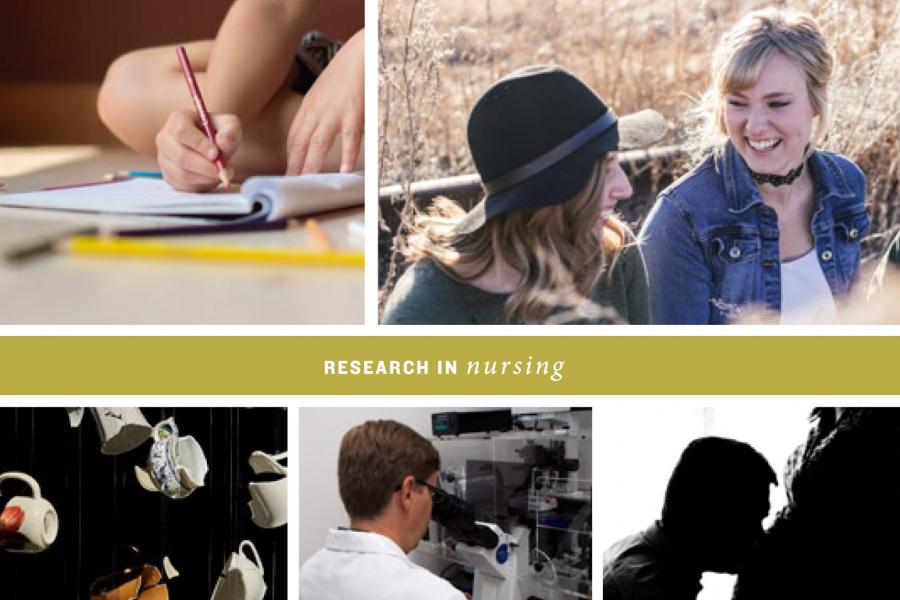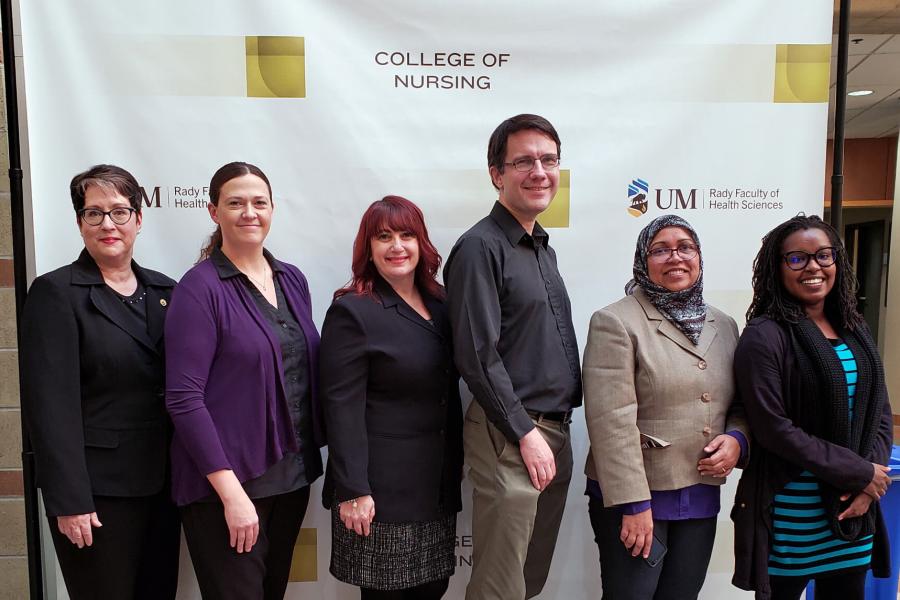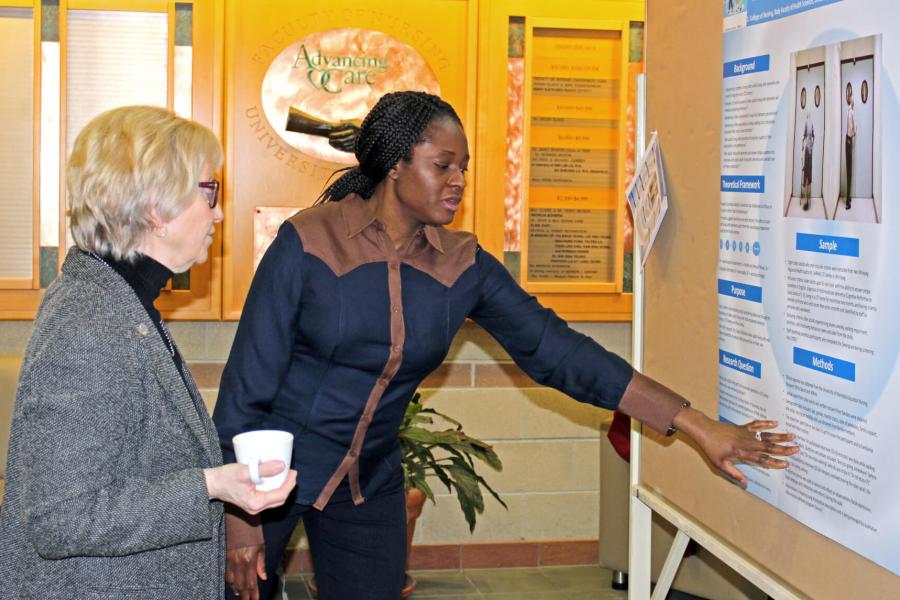 Program details
The Master of Nursing degree builds on undergraduate education through the integration of theory, research, and practice. Emphasis is placed on developing ability to analyze, critique, and use research and theory to further nursing practice.
Expected duration: 3+ years
Tuition and fees: One year tuition, then continuing fees in subsequent years (refer to Graduate tuition and fees)
Students choose one of the following three streams.
Education stream
The Education stream prepares graduates for careers in education. A nurse educator has in-depth knowledge of teaching and learning related to education, either in nursing practice or nursing education. The theories of teaching and learning are explored in relation to student learning and teaching practices. Areas of focus within this stream are generally directed towards improving educational outcomes. Possible career opportunities for graduates of the education stream:
Clinical educator in an institution
Clinical/community education roles, such as diabetes educator
Instructor at a faculty/school of nursing
Doctoral studies
Administration stream
The Administration stream prepares graduates for careers in nursing management and administration. The nurse administrator provides leadership in a variety of settings, including practice, education, or government. Understanding the theories relevant to nursing leadership and other organizational practices enables the nurse administrator to provide leadership and strategic thinking in their practice arena. Areas of focus within this stream are generally directed towards improving organizational and process outcomes. Possible career opportunities for graduates of the administration stream:
Nurse manager
Nursing director
Chief nursing officer
Instructor at a faculty/school of nursing
Doctoral studies
Clinical stream
The clinical stream prepares graduates for clinical career opportunities including Clinical Nurse Specialist (CNS), as well as other roles within an institution or community setting. Areas of focus within this stream are generally directed towards improving patient or client outcomes.
A CNS has in-depth knowledge in a selected area of clinical practice and advances nursing knowledge, skills, judgment, standards and program development to enhance patient or client care. In practice, the CNS strengthens the link between nursing research and practice, and assists others in knowledge translation through the development of clinical guidelines and protocols. They promote the use of evidence, provide expert support and consultation and facilitate system change.
Sample course offerings
NURS 7320 - Philosophy of Nursing Science (3 credit hours)
NURS 7210 - Qualitative Research Methods in Nursing (3 credit hours)
NURS 7220 - Quantitative Research Methods in Nursing (3 credit hours)
NURS 7340 - Evidence Informed Practice (3 credit hours)
NURS 7352 - Leadership in Advanced Practice Nursing (3 credit hours)
NURS 7360 - Integrative Focus (or Electives outside Nursing) (6 credit hours)
For full course descriptions, please visit the Academic Calendar.
Thesis and course-based Capstone Project
Students pursuing the thesis option in the Education, Administration or Clinical streams complete 21 credit hours, culminating in a thesis, in which they:
Identify and define a research problem(s) or question(s)
Actively engage in a systematic process to address the research question(s)
Provide evidence of mastery in a specialized area of nursing knowledge
Produce a scholarly written document
Competently defend the thesis in an academic and public forum
Students pursuing the course-based Capstone Project option in the Education, Administration or Clinical streams complete 21 credit hours plus six additional credit hours of electives, for a total of 27 credit hours, culminating in a Capstone Project. The Capstone Project provides students with the opportunity to demonstrate their ability to analyze, interpret, apply and communicate knowledge acquired throughout their graduate program.
All required coursework must be completed prior to registering for the Capstone Project.
Flexible program options
Full-time and part-time options
A student is considered to be full time in the Administration, Clinical or Education stream if they take a minimum of 12 credit hours during the regular academic year.
Students must apply for part-time studies.
Evening classes may be available.
Advisors
You must have an advisor willing to accept you as a student to pursue graduate studies in nursing. 
Advisors currently accepting students
International applicants are not required to secure a faculty advisor prior to submitting their application to the Master in Nursing (administration or education stream). After the application is reviewed, international applicants will be contacted with a list of potential faculty advisors.
If you are interested in pursuing a graduate degree under the mentorship of a faculty researcher not listed, you are welcome to contact that faculty member directly to inquire about potential graduate positions.
Please review the researcher's profile prior to contacting them, to ensure your research interest aligns with theirs. When you decide to contact a faculty member regarding a graduate position, please send them the following:
Curriculum vitae or resume
All academic transcripts from previous post-secondary institutions as well as the University of Manitoba (as applicable)
Descriptions of any previous research or teaching-related experience.
If you have contacted potential advisors and after several inquiries have not received a response, please consider this an indication that they will not be pursuing further conversation.
Applicants can also contact the Graduate Program Student Advisor at 204-474-6733 for more information about advisors.
The student-advisor relationship
In collaboration, the student and faculty advisor will discuss the student's learning needs to determine the fit between advisor and student. The advisor will work with the student to devise a plan for their course of studies. Generally, the advisor will be the student's thesis/committee chair or comprehensive examination chair. Students must meet, at a minimum, annually with their advisor. Any changes to program plan must be approved by the advisor.
The student-advisor relationship is important in assisting the student to navigate the university system. Students are responsible for initiating and maintaining regular communication with their advisor.
Students are also responsible for understanding and knowing the Faculty of Graduate Studies policies and regulations, as well as the Supplemental Regulations, which provide the guidelines for graduate study.
Admission requirements
To qualify for admission to the Master of Nursing program you must meet both the academic requirements and the non-academic requirements.
Academic requirements
To qualify for admission to the Master of Nursing program, you must have a minimum of:
Registration as a Registered Nurse (RN) or Registered Psychiatric Nurse (RPN) in Manitoba or your home jurisdiction. Applicants to the Clinical Stream must be registered with the College of Registered Nurses of Manitoba.
A baccalaureate degree in nursing, mental health nursing or psychiatric nursing or its equivalent from an approved or accredited university.
In exceptional circumstances, applicants with a degree in another discipline may be considered, providing the applicant is a Registered Nurse (RN) or Registered Psychiatric Nurse (RPN). For these individuals, up to an additional year of course work may be required prior to consideration for admission to the graduate program as a regular student.
Completion of a Research Methods course and an introductory Statistics course with a minimum grade of 2.5 (C+) in each course.
It is highly recommended that Statistics be taken within the last five years and Research Methods be taken within the last eight years to ensure currency. Please check with the Graduate Program Student Advisor to determine whether the courses your have completed meet this requirement.
Applications are accepted from students currently enrolled in these two prerequisite courses, but the courses must be completed by the end of April and grades submitted no later than May 15.
A minimum adjusted grade point average (GPA) of 3.0 (B) in the last 60 credit hours of university study.
All applications are reviewed in the College of Nursing but final approval rests with the Faculty of Graduate Studies. Program admission is on a competitive basis and submission of the above requirements in no way guarantees program acceptance.
Non-academic admission requirements
Successful applicants must meet the College of Nursing's non-academic requirements, which include immunizations, Criminal Records Search Certificate (including vulnerable sector search), Child Abuse Registry check, Adult Abuse Registry check and cardiopulmonary resuscitation (CPR) certification.
The non-academic admission requirements are as important as the academic requirements because your offer of admission to the College is provisional until you have submitted the non-academic admission requirements.
You must submit all documents to the College of Nursing by July 15.
How to apply
The Master of Nursing program accepts applications for the Fall Term.
The application includes several parts:
Full list of requirements
$100 application fee
Official transcripts of all academic records from courses taken at all degree-granting institutions. You do not need to provide an official transcript from the University of Manitoba. Contact the Graduate Program Student Advisor in Nursing for clarification.
Three letters of reference indicating the applicant's academic and/or professional qualifications, and the ability to succeed and thrive in the program to which the person has applied.
Referees will be asked to describe the applicant's teaching ability (if applicable), ability to carry out advanced study and research, promise for a successful career in the field, clinical expertise (if applicable), self-directedness and any weaknesses (e.g., inability to maintain sustained effort). The referee is asked to give an assessment of the applicant's ability in English if English is not the applicant's first language. The referee's basis of the general assessment is required.
Proof of active practicing nurse registration or active practicing psychiatric nursing registration in Canada. Applicants from other countries may apply, provided they have active practicing nurse status in their home country.
A resume/curriculum vitae that includes the following:

past educational preparation
employment experience, indicating level of responsibility
community service including involvement in professional associations
awards and honours
research projects
publications
continuing education
innovation in clinical practice
any other supporting information

Statement of intent (maximum 500 words) that indicates your selected stream, including:

why you are interested in the selected stream
how the selected focus fits with the potential advisor's work
potential research question(s) within the stream

Proof of English language proficiency, if required.
Contact us
Admission and application inquiries
Faculty of Graduate Studies
Room 500 UMSU University Centre
65 Chancellors Circle
University of Manitoba (Fort Garry campus)
Winnipeg, MB R3T 2N2 Canada
graduate.admissions@umanitoba.ca
Phone: 204-474-9377
Monday to Friday
8:30 a.m. to 4:30 p.m.