Central and East European Studies Program
Students will gain an understanding of this crucial part of Europe through interdisciplinary study of the region's history, politics, languages, literatures and cultures. Faculty from areas of study across the university train a new generation of specialists in the cultures and societies of Central and Eastern Europe and their global relevance and impact.
Department statement
Please read the statement from the Department of German and Slavic Studies and the Central and East European Studies Program at the University of Manitoba (March 3, 2022).
News and events
Public talks, conferences, publications and more regularly showcase research, history and current events from the region.
The Central and East European Program Lecture Series
Local, national and international experts present academic and community roundtables, book launches, graduate student presentations and more in this annual program sponsored by the CEES Program and the Department of German and Slavic Studies.
Difficult Memory: Exhibiting the Holocaust in Ukraine
Valentyna Kharkhun
Professor in the Department of Ukrainian Literature and Journalism, Nizhyn Mykola Gogol State University (Ukraine), and Stuart Ramsay Tompkins Visiting Professor of the Department of History, Classics, and Religion at the University of Alberta
Monday, September 11, 2023
3:00 p.m. - 4:30 p.m. (talk followed by coffee/tea)
Room 409 Tier Building
Moderator: Dr. Elena Baraban, Department of German and Slavic Studies
In this presentation Prof. Kharkhun examines exhibitions in national, state, and local history museums to discuss how memory politics have affected the musealization of the Holocaust since Ukraine's independence. Her analysis of the main memory actors and narratives is informed by the following questions: Who should be responsible for memorializing the Holocaust? Should the Ukrainian state include a memory about the Holocaust in its historical narrative?
Valentyna Kharkhun is the author of Socialist Realist Canon in Ukrainian Literature: Genesis, Evolution, Modification and Volodymyr Vynnychenko's Novel "Notes of the Snub-Nosed Mephistopheles": Generics, Semantic Sphere and Imagology. She has edited 5 volumes of Vynnychenko Review and 3 volumes of Studia Sovietica; and authored approx. 150 articles on Ukrainian literature and culture. Her current book project is entitled Multifaceted Memory. Exhibiting the Soviet Era in Ukrainian Museums.
Sponsored by: Department of German and Slavic Studies; Central and East European Studies Program; Peace and Conflict Studies Program
Questions: Elena.Baraban@umanitoba.ca
Call for papers
Nomadisms
The 7th University of Szeged-University of Manitoba Partnership Conference
September 28-30, 2023
University of Manitoba, Winnipeg, Manitoba, Canada
Learn more about the conference and see submission instructions
The recurrent lockdowns and travel restrictions of the Covid-19 Pandemic of 2020-2022 threw into high relief how nomadic many of our lives have become in the 21st century. With the option or necessity of working from home, many white-collar workers decamped to extra-urban locales with good weather and nice views. At the same time, for many of us, the Pandemic came as a relief from the sometimes-excessive demands of work-related travel. Now that the Pandemic is more or less over, many of us again find ourselves clocking the kilometers on planes, trains and automobiles. We also look forward to resuming our regular Partnership Conferences!
Russia's attack on Ukraine early in 2022 set off yet another wave of movement, this time both of refugees from Ukraine and young men leaving Russia, looking to build a life beyond the threat of the military draft for a war they don't support. Of course, these recent developments echo earlier waves of human movement, both individual and group migrations, as well as nomadic, semi-nomadic or quasi-nomadic lifestyles. The wave of Ukrainian refugees and Russian refuseniks recapitulates waves of emigration of past generations. On the Canadian Prairies, for example, many immigrants from Northern, Central and Eastern Europe arrived in the late 19th and early 20th centuries, looking for land. These immigrants displaced Indigenous peoples, such as the Anishinabe, Cree, Oji Cree, Lakota, Siksika and Dene peoples who had lived nomadic and semi-nomadic lifestyles on this land before they were forced to settle in "reservations" as a result of treaties. The nomadic Inuit populations of northern Canada were forced to settle into communities only in the 1950s. With every migration, ideas, customs, practices and languages migrate with the people. As Deleuze and Guattari have pointed out, people pick and choose which ideas to adopt: "Psychical Nomadism."
These waves of movement have had all kinds of implications that may be examined in a wide range of disciplines, including health care, law, education, social services, the production of knowledge in both the sciences and humanities, the migration of art forms, musical styles, architectural typologies, etc.
For this conference, we welcome proposals for papers from all disciplines that invoke movement, migration and nomadism—understood in the broadest sense of peoples, ideas and culture, and what this implies for knowledge and consciousness wrought by changes in perspective.
 
Submissions
Submission deadline is March 15, 2023.
Email a 150-word abstract and a short CV to Dr. Oliver Botar and Dr. Elena Baraban. 
Early submissions are encouraged. Submissions will be peer-reviewed by a committee of faculty members. 
Programs of study
Study with us
Countries of the region include:
Austria
Belarus
Bosnia
Bulgaria
Croatia
Czechia
Estonia

Germany
Hungary
Latvia
Lithuania
Macendonia
Moldova
Montenegro

Poland
Romania
Russia
Serbia
Slovakia
Slovenia
Ukraine
Courses investigate topics such as:
state formation, democratization and economic reforms
totalitarianism, nationalism and military conflicts
social, political, cultural and religious history
the arts and contemporary society (literature, fine arts, architecture, gender, religions)
the role of language (identity and citizenship, maintenance, shift and endangerment)

security (terrorism, trafficking of women and children, organized crime syndicates)
demographic movement (displaced peoples, diasporic formations, refugees, guest workers)
education (rewriting of curricula, establishment of new institutions for higher learning)
Student resources and opportunities
Career opportunities
The study of Central and Eastern Europe provides training for a wide range of professions that require skills in communication, interpretation and research. A first-hand understanding of an area, and fluency in one of its languages, can open doors to careers in industries such as:
business
academia
journalism
politics
commerce
education
travel
translation
Undergraduate research awards (URA)
Undergraduate students have the opportunity to work with our leading faculty researchers and gain valuable experience.
Financial aid and awards
The Central and East European Studies Program provides awards, scholarships and bursaries at all levels of study (usually administered by the Department of German and Slavic Studies). Students are also eligible for university fellowships and national awards. Further awards and scholarship opportunities might be found in conjunction to specific study and work abroad programs and travel courses.
You'll find awards in the UM-wide awards database, including the following:
Special Departmental Achievement Awards and Scholarships: For high achievement / promise in undergraduate courses in Central and East European Studies (administered by the Department of German and Slavic Studies).
C. E. L'Ami Prize in Slavic Studies: For demonstrating outstanding achievement in Slavic studies.
Anastasia Sawula Prize: For highest standing in Ukrainian I or another Slavic literature course.
Sam and Mary Szach Scholarship: For completion with good standing of at least one year in a Slavic studies program.
Study and work abroad
Germany, Hungary, Poland, Russia and Ukraine — these are the exciting destinations where you can study abroad. The reasons for studying abroad vary, but students almost universally describe these experiences as life-changing.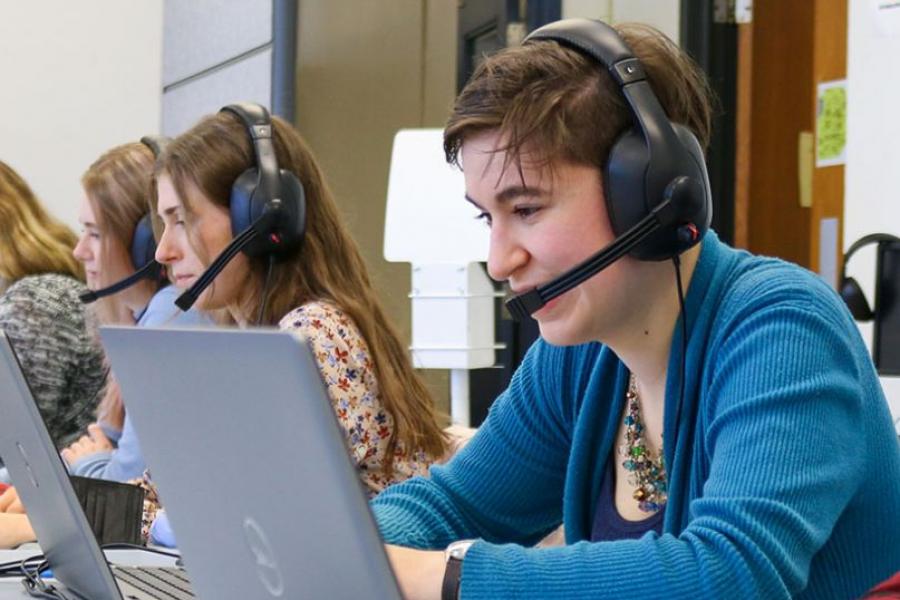 Practice your skills at the Language Centre
As in all language departments, students have access to the Faculty of Arts Language Centre with language laboratories that are well stocked with a variety of recorded material (to help with learning through listening), language practice software, books, videos, games and programs designed specifically for certain courses that contain a lab component. Language tutors are also available.
You may also want
Contact us
At times, departmental support staff are working from home and can be reached via phone or email.
Central and East European Studies Program
328 Fletcher Argue Building
15 Chancellor Circle
University of Manitoba (Fort Garry campus)
Winnipeg, MB R3T 2N2 Canada
Monday to Friday 9:00 am - 3:00 pm