Department of City Planning
Faculty and graduate students in the Department of City Planning contribute to key debates and professional practice on multiple fronts—participatory planning and design, homelessness and housing, urban revitalization, arts and culture, social justice issues, environmental sustainability, regional planning issues, transportation planning and infrastructure, age-friendly and child-friendly planning and design and Indigenous planning and governance.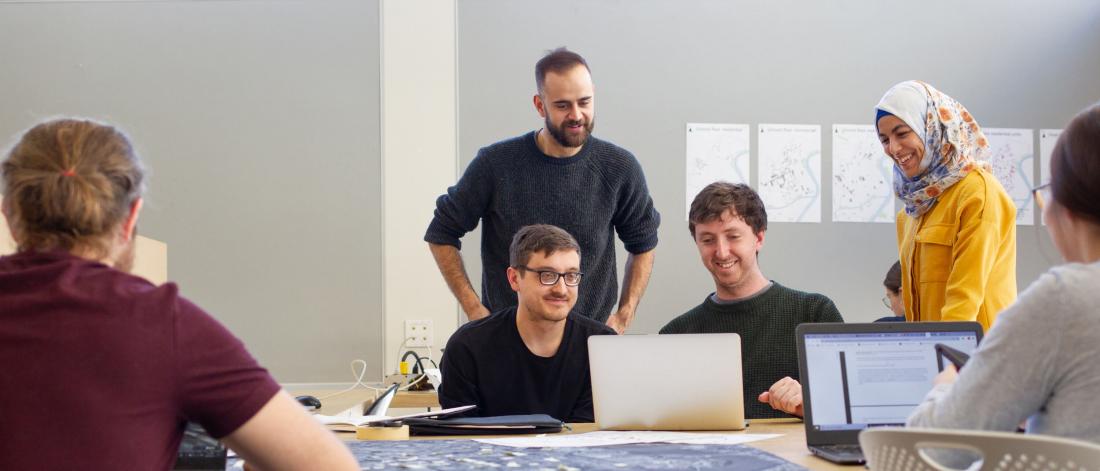 Graduate program: Master of City Planning
Our unique program focuses on studio-based, hands-on, experiential learning. Throughout the two-year program, students work with governmental, non-profit and Indigenous clients to address real-life planning issues.
Studio work is complemented by courses on planning theory, research methods and professional practice, as well as a recommended summer internship to gain professional experience. Students also have the opportunity to take electives outside the Faculty, (e.g., in Geography, Natural Resources, or elsewhere) depending on their interests. All students complete either a capstone project or a thesis. 
We aim to strengthen the capacity of planning to enhance the ecological sustainability, social equity and aesthetic qualities of human settlements. Our program has an excellent placement record, with the majority of graduates finding rewarding work in the field within three months of graduation.
Accreditation
The City Planning program at the University of Manitoba is an accredited program (2020-2025), which has met the standards of the Professional Standards Board (PSB) for the Planning Profession in Canada.  Graduates are eligible for Registered Professional Planner (RPP) status after gaining relevant professional experience. Through a reciprocal agreement with the American Institute of Certified Planners (AICP), the AICP recognizes Canadian planning programs that have been accredited by the PSB.
Studios (18 credit hours)
Studio courses form the core of the curriculum. With a strong emphasis on collaborative practice and team work, these courses engage students in work with local partners in urban neighbourhoods and rural towns, with the Manitoba Capital Region, and with Indigenous communities in the province. Studios provide a venue to synthesize and put into action lessons learned in the program's core, option and elective seminar courses. Conversely, the seminars provide opportunities to reflect on the experience gained in the field during studio projects.
All students are required to complete three studios that address a range of issues and scales:
Plus two of the following three choices:
Core courses (15 credit hours)
Seven core courses are required of all students in the program. These provide foundations for understanding both the theory and practice of planning. Combined with the studios, these address many of the competencies required for professional certification by the Professional Standards Board.
All students are required to take the program's seven core courses:
Option courses (6 credit hours)
All students are required to take two courses out of a roster of options. This allows each individual to tailor their curriculum to more closely fit their own personal and professional interests. Currently, these courses are:
Electives (6 credit hours, capstone students only)
Students enrolled in the capstone stream are required to complete 6 credit hours of electives. Students in the thesis stream are not required to take electives, but may elect to do so (in consultation with their academic advisor) if the courses support their research agendas.
Elective courses provide graduate students with the opportunity to work with other faculty and students from within the Faculty of Architecture, as well as the larger university community. Our students have forged links with the Departments of Anthropology, Geography, Engineering, Native Studies, and the Natural Resources Institute (NRI), among others. Some students have even taken elective courses at other universities.
At present, City Planning faculty members are offering the following elective courses:
Major degree project
All students conclude the MCP program with either a capstone project or a thesis.
Capstone project (6 credit hours)
The capstone project allows students to undertake focused original research on a planning topic of their choosing. The goal of the project is to conduct in-depth research on an issue of importance for planning practice. As part of the capstone, students will demonstrate the critical thinking, analysis, writing and presentation skills necessary for professional practice.
The capstone project is an independent piece of professional work. It may take the form of a professional report or an alternative format (e.g., design analysis, computer program, exhibition, evaluation tool, film). All alternative formats must be approved by your supervisor and be accompanied by written scholarly analysis.
The capstone project is completed within a 6 credit hour studio that spans the fall and winter terms of year 2.
Thesis (0 credit hours)
Like the capstone project, a thesis or practicum allows students to undertake focused original research on a planning topic of their choosing. While the goals are similar, the research expectations are higher for the thesis. These projects will typically be undertaken by students hoping to continue on to doctoral studies, students whose interests align with faculty interests and funding or students working with communities that present complex issues.
Students completing the thesis stream will work independently with their supervisory committee to undertake their research. Typically, students will compete their thesis by the end of the summer of their second year in the program.
Fall 2023 Laptop and software requirements
Fall 2023 Laptop and software requirements will be posted by the end of July 2023
Student experience in the Department of City Planning
As Manitoba's capital city, Winnipeg is an exciting place to study planning, and our department draws on considerable expertise throughout the region.
Our faculty members maintain close links to professional practitioners in Winnipeg, throughout Manitoba and across the country. Students have the opportunity to interact with the planning community and the Manitoba Professional Planners Institute (MPPI) through our mentorship programs and speaker series. We also cooperate with Brandon University's Rural Development Institute.
Internships
The internship program provides City Planning graduate students with practical field experience and opportunities to explore the interface between planning theory and practice. 
As an intern, you'll have opportunities to:
revisit, reconsider, integrate, and apply the Planning Theory course, and other courses, in a practical setting;
experience full-time planning practice first-hand under the supervision of a practitioner, and participate in a summative evaluation of the experience; and
create mutually beneficial linkages between yourself, the Department of City Planning and the planning profession, in pursuit of the advancement of the theory and practice of planning in the public domain.
Students are placed with practicing planners in private, public, community and NGO sectors. The department recommends taking internships during the summer between the first and second years. There are no credits associated with an internship, although an evaluation by the placement supervisor is requested.
Recent internship placements
Summer 2019
Ryan Fox: Research Scholar, Queens College, City University of New York (Dwayne M. Baker, PhD)
Christopher Gibson: Property Management Assistant, University of Winnipeg Community Renewal Corporation (Crystal Wels)
Choi Ho: Urban Planner Intern, CivicWorks, Calgary AB (Darlene Paranaque RPP MCIP PMP + Brady Rokosh MPlan)
Daniel Iskierski: Research Assistant, Winnipeg Metropolitan Region (Colleen Sklar & Ryan Litovitch MCP)
Brennan Johnson: Planning Intern, The Waterfront District BIA (Suzan Cooper-Rochon)
Isaac Laapah: Student Co-op Community Planner, Community and Regional Planning Branch Portage la Prairie Office (Inonge Aliaga RPP MCIP)
Simon Lacoste:  Summer Experience Program; Libraries, Arts and Heritage Services Unit & Heritage Planning Unit; Ministry of Tourism, Culture and Sport; Ontario Public Service (James Hamilton & Sarah Cossette)
Mélanie Messier: Summer Planning Student, District of Lake Country (Paul Dupuis, RPP MCIP)
Angie Mojica: Planning Intern, Landmark Planning & Design, (Donovan Toews MCIP RPP & Brendan Salakoh MCIP RPP)
Brody Osadick: STEP Student Planner, Province of Manitoba, Community and Regional Planning (Devin MacAulay RPP MCIP)
Kahla Pretty: Student Research Intern, Manitoba Non-profit Housing Association (Christina Maes Nino MCP & Sarah Cooper MCP RPP MCIP)
Santandeep Singh: Technical Assistant, Planning & Policy Research, Water & Waste Department, City of Winnipeg (Becky Raddatz MCP RPP MCIP & Justin Lee MCP RPP MCIP).
Summer 2018
Aidin Akbari: Research Intern, Winnipeg Metropolitan Region (Colleen Sklar).
Samantha Blatz: Planning and Transportation Intern, Downtown Winnipeg BIZ (Stefano Grande MCP).
Daniel Broderick: Planning and Design Intern, CityState Consulting Services (Gaëtan Royer).
Alex Hallbom: Planning and Heritage Summer Student, City of Dawson (Clarissa Huffman).
Emily Halldorson: Housing Researcher, University of Winnipeg/Welcome Place (Dr. Ray Silvius).
Alex Menjivar: Planning Intern, Landmark Planning and Design (Brendan Salakoh RPP MCIP).
Anton Metalnikov: Planning Research Coordinator, West Broadway BIZ (Leah McCormick & Greg MacPherson).
Leila Mirriahi: STEP Intern, Province of Manitoba, Community and Regional Planning (Nadalene Khan Cooper MCP RPP MCIP).
Felipe Mogollon: Wayfinder, The Exchange District BIZ/City of Winnipeg (David Pensato).
Butho Ndhlovu: Planning Intern: Environmental Planning & Policy Research, Water & Waste Department, City of Winnipeg (Becky Raddatz MCP RPP MCIP & Justin Lee MCP RPP MCIP).
Salma Sedigh: Urban Design Intern, CentreVenture (Angela Mathieson MCP).
Andrew Treger: STEP Planning Intern, Community and Regional Planning Brach Steinbach Office (Stephen Walker RPP).
Indigenous planning partnerships
The Indigenous Planning Studio is a 13-week master's-level course. The term "studio" simply refers to a different style of teaching; instead of sitting in lectures and seminars, the students work on a real-world planning project. This particular studio typically involves eight to ten graduate students who are split up into small teams to work with one of three partnering First Nations.


Partnering First Nations identify the projects, with some input from the studio instructor to ensure the students have the skill-sets to properly support the work. While the instructor provides advice and direction to the students, and maintains contact with each partnering First Nation, the students are encouraged to work directly with their First Nation partners throughout the university term.

How First Nations can get involved
To discuss an Indigenous planning partnership, contact Indigenous Planning Studio instructor Janice Barry by email or by phone at 204-430-8697.
The studio instructor will find a time to talk about what your community is hoping to achieve and how the students might contribute. Following an initial meeting, please submit some ideas for possible student work in a short expression of interest letter. Please indicate:
What might the students work on, and what are the overall goals of the project (though community planning is a very dynamic process and priorities change)?
Who might be the students' primary contact person? Will that person be available for the entire university term? We ask that there is a designated person in each community who can act as the students' primary point of contact. This person will often help them better understand the goals of the project, as well as any distinct community or cultural protocol.

Is there a place for the students to work when they come to visit? (Not necessary, but often helpful)
How does the proposed work fit with other priorities in the community? For example, has there been a Band Council resolution to initiate the project? Or maybe it fits into a larger and ongoing initiative?
Please bear in mind that the university term starts the first week of September, so the Department of City Planning usually likes to have a firm commitment by late July. Please contact the studio instructor as soon as possible, as there is a limited number of First Nations that we can work with each year.
Contact us
Department of City Planning
Faculty of Architecture
201 John A. Russell Building
84 Curry Place
University of Manitoba (Fort Garry campus)
Winnipeg, MB R3T 2M6