CADLab
The CADLab offers a computer lab, self-service scanners, network laser printers and equipment loans for Faculty of Architecture students and faculty. 
Note: Masks must be worn in all Faculty of Architecture areas.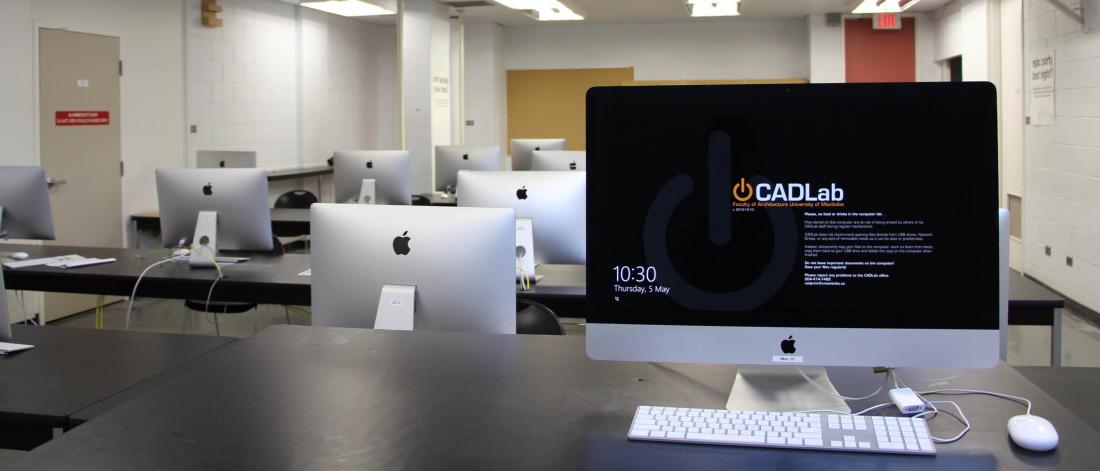 Wide format printing
Wide format printing is available in the CADLab office at 124 Architecture 2 Building.
Files can be submitted digitally to cadprint@umanitoba.ca or by sharing a cloud storage link (OneDrive, Dropbox, etc.).
Notice:
The office is closed to drop ins. Please email us, and only come for your scheduled appointment.
Check our hours below (in the "Contact Us" section) for any closures before emailing your file(s).
Once we've reviewed your submission, we'll email you back a quote and estimated completion time to schedule an appointment for pickup.
Due to reduced staff over the summer, expect delays.
Printing services are provided only to current University of Manitoba staff and students.
Payment
We accept Debit, Visa, or Mastercard.
If your Faculty or Department is paying for your prints (via FOP), please download and complete the printing payment form.
Please ensure that the financial authority's name, office phone number, signature and account usage justification are on the form before submitting your file. Incomplete payment forms will not be accepted. Please have the financial authority email us giving authorization for you to print to the account.
Pricing and sizes
We charge based on the dimensions of your file, calculated by square feet. We can print up to 0.5" less than the roll widths listed (minus 0.25" margin on either side). The maximum length is only limited by the size of the roll.
There is a minimum charge based on the width of your poster(s). If the total width of your print job comes in at under 18" across the roll, we will charge as if it was 18". For example, if you had a 6"x48" poster, we would charge as if it were a 18"x48" poster. However, if the poster was 6"x41", the long end would fit across the paper roll (on a 42" roll) and we would charge at 6"x41".
Canon High Quality Inkjet Printer
Colour & B&W
Matte Canvas (42" roll)
$4.50
Satin Gloss (42" roll)
$3.75
Premium Heavy Bond (42" roll)
$3.00

Customer Supplied Sheets
*Add $5 for first sheet, $2 each subsequent sheet

$2.00
Oce Production Quality Printer
White Film (36" roll)
$3.00
Semi Opaque Film (36" roll)
$2.25
Adhesive Bond (36" roll)
$2.25
Heavy Bond (42" roll)
$1.75
Translucent Bond (36" roll)
$1.25
Light Bond (42" roll)
$0.75
We can also print on customer-supplied paper up to 44" wide on the Canon printer. Most of the common cut sheets sold at the UofM Bookstore will work. Paper types include: Strathmore/Strathmore Museum, Mayfair, Stonehedge/Maidstone, vellum and Crystal Mohawk. Other similar papers may work as well but we cannot guarantee compatibility. Nor can we guarantee any level of colour matching due to the differing white points and densities of the papers. Please ensure that you leave a margin of no less than 1/4 of an inch on 3 sides and 2 inches on the last side (this should be on one of the short sides) on your image as the printer cannot print right to the end of a sheet.

We can trim prints up to 72" in length. If either the width or height of your poster is greater than 72", you will need to trim the poster yourself. We also reserve the right to withhold cutting services for large batch jobs (many small individual images, for example).
Preparing your file
Please ensure that your files are sized to the correct dimensions and that all images have adequate resolution for the size you are printing. We will not modify posters and images. Double check your files to ensure there are no errors! CADLab staff are not responsible for files with spelling mistakes, corrupt images, wrong fonts, and other problems that sometimes show up in PDF files.
Do not add crop marks! Full-length crop marks will be added to make cutting easier.
PDF files are accepted for wide-format printing. Our printing software does not accept Powerpoint or AutoCAD files.  The customer is responsible for converting the files to PDF before delivery to CADLab. TIFs and JPEGs for image files are accepted (ie. photos).

If printing on canvas and additional space is required around your poster for framing, please ensure that you've added sufficient white space as your border.
Equipment loans
The CADLab has equipment available for loan to Faculty of Architecture staff and students. To borrow equipment, email the Print Shop to check for equipment availability and schedule a pickup time. Please have your student/staff card available.

Most items listed were purchased through the Faculty of Architecture Student Innovation and Enrichment Fund (SIEF). If there is equipment you would like to have available for sign-out, please visit the other funding opportunities portion of the Funding and awards website. There you will find information about how you can submit a proposal for new equipment purchases.
Rules
Equipment can only be signed out by Faculty of Architecture students and staff.
As the equipment is purchased from SIEF, student's needs have priority over staff.
Equipment must be returned on the date and time indicated on the sign-out form. Failure to do so will result in fines and possibly the loss of borrowing privileges. Items must be brought back before 12:00pm on the due date (3:00pm on weekends). If the equipment is brought back after that time, a $5.00 fine will be assessed and an additional $5.00 will be assessed for each extra day that the equipment is not returned. If you are unable to come in at the time indicated, please call and request an extension.
When borrowing equipment you are required to sign an agreement and are responsible for any damage, loss or theft that occurs while the equipment is in your care.
Laptops & projectors
The following equipment is available to sign out for a maximum loan time of 1 month
15" 2021 Dell Precision 5560 (x10)
13" 2015 Macbook Pro (macOS 11 & Windows 10 Pro) (x5)
2019 iPad Air (3rd Gen) (x1)
The following equipment is available to sign out for a maximum loan time of 2 days
BenQ Short Throw HD Projector (x6)
Panasonic Classroom Projector (x2)
Cameras
The following cameras are available to sign out for a maximum loan time of 5 days
Canon EOS 6D (x2)
Canon Rebel T5i (x3)
Sony A7S (x1)
Nikon D90 (x2)
Nikon D5100 (x6)
Nikon Macro Lens AF 105mm F/2.8 EX DG (x2)
Nikon Macro Lens AF 70mm F2.8 EX DG (x2)
Nikon Wide-Angle Lens AF 10-20mm F/4-5.6 EX (x4)
Nikon Micro Lens AF-S Nikkor 60mm 1:2.8 G ED
Nikon PC-E Nikkor 24mm f/3.5D ED Tilt Shift Lens
Canon Macro Lens EF 100mm F/2.8 USM (x2)
Canon Macro Lens 105mm F/2.8 EX DG (x2)
Canon Macro Lens 20/50mm Zeiss Planar T* 20/50mm (x1)
Canon Macro Lens EF 50mm F/2.5 Compact (x1)
Canon Wide-Angle Lens AF 10-20mm F/3.5 EX DC HSM (x2)
Canon Wide-Angle Lens 10-20mm F4-5.6 EX DC (x2)
Canon Wide-Angle Lens EF 14mm F/2.8L II USM Ultra Wide (x1)
Canon TS-E 24mm f/3.5L II Tilt Shift Lens (x1)
Nikon SB-600 Speedlight flash (x1)
di-GPS Eco Prosumer M GPS Unit for Nikon D5100 (x2)
Video cameras
The following video cameras are available to sign out for a maximum loan time of 5 days
Canon HF-11 HD (x4)
GoPro Hero 4 Black Edition (x3)
GoPro Hero 3+ (x3)
Audio recorders & accessories
The following equipment is available to sign out for a maximum loan time of 5 days
Sony PCM-D50 (x3)
Zoom H4N (x1)
Zoom H2 (x1)
Sound Level Meter (x2)
Rode Shotgun Mic (x3)
The following equipment is available to sign out for a maximum loan time of 3 days
Logitech Desktop Speakers (x2)
Fender Passport Conference Speakers + Speaker Tripods (x1)
Bluetooth Party Speakers (x2)
Bose QuietComfort 25 Noise Cancelling Headphones (x3)
Miscellaneous
The following equipment is available to sign out for a maximum loan time of 7 days
Wacom Cintiq Pro 13" Drawing Tablet (x2)
Wacom Intuos Pro Drawing Tablet (x2)
Plustek Opticfilm 7600 Slide Scanner (x1) 
Tripod (x5) Monopod (x2) SLR Gorillapod (x2) GoPro Gorillapod (x4)
Lightmeters (x7
The following equipment is available to sign out for a maximum loan time of 5 days
FLIR One Pro Infrared Cameras (for iOS and Android) (x8)

We also have a variety of adapters and cables available.
Available software
For students
Prices and availability are subject to change.
Note: Not all software is required by every student. Check your program requirements.
Last update 2022-08-02
For staff
CADLab provides a wide variety of software for academic staff in the faculty. Some of these products can be installed by the user, but if you require assistance, please contact the CADLab.

Below is a list of the most popular that we have available.  It is not a complete list, so if you are looking for something that isn't on the list please ask.
Last update 2022-08-02
Contact Us
CADLab
124 Architecture 2 Building
56 Curry Place
Faculty of Architecture
University of Manitoba
(Fort Garry Campus)
Winnipeg, MB R3T 5V6 Canada
Print Shop access is by appointment only over the summer
Closed Friday, Saturday, and Sunday
Additional Closures:
Monday August 1st (Civic Holiday)
Week of August 8th to 12th