At the University of Manitoba, you'll pay the same tuition rates as Canadian students. Watch as third year student Ellen walks through the process and discusses her experience applying to UM.
Leaving home and going to school in a new country can be scary, but all of the people you meet, friends you make and the experiences you gain from it make the leap well worth it... There are a lot of resources to guide you through the application process and everything you need to know before coming to UM.
Ellen
Third year, Asper School of Business
Why U.S. students love it here
At the University of Manitoba, you'll experience college life with a Canadian twist. Studying in Canada offers an exciting international experience where you can take in our culture, travel, explore and experience new things. Winnipeg is a welcoming and diverse city in a province known for its beautiful landscapes, friendly people and vibrant culture.
Expand your international experience even more by spending a term abroad while paying no extra tuition cost. Or. build connections and explore career options through a paid work placement during your degree. Not sure what you want to study? University 1 lets you choose your own courses and explore different subjects in your first year with no additional time or cost.
Make friends from around the world and define your future at UM. Join the more than 230 U.S. students already here in one of over 100 programs of study. Learn about admission requirements for U.S. students (PDF).
Affordable education
The University of Manitoba has among the lowest tuition rates in Canada for international students, and Winnipeg has a lower cost of living than other cities, so you'll save money on living expenses like housing, food and transportation. If you need further financial support, you can apply to the U.S. Department of Education's Direct Loan Program to help fund your education.
Pay the same tuition rates as Canadian students
The state of Minnesota and the Province of Manitoba have a reciprocity agreement that allows Minnesota residents to pay Canadian tuition and application fees. This means that if you're a resident of the state of Minnesota, you could pay approximately $4,800 CAD in tuition for your first year at UM, instead of the full international student rates. Learn more by attending one of our events for prospective Minnesota students.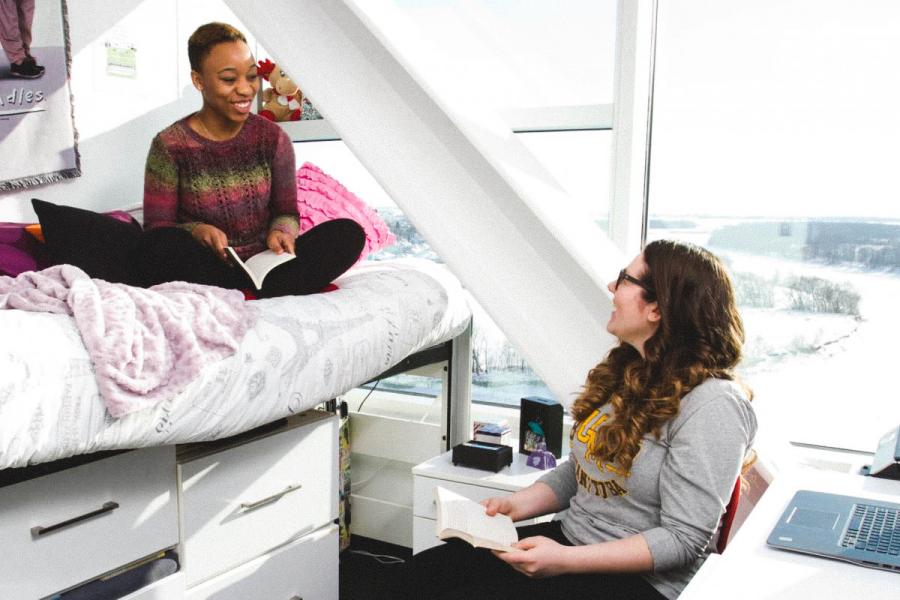 Chat with us
Our student ambassadors represent our diverse community and can offer their perspective on different aspects of university life, from their personal experiences in their chosen program to more practical matters such as living and working on campus. Browse our list of available students and start chatting today.
Keep exploring your viewbook
Contact us
Undergraduate Student Recruitment
4th floor UMSU University Centre
University of Manitoba (Fort Garry Campus)
Winnipeg, Manitoba Canada
204-474-8808
Toll free: 1-800-224-7713 ext:8808