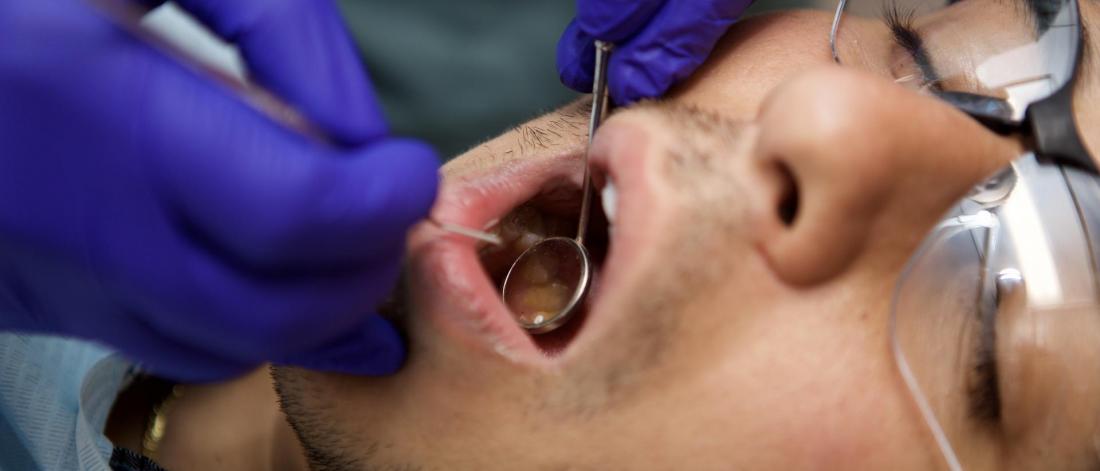 Study with us
Prepare yourself to work in the artistic and scientific field of dentistry at one of the most highly respected dental schools in North America.
Our program includes a low instructor/resident ratio, well balanced clinical and didactic programs with a critical approach to literature and opportunities for clinical research.
Our research
Considered one of the top research-producing dental schools in Canada, the Dr. Gerald Niznick College of Dentistry makes significant contributions to understanding health and disease, as well as best practices worldwide.
The Division of Periodontics conducts research on:
Use of near and mid infrared spectroscopy to assess inflammatory periodontal disease
Influence of oral health on post-operative complications in non-cardiac surgery patients
Vitamin D and periodontal health
Tobacco smoking cessation training: Influence on practice patterns
Implantology
Periodontal risk factors
Molecular diagnosis of periodontal and peri implant diseases
Clinical experience
Our program devotes a considerable portion of time to exposing residents to clinical practice and all areas of modern periodontology and surgical implantology.
Residents will also receive training to become certified in the use of in-office IV conscious sedation administered by the Faculty of Medicine - Anesthesia department.
Discover our financial supports
Numerous funding opportunities are available to dentistry graduate students, and to Faculty of Graduate Studies students, to support academic and research goals.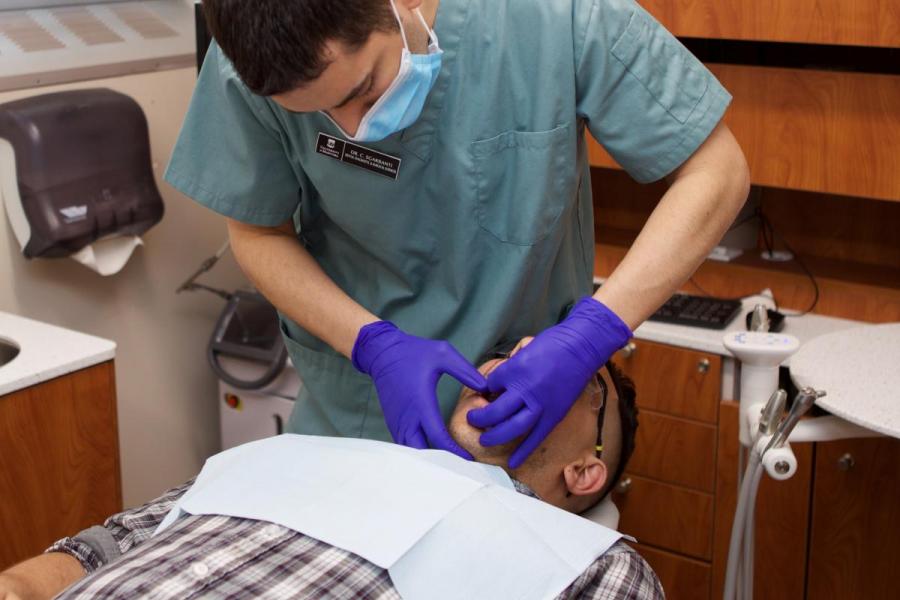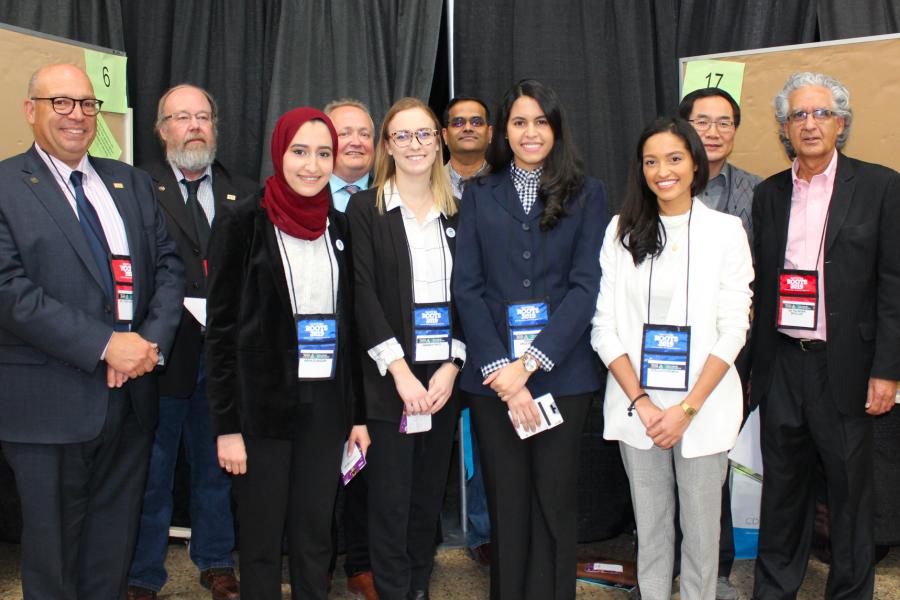 Program details
The Department of Dental Diagnostics and Surgical Sciences offers graduate instruction and research leading to a Master of Dentistry degree in Periodontics. The program includes clinical training, lectures and seminars in the clinical and related basic sciences and research.
Expected duration: 3 years
Tuition and fees: Students pay the yearly program fee for every year they are registered (refer to Graduate tuition and fees).
The MDent in Periodontics program requires the completion of 58 credit hours of coursework, clinical requirements and an essay/research project.
Residents will accumulate a minimum of 1200 hours clinical experience with approximately 100 hours spent in the hospital dental clinic.
The program is fully accredited by the Commission on Dental Accreditation of Canada (CDAC) and is also recognized by the American Dental Association. Completion of the program provides eligibility to the examinations of the take the examinations of the Royal College of Dentists of Canada (RCDC), National Dental Specialty Exams (NDSE) and the American Board of Periodontology (ABP).
Clinical Requirements
The program provides periodontal consultation and treatment services, including dental implants, to patients attending the College of Dentistry and patients referred by private practice dentists in Winnipeg and throughout Manitoba.
Residents are provided the opportunity to treat a full range of periodontal problems and to participate in on-going clinical and basic periodontal research. The Graduate Periodontal Clinic simulates a private periodontal practice and provides dental hygienist and dental assistant support to residents. A conscious sedation hospital rotation as well as private practice periodontal office rotations are part of the curriculum as well.
Essay/Research Project
Residents are required to write an essay or carry out a research project in a specified area selected in consultation with the department.
Sample course offerings
DDSS 7010: Biology and Pathology of the Periodontium (6 credit hours)
DDSS 7030: Advanced Oral Radiology (1 credit hour)
DDSS 7050: Oral Medicine and Oral Diagnosis (3 credit hours)
DDSS 7120: Advanced Clinical Periodontics (4 credit hours)
DDSS 7130: Occlusion (3 credit hours)
DDSS 7210: Clinical Practice in Periodontics (18 credit hours)
DDSS 7230: Advanced Oral Pathology (6 credit hours)
DDSS 7300: Dental Implantology (3 credit hours)
ANAT 7060: Advanced Human Macroscopic (6 credit hours)
ORLB 7090: Pharmacology and Therapeutics (3 credit hours)
For full course descriptions, please visit the Academic Calendar.
Admission requirements
The following are minimum requirements to be considered for entry into the MDent in Periodontics program. Meeting these requirements does not guarantee acceptance into the program.
To be considered for admission to the MDent in Periodontics, you must: 
Possess a dental qualification which makes you eligible for licensure in a province of Canada
Hold a National Dental Examining Board of Canada Certificate
Comply with provincial requirements for licensing of dental interns and residents
In addition to the admission requirements described here, all applicants must meet the minimum admission and English language proficiency requirements of the Faculty of Graduate Studies.
How to apply
Applications for the MDent in Periodontics has one application deadline per year and are accepted for August entry only. Applications must be completed online and include several parts:
$100 application fee (non-refundable)
Unofficial copies of transcripts
Current CV
Dean's letter (completed within the online application)
Two letters of recommendation, one from your current or recent position (must be requested from within the application)
Statement of intent
Proof of English language proficiency, if required
Required equipment
Successful applicants who are admitted to the program will be required to purchase the following items:
Digital Camera
Laptop computer
Periodontal instrument kit (purchased through Dental Stores at the Faculty of Dentistry)
Surgical scrubs
Recommended textbooks
ACLS certification course (provided during training; not included in tuition fees)
Contact us
Admission and application inquiries
Faculty of Graduate Studies
Room 500 UMSU University Centre
65 Chancellors Circle
University of Manitoba (Fort Garry campus)
Winnipeg, MB R3T 2N2 Canada
graduate.admissions@umanitoba.ca
Phone: 204-474-9377
Monday to Friday
8:30 a.m. to 4:30 p.m.
Program inquiries
Dr. Gerald Niznick College of Dentistry
Dean's Office, Graduate Programs
Room D113 Dentistry Building
780 Bannatyne Avenue
University of Manitoba (Bannatyne Campus)
Winnipeg, MB R3E 0W2
periodontics@umanitoba.ca
Phone: 204-272-3062
Fax: 204-272-3077