Student Success Month
Whether you are a new or returning student, many factors impact your U of M experience. October is Student Success Month.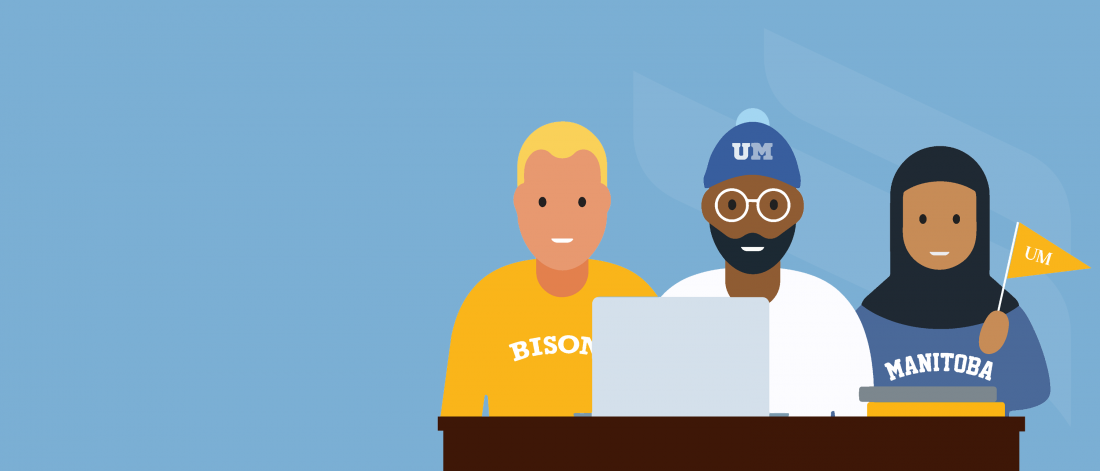 Student Success Month
October 2021
If you are a new student or learner… this is when all of the information you heard at your orientation becomes relevant. It is critical that you access the academic and personal supports to help you build the skills you need to be successful in your first year and beyond.
If you are a returning student or learner… now is the time when those familiar academic and personal responsibilities start to mount up. It is vital that you reflect on your previous years' experience and identify the areas you will need to improve on in order to meet your goals.
Student and learner success is about more than a grade on your transcript. Your success is dependant on your academic, emotional, mental, and spiritual wellbeing.
The U of M is proud to feature a range of events hosted by support units across campus. These events include topics such as:
Career preparation
Stress management
Academic writing
Research skills
Cultural adaptation and identity
And more!
Studying for Midterms
This workshop introduces the top study strategies that successful students use to prepare for tests and exams, as well as tips on time management and self-care so you can head into midterms feeling prepared and confident.
October 1 - 31, 2021 Student Success Month Schedule
International Day Against Contract Cheating
Get creative and enter your IDOA meme into this year's contest
Sign up today to participate in the Sixth Annual International Day of Action Against Contract Cheating – The International Center of Academic Integrity (ICAI) is sponsoring the International Day of Action Against Contract Cheating Student Meme Contest. The purpose of the contest is to generate works that may be used either this year or in future years to promote the event and provide students with the opportunity to share their opinions about the threat contract cheating poses to the higher education experience and the overall importance of academic integrity. Submissions must be received by 4 p.m. EST on Friday, Oct 15, 2021
What is Contract Cheating
Studying with the values of academic integrity (honesty, trust, fairness, respect, responsibility, courage) can help to protect your academic credential. Acts of academic misconduct give some students an unfair advantage, jeopardize the value of the work that you do, and place you at risk. One specific form of academic misconduct is contract cheating.
Here are some frequently asked questions about contract treating, including tips to avoid it.
This work was adapted from Miron, J., & McKenzie, A. (2020, Oct 5). Avoiding contract cheating student tip sheet and licensed under a Creative Commons Attribution-NonCommercial-ShareAlike2.5 Canada License.
What is contract cheating?
Outsourcing academic work (e.g., essays, assignments, tests) to pay-for-profit sites (e.g., homework sites, essay mills, tutor sites) OR personal acquaintances (e.g., friends, family or classmates).
Is contract cheating a problem?
Contract cheating is an act of academic misconduct
You can face serious consequences at the University of Manitoba, including expulsion
You risk being blackmailed or having your personal information shared by pay-for-profit sites
Are homework or tutor sites OK?
Some sites ask you to upload course presentation slides, notes, assignments, tests, or course outlines that are copyright protected and are not yours to share
Accessing the solutions or answers from a tutor site does not help you learn the course content
Beware that information provided on such sites may be incorrect and cannot be validated
What if I see an ad on my social media feed (Instagram, Twitter, or Facebook) for a contract cheating service provider?
Contact the owner of the account to ask them to take the posting down
Consider posting your own message to alert other students about the risks of contract cheating
What if a friend asks me for my answers to a test, my old assignments, or a copy of an essay?
You run the risk of your work being copied, which puts you at risk for being accused of academic misconduct
Talk to your friend about how you completed the assignment or how you approached studying
Refer your friend to the professor/teacher/TA for help
How can I avoid contract cheating?
Plan your schedule -time crunches can lead to increased pressures and bad choices
Reach out to experts at the University of Manitoba that can help you –look at the website and talk to your professor, instructor, or TA about resources that might help (e.g., library services, school tutors, writing centres, accessibility services, international student services)
Beyond Student Success Month