Ongomiizwin student experience
Being a student is more than just attending classes – it's about all the experiences that make you well-rounded and ready for life's challenges. Learn more about what Ongomiizwin has to offer to students.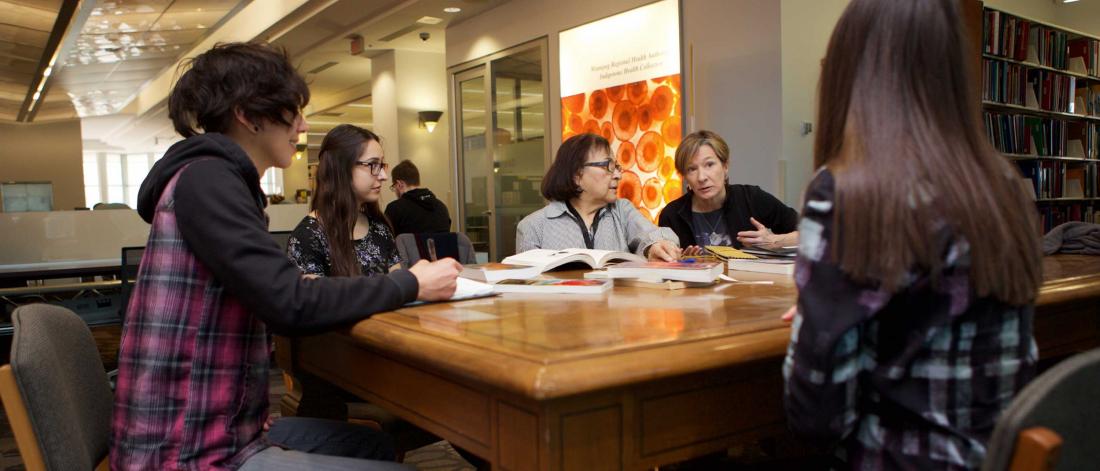 Ongomiizwin student experience
Culture and education
Education Cultural Program
Cultural programming at Ongomiizwin - Education focuses on creating a safe and welcoming environment for students and members of the university community to learn about First Nations, Métis and Inuit communities and cultures. Under the direction of the centre's Elder-in-Residence and Knowledge Keeper, the cultural program offers a variety of events and teachings throughout the year, as well as individual or group sessions tailored to meet the needs of students.
Students who are actively involved in the cultural program with the Elder-in-Residence and Knowledge Keeper have the opportunity to earn their eagle feather during the time they are studying to become health professionals. The eagle is a symbol of truth, power and freedom. For this reason, one must always speak the truth when holding the eagle feather. The eagle feather is honoured and treated with great care and respect at all times.
Cultural teachings and ceremonies
Monthly cultural teachings
Held monthly during the academic year, cultural teaching sessions for students and mentors cover topics such as the smudge ceremony, dream interpretations, the seven natural gifts and the sacred fire winter solstice. Every teaching session concludes with a sharing circle for participants.
Full moon ceremonies
This women's ceremony is held in the evening during each full moon throughout the year. For information please contact our centre.
Seasonal ceremonies
Ongomiizwin - Education brings together students and mentors for a traditional ceremony and feast at the beginning of each season. Ceremonies are held on (or near) the fall equinox, winter solstice, spring equinox and summer solstice. Specific dates and details are announced in advance.
Sweatlodges
Sweatlodges are held four times a year. Special teaching sessions are held prior to the sweatlodge to prepare for the ceremony. Specific dates and details are announced in advance.
Guest speakers
Ongomiizwin - Education hosts a number of special events throughout the year that feature Elders and guest speakers from the Manitoba First Nations, Métis and Inuit communities.
Film screenings
Ongomiizwin - Education's film screening events showcase documentaries that address some of the issues relevant to First Nations, Metis and Inuit. Open to the public, these events are led by the Elder-in-Residence and include time for discussion and debriefing.
Workshops
The centre conducts hands-on workshops on a variety of topics, including mask making and medicine picking.
Medical School Entrance Interview Workshop (MSEI)
The Medical School Entrance Interview Workshop (MSEI) is a three-day session that supports Indigenous applicants who have been granted an interview with medicine.
Because of workshop's tremendous growth since its inception, funds are being sought to hire a workshop coordinator who will coordinate upcoming MSEI workshops. Through research and experience with the workshop, plans are to develop a step-by-step manual/guide which will allow faculty/staff to replicate and deliver the workshop year after year.
The manual could potentially be shared with other areas of the university engaged in similar interview processes and/or published for sale to be used in other medical schools across Canada.
The MSEI was originally developed and piloted by the Indigenous Physicians Association of Canada (IPAC) in 2012 and further developed by Dr. Melinda Fowler.
Contact us
For more information, please contact:
Kimberly Hart
Senior Lead, Indigenous health student affairs
Ongomiizwin – Education
kimberly.hart@umanitoba.ca
204-272-3168
Student opportunities
The J.A. Hildes Northern Medical Unit has offered Early Exposures, third-year medical student core rotations, elective placements for fourth-year medical students and electives for international medical students for over 30 years. The program has introduced many physicians to the strengths of Indigenous communities and has simulated an enduring interest in northern and remote medicine in many of the participants.
Ongomiizwin – Health opportunities
Medical students are placed in First Nations communities that have health care facilities consisting of nursing stations, health centres, hospitals or both. The student will have the opportunity to contribute, learn and become involved in comprehensive health care in a northern First Nation community and to learn about health care issues from a cross culture and community perspective.
Ongomiizwin – Research opportunities
Contact us
Ongomiizwin – Indigenous Institute of Health and Healing
Rady Faculty of Health Sciences
P122 Pathology Building
770 Bannatyne Ave
University of Manitoba
Winnipeg, MB R3W 0W3