Clinical Learning and Simulation Program
Our simulation program utilizes task trainers, standardized patients, immersive manikin-based scenarios, and combinations of these approaches to recreate clinical events. These are conducted on site in our simulation lab or skills lab, and in-situ in clinical environments across the Winnipeg Regional Health Authority.
Facilities
Clinical Learning and Simulation Facility (CLSF)
The CLSF is one of Canada's most comprehensive simulation teaching facilities in a state-of-the-art facility covering more than 11,000 square feet.
About the CLSF
The Clinical Learning and Simulation Facility (CLSF) is one of Canada's most comprehensive simulation teaching facilities in a state-of-the-art facility; covering more than 11,000 square feet.
Like a hospital, all of the CLSF's 14 multipurpose examination rooms are equipped with a diagnostic headwall featuring blood pressure cuffs, otoscope, and thermometer. Medical gas columns, heart-rate monitors, intravenous carts and all other equipment required in the course of real clinical care is stocked and available.
Each room is also equipped with high-fidelity video cameras with real-time playback capability to facilitate evaluations and debriefing - central to the simulation teaching style.
The "patients," – two adults, a birthing mother, an infant and a child – are all anatomically correct robotic manikins who can breathe, have pulses and reflexes. Our clinical education specialist and our simulation technicians are skilled and ready to assist instructors with design and setup to obtain the best possible results for their simulation-based teaching.
Contact clsf@umanitoba.ca to view the CLSP Governance Operations Manual.
About the skills lab
The skills lab is designed to train students in technical and procedural skills through the use of biological and synthetic models, ranging from simple task trainers to more advanced surgical stations.
Biosafety guidelines for the skills lab
The skills lab is classified by  workplace health and safety legislation as  a containment level 2 lab.
At all times, regardless of  the presence of biohazardous material, the following rules must be observed:
NO FOOD OR DRINK is allowed in the lab at any time
The door to the lab is to stay closed
No outer wear (coats, jackets, etc.), purses or bags allowed in the lab at any time 
Wash your hands upon exiting the lab
There are lockers that require a quarter (25 cents) outside the lab. The quarter is returned when the key is put back into the locker. Or, your bags and jackets can be placed on the table outside the lab.
When biohazardous material is present:
Closed toe shoes are to be worn
Long hair (shoulder length) must be tied back
Proper Personal Protective Equipment (PPE) will be supplied for your session if required (i.e. gowns, gloves, masks)
PPE must be removed before exiting the lab. Your own lab coats should be left outside the lab and used for clean wear
Equipment
The Clinical Learning and Simulation Program (CLSP) provides a wide range of trainers, hospital supplies and other equipment to create a high-quality simulation-based education event.
When booking activities, please indicate specifically which resources you wish to have available. A full list of materials is available in our equipment catalogue.
If you would like to recommend equipment to expand our current inventory, fill out the equipment purchase request form.
Annual planning cycle for 2024-2025 academic year
The Clinical Learning Simulation Program is accepting booking and resource requests for dates occurring after August 1, 2024.
In order to ensure all requests are treated and approved in a fair and equitable manner the schedule of deadlines is detailed below. Bookings will then be prioritized, conflicts identified, resolved, and/or adjudicated and confirmations sent by email.
Deadlines:
For sessions between August 1, 2024 – July 31, 2025
Submit booking requests by March 1, 2024
Confirmations will be sent out in April 2024
Session organizers may submit requests after the above deadline, however, the session may be given a lower priority than the bookings received before the deadline and will be accommodated subject to resource availability.
All booking requests must be submitted using our online form available below under 'available rooms'.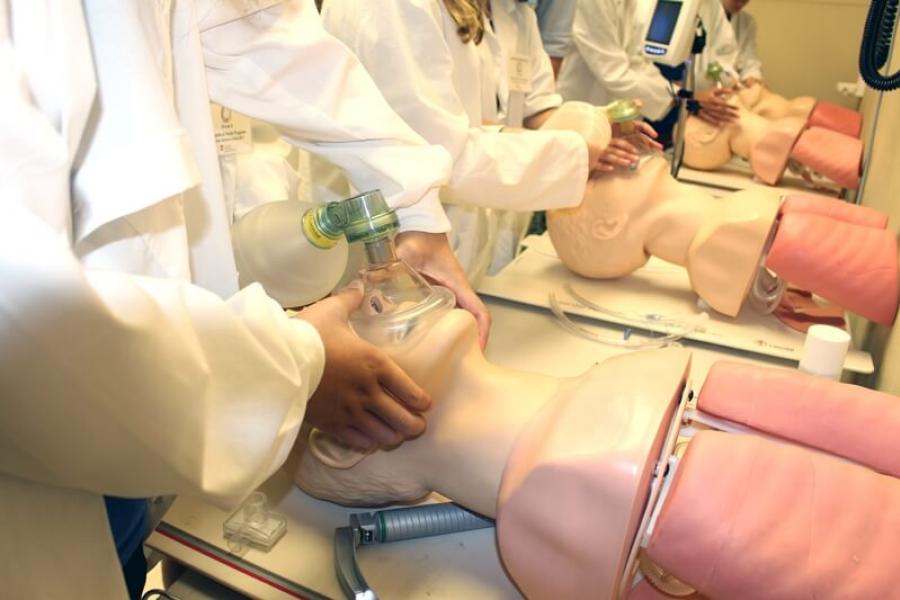 Available rooms
| | | | | |
| --- | --- | --- | --- | --- |
| Room | Capacity | Equipment | Room # | Building |
| Exam rooms | 6-7 | Hi-lo treatment table (electric, with wheels), small table | 1, 2 3, 4 | Lower level, Brodie Centre |
| Exam rooms with obs/gyn exam table | 6-7 | Obs/gyn examination table (electric, stationary), small table | 5, 6, 7, 8 | Lower level, Brodie Centre |
| Hi-fidelity simulation room | 12 | Pediatric / obstetrical manikin | 9 | Lower level, Brodie Centre |
| Hi-fidelity simulation rooms | 12 | Adult manikin | 10, 11 | Lower level, Brodie Centre |
| Large rooms | 16-18 | Hospital bed, large table | 12, 13, 14 | Lower level, Brodie Centre |
| Small group learning rooms and Central learning area | 6-12 |   | 205 A-H | Second floor, Brodie Centre |
| Clinical and procedural skills lab | 45 | 18 two-person tables inside a large wet lab | 211 | Basic Medical Sciences Building |
Standardized patient program
Standardized patients are laypeople specifically trained to portray a wide range of symptoms and medical conditions. They assist in both teaching and examination situations to help faculty assess students' clinical exam and communication/interpersonal skills across the health sciences.
Standardized patients
Standardized patients reflect the diversity of our community, with a wide range ethnicities, ages, income groups, etc.
All that is required to become a standardized patient is an interest in acting or role-playing and a willingness to learn and teach.
To become a standardized patient, complete the application form located in the forms and guidelines section below.
Once we receive your completed application, your information will be added to our applicant pool. If a suitable role comes up you may be contacted for an initial interview.
Sensitive exam teaching associates
Sensitive exam teaching associates are laypeople that trained specifically for:
Sensitive Exam Teaching Associates (SETAs)
Clinical Teaching Associates (CTAs) teach pelvic and/or breast exams
Male Urogenital Teach Associates (MUTAs) teach genital / rectal exams
What to expect
All standardized patients receive training, which usually takes place in the evenings one to two weeks in advance of the date the role is required. The more complex the role, the more training is required.
Typically, standardized patients are asked to learn a fictitious person's background, or medical history. Sometimes you need to be able to reproduce the symptoms that would accompany that medical history, but not always: the roles all have varying degrees of complexity. Some roles also require careful written or verbal feedback from you regarding how well a candidate may (or may not) have done.
It is important to know that you would never have to do anything that made you uncomfortable. The roles are all fairly straightforward and no more invasive than a basic check-up at your family doctor.
Book a standardized patient
To book a standardized patient, submit a request here.
Please familiarize yourself with the polices and expectations regarding the booking, scheduling and cancellation of Standardized Patients. The policy, titled Utilization of standardized patients resources, bookings, cancellations, can be found here. 
Contact us
Clinical Learning and Simulation Program (CLSP)
Brodie Centre, 727 McDermot Avenue
University of Manitoba
Winnipeg, MB R3T 2N2 Canada
Hours of operation are Mon-Fri, 8am to 4pm