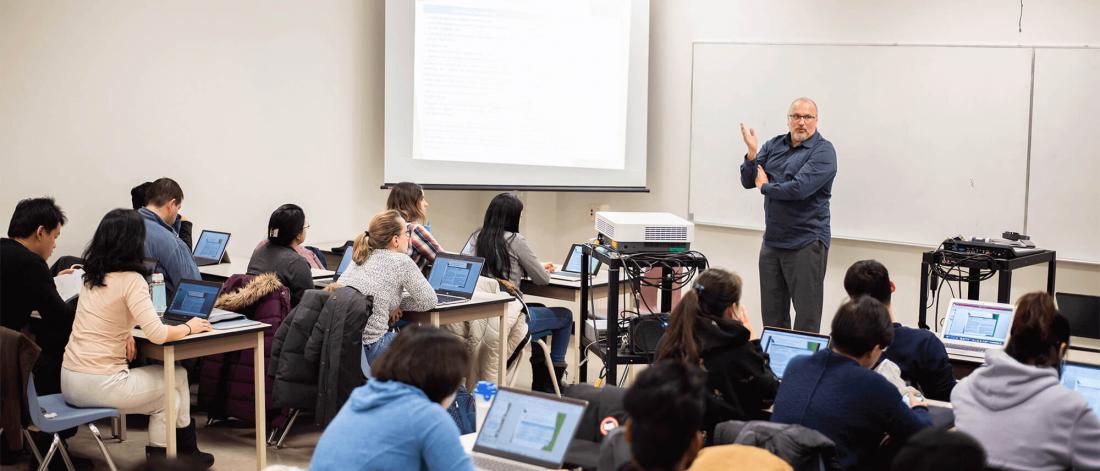 Program details
This program is for international residents. Information for Canadian citizens and permanent residents who wish to study Management and Administration can be found at Management and Administration.
Credential: Earn a University of Manitoba Certificate in Management and Administration.
Additional credential: University of Manitoba Letter of Accomplishment in Career Preparation
Add the international designation, Certified in Management (CIM) through CIM/Chartered Managers Canada with a simple application, online test, and membership.
Fees: $14,800 plus $300 application fee and approximately $2,000 for health insurance and textbooks. Fees subject to change.
Effective September 2023: $16,280 plus $300 application fee and approximately $2,000 for health insurance and textbooks. All fees are in Canadian dollars. Fees subject to change. 
Expected duration: 12 months, full-time, with UM credentials completed in the first 10 months over three consecutive academic terms, industry experience or industry placement completed in the last two months, and academic program supports embedded throughout.
Entrance requirements: An undergraduate degree and a minimum of one year of full-time demonstrated professional work experience will be given preference. A minimum of a two-year post-secondary credential from a recognized institution with a minimum of six months of full-time demonstrated work experience may be considered. Candidates with a minimum of one year of full-time work experience will be given preference. Students must have an approved or valid Canadian study permit before starting their program of study.
Language proficiency entrance requirement: A minimum of a 6.5 Academic IELTS or equivalent is required. For the Fall 2022 term and beyond, a minimum of a 6.5 Academic IELTS with no component score less than 6.0 or equivalent is required. See the complete list of English language proficiency requirements.
Conditional acceptance:  Applicants to UM Extended Education may be accepted into the intensive program packages on the condition that they complete Level 5 of the English Language Centre's Intensive Academic English Program first. Those who do not meet English Language Proficiency requirements (IETLS (academic) 6.5 overall) and have at least an IETLS of 5.5 or equivalent, could apply as conditional admission students. Conditional pathway students who successfully complete the Academic English Program for University and College Entrance (AEPUCE)/Level 5 of the Intensive Academic English (IAEP) at the English language Centre (ELC), meet the English language proficiency requirements for the intensive program packages. See English Language Centre's Intensive Academic English Program/AEPUCE
Health insurance requirement: If you are an international student with Extended Education at the University of Manitoba, enrollment in the Manitoba International Student Insurance Plan (MISHP) is mandatory. While you are registered in an intensive program package, MISHP is mandatory whether you are in Canada or not.
Program courses
As an Applied Business Management student, enrollment in your courses will be done for you upon acceptance into the program.
Certificate in Management and Administration courses
Course number
Course name
MGMT 0130
Canadian Business Law
This course provides an overview of Canadian business law and a basic understanding of general terminology with respect to the nature and origins of law, law of torts and contracts, business regulation, forms of ownership, and recent developments in law relevant to businesses. On successfully completing this course, students will understand the various types of contracts, their use, and special requirements.
MGMT 0150
Project Management
This course is designed to equip and empower you to successfully take on projects. It will teach you the key principles needed to plan, organize and execute projects. You will learn the terminology, tools and techniques used in project management and understand how to balance the competing project constraints- scope, time, cost and quality throughout the entire project life cycle. You will learn the key competencies and skills needed to manage the team, build trust, resolve conflicts and drive high performance on your projects. This course is a good starting point for those aspiring to become successful project managers within their organizations or those who want to be able to manage their individual and personal projects using a standardized process that will boost their chances of success. In addition to receiving an overview of key concepts from the Project Management Institute's A Guide to the Project Management Body of Knowledge (PMBOK Guide), this course is designed to build your confidence and raise your chances of passing the PMP Exam.
MGMT 0100
Canadian Business: An Introduction
This course will introduce you to contemporary business management in the Canadian context. You will examine the management functions of planning, organizing, directing and controlling. You will gain an understanding of the business functions of personnel, marketing, production and finance. You will also learn basic business management concepts through class interaction. On completion, you will be aware of the fundamentals of today's managerial world, and able to discuss current issues challenging Canadian business.
FINC 0200
Introductory Accounting for Business
This introductory accounting course is designed to help students develop an understanding of how accounting information is prepared and used. This course covers key financial and management accounting topics, including an introduction to the accounting and financial reporting process, analysis of balance sheets and income statements, a study of cost behavior and estimation techniques, and the budgeting process.
FINC 0300
Financial Management
Financial Management is designed to provide a broad overview of corporate finance and the capital markets. This course will provide an introduction to managerial finance, demonstrate how it relates to other functions of the organization, and describe the role of finance in achieving organizational objectives. The main focus of this course will be on tools for managerial decision making, which will include topics, such as financial statement analysis, management of working capital, capital budgeting, short-term and long-term funding and cost of capital. Prerequisite: a grade of no less than C in FINC 0200.
MGMT 0120
Managerial Communication
Success in business depends heavily on one's ability to communicate efficiently and effectively. In this course, students will learn key managerial communication strategies and effective skills and practice both written and oral business communication, such as letters, emails, reports, and business presentations. Other topics included are social media and blog writing; effective listening, speaking, and etiquette skills in meetings and team settings; proper grammar and punctuation use; and using a writing process.
MGMT 0110
Organizational Behaviour
Organizational behaviour is the study of how people behave within the context of a specific organization. Through analysis of organizational structure and systems, ways of optimizing performance can be identified. In this course, you will examine what motivates people to behave the way they do, including what factors influence your own behaviour. By assessing the root causes of employee behaviour, you can improve productivity, engagement, and commitment. This course will include the application of organizational behaviour to shape employee behaviour through feedback, reward systems, and operant conditioning.
MGMT 0400
Strategic Analysis
Students will apply their skills and knowledge to multi-dimensional case problems. Through case analysis, online discussion, and a group project, students will learn and utilize strategic analysis decision-making tools and processes. The decision-making tools and processes require a disciplined approach to identifying a strategy based on internal and external environments, resources, and other issues. Students will synthesize these issues and apply the decision-making tools to develop strategies and management action plans.
Hours: 288
Letter of Accomplishment in Career Preparation courses
Course number
Course name
CONV 0208
Pronunciation Clinic
This workshop helps students speak more clearly as well as develop an awareness of their own strengths and weaknesses. Students are able to improve their pronunciation through a variety of authentic speaking tasks. The various components of good pronunciation, including linking, intonation, word stress patterns, and focus words, are introduced, and examined. Students will see improvement in both their overall comprehension and comprehensibility.
MGMT 0134
Powerful Business Writing
Powerful business writing is a key aspect of business communication, and professionals who can write clearly and effectively are highly valued in the business world. This Workshop introduces students to common types of business correspondence, including emails, memos, formal letters, and reports. Students will study the formulae often used in business writing, examine examples of good writing and gain practical experience writing for a variety of purposes.
MGMT 0142
Effective Presentation Skills
A key soft skill in the Canadian workplace is the ability to give effective and engaging presentations. This workshop helps students hone their presentation skills and develop the confidence necessary for successful public speaking tasks. Students learn how to present ideas, communicate messages, and use voice, gestures, and body language more effectively within a business context.
MGMT 0136
Networking 101
This workshop develops students' understanding of what networking entails in a Canadian context and its importance as a professional tool for career success. Students will study and apply the interpersonal skills and strategies commonly used by effective communicators/socializers in everyday networking situations. In doing so, students will be exposed to language that is reflective of authentic conversation in terms of cultural politeness and appropriateness within the Canadian workplace context.
MGMT 0138
Intercultural Communication
This workshop introduces students to the practice of intercultural business communication. Students learn about barriers to intercultural communication and explore strategies for dealing with cultural differences in a workplace context. This workshop encourages students to explore their own cultural biases and better recognize, acknowledge, and respect the role that culture plays in the workplace. Students will have opportunities to reflect on and share their own experiences with intercultural miscommunication, especially within a business context.
MGMT 0132
The Canadian Workplace
Building soft skills is essential to a successful career in Canada. This workshop provides an introduction to the Canadian workplace, focusing on the unwritten workplace rules. Students will have opportunities to explore and discuss expectations common to Canadian employers, thus raising their awareness and understanding of the Canadian workplace. Topics covered include communication, time management, teamwork, feedback, hierarchy, risk tolerance, problem solving and decision making. Students will examine case studies and reflect on their own experiences, biases, and personal expectations with regards to being employed in Canada.
Hours: 96
Language Support
| Course number | Course name | Hours |
| --- | --- | --- |
| ELSO 0194 | Academic Language Support | 18 |
Industry Placement or Experience
Choose one.
Course number
Course name
Hours
ELSO 0800
Industry Placement
Placement eligibility determined by resume, professional goals and performance in the program.
175
ELSO 0750
Preparatory Industry Experience Course
24
The Certificate in Management and Administration (CIMA) is accredited by the National Centre for Management Accreditation (NCMA), through the Canadian Institute of Management (CIM). This national accreditation puts CIMA graduates on an accelerated track to qualifying for the CIM designation, which provides access to numerous management networking opportunities, professional workshops, conferences, job opportunities and an invaluable connection to the local chapter in Manitoba.
The Management and Administration program is accredited by CPHR Manitoba. CPHR Manitoba members earn CPHR Continued Professional Development hours for completing courses in this program. Documentation to confirm hours earned is provided by UM Extended Education upon successful completion of each course.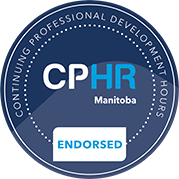 Keep learning. Apply this certificate towards a Bachelor of Arts Integrated Studies degree.
PDF for saving or printing
Technology requirements
For some sections offered online synchronous, you will require internet connection and a computer equipped with a microphone and camera. Smart phones/tablets will not be sufficient for examinations.
Post-graduate work permit
How to apply
Upcoming intakes
| Intake | Open date |
| --- | --- |
| September 2023 | Closed |
| January 2024 | Closed |
| May 2024 | Closed |
| August 2024 | December 11, 2023 |
What to include with your application form
Translated copy of your academic transcript. Photocopies are accepted for applications however originals are required upon arrival. Transcripts become the property of University of Manitoba and will not be returned.

Proof of graduation (official degree or post-secondary credential)

A copy of your passport (No longer required starting with the January 2024 intake)

Translated copy of your resume or curriculum vitae

Letter of reference from an employer

Proof of English language proficiency if not from an English exempt country. (i.e. IELTS, TOFEL pBT, TOFEL iBT, CLB, TOEIL)

$300 Application Fee OR $475 Conditional Acceptance Application Fee

Students working with an authorized recruitment agent must also include a completed Extended Education Consent to Release Student Information Form.
What happens after you apply
Once your application and payment have been processed, your application will be submitted to the admissions officer for approval. The student advisor will contact you to indicate whether your application has been approved or denied or to let you know if any further documentation is required. Your application will be reviewed and assessed within 5 to 10 business days. If you meet the eligibility criteria and if seats are available, you will be offered admission to the programming you applied for.
Tuition payments and reserving your seat
To reserve your seat, you must make a non-refundable $2,000 tuition deposit within three weeks of receiving your admission offer. Upon receipt of your payment, we will issue a Letter of Acceptance to you. If your tuition deposit is not received, your admission offer will expire.
One month prior to your start date, the remainder of the tuition must be paid to the university. The health insurance fees are also due.
Effective with the January 2024 intake: Tuition balance and health insurance fees are due two months prior to the program start date. 
Deferrals of admission are only considered on a case-by-case basis for compelling circumstances and must be approved by Extended Education. If approved, the deferral will be granted for the following term. For the full deferral policy and process, please visit the Policies and procedures page. 
Refund policy
The application fee and the $2,000 tuition deposit payable at the time of admission are non-refundable and non-transferrable. The remainder of the tuition and health insurance fees are fully refundable if you decide to withdraw before the start of your program package. There is no refund of tuition fees after the program package start date. 
Effective with the January 2024 intake: The withdrawal deadline is two weeks prior to the program start date. You must notify extended@umanitoba.ca or the Admissions Officer of your decision to withdraw no less than two weeks prior to the start of the program to be eligible for a refund of your tuition and health insurance fees (minus the non-refundable tuition deposit and the application fee). Tuition fees will not be refunded if notification of withdrawal is received less than two weeks before the start of the program. 
Learn more about the program
Nicole Barnabe
Intensive program packages, Instructor

Frank Nowak
Accounting, Instructor
Minghe Zhu
Applied Business Management Grad

Estephania Guzman
Applied Business Management Grad

Jatinder Kuman Dhiman
Applied Business Management Grad
Applied Business Management complements the MBA. This program is very Canadian-focused. It's a very good review of what I learned in my MBA, in English, with a Canadian perspective.
Andrea Salas
Applied Business Management Grad
Our location
Live, learn and work in the heart of North America in Winnipeg, Manitoba, Canada. The University of Manitoba is Western Canada's oldest university and it welcomes many international students. In the province of Manitoba, enjoy the colourful beauty of four distinct seasons with a variety of activities and recreation options to explore.
You may also be interested in
Contact us
Extended Education
185 Extended Education Complex
University of Manitoba (Fort Garry campus)
Winnipeg, MB R3T 2N2 Canada
204-474-8800
Toll free: 1-888-216-7011