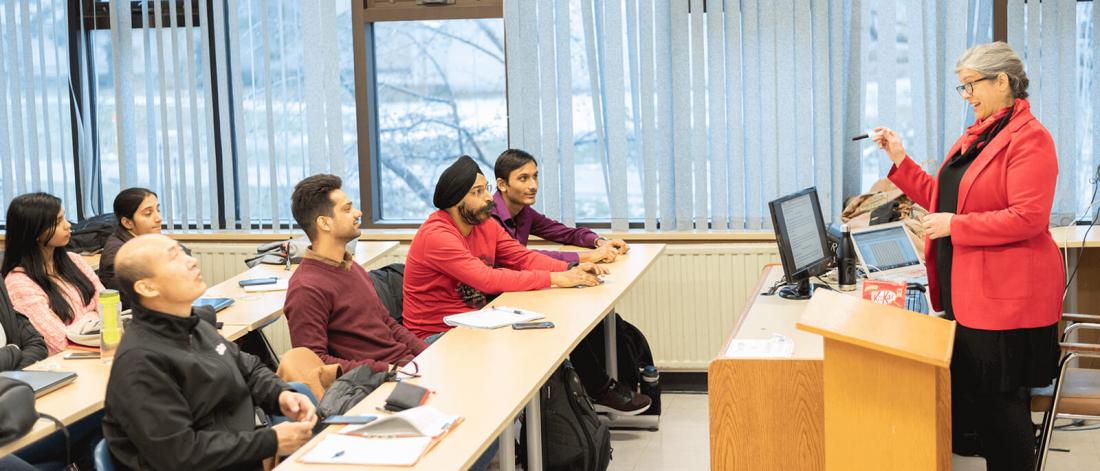 Program details
This program is for international residents. Information for Canadian citizens and permanent residents who wish to study Human Resource Management can be found at Human Resource Management.
Credential: Earn a University of Manitoba Certificate in Human Resource Management.
Additional credential: University of Manitoba Letter of Accomplishment in Career Preparation.
Prepare for CPHR certification. Graduates may be able to waive writing the National Knowledge Exam for CPHR accreditation to earn their Chartered Professional in Human Resources (CPHR) designation - the leading standard for HR professionals in Canada.
Fees: $14,800 plus $300 application fee and approximately $2,000 for health insurance and textbooks. Fees subject to change.
Effective September 2023: $16,280 plus $300 application fee, student fees of $565.83 and approximately $2,000 for health insurance and textbooks. All fees are in Canadian dollars. Fees subject to change. 
Expected duration: 12 months, full-time, with UM credentials completed in the first 10 months over three consecutive academic terms, industry experience or industry placement completed in the last two months, and academic program supports embedded throughout.
Entrance requirements: An undergraduate degree and a minimum of one year of full-time demonstrated professional work experience will be given preference. A minimum of a two-year post-secondary credential from a recognized institution with a minimum of six months of full-time demonstrated work experience may be considered. Candidates with a minimum of one year of full-time work experience will be given preference. Students must have an approved or valid Canadian study permit before starting their program of study.
Language proficiency entrance requirement: A minimum of a 6.5 Academic IELTS or equivalent is required. For the Fall 2022 term and beyond, a minimum of a 6.5 Academic IELTS with no component score less than 6.0 or equivalent is required. See the complete list of English language proficiency requirements.
Conditional acceptance:  Applicants to UM Extended Education may be accepted into the intensive program packages on the condition that they complete Level 5 of the English Language Centre's Intensive Academic English Program first. Those who do not meet English Language Proficiency requirements (IETLS (academic) 6.5 overall) and have at least an IETLS of 5.5 or equivalent, could apply as conditional admission students. Conditional pathway students who successfully complete the Academic English Program for University and College Entrance (AEPUCE)/Level 5 of the Intensive Academic English (IAEP) at the English language Centre (ELC), meet the English language proficiency requirements for the intensive program packages. See English Language Centre's Intensive Academic English Program/AEPUCE
Health insurance requirement: If you are an international student with Extended Education at the University of Manitoba, enrollment in the Manitoba International Student Insurance Plan (MISHP) is mandatory. While you are registered in an intensive program package, MISHP is mandatory whether you are in Canada or not.
Program courses
As an Applied Human Resource Management student, enrollment in your courses will be done for you upon acceptance into the program..
Certificate in Human Resource Management courses
Course number
Course name
HRM 0100
Managing the Human Resource Function
This course introduces the strategic management of the human resource functions within various types of organizations. While taking into account recent changes in the economic, social and legal environment, it examines the essential functions of recruitment, selection, performance management, training and development, health and safety, counselling, union/management relations and compensation.
HRM 0110
Human Resource Legislation
Provincial and some federal legislation regulating human resource management will be discussed. The course covers matters arising out of the Labour Relations Act, the Human Rights Code, the Employment Standards Act and related legislation, the Canadian Constitution, the Worker's Compensation Act, the Pay Equity Act and other related labour and human resource legislation.
HRM 0122
Recruitment and Selection
This course emphasizes the staffing function within the context of the human resource management role in organizations. We will consider the recruitment process both from the internal point of view as an employer and also from the external one as a potential candidate. Major topics include: staffing in the context of employment planning, work analysis and legislation, managing human resource acquisition from internal or external sources, recruitment methods, interviews, employment testing, and candidate selection.
HRM 0124
Workplace Health and Safety
For most organizations today, the health and safety of workers is paramount to a vibrant and effective workplace; thus, HR professionals must have a solid understanding of workplace health and safety issues, policies and legislation. This course provides students with the knowledge, skills, and practical application needed to develop and ensure compliance to modern health, safety and wellness policies and procedures. Topics include current legislation within Canada, workers compensation, hazards, risks and interventions, and wellness programs.
HRM 0128
Measuring Human Resource Efficiency and Effectiveness
Traditionally, one challenge facing the HR professional has been the measurement of the apparently intangible goals and performance of the HR department, due to the lack of adequate data. Today HR metrics provide a method of measuring the effectiveness and efficiency of the various functions of the HR department, thus resulting in a financially-accountable department. HR metrics quantify the cost and impact of employee programs and HR processes as well as measure the success (or failure) of HR initiatives. This course introduces students to HR metrics and measures, which include the concepts of cost per hire, yield ratio, turnover costs, training investment factor and revenue factor. This course will also address HR audits, HRIS design principles and reporting.
HRM 0126
Strategic Human Resource Planning
In pursuit of sustainable competitive advantage, human resources play an integral role in achieving the future direction of strategic business objectives. The human resource area not only guides and supports employees and managers through the process; they also filter change across all functions of the organization. Strategic human resource planning enhances organizational performance by providing a unified focus and communicating performance expectations to employees. In the current innovate or die business environment, maximizing performance helps businesses stay ahead of the competition.
HRM 0210
Total Compensation
In pursuit of sustainable competitive advantage, human resources play an integral role in achieving the future direction of strategic business objectives. The human resource area not only guides and supports employees and managers through the process; they also filter change across all functions of the organization. Strategic human resource planning enhances organizational performance by providing a unified focus and communicating performance expectations to employees. In the current innovate or die business environment, maximizing performance helps businesses stay ahead of the competition.
MGMT 0110
Organizational Behaviour
This course is designed to increase your understanding of human behaviour in the workplace. Topics include leadership, motivation, group dynamics and teamwork, problem solving, organization structure and change management.
MGMT 0202
Staff Training and Development
This course provides a broad foundation on how training can be used to improve employee performance, support career development, and attain organizational goals. Practical applications include conducting learning needs analysis, developing training strategies and plans, selecting training delivery methods, evaluating training outcomes, and supporting transfer of training to performance. This unit examines the strategic relationship between human resources development and organizational effectiveness, as well as future considerations for integrating learning media into training programs to meet the needs of the next generation of workers and leaders.
HRM 0202
Labour Relations
This course presents the theory and practice of labour relations in Canada; specifically, this course examines the employee relations framework within Canada including its legal, political, social, economic and ecological subsystems. Key topics include industrial relations, union-management relations, collective bargaining and labour economics. Special attention will be given to the strategies that managers can utilize in order to work effectively and fairly with employers and deal with difficult situations in both unionized and non-unionized environments. Throughout the course, students will explore and gain a better understanding of how key players act and interact.
HRM 0134
Ethics and Social Responsibility
In a world where tolerance is prioritized, business ethics and standards can hard to define, navigate, and apply to the HR context. This course helps students identify and understand current ethical issues as they pertain to business in general and the HR function in particular, including the concept of corporate social responsibility. Students will explore the drafting and implementing of employee codes and conduct, which cover issues, such as safeguarding employee confidentiality, accepting gifts, the protection of "whistle-blowers," conflicts of interest, and fair labour policies. Through the analysis of principles and theories of ethics, as well as ethical dilemmas faced in the workplace, students will be better prepared to examine current decision-making processes and HR practices in the workplace.
Hours: 288
Letter of Accomplishment in Career Preparation courses
Course number
Course name
CONV 0208
Pronunciation Clinic
This workshop helps students speak more clearly as well as develop an awareness of their own strengths and weaknesses. Students are able to improve their pronunciation through a variety of authentic speaking tasks. The various components of good pronunciation, including linking, intonation, word stress patterns, and focus words, are introduced, and examined. Students will see improvement in both their overall comprehension and comprehensibility.
MGMT 0134
Powerful Business Writing
Powerful business writing is a key aspect of business communication, and professionals who can write clearly and effectively are highly valued in the business world. This Workshop introduces students to common types of business correspondence, including emails, memos, formal letters, and reports. Students will study the formulae often used in business writing, examine examples of good writing and gain practical experience writing for a variety of purposes.
MGMT 0142
Effective Presentation Skills
A key soft skill in the Canadian workplace is the ability to give effective and engaging presentations. This workshop helps students hone their presentation skills and develop the confidence necessary for successful public speaking tasks. Students learn how to present ideas, communicate messages, and use voice, gestures, and body language more effectively within a business context.
MGMT 0136
Networking 101
This workshop develops students' understanding of what networking entails in a Canadian context and its importance as a professional tool for career success. Students will study and apply the interpersonal skills and strategies commonly used by effective communicators/socializers in everyday networking situations. In doing so, students will be exposed to language that is reflective of authentic conversation in terms of cultural politeness and appropriateness within the Canadian workplace context.
MGMT 0138
Intercultural Communication
This workshop introduces students to the practice of intercultural business communication. Students learn about barriers to intercultural communication and explore strategies for dealing with cultural differences in a workplace context. This workshop encourages students to explore their own cultural biases and better recognize, acknowledge, and respect the role that culture plays in the workplace. Students will have opportunities to reflect on and share their own experiences with intercultural miscommunication, especially within a business context.
MGMT 0132
The Canadian Workplace
Building soft skills is essential to a successful career in Canada. This workshop provides an introduction to the Canadian workplace, focusing on the unwritten workplace rules. Students will have opportunities to explore and discuss expectations common to Canadian employers, thus raising their awareness and understanding of the Canadian workplace. Topics covered include communication, time management, teamwork, feedback, hierarchy, risk tolerance, problem solving and decision making. Students will examine case studies and reflect on their own experiences, biases, and personal expectations with regards to being employed in Canada.
Hours: 96
Language Support
| Course number | Course name | Hours |
| --- | --- | --- |
| ELSO 0194 | Academic Language Support | 18 |
Industry Placement or Experience
Choose one.
Course number
Course name
Hours
ELSO 0800
Industry Placement
Placement eligibility determined by resume, professional goals and performance in the program.
175
ELSO 0750
Preparatory Industry Experience Course
24
The Applied Human Resource Management program is accredited by CPHR Manitoba. CPHR Manitoba members earn CPHR Continued Professional Development hours for completing courses in this program. Documentation to confirm hours earned is provided by UM Extended Education upon successful completion of each course.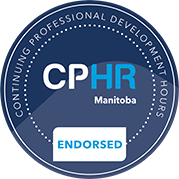 Keep learning. Apply this certificate towards a Bachelor of Arts Integrated Studies degree.
PDF for saving or printing
Technology requirements
For some sections offered online synchronous, you will require internet connection and a computer equipped with a microphone and camera. Smart phones/tablets will not be sufficient for examinations.
Post-graduate work permit
How to apply
Upcoming intakes
| | |
| --- | --- |
| May 2023 | Closed |
| September 2023 | Open |
What to include with your application form
Translated copy of your academic transcript. Photocopies are accepted for applications however originals are required upon arrival. Transcripts become the property of University of Manitoba and will not be returned.

Proof of graduation (official degree or post-secondary credential)

A copy of your passport

Translated copy of your resume or curriculum vitae

Letter of reference from an employer

Proof of English language proficiency if not from an English exempt country. (i.e. IELTS, TOFEL pBT, TOFEL iBT, CLB, TOEIL)

$300 Application Fee OR $475 Conditional Acceptance Application Fee

Students working with an authorized recruitment agent must also include a completed Extended Education Consent to Release Student Information Form.
What happens after you apply
Once your application and payment have been processed, your application will be submitted to the admissions officer for approval. The student advisor will contact you to indicate whether your application has been approved or denied or to let you know if any further documentation is required. Your application will be reviewed and assessed within 5 to 10 business days. If you meet the eligibility criteria and if seats are available, you will be offered admission to the programming you applied for.
Tuition payments and reserving your seat
To reserve your seat, you must make a non-refundable $2,000 tuition deposit within three weeks of receiving your admission offer. Upon receipt of your payment, we will issue a Letter of Acceptance to you. If your tuition deposit is not received, your admission offer will expire.
One month prior to your start date, the remainder of the tuition must be paid to the university. The health insurance fees are also due.
If the payment deadline is approaching and you have not heard back regarding the status of your study permit, you can request a deferral to the following intake.  Approval of a deferral request is not guaranteed and is based on seat availability in the following intake.
Refund policy
The application fee and the $2,000 tuition deposit payable at the time of admission are non-refundable and non-transferrable. The remainder of the tuition and health insurance fees are fully refundable if you decide to withdraw before the start of your program package. There is no refund of tuition fees after the program package start date. 
Save PDF to your computer before filling out the form.

Submit completed application form and all required documents to extended@umanitoba.ca or return to Student Services at 185 Extended Education Complex, University of Manitoba, Winnipeg, MB R3T 2N2.
Learn more about the program
Lisa Rosin
Applied Human Resource Management, Instructor
Avelia Stewart
Applied Human Resource Management, Grad

Francisco Bastidas
Applied Human Resource Management, Grad

Amanjot Kaur Virk
Applied Human Resource Management, Grad

Ying Lyu
Applied Human Resource Management, Grad
My experience in Applied Human Resource Management was better than I could ever have imagined. I met some great instructors and classmates. I learned more about Canada, improved my English language skills, and became a stronger candidate for HR-related positions.
Jingbing Wu
Applied Human Resources Management grad
Our location
Live, learn and work in the heart of North America in Winnipeg, Manitoba, Canada. The University of Manitoba is Western Canada's oldest university and it welcomes many international students. In the province of Manitoba, enjoy the colourful beauty of four distinct seasons with a variety of activities and recreation options to explore.
You may also be interested in
Contact us
Extended Education
185 Extended Education Complex
University of Manitoba (Fort Garry campus)
Winnipeg, MB R3T 2N2 Canada
204-474-8800
Toll free: 1-888-216-7011 ext. 8800