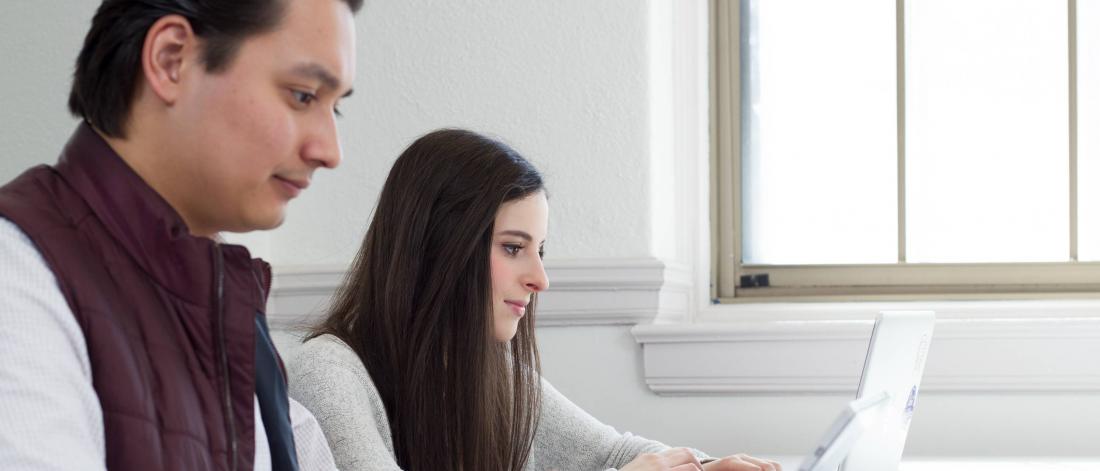 Study with us
Students in the Doctor of Philosophy (PhD) in Religion will develop a higher degree of specialization and advanced training in research and application.
The study of religion aims to understand religious thought and practices as aspects of the culture and society that produced them. It offers an opportunity to explore beliefs and ideas, philosophies and mythologies, rituals and symbols, etc., that shape the cultures and civilizations of the world both in historical perspective and as contemporary phenomena. In the process of this exploration, our program teaches students to think critically about how religion has shaped the way individuals understand themselves, their communities, and the world around them and sensitizes students to the variety of traditions, commitments, and cultures which exist in our world, both globally and locally. It also provides an environment for students to thoughtfully reflect upon their own religious traditions and experiences as well as to think about issues and problems of modern life from a variety of perspectives.
Program details
The Department of Religion offers a program of study leading to a PhD in Religion.
Expected duration: 4 years
The PhD program consists of a combination of coursework and a thesis component.
Tuition and fees: two years tuition, then continuing fees in subsequent years (refer to Graduate tuition and fees)
In addition to the minimum course requirements of the Faculty of Graduate Studies, found in the Graduate Studies Regulations Section of the Academic Calendar, students must:
Complete a minimum of 18 credit hours of coursework at the 7000 level
Demonstrate competence in two research languages relevant to the proposed doctoral thesis
Pass a candidacy examination
Demonstrate competence in completing thesis research and pass an oral examination relating to the thesis subject
Sample course offerings
RLGN 7080: Seminar in Research Methods and Theory (3 credit hours)
RLGN 7180: Seminar in Early Modern, Modern and Contemporary Christianity (3 credit hours)
RLGN 7190: Seminar in Religion and Philosophy (3 credit hours)
RLGN 7200: Seminar in Religion and Psychology (3 credit hours)
RLGN 8260: Seminar in Hinduism (3 credit hours)
RLGN 8280: Seminar in Islam (3 credit hours)
RLGN 8290: Seminar in Buddhism (3 credit hours)
RLGN 8310: Seminar in Judaism (3 credit hours)
For full course descriptions, please visit the Academic Calendar.
Admission requirements
The following are minimum requirements to be considered for entry into the program. Meeting these requirements does not guarantee acceptance into the program.
Admission decisions are based on the qualifications of the applicant as well as the ability of the Department of Religion and the University of Manitoba to serve the applicant's intended program of study and area of specialization.
How to apply
Application deadlines
Applications are reviewed on a committee basis. The Admissions committee for Religion reviews applications in February/March.
Applications open up to 18 months prior to start term.
Canadian/US/International applicants

| Term | Annual application deadline |
| --- | --- |
| Fall (September) | January 15 |
Applicants must submit their online application with supporting documentation and application fee by the deadline date indicated.
Contact us
Admission and application inquiries
Faculty of Graduate Studies
Room 500 UMSU University Centre
65 Chancellors Circle
University of Manitoba (Fort Garry campus)
Winnipeg, MB R3T 2N2 Canada
graduate.admissions@umanitoba.ca
Phone: 204-474-9377
Monday to Friday
8:30 a.m. to 4:30 p.m.
Program inquiries
Department of Religion, Faculty of Arts
328 Fletcher Argue Building
University of Manitoba (Fort Garry campus)
Winnipeg, MB R3T 2N2
religion@umanitoba.ca
Phone: 204-474-9516
Fax: 204-474-7601