Centre for Social Science Research and Policy
The Centre for Social Science Research and Policy (CSRRP) serves as a focal point for research methodologies and policy-related activities in the social sciences. CSSRP offers expert research services and provides training and professional development in a variety of social science methodologies and approaches, including research design, data collection, modelling, analysis, knowledge translation and more.
Upcoming events
An Introduction to Statistical Literacy - Workshop
From politics to sports to class assignments, we come across statistics every day. Join us to learn more about how statistics are collected and measured, and how we can make sense about what they mean. Using current, real world examples, grow your confidence when dealing with statistics from your favourite sports team, at the office or in the classroom.
The workshop is designed for both graduate and undergraduate students as well as faculty members or anyone who wants a fun, hands-on introduction to statistics and how they are used both in research and in everyday life.
Wednesday, September 28, 4:00 p.m. - 7:00 p.m.
Instructor: Steven Nuss, Public Health Agency of Canada and Janet Brown Opinion research
What we offer
The CSSRP offers training and learning opportunities for undergraduate and graduate students, post-doctoral fellows, faculty and staff, the community and professional organizations. The Centre also provides expert research support services and sponsors speakers series designed to break down disciplinary silos and mobilize social science research to the wider community.
For more information on any of our offerings, or to be added to our mailing list, please email us at cssrp@lists.umanitoba.ca.
Who we are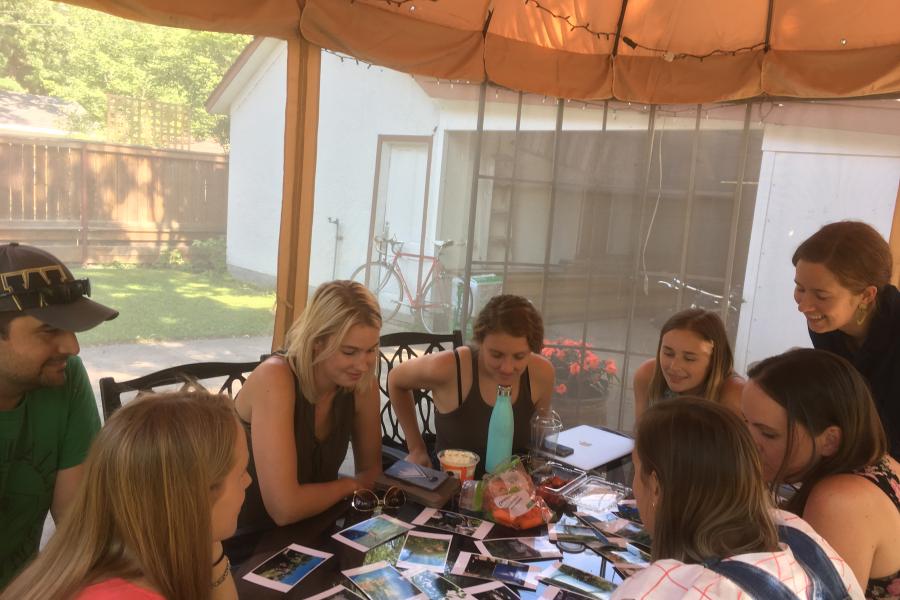 Academic Director
Dr. Royce Koop
Political Studies
The position is held by a full-time faculty member with an established reputation in social science research methodology and policy development. The Academic Director is appointed by the Dean of the Faculty of Arts. The term of the Academic Director is normally five years, renewable. The roles and responsibilities of the Academic Director include, but are not limited to: overseeing all activities of the CSSRP; liaise with internal and external stakeholders; planning and budgeting of resources; coordinate with other administrators and leaders toward collaboration efforts especially in regard to training, professional development, and research initiatives; and develop educational courses/materials to meet Faculty curriculum goals.
Executive Director
Shayna Plaut
The Executive Director oversees the day-to-day operations of the CSSRP, including (but not limited to): training programs; paid research projects; and request for proposals/research grant applications. The Executive Director also works with groups/units (within the University as well as in the broader community) to create forums where researchers, students, and practitioners can apply evidence-based analysis to policy problems across many social domains.
Advisory board
The CSSRP Advisory Board provides consultations for the Academic Director on matters relating to the operation and governance of the CSSRP.
The board consists of nine faculty members appointed by the Dean of the Faculty of Arts. Board members normally serve three years.
The composition of the committee reflects the diversity of the social sciences in the Faculty of Arts, not just with respect to its departments and units, but also to its research methodologies and perspectives.
Dr. Kathleen Buddle
Anthropology
Dr. Laura Funk
Sociology and Criminology
Dr. Danielle Gaucher
Psychology
Dr. Jesse Hajer
Economics/Labour Studies
Dr. Steve Lecce
Political Studies
Dr. Veronica Loureiro-Rodriguez
Linguistics
Dr. Gregory Mason
Economics
Dr. Melanie Soderstrom
Psychology
Dr. Lori Wilkinson
Sociology and Criminology
Research and evaluation
Services for hire
Our staff and affiliates have extensive experience with a number of different methodologies and are able to assist in formative processes and outcome based analyses.
We provide methodological assistance to communities internal and external to UM with the objective of:
Improving the quality of program implementation
Promoting the collection and use of program impact data
Fostering proactive planning for long-term program sustainability
Examples of services include:
sample and instrument design
assisting with database creation
funding application
formative or program evaluation
data analysis in quantitative and qualitative analyses
Internal research affiliates
Jason Edgerton
Sociology and Criminology
Youth mental health; youth substance and behavioural additions; education and work; social determinants of health; quantitative research methods
Laura Funk
Sociology and Criminology
Aging and social determinants; paid and unpaid care work; death and dying; qualitative and interpretive methods
Jesse Hajer
Economics
Labour Studies
Social impact bonds; the political economy of social policy, privatization and financialization; the social economy and community economic development; the political economy of Manitoba
Verònica Rodriguez-Loureiro
Linguistics
Language contact; code-switching; Spanish as a heritage language; global hip hop
Kathrine Starzyk
Psychology
Reconcilization; solidarity; intergroup relations; collective action; personality; psychometrics
Roberta Woodgate
Sociology and Criminology
Psychology
College of Nursing
Addressing the needs and improving the well-being of underserved youth and their families undergoing challenging life events, including studies investigating the experiences and solutions for youth transitioning through vulnerable contexts. 
External affiliates
Sarah Cooper
Faculty of Architecture
Department of City Planning
Housing security and the policy structures that shape access to housing and housing security. Areas of interest: housing, social policy, community planning, Indigenous planning
Emme Pijl
College of Nursing
Clinical and social value of harm reduction programs for people engaging in problematic substance use. Social policy and perspectives on harm reduction for substance use disorders.
Rusty Souleymanov
Faculty of Social Work
Department Community Health Sciences
HIV/AIDS community-based research; queer and trans men's health; racial, ethnic, and cultural disparities and health; critical social work and public health
Kendra Nixon
Research and Education for Solutions to Violence and Abuse (RESOLVE)
Family violence; gender-based violence
Research affiliate FAQ
Can students become research affiliates?

At this time, students do not qualify to become research affiliates. Student fees for all training programs and workshops are already discounted. If students wish to access Qualtrics, they must be sponsored by a faculty member who is a Research Affiliate.


Can non-UM faculty become a research affiliate?

Yes! Non-UM faculty can become CSSRP research affiliates that are external to the University. External research affiliates, however, do not qualify for use of Qualtrics, but they enjoy all of the additional benefits of membership.


Can non-academic community members become research affiliates?

Yes and No. Organizations can become community affiliates, but individuals without an academic affiliation cannot become members. There is an annual fee for membership, which is based on a sliding scale depending on the size of organization and whether it is a not-for-profit or for-profit organization. Email cssrp@umanitoba.ca for more information.
Current projects
Principal Investigator: Dr. Laura Funk, Sociology and Criminology
Project: Dying at Home (SSHRC funded)
CSSRP Tasks: Survey instrument consultation; SPSS data analysis
Principal Investigator: Dr. Jesse Hajer, Economics, Labour Studies 
Project: Community-based training (SSHRC funded)
CSSRP Tasks: Workshop series
Principal Investigator: Dana Turcotte and Sarah Olsen, College of Pharmacy
Project: College of Pharmacy's Awareness of Indigenous Peoples and Topics Survey
CSSRP Tasks: SPSS data anaysis' qualitative data analysis; report writing
Principal Investigator: Jeff Leclerc, University Secretary
Project: UM Senate Assessment Survey
CSSRP Tasks: Survey instrument consultation; Qualtrics programming; SPSS data analysis; report writing
Become a CSSRP research affiliate
If you're interested in becoming a CSSRP research affiliate, please send your CV and a brief cover letter explaining why you would like to become an affiliate to cssrp@umanitoba.ca.
Research affiliate membership lasts one-year and is renewable with an annual request sent out each May.
Research affiliates enjoy many benefits, including discounts on all training programs and workshops.
Donations
CSSRP gratefully accepts donations from individuals, corporations and other organizations which help support its vision, goals and objectives. Donors will receive a receipt for income tax purposes.
In the 'Direct my gift to' field, choose 'Enter a fund name.' In the 'Enter a fund name' field, type 'CSSRP Support Fund.'
For more information on making a donation to CSSRP, please contact donor.relations@umanitoba.ca
Contact us
Centre for Social Science Research and Policy
201 Isbister Building
183 Dafoe Road
University of Manitoba
Winnipeg, MB R3T 2N2