Centre for Social Science Research and Policy
The Centre for Social Science Research and Policy (CSRRP) serves as a focal point for research methodologies and policy-related activities in the social sciences. CSSRP offers expert research services and provides training and professional development in a variety of social science methodologies and approaches, including research design, data collection, modelling, analysis, knowledge translation and more.
What we offer
The CSSRP offers training and learning opportunities for undergraduate and graduate students, post-doctoral fellows, faculty and staff, the community and professional organizations. The Centre also provides expert research support services and sponsors speakers series designed to break down disciplinary silos and mobilize social science research to the wider community.
For more information on any of our offerings, or to be added to our mailing list, please email us at cssrp@lists.umanitoba.ca.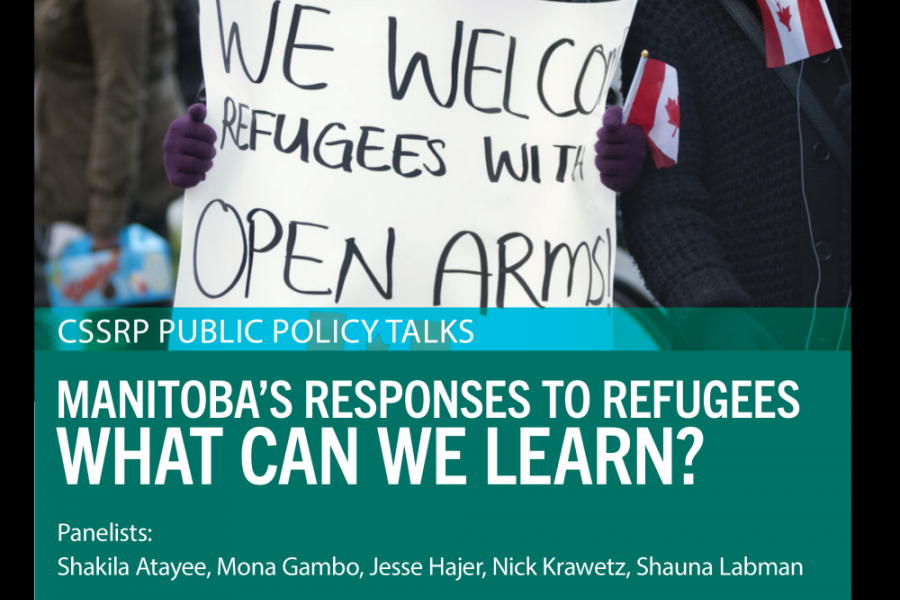 Manitoba's Responses to Refugees: What Can We Learn?
Panelists: Shauna Labman, Jesse Hajer, Nick Krawetz, Shakila Atayee, Mona Gambo
Thursday, February 9, 2023
7:30 p.m. - 9:00 p.m.
Aurora Family Therapy Centre Board Room
8th floor Rice Centre, 489 Portage Avenue
Light refreshments will be served.
It has been nearly 12 years since the beginning of the civil war in Syria, almost 18 months since the Taliban took over Afghanistan and nearly one year since the invasion of Ukraine by Russia. Behind these world headlines are people – people who are exercising their right to flee persecution and seek refuge. Many of these people have come to Manitoba.  Their arrival has been met with different responses from the government, civil society and diaspora community – and there is much we can learn.
Questions? Contact shayna.plaut@umanitoba.ca
Introduction to Qualtrics and Designing/Creating Surveys
Wednesday, March 8, 2023
10:00 a.m. – 12:00 p.m. CST via zoom 
This two-hour, online, workshop provides a practical introduction to the Qualtrics survey programming software. Participants will receive an orientation of the Qualtrics platform, including an overview of navigating the Qualtrics interface, steps in creating a survey, examples programming and formatting questions using the basic question types, structuring the survey, and a walkthrough of the steps involved in previewing a survey, launching it, and downloading data for analysis. 
 
While this workshop does not focus on creating or writing a survey in general, it does provide a clear, practical introduction to how you can use the Qualtrics tool to program a survey. Knowing what's possible using this survey instrument, you may be better prepared to plan questions and think through how you can collect survey data in a variety of interfaces. 
Note about obtaining the Qualtrics software
As a practical training, it can be important to have practice with the software. This workshop is largely demonstrative using screen sharing to show participants how to use the software. Participants are welcome to follow-along using their own Qualtrics accounts during the workshop. You can create your own free account (at https://www.qualtrics.com/) to use during the workshop, although free accounts have limited features; you will be able to get some practice with the software with a free account. If you are interested in a full license, please contact the Centre for Social Science Research and Policy directly. 
Save the dates for upcoming CSSRP events
April 2023
Public Policy Talk: What could Harm Reduction Look Like in Manitoba
May 2023
Workshop: Understanding and designing a Mixed Methods Research Design (May 17, 12:00 p.m. - 1:30 p.m.)
June 2023
Public Policy Talk: Indigenous and Newcomer Relations in Manitoba
Who we are
Executive Director
Dr. Shayna Plaut
Dr. Shayna Plaut's work sits at the intersection of academia, journalism and advocacy focusing on ethics, methods and self-representation in journalism and transnational advocacy. 
Shayna has extensive experience designing, leading, consulting and evaluating qualitative and mixed methods research projects globally and locally including but not limited to: Amnesty International, the Global Reporting Centre, the Canadian Centre for Policy Alternatives - MB and the Manitoba Non Profit Housing Association. Shayna has served as the Research Manager for Strangers at Home, a project of the Global Reporting Centre, which has won numerous journalistic and human rights awards, since 2014.
Since 2015 Shayna's scholarship and teaching has increasingly focused on research methods and ethics when engaging in social justice/human rights work. This includes teaching courses on Research Methods and Ethics at University of Manitoba, University of Winnipeg and Simon Fraser University. Since 2004, Shayna has developed and taught a large array of courses focused on the framing of social justice and human rights and including designing some of the first courses focused on the ethics and methods of human rights work in Canada. In addition, Shayna teaches courses on migration, qualitative research methods, social inequalities and human rights journalism.
Shayna received her PhD from the University of British Columbia, did her post-doc at Simon Fraser University, her MA from University of Chicago and is as proud Alum of Antioch College. Shayna is a frequent contributor to local, Canadian and international media.
Academic Director
Dr. Royce Koop
Political Studies
Dr. Royce Koop is a Professor in the Department of Political Studies and Coordinator of the Canadian Studies program. He joined CSSRP as Academic Director in 2021. Dr. Koop is a keen user of a range of methodologies in his research in Political Science, from participant observation, to interviews, to original surveys and statistical analysis. He also contributes to public discourse on policy issues in Manitoba and Canada through regular commentary in the media as well as analysis columns in the Winnipeg Free Press.
The position is held by a full-time faculty member with an established reputation in social science research methodology and policy development. The Academic Director is appointed by the Dean of the Faculty of Arts. The term of the Academic Director is normally five years, renewable. The roles and responsibilities of the Academic Director include, but are not limited to: overseeing all activities of the CSSRP; liaise with internal and external stakeholders; planning and budgeting of resources; coordinate with other administrators and leaders toward collaboration efforts especially in regard to training, professional development, and research initiatives; and develop educational courses/materials to meet Faculty curriculum goals.
Researchers
Steven Nuss, Quantitative Researcher
Holding a Master of Arts from Simon Fraser University, Steven Nuss (he/him) has experience and leadership in academia, strategic policy development, advocacy and government relations and strategic communications and stakeholder engagement. Steven's work focusses broadly on Canadian institutions, political behaviour and quantitative methodology including experience in a variety of statistical software. In addition to "crunching the numbers," he also has a keen ability to have them make sense to a wider audience through developing and delivering workshops for the CSSRP.
Chris Campbell, Survey and Qualtrics Researcher
Chris (he/him) is a PhD candidate in the Faculty of Education, UM, focusing on 2SLGBTQIA+ topics and education policy and reform. He has worked as the CSSRP's Qualtrics trainer and research specialist since 2020, programming dozens of surveys and holding numerous trainings for the Centre. Chris has worked on the Every Teacher Project on LGBTQ-inclusive Education, the RISE Project on 2SLGBTQ+-expansive Teacher Education, and the Second National Climate Survey on Homophobia, Biphobia, and Transphobia in Canadian Schools. 
Research consultation and assistance
Services offered and fees
Our staff and affiliates have extensive experience with a number of different research methodologies and are able to assist with tasks including:
Conceptualization/research design
Instrument design
Data collection
Analysis
Reporting
Research mobilization
We are committed to community based research that can inform and shape policies, particularly focusing on people and populations that are often overlooked. We have strong relations with researchers who work with arts-based methods and Indigenous methodologies. 
We provide methodological assistance to communities internal and external to UM with the objective of:
Improving the quality of program implementation
Promoting the collection and use of program impact data
Fostering proactive planning for long-term program sustainability
Examples of services include:
Sample and instrument design
Assisting with database creation and translating the numbers into narratives
Funding applications
Ethics applications
Formative or program evaluation
Data analysis in quantitative and qualitative analyses
One-off or ongoing consultation
Donations
CSSRP gratefully accepts donations from individuals, corporations and other organizations which help support its vision, goals and objectives. Donors will receive a receipt for income tax purposes.
For more information on making a donation to CSSRP, please contact donor.relations@umanitoba.ca
Contact us
Centre for Social Science Research and Policy
Temporary address:
Room 252B, St. Paul's College
70 Dysart Road
University of Manitoba
Winnipeg, MB R3T 2N2