General clinic
The Dr. Gerald Niznick College of Dentistry is primarily a teaching institution and treatment is provided by students enrolled in Dentistry or Dental Hygiene, or specialists-in-training from one of our graduate programs. Our outstanding training program features excellent instructors from the practicing community in Manitoba coupled with advanced, modern equipment to ensure our students are well prepared to enter practice, and to provide world-class oral health care.
Clinic contact information
Hours

Monday to Friday
8:30 a.m. to 5:00 p.m.

Room Number

D126 Dentistry Building
790 Bannatyne Avenue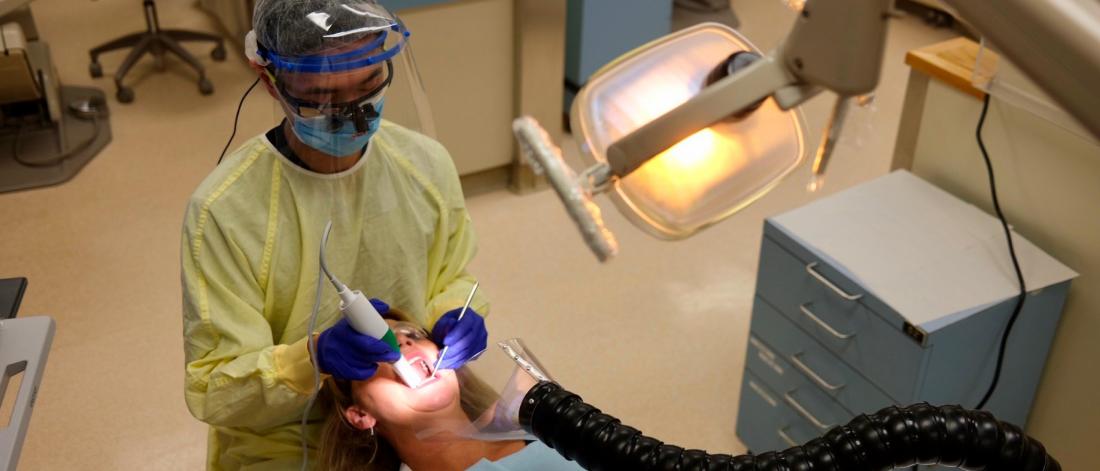 Information for becoming a patient
We provide high quality, comprehensive care for about 50% the cost of a private office. All treatment is provided by College learners of dentistry and dental hygiene, under the supervision of a licensed dentist or registered dental hygienist.
We are a teaching institution where patients are selected based on the requirements of our educational program. If you are interested in becoming a patient, please fill out the patient application form and you will be contacted to arrange a screening appointment where your suitability to be a patient at the College will be assessed.
Treatments offered
Comprehensive care general dentistry, including:
provide dental hygiene care and instruct patients on oral hygiene
dental implants
dental x-rays
diagnosis of disease, injury and decay
endodontics (including root canals)
examination of teeth, gums and surrounding tissue
full geriatric care for seniors
oral and maxillofacial surgery (including extractions)
orthodontics (braces)
pediatric dentistry for children
periodontics (including diagnosis and treatment of gum disease)
prosthodontics (including crowns and bridges, full dentures, partial dentures)
restore, extract and / or replace diseased and decayed teeth
Radiology Consultation Room
The state-of-the-art equipment in the Radiology Consultation Room uses a cone-shaped X-ray beam to produce detailed 3D scans of a patient's jaw and head. The room also provides privacy for consultations with patients about the various types of radiographic imaging performed at the centre.
The newly-renovated teaching and consulting space is located in the Ross McIntyre Digital Imaging Centre in the College of Dentistry, Rady Faculty of Health Sciences.